The US' dependence on lithium-ion batteries from Asia is continuing to surge despite calls by its president Joe Biden and the nation's industry to end reliance on imported supply chains.
US imports of lithium-ion batteries, mainly from China, are rising as demand from electric vehicle, energy storage and consumer electronic manufacturers grows, according to a report by industry analysts S&P Global.
Lithium-ion battery imports reached 103,889 metric tons in the final three months of 2021 (a record quarter)— jumping 137% from a year earlier and 24% from the previous quarter, according to data from Panjiva, a business line within S&P Global Market Intelligence, a division of S&P Global.
Overall, US battery imports more than doubled last year to 320,360 metric tons, from 158,687 metric tons in 2020, and jumped 272% since 2019, states the report.
The sixth consecutive increased quarter for imports is causing panic with the US lithium-ion industry as automakers and energy storage suppliers step up efforts to create a domestic alternative for battery materials and factories for finished cells and packs.
President Joe Biden said during a 22 February briefing regarding strengthening US battery and critical mineral supply chains that: "When it comes to clean energy, China has spent years cornering the market on many of the materials that power the technologies that we rely on.
"That's why I committed us to build a clean energy supply chain stamped '"Made in America.'"
China dominating battery import trade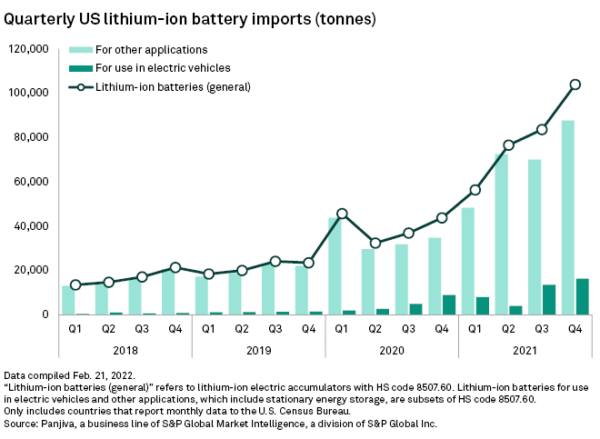 China accounted for 80% of US lithium-ion battery imports during Q4 of 2021— up more than 30% from the same period in 2020.
The report noted China had nearly quadrupled its shipments to the US; meanwhile, South Korea accounted for nearly 9% of US lithium-ion battery imports in Q$ 2021, while Japan made up 3.1% in the same period.
China's expanding share of imports reflects its domination of the global supply chain— including Chinese battery maker Contemporary Amperex Technology becoming the world's largest producer of lithium-ion batteries for electric vehicles, according to SNE Research.
Although, the fight for the number one spot is heating up, with South Korean firm LG Chem vying to usurp its rival.
According to industry analysts VC Elements, LG is the second biggest battery maker with around 25% market share, compared to CATL, which has a 32% market share; Japan's Panasonic is third (14%) and China's BYD is in fourth (7%) in the table of leading battery makers.
Last year, China's lithium-ion battery output reached 324GWh, up 106% year on year, according to the Ministry of Industry and Information Technology.
Specifically, consumer lithium-ion battery output reached 72GWh, up 18% year on year.
Output of those used for power battery and energy storage stood at 220GWh (a 165% increase) and 32GWh (146% increase) year-on-year increase respectively, according to the Ministry.
Last year, the industry's total production value exceeded 600 billion yuan— about $94.72 billion.
US building a battery industry
Last month, Hong Kong-headquartered graphite anode firm Graphex Technologies announced it would build and operate a 10,000 tonnes per year of coated spherical graphite battery anode manufacturing facility in the US through a joint venture with Michigan, US firm Emerald Energy Solutions.
Last December, Japanese vehicle OEM Toyota confirmed it would invest $3.4 billion into lithium-ion battery production in the US— beginning with a $1.29 billion investment into a battery plant to build automotive batteries in Greensboro, North Carolina.
Also last December, Tesla and South Korean firm SK Innovations called for a waiver on tariffs of 25% for graphite imported into the US from China, which were first introduced by the Office of the United States Trade Representative (USTR) in September 2018.
Last October, Ford Motor Company and SK Innovation announced plans to invest $11.4 billion in the US electric vehicle and battery sector— including three dedicated battery plants with a combined 129GWh capacity in the US states of Kentucky and Tennessee.
In May, 2021, Systems Sunlight, a member of Greece consortium Olympia Group, launched a subsidiary to run a 2GWh assembly hub for lithium-ion and lead batteries within the US following a $10 million investment.
Lead batteries show the way
Reacting to a State of the Union address on 1 March, Battery Council International (BCI) said the US lead battery manufacturing and recycling industry was ready to meet the challenges.
Roger Miksad, executive vice president at BCI, said: "We agree – let's make it in America. In fact, we already do.
"President Biden called for an end to relying on foreign supply chains, and we are proud of our existing domestic infrastructure that meets more than 90% of the domestic lead battery demand.
"The president also said that products should be 'made in America from beginning to end,' and that's the description of sustainable lead batteries. Our closed loop manufacturing system means we collect more than 130 million used batteries each year and recycle them to make new batteries, resulting in a typical new battery that contains 80% recycled material.
"While others may be just beginning to reduce reliance on imports, we are ready to meet the president's call today.
"And through continued investment in R&D and agreements with the U.S. National Laboratories system, we are actively pursuing next gen battery technology and energy storage to meet the needs of tomorrow.
"These battery innovations are being developed by U.S companies and will be built by U.S. workers in communities across the nation."