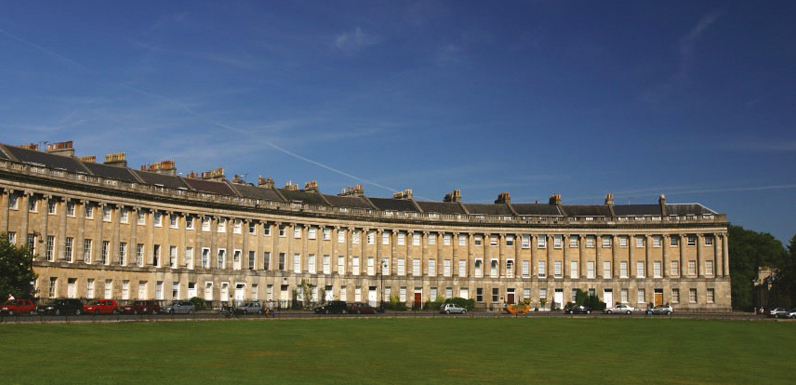 The 25th International Power Sources Symposium (IPSS) was held this year in Bath to celebrate 50 years of the symposium. Andrew Ritchie reports with a very straight bat.
IPSS is steeped in history; and we were fortunate that two of its founder members, who were at that historic first symposium in 1958 (Austin Attewell and Ken Peters), were again present. The meeting was held in the equally historic Georgian Assembly Rooms in Bath, with the gala dinner being held in the Pump Room, above the original Roman Baths.
Booth awards in memory of the founder of the Symposium, Frank Booth, were presented by his son, Michael, to Michel Broussely of SAFT, for distinguished work over many years on lithium rechargeable batteries, posthumously to Alex Gilmour of Lexcel Technology for numerous contributions to batteries and to Bob Bailey for many years' efforts in organising the symposia.
Thirty seven papers were presented, with delegates from 18 countries covered most aspects of power sources, from the traditional lead-acid batteries through developments in lithium-ion batteries to fuel cells, solar cells and to large scale power supplies.
Even after 150 years, significant developments are being reported in lead-acid batteries. Raju Kurian of EnerSys Newport described thin plate lead-acid batteries which offer high power, reduced weight, good cycling, rapid charge, long storage life, good low temperature performance and good deep discharge recovery. This is achieved by using very high purity lead and good rolling techniques. Rohab Khayat Ghavami's paper (Niru Battery MFG, Teheran) described performance improvements by use of surfactant additives. Tizpar's (also from Niru Battery) paper concerned the use of selenium as a grain refining additive, to increase hardness and to reduce corrosion.
The Dave Rice award was presented to R. G. A. Wills of the University of Southampton for his paper on lead redox flow batteries. These have potential applications in large scale energy storage, e.g. for renewable energy and load levelling. The electrodes are chemically similar to lead-acid batteries (Pb negative, PbO2 positive) but the electrolyte is methane sulphonic acid, which has a soluble lead salt. This system avoids the need for separate positive and negative electrode compartments, separated by an expensive separator, which are used in other types of redox battery.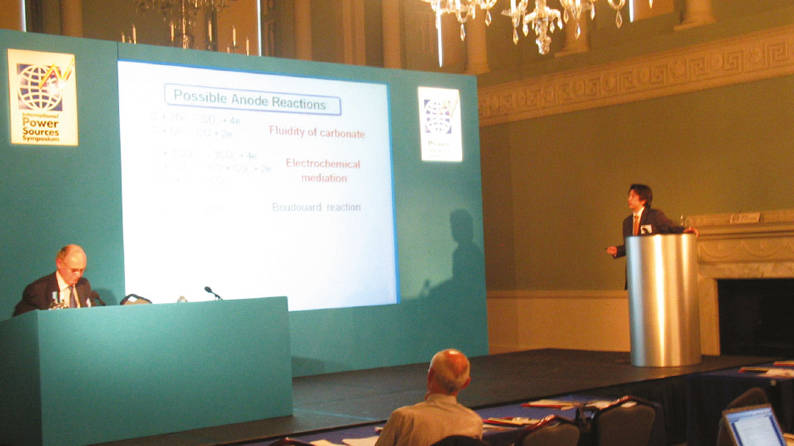 Lithium-ion battery papers ranged from pure chemistry (Boris Markovsky, Bar-Ilan University, Ramat-Gan, Israel) to new battery applications. Markovsky described the synthesis of nano-sized lithium nickel manganese oxide cathode material for lithium-ion batteries.
This avoids the need for expensive cobalt, has good capacity (190 mAh/g) and is stable cycling to high voltage (4.6V). Prototype lithium primary / carbon monofluoride cells were described by Ganesan Nagasubramanian of Sandia laboratories and by Emmanuel Eweka of QuinetiQ. The first paper examined low temperature performance while the latter described a battery with substantially higher energy density than the current BA5590 Li/SO2 or BA5390 Li/MnO2 batteries. Ron Wang of Ultralife, Newark, USA, described design improvements which enabled production Li/MnO2 D cells to reach 14 Ah, almost double that of Li/SO2 cells of the same size. An original design of thermal batteries was presented by Dari Dekel of RAEFEL, Haifa, Israel, in which no
cathode was used; instead the burnt (Fe/KClO4) heat pellet provided FeO as cathode. This reduced battery size. Alvin Salkind of Rutgers University described asymmetric electrodes for super-capacitors, for military and medical applications. Over 750,000 cycles were obtained. Florentino Conte of Arsenal Research, Vienna, Austria, has modelled a hybrid electric vehicle. He considered lithium-ion batteries
to be insufficiently advanced, and so chose nickel-metal-hydride.
The Bourner lecture
was presented by
Philip Sharman (Sust-ainable Energy and Environment, DTI Global Watch Service). Climatic changes (global warming), energy security of supply, ageing infrastructure and declining supplies of oil are all challenges facing the 21st century. Local energy generation may increase, renewable energy sources are becoming available but large scale energy storage remains a problem. Solar cells are becoming more efficient and a new design uses polymer electrolytes (Bong Yong).
Henry Catherino of the US Army (Warren, Mi.) discussed thermal runaway in lead-acid cells and related this to the thermodynamics of the
chemical reactions in the cells. He believed thermal runaway was due to displacement of the acid from the inter-electrode space, causing increased resistance in the cells. Calorimetry is an important technique in studying batteries and Salkind described construction of a calorimeter for measuring heat changes on cycling entire batteries. Vahid Esfahanian of the University of Tehran had produced a theoretical model for lead-acid cells based on fundamental chemical properties, such as thermodynamics and diffusion, and used numerical analytical methods to solve the resulting partial differential equations.
Fuel cells were well represented. Yuta Nabae of the University of St Andrews, Scotland described a carbon-air fuel cell. Both molten carbonate and solid oxide fuel cell electrolytes were used.
Carbon was oxidised in the temperature range 550 – 900°C. Barry Lakeman of DSTL, (UK) discussed fuel cells for portable power.
Hydrogen – powered fuel cells were unsuitable for this application due to the difficulty of storing and transporting hydrogen. Methanol fuel cells may be suitable with further development. Carbon – air fuel cells may be used as single use devices. Borohydride fuel cells are another idea.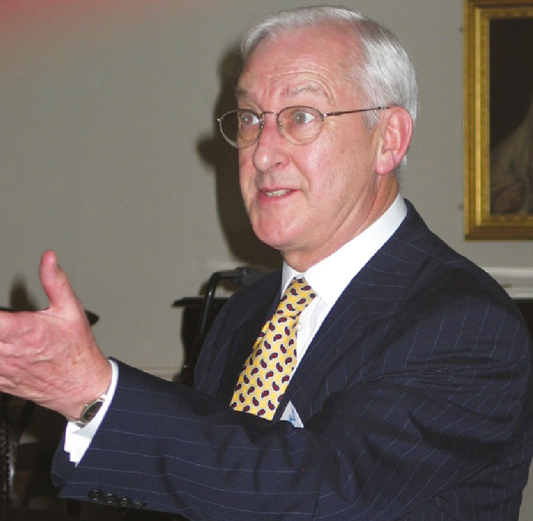 A hybrid fuel cell/battery design will probably be necessary to provide sufficient power. Fazlil Coowar of QuinetiQ (Haslar) described the borohydride fuel cell in which sodium borohydride in water acts as a hydrogen source.
This reaction provides a higher voltage (1.64V) than the normal hydrogen fuel cell (1.23V theoretical). Derek Northwood's (University of Windsor, Ontario) paper discussed fuel cell electrodes. Metal electrodes would be preferable to bulky carbon electrodes, but are subject to corrosion.
Polymer or titanium nitride coatings reduced corrosion. Flipsen discussed the possibility of replacing the battery in an MP3 player with a fuel cell. He achieved this but only by increasing the size of the device. A battery (coin cell) was needed for instant start up and for power.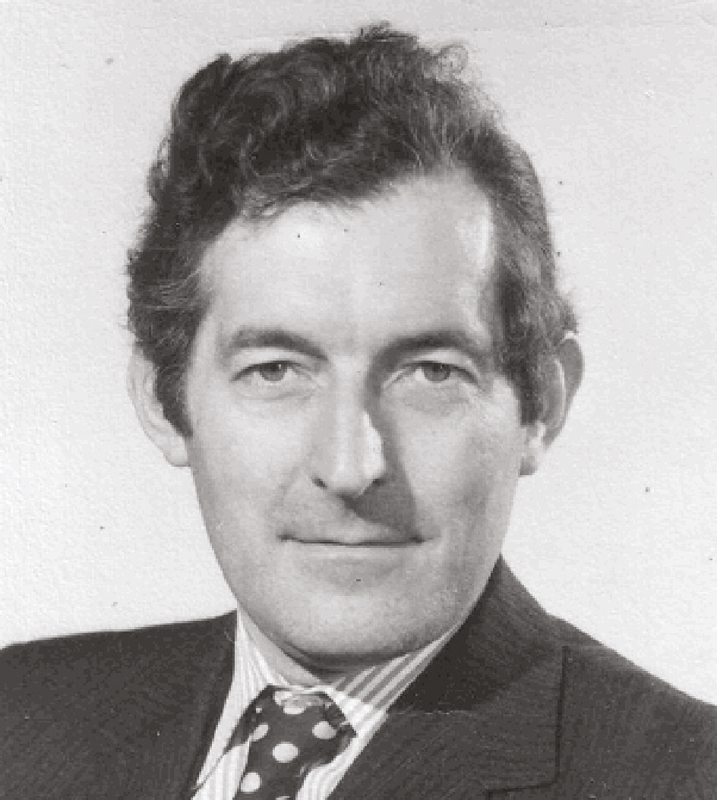 Olaf Conrad (CMR fuel cells) described an innovative design for methanol powered fuel cell. Both reactants (methanol and air) were mixed and selective catalysts on the electrodes ensured that only one material reacted at each electrode. This reduced the number of components significantly.
Arjen Jansen (Delft University of Technology) considered human power as an energy source. This avoids the need to carry batteries. However the energy obtainable is small but may be useful in specialised cases.
The use of batteries with photovoltaic (PV) powered devices was considered. Both batteries and super-capacitors can be used with PV devices (Kan). A systems approach is needed to provide a PV/battery combination, possibly with a DC/DC converter, for a solar powered computer mouse (Sioe YaoKan). Pulse charging for lead-acid batteries for PV applications improved battery life (Karoui Laboratoire Systems Solaire (INES, CEA)).
Two sessions were devoted to military batteries and systems. Darren Browning (DSTL) reviewed batteries for soldiers. If rechargeable batteries are used, battery chargers are needed in the field. Operations in hot climates can lead to batteries reaching 80 – 100°C in the sun, which poses a problem for lithium-ion batteries. He hoped for new types of rechargeable lithium batteries to provide much high energy density.
He also reviewed primary batteries. Again, operations in hot climates were increasing battery temperatures.
Large size zinc-air batteries were used as battery chargers. Other possibilities are: lithium/carbon monofluoride, lithium/iron disulphide (to replace zinc alkaline) and the carbon/air fuel cell.
Comments from the audience indicated that the US army is becoming more favourable to rechargeable batteries with the availability of vehicles as power sources for battery charging. Back in the 1960's, the zinc-air battery was investigated but work on this stopped with the introduction of lithium/sulphur dioxide cells.
Barry Lakeman reviewed power sources for British military use. Numerous applications need power, such as underwater vehicles, unmanned air vehicles, remote sensors, robotic vehicles and communications.
The US military has hopes for hybrid vehicles to reduce fuel consumption. This is important as all fuel has to be transported to the battlefield. Fuel cells may find use in submarines, underwater vehicles, space. Thermoelectric generators are <5% efficient. Photocells using amorphous silicon can provide extra energy. Power management is important, as power is always in short supply.
John Erbacher of Wright Paterson Airforce laboratories (USA) considered the costs of aircraft main batteries. Different chemistries were compared: nickel-cadmium, lead-acid, nickel-metal-hydride and lithium-ion.
All these were considered to be viable options technically, so cost was being considered. Ashok Patil discussed US army mobile power supplies.
Diesel engines are considered good for >5kW, but are less suitable at lower power levels. So Stirling engines are being considered as an option.
It can be difficult to charge batteries in the front line. There is interest in new primary batteries: lithium/air, zinc/air and lithium/carbon monofluoride. Methanol and borohydride fuel cells are being evaluated and solar energy may make a contribution, e.g. for battery charging. A hybrid system with a combination of technologies is likely to be the best option.
ED Andrukaitis (Defence R & D, Ottowa) discussed power requirements for the soldier. Canadian requirements are similar to those for Britain and the US and the Canadian military is working with its allies and with industry. He took a close look at the distribution of power around the soldier. At present, each device has its own battery, with the result that the soldier has to carry numerous battery packs. By using a power harness, the power supplies could be integrated, reducing the number and weight of batteries to be carried. Rechargeable batteries will increasingly be used, at the expense of primary ones.
Copies of the symposium are available on a CD-ROM, published by IPSS (www.ipss.org.uk).
*A. G. Ritchie, International Power Sources Symposium board; email:
andrew.ritchie20@btinternet.com