John R. Miller concludes that Acetonitrile (AN) electrolyte use in EDLCs is unlikely to present a legacy problem and thus there is little likelihood that it will become the new asbestos.
Acetonitrile (AN) is a substance found in some electric double layer capacitors (EDLCs). AN is a commonly used solvent and, with an ammonia salt dissolved in it, forms the basis for the electrolyte in these devices. Propylene carbonate (PC) is the most common alternate solvent used for this purpose.
The major differences between AN and PC can be characterized in several different planes. Perhaps the first of these is performance. Electrolytes using AN have higher conductivity and therefore generally higher power performance. Their lower viscosity can provide better low-temperature performance as well.
The physical and chemical properties of AN are believed to present problems for implementing it in EDLCs. Specifically, it is considered hazardous to health and for its flammability. AN is indeed considerably more flammable than PC and also toxic.
A third plane to consider is the risks that arise from implementation. AN is a lower cost solvent than PC and offers some performance enhancements, but there is risk also of it occasioning future environmental problems. Could AN be the next "asbestos" that society will need to deal with? The US Environmental Protection Agency hazard summary number 75-05-8 http://www.epa.gov/ttn/atw/hlthef/acetonit.html lists the following: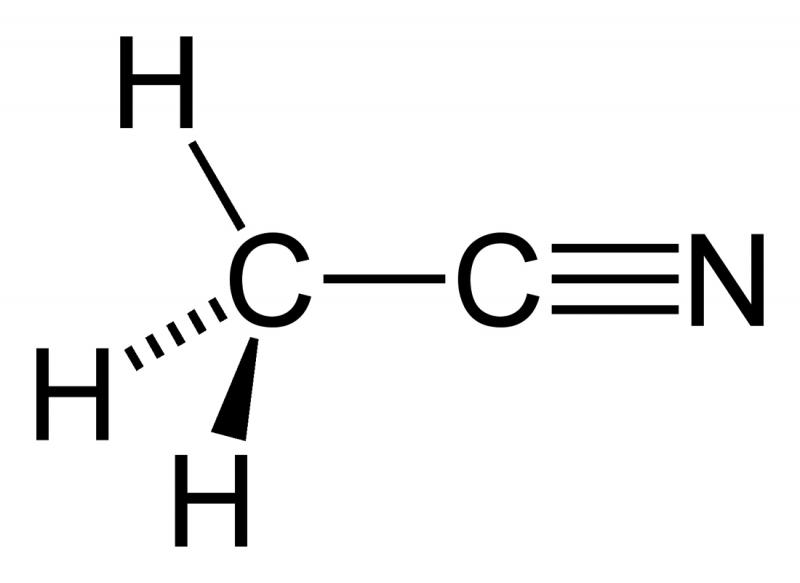 "AN has many uses, including as a solvent for spinning fibres and in lithium batteries. It is primarily found in air from automobile exhaust and manufacturing facilities. Acute (short-term) inhalation exposure results in irritation of mucus membranes. Chronic (long-term) exposure results in central nervous system effects such as headaches, numbness, and tremors. No data is available on its carcinogenic effects in humans. EPA has classified it as a Group D, not classifiable as to human carcinogenicity."
The question to be answered here is whether today's common use of AN in the EDLC industry poses a serious environmental legacy problem for the future. As a personal disclosure, the author realizes that AN has in fact not been widely accepted by industry in Japan. His purpose in writing is not to change that situation but to express his own view that the environmental risks involved in the use of AN are not what they seem to be when a broader perspective on that use is brought into play.
AN is in fact used in many high-performance, high-power EDLC products. Much is heard about AN, including that it is dangerously flammable, having a very low flashpoint temperature. Likewise, it is said to be highly toxic, particularly by those who like to refer to it by its other name, methyl cyanide. It has further been shown that on burning AN some hydrogen cyanide is generated, having very high toxicity.
One also hears that AN is the single ingredient that actually gives EDLCs their high power performance, low-temperature operation, and high voltage capability. Let me address these issues.
In regard to flammability, while AN is indeed a highly flammable solvent, it can only present a serious problem in vapor form. For example, in nail tests on capacitors containing AN it proved very difficult to sustain flame even when the ignition source was continuously applied.
The reason for this is apparently that in EDLCs the liquid AN is adsorbed in the activated carbon electrode material, which acts almost as a built-in solvent adsorbent. And the nail test does not in general result in effluence of any free liquid to start with.
Further, in EDLCs the AN is held within the confines of a hermetically sealed enclosure, the capacitor cell package. Like the gasoline tightly sealed in its tank on an automobile, the AN is quite safe inside. Plus, these cells are usually held inside a sealed metal secondary enclosure, a module package, similar to the gas tank purposely being positioned within the frame of an automobile. The flammability of AN in actual use is simply not nearly so serious as has been imagined.
One other point in regard to AN's vaunted flammability is that because AN is so volatile it cools on evaporation, and it is this cooling that makes it so difficult to sustain its burning, even in a pool.
In regard to low-temperature performance, an AN electrolyte indeed will have higher conductivity than a PC electrolyte. Manufacturers are easily able, however, to modify the design of an EDLC such that performance differences between devices using the two different types of electrolytes will actually be quite small.
Publications have shown that engine-starting capacitors with PC-based electrolytes work perfectly well. They do indeed have higher resistance at lower temperatures, but that higher resistance leads in turn to immediate ohmic heating in use.
The high current pulse associated with a low-temperature engine cranking event occasions self-heating within the electrolyte in the cell separator, which rapidly warms to the point where PC electrolyte performance is entirely adequate for the engine cranking application.
To put the would-be hazards of AN in perspective, we should consider other hazardous materials used throughout the industrial world and how we deal with those hazards. One of foremost of these is the mercury in fluorescent lamps. Emphasis on reducing the inefficiencies of lighting, a major use of utility-grid electricity, has been increasing at an ever-increasing pace.
One approach in the home has been to replace the ubiquitous incandescent lights with compact fluorescent lamps. Efficiency is in fact improved tremendously by such replacement, which definitely does reduce electricity usage.
A 15 W fluorescent lamp is about equivalent to a 100 W incandescent lamp in terms of light output, a major difference in power consumption as related to output. Fluorescents are, thus, widely promoted and implemented. But every such fluorescent bulb or lamp contains a small drop of mercury. Everywhere in homes, these, like other similar objects, can be broken in usage, potentially spreading mercury throughout the environment—a direct result of our desire to reduce our use of electricity!
Reports have examined from a broader perspective the problem this seems to create. What these reports make clear, in stark contrast to our expectations, is that the major emission danger to the environment in terms of mercury pollution is really from burning coal to generate electricity. By reducing the consumption of electricity the amount of coal burned to produce it is thereby also reduced, reducing in its turn the amount of mercury emitted by coal-burning plants. The difference in the amounts involved demonstrates that the increased use of fluorescents today actually can lessen the amount of mercury added to the environment.
Adding a known toxic substance to the environment thus surprisingly turns out to have a positive effect in reducing overall the presence of that same substance in the environment.
The same thing can be said of AN. One of the environmental sources for AN today, as per the EPA document, is automobile exhaust. Were we to reduce automobile exhaust, the amount of AN currently being added to the environment would likewise be reduced. Hybrid vehicles making use of EDLCs with AN electrolytes would thus contribute to lessening the emissions of AN to the environment. No study has yet been done on this, but it seems clear that implementing the AN-based electrolyte in EDLCs could indeed reduce the amount of that very same substance to the environment.
Another example of a widely used toxic material is lead, a very common element in the environment. Most homes in fact contain many pounds of lead, from lead-acid batteries in the garage to emergency backup and lighting systems.
Lead has also been used in combination with tin for the solders that feature in both plumbing and electronic equipment. Older homes may also have wall paints with lead in their pigments. Indeed, the first notice of lead problems in homes was related to old lead-based paints. These can become airborne as dust and be breathed, creating a threatening systemic problem. Lead in a car battery, by contrast, is in a sealed container and will be recycled when a replacement battery is purchased or when the car is eventually junked.
Lead-acid batteries are thus sometimes considered to be the "greenest" batteries because of the recycling system developed to deal with them. Public policies for dealing with lead in other situations have focused on banning it from both paint and plumbing uses.
More recently the trend has also been to ban lead from use in electronic components and equipment that will, of course, eventually be recycled into the environment. Lead-acid batteries sealed and with a highly developed recycling program, satisfactorily handled through only a minimum of policy controls, can comfortably remain an exception.
Asbestos, formerly a very widely used substance but now recognised as a carcinogen by the World Health Organization (WHO) and the US EPA, has been totally banned from use in many locations.
Asbestos is, in fact, a good, low cost, natural mineral that has been prized for its high-temperature insulating and wear-resistance properties. It has been used in vehicle brakes and in a great variety of building materials like flooring, applications that create airborne particulate, which is exactly the form that makes asbestos most hazardous. Policy has been to completely ban asbestos for all industrial applications. And, of course, replacement materials for asbestos do not necessarily perform as well.
With regard to AN, is it necessary to develop a policy for dealing with it that parallels those policies developed for dealing with mercury, lead, or asbestos?
The case of mercury is particularly curious, in that we are encouraging its use in compact fluorescent bulbs because of the benefits that use will provide to the environment. Should EDLCs containing AN become very widely used indeed, this might in fact reduce the environmental impact of AN.
To the question why we should still not consider using PC in place of AN, it seems appropriate to say that PC is a good material that can provide the necessary performance, including low-temperature and high-power performance. But, of course, PC is more expensive than AN and does not perform quite as well, considerably reducing its perceived value as a direct substitute.
Again, the basic question is whether AN has the potential to become a problem to society on the same level as asbestos.
I believe the answer to this is that it will not, even with widespread use. Its application is always in sealed containers (cells) of limited size. And inside those containers there is an absorbent (activated carbon) to retain this liquid material. It is very difficult both to ignite and to keep it burning. And these cells are usually held within a second module container—a sealed metal package. The probability of releasing harmful hydrogen cyanide is indeed very, very low.
With proper policies regarding both use and disposal there should be no problems with AN. Despite this, I would of course recommend changing over to any non-hazardous, non-toxic replacement electrolyte having at least comparable performance should it become available. In today's world AN is only one of many risks modern society incurs from the materials we have around us on a daily basis. There is, I believe, little likelihood of AN becoming the new asbestos.