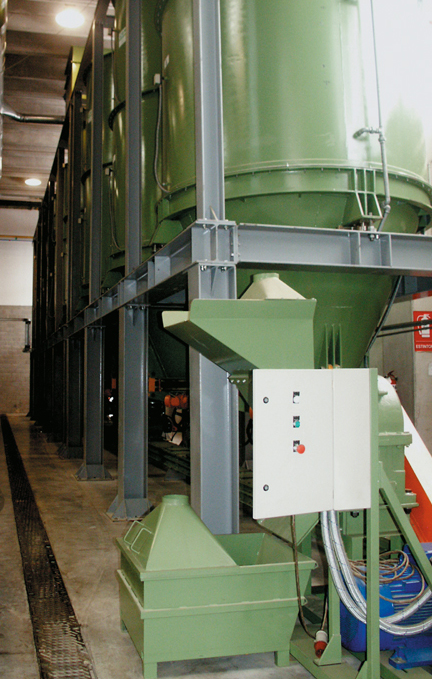 We take a Cook's tour through Italy to see how one small firm delivers on Oxide production and more.
There are some companies that are happy to deliver whatever it is you want within days of you placing an order. And there are some companies where you just have to wait. A classic example of this is the famous English roadster—the Morgan. Hand-built using traditional craft techniques (a wooden frame and a steel chassis) the waiting list to get a new car (in the UK at least) is one year— it used to be longer!
The Marfisi brothers, who run and operate CAM SRL in Italy seem to take a similar view. If you want to purchase one of their machines, be it a ball mill, a curing chamber, or indeed a complete oxide production system, you'll have to wait a bit longer— but the wait will be worth it.
They admit their machines are not the lowest cost on the market, but in the long run you'll be a happier customer.
Because it's not just the machines you're buying— it's the combined expertise of the Marfisi brothers, or as Fernando, the youngest brother says, it's the huge amount of experience of the eldest brother, Armando Marfisi.
But then Armando, who's even more self-effacing then Fernando, says: "Well, a lot of the success is due to Bruno, who stays down at the factory in Fossacesia and makes sure that everything gets built, while Fernando supervises the installations."
This really is a family business, with sons, nephews and nieces employed at the plant. But it's more than that— it's almost a saga.
CAM—which stands for construction and assembly of mechanical systems is, although he tries hard to make little of it, very much the inspiration of eldest brother Armando, who as a teenager, ran away from the poor agricultural central part of Italy to the industrial north.
Somehow, he got drawn into the battery business (and with absolutely no formal engineering training or for that matter any chemical engineering either) he acquired sufficient knowledge not only to run lead-acid battery plants but to build the machines that go into them.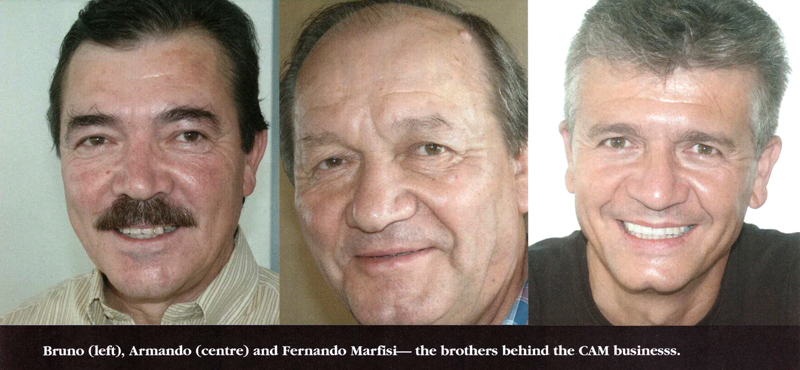 And when he returned home to Fossacesia, back in the late sixties, there was only one thing to do— start a mechanical engineering business. Today, the company has employees who started in the machine shop as boys and who are still with the company. Brother Fernando didn't join the firm for another ten years (he's younger than the editor of BEST) but he was getting the formal engineering training (in the car industry) that Armando lacked.
However, he too decided to throw in his lot with his older brother.
Machines for the battery business were from the start, just a small part of the activity. CAM's earliest curing chambers and drying machines were not built for battery plates— they were for the food industry. But there's nothing agricultural about the line-up of CAM curing chambers you can see at Fiamm's Veronella and Montecchio Maggiori plant.
Nor is there anything low tech about the complete oxide production system you can see at the same plant, equipped with fully enclosed conveyors, silos, ball mills and control systems.
Although the company prides itself in being able to fabricate just about any kind of machine, Armando rightly decided to focus in on something that fascinated him— the production of active material.
Whatever way you look at it, getting right what goes on inside a ball mill— the production of lead oxide— is really a complicated chemical engineering problem. And the quality of this material will have an enormous influence on the life and performance of your batteries. CAM has a client list for its 24 tonne system which includes at least half the Exide plants in Europe as well as well as Salinas and Bristol in Tennessee.
Oxide production is a combustion process, yes, but getting it right is a question of getting the temperature control and stoichiometry (the right weight of lead slugs) correct. Armando isn't in the process of giving too many secrets away, but he claims CAM's smaller mills have a higher output of lead than some of the bigger machines of his competitors. Armando didn't study thermodynamics, but he's gleaned enough over the years to determine the calorific input needed to convert lead into lead oxide, without his customers getting big gas bills or black oxide that can't be used! And all the lifts and completely sealed conveyors that go to make up the oxide production facility also have the same degree of care and attention lavished on them.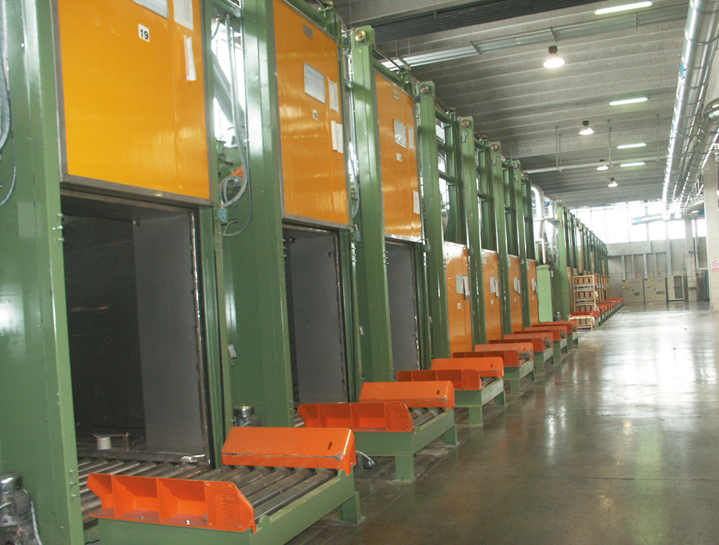 After commissioning and construction comes handover. This is something else than Armando likes to do personally. Only when he is happy that your staff can run his machines is he prepared to leave your site.
And customer service is all about training staff to operate machines properly— that's not to say CAM's machines have all of the temperamental nature of a steam locomotive but running an oxide plant is not as simple, as say baking a Victoria sandwich?
Just because CAM is small doesn't mean it doesn't have access to the latest control system technology. Far from it. In the shift's supervisor's office at the Fiamm plant, computer screens show detailed mimics of the oxide plant's operation. It's all the work of one Giorgio Santinello a talented independent computer expert who does, in Visual Basic, what we try and achieve in words and pictures in BEST.
Santinello is not the only Italian inventor to hand. Smart people like to work in their own way. Cooled pumped formation systems? We'll reveal more about this in another article soon— another specialist that CAM has found along the way.
In the baking temperatures of Italy's heatwave that seems to have continued for several months, we drive down to SIA batteries in Bologna, a much smaller operation in scale compared to Fiamm, but an equally enthusiastic CAM customer. And Marco Marfisi's son Bruno is on site, heavily involved in the work and showing the next generation's committment to the business. Here CAM has already installed curing chambers, a plate drying system and a new oxide production system. And then it's a long drive down to the fabrication plant in Fossacesia, on the Adriatic Coast.
"It's a journey we 've done many times all over Europe," says Fernando Marfisi— this is a modern day Roman legion— an itinerant army of engineers, no longer building aqueducts and bridges but battery-making machines.
And now the marches this legion will have to make will be even longer, as lead battery making shows an ever increasing tendency to move East. In the 10,000m2 plant, Fernando's two teenage sons are already at work, acquiring the metalworking skills which will always be in demand somewhere, while Armando's children work in logistics. "Even if the battery industry disappears tomorrow, we'll always find enough work for our craftsmen," says Fernando Marfisi. But the lead battery industry is not disappearing. And nor is the demand for quality machines. Just like the Morgan car, customers who are discerning on quality will be prepared to wait. So if you're looking for equipment in a year's time, you'd better get your order in soon!