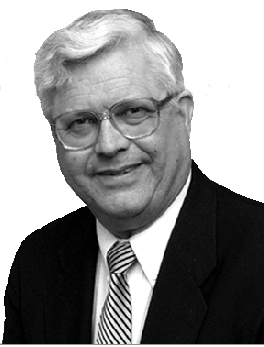 John Miller reflects on the electrochemical capacitor strand of AABC which he helped co-ordinate and found much to please him. For those who couldn't bear to leave the lithium battery sessions, this is what you missed!
ECCAP (Large Electrochemical Capacitor Technology Applications) has grown considerably over the past six years, with this one the largest yet. International attendance was impressive, reflected particularly in the nationalities of the twenty-two presenters, some 30% of whom were from Europe, with another 20% from the Far East, and the remainder from the United States. The resort hotel venue provided excellent accommodation, although the conference schedule left, in fact, few opportunities for recreational activities.
The first of the meeting's three scheduled sessions was on capacitor materials and cell design, and the second on new capacitor products and business development. The third and final session was on system storage applications for electrochemical capacitors. This year there were also capacitor tutorials devoted, respectively, to the engineering of capacitor storage systems and to the long-term market outlook for electrochemical capacitors.
A genuinely outstanding paper was given by Robert Hess of BAE Systems, who also chaired the third session of the meeting. The paper, on the application of electrochemical capacitors in HEV transit buses, reported some very interesting comparisons between the different energy storage technologies available when put into practical use in very similar circumstances and suggests, albeit tentatively, that capacitors might just have the edge over lithium-ion battery technology.
The drive systems of the hybrid city transit buses now in service on the streets of New York City were manufactured by BAE systems. The diesel-electric operation of the buses has both increased their mileage and reduced emissions over previous technologies.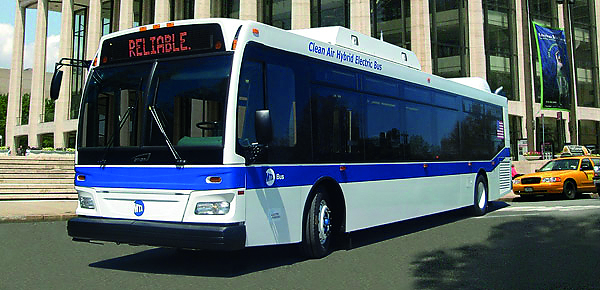 The first generation bus BAE Systems supplied to the city used lead acid batteries for onboard energy storage. But since the buses were introduced several years ago, BAE has gone ahead with demonstrations where the original lead acid battery systems were replaced by both lithium-ion batteries and electrochemical capacitors, with performance comparisons being made.
Surprisingly, the replacement electrochemical capacitor storage system increased the energy recovered by some 5%.
Particularly interesting in terms of the effectiveness of regenerative capture of braking energy was that during the winter months fuel economy increased by 0.5 to 1 miles per gallon, and during the summer months by 0.5 to 0.75 miles per gallon. In a comparison of the mileage of the capacitor storage bus to that of the lithium-ion battery storage bus, the capacitor miles-per-gallon average was slightly higher than that of the lithium-ion battery.
Unfortunately, however, the data recovered was from different bus routes, rendering the comparisons technically imperfect. Still, the data covered between 18,000 and 35,000 miles of travel for the capacitor buses and 57,000 and 55,000 for the battery ones. The two capacitor buses averaged 4.3 and 3.9 miles per gallon, while their lithium-ion counterparts came in at 3.5 and 3.7 miles per gallon.
An economic difference of some importance in regard to maintenance needs to be specially noted here. While servicing the electrical systems of the capacitor buses required only a single technician, the battery bus required two technicians for the same purpose, one fully suited to deal with high voltage and the other to monitor for potential emergency situations. The capacitor bus did not, of course, have this problem, since the capacitor banks on the bus could be completely discharged prior to any maintenance and were thus totally safe for maintenance personnel.
One interesting finding in regard to the capacitor bus was that the inverter and control electronics on the original buses, designed for lead acid batteries, were not really large enough to make the most efficient use of the capacitors. Larger inverters and control electronics would likely enable even better performance by the capacitor systems.
The BAE Systems paper concludes that the capacitors were in fact very effective at achieving fuel savings in this HEV application. Further, the designs involved are inherently simple in operational terms, particularly in that the capacitors require less active thermal management than lithium-ion batteries. The capacitor systems also promise to offer considerably greater life than is possible with lithium-ion battery systems. The most pointed illustration of this is that one capacitor bus actually ran for some eleven months and 25,000 miles without requiring any electrical system service whatsoever. During that period the bus's capacitor system would have accomplished an amazing one-quarter million charge/discharge cycles.
Also striking in the meeting was a fascinating new application from Nippon Chemi-Con, noted over the years for championing and reporting on new applications for electrochemical capacitors. This application involved using their DLCAP electrochemical capacitors to power LED streetlights.
The system they showed used solar energy from photovoltaic panels to charge the capacitor system, sufficiently enough in fact to power the streetlights at remote locations for the entire night. The discharge provided, based on the amount of stored energy and the power delivered by the photovoltaic panels, could be up to fourteen hours.
One interesting feature of this system is that it is designed to operate at very low temperatures, below 0°F, thus illustrating one of the more attractive characteristics of double-layer capacitors, viz., that they can operate reliably at low temperatures.
Another very attractive feature is that this streetlight system is completely maintenance free, designed for a ten-year life with no service required. This, again, is owing to the nature of capacitor storage, but also to the fact that LEDs are extremely reliable light sources with very long life.
Data presented about the capacitor/LED system were based on the performance of two photovoltaic panels, each rated at 180W. There were also two 15W light systems, with a controller and a storage system comprised of 240 cells that were 2300ºF. The system was put in place in 2008, and the results reported were based on field tests over the succeeding period of time.
Compared to normal streetlights, LED streetlights run on minimal energy and are very efficient. And, of course, in this case they require no power other than that of natural sunlight.
One other outstanding benefit in terms of environmental safety is the absence of heavy metal of the sort associated with lead acid batteries as storage devices.
Maxwell Technologies of San Diego, CA, one of the leaders in electrochemical capacitor technology, took the occasion of the meeting to announce that in December 2009 they had manufactured their one-millionth large cell. They also reported that there are now 12,000 wind turbines in the field that employ capacitors and 1,500 fare-generating buses, some on the streets for as long as ten years.
Maxwell also reported on its next generation cell, the new large-cell standard. The surprise here was not that the cell was new, but that it has the same envelope dimensions as its immediate predecessor. In any industry it is critical that common form factors be established as quickly as possible, leaving behind early development situations where every performance improvement involves a change of form. The performance may have improved, but the package, as well as its use and installation, remains the same.
For the large-size Maxwell device the improvement mentioned was ~8%, but for the small 650F device the improvement was an astonishing ~25%, both performance improvements being measured in terms of both energy and power. That products improve steadily, sometimes even dramatically, while the same packaging remains available for ease of use, overall design, and continuing availability suggests that the large-cell electrochemical capacitor industry is beginning to mature.
Corning, Inc. gave a talk in the second session of the meeting, marking the first time that it has spoken publicly about the high-energy electrochemical capacitor it has developed for use in micro-hybrid (stop/start) vehicles.
Corning is a very large and long-established company that has achieved dominance in the various market areas it serves, earlier with fibre optics and most recently with flat panel displays. The primary interest of its presentation was in developing a market and value assessment of the company's laboratory research work to date.
One central issue was, of course, to estimate how many hybrid electric vehicles would in fact be sold. Relying upon a Fisher-Pry curve for analysis and based on their own results to date, the Corning presentation projected market penetration and rate of market growth for the new generation of automotive products now in the development stage.
For mild- and strong-hybrid electric vehicles in North America the company predicts a 30% market penetration, half of which will have been reached by the year 2015. Again based on results to date, Corning project a 15% North American market share for electric vehicles, with a halfway point in 2018.
The company concluded that the vehicles most likely to make the greatest use of electrochemical capacitors were the micro hybrid class vehicle.
The Corning analysis also showed the distinct advantages for such applications that electrochemical capacitors have over other technologies, most notably the lithium-ion battery. The advantages identified as most significant were high cycle life, long calendar life, long shelf life, absence of thermal runaway, and high power at all states of charge.
Corning believes that capacitor technology will lead to smaller, lighter, safer, and more reliable storage modules with great potential for use in micro hybrid start/stop vehicles. They further described their own proprietary technology, shown to have ~50% higher energy density and ~30% higher power density than state-of-the-art products now commercially available. Corning made no product announcements at this meeting but presented its own analysis of the value of what it has achieved to date in research and development.
Corning remains for the moment in the analysis stage as to whether this is an area into which they want to move. The advances in technology they reported were clearly important. The soundness of the market analysis Corning presented certainly suggests that we may well see electrochemical capacitor products from Corning, Inc. in the future.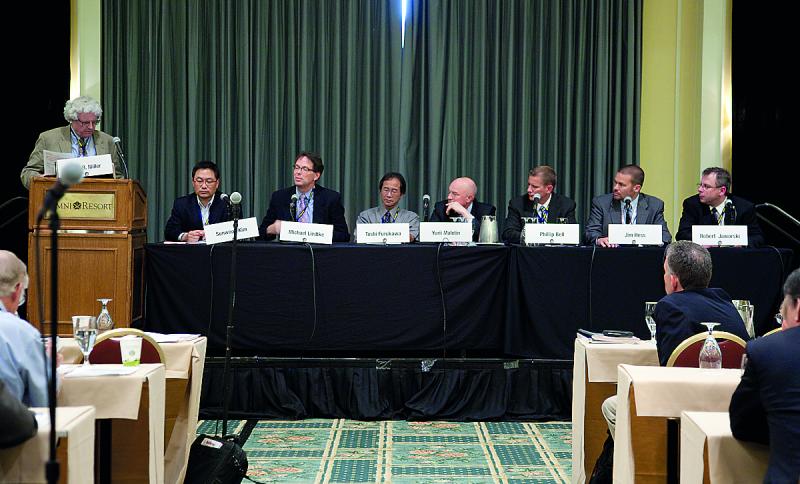 As the last presentation of the conference, I myself gave a paper on the potential use of electrochemical capacitors for utility-scale energy storage, the first time that using capacitors for such a large, non-automotive application has been described at an AABC meeting.
Much of the analysis presented was based upon a DOE Sandia report, "Energy Storage for the Electricity Grid: Benefits and Market Potential Assessment Guide" [Sandia Report SAND2010-0815, February 2010]. The report details some twenty different applications promising to be of great value for the US electrical grid.
Two applications in particular were described. The first was grid regulation, which involves the fine tuning or short-time matching of generation to demand over periods varying from a few seconds to several minutes. The second was load shifting, i.e., overnight bulk storage of energy for use the next day, a process involving time-shifting of large amounts of stored energy for periods up to 14 hours.
The presentation was primarily conceptual, owing to the fact that there are at present no such systems actually in place. The potential for capacitor use in either of these applications is very real, however, and there has certainly been compelling information to suggest that this is as it should be.
Grid-regulation applications call primarily for development of a storage system that is able to either absorb or to deliver energy on short-term time scales to match supply with demand. This is a follow-on from earlier work on the grid that used high-tech flywheels for storage. Perhaps the most important result of that work was to demonstrate the real value that grid regulation represents.
As part of a new class of regulation resources for handling stored energy on the grid, capacitors certainly can meet the same requirements for this application. Today's capacitors, particularly because of their higher cycle efficiency, have very real potential for outperforming flywheels in this function.
The second application, load shifting, involves taking energy at night when there is excess generation and decreased demand, and storing it for re-use the next day when there is a shortage of supply and great demand. Time shifting is clearly one way to have today's existing generation capacity meet greater demands in the future.
The most attractive type of capacitor for this use is an asymmetric electrochemical capacitor with aqueous electrolyte. Two were mentioned, one pioneered by the ESMA company of Moscow, which uses a lead oxide positive, sulphuric acid electrolyte, and a carbon negative electrode.
A second similarly attractive system, funded by the DOE, and now under development at Carnegie Mellon University, relies upon sodium intercalation.
These two different systems show strong potential for providing cost-effective bulk storage. Both can also potentially undercut all of the competing storage approaches now under development in terms of price, including sodium-sulphur (NAS) batteries, redox flow batteries, and certainly lithium-ion batteries.
The projected costs of capacitive storage approach those of pumped hydro, in which water is pumped uphill during the night and allowed to flow back down to generate electricity during the next day. The metric for bulk storage applications is cost per unit of energy per cycle.
The most recent ARPA-E solicitation from the DOE looked for a price of US$100/kWh with 5,000 cycles of storage and 80% efficiency, i.e., US$0.025/kWh per cycle. Pumped hydro prices are reported to be US$0.01-0.015/kWh per cycle. The bar set by the DOE was very high, and it will be interesting to see what development awards are made.
This year's EECAP meeting provided both the excitement associated with the announcement of new technology that will have an impact on the ordinary course of life and the reassurance that the electrochemical capacitor industry is no longer just a brainchild of the electronics research world but a realisable and maturing part of the world's marketplace.
Next year's meeting will take place in Mainz, Germany next June. Based on the news and developments of this year's meeting, looks to be one it would be a shame to miss.