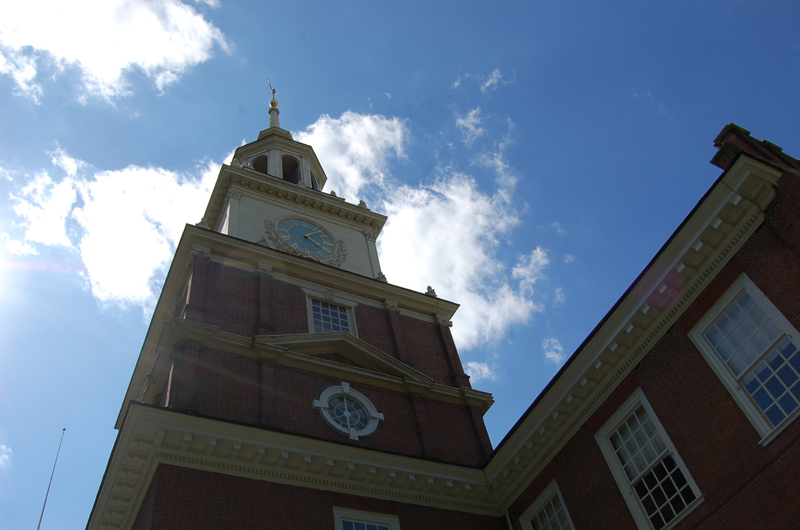 The Editor reports on the 42nd Power Sources meeting in Philadelphia
With a war going on two fronts, it has to be said that business in the U.S. military power sources world is positively booming; and in the fair city of Philadelphia the spirit of Benjamin Franklin (in terms of the sheer panoply of ideas being exploited) was clear to be seen. More than 600 delegates registered for the 42nd Power Sources Conference, which was a five-star buffet of technical feasting.
And in terms of its technical programme, it really did live up to the Monty Python catch phrase. It really was a case of new (or sometimes old) ideas coming out of the woodwork and simply astonishing the customers – the U.S. armed forces.
You couldn't have better customers for specifying a stored energy requirement. They define the mission – for how long and by how much something needs to be powered, and the size and conditions in which it will need to be operated – very precisely. I've no idea whether they define how much they're prepared to pay, but one assumes that if there's a tactical advantage the price isn't really an issue.
And nothing is really new. It's just that old ideas become more practicable as advances in manufacturing take place.
The technology that really caught my eye this year was the advance made in portable, wearable fuel cells. In fact these products are now so close to market that you can almost see them being sold not so much for the land warrior as for the road warrior – through Comp U.S.A. and the like. The XX25 from Ultracell is fuelled by a mixture of 67% methanol and 33% water in a cartridge, and delivers 20 W/kg with an energy density of 375 Wh/kg.
It's key technology is a miniature reformer operating at about 250ºC, but this is so well insulated that the whole device – which is about the size of an average bible – can be worn on a soldier's equipment vest. It weighs just over 1kg and should replace about ten times its weight in batteries.
That is the key to why the U.S. military spends so much money and effort in developing new power sources: today's soldier has to carry far too many batteries to keep all his radio equipment, rifle sights and other equipment functioning. Less batteries means more food and/or ammunition – it's as simple as that.
But methanol-based technology isn't the only kind being tested. A key issue in developing soldier power is having an easy-to-transport, energy-dense and cost-effective fuel. Protonex has opted for a chemical hydride that can be hydrated back at base, in the field with water, or if really desperate, you can pee in the tank (no I'm not joking!).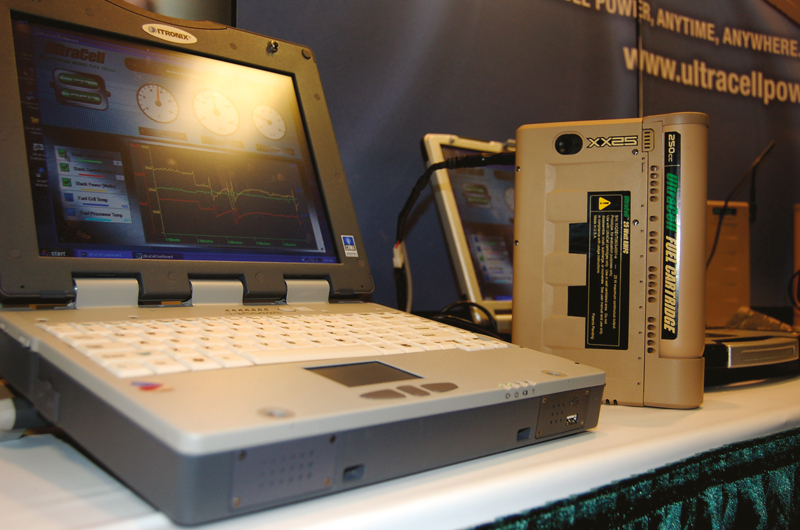 The company has developed two designs – a fully integrated wearable system capable of delivering 30 watts and a 150-watt quiet power system. The soldier power system has an energy density of 380 Wh/kg and a 60% weight saving over equivalent batteries. Currently a solider on a three-day 30-watt mission would carry 13 batteries weighting some 29.3lb and occupying 11.2 litres in volume; the Protonex system does the same job at just 11.2lb and with a volume of 5.6 litres.
But this assumes you've already hydrated the NaBH4. If you don't produce until you need to (i.e. you hydrate in the field) you can reduce the cartridge weight by two thirds. That's where Protonex's 'interesting' testing came in – they used brackish water and synthetic urine, with little effect on performance. We can't wait to see the video.
These are near-term power solutions for the U.S. army, but the beauty of this particular conference is that you get a hint as to where things are going in the long term. And the long term view has echoes of my own scientific background – microbiology.
Bacteria don't do anything more than feed off whatever they can, respire, excrete and die. I've never forgotten the words of an old prof of mine who told a class of 19-year-olds that they also spend about a third of their lives exchanging genetic material (the equivalent of having sex) but that's another story. While doing all of the above, bacteria are producing a healthy electron flow. Capture it and you've got a power source – from an enzyme-based fuel cell.
James Sumner of the U.S. army's sensor and electron devices directorate described the work being done to grow suitable bacteria and then capture the electron flow on a suitable macroscopic electrode. The really clever stuff is, as you'd imagine, constructing an environment which acts as a miniature bioreactor – a container in which the bacterial colony can be fed, their waste products removed, and the electron flow captured.
The electrodes in this fuel cell were a 1.6mm platinum cathode and a gold anode. The bacteria were contained inside a Gortex gasket sandwiched between the two, which also contained the soy-based broth (the feedstock) and a thiol ethanoic solution – a material which resembles the humates which are the chemical components of soil, and are believed to be the electron acceptors in nature.
All you have to do then is connect your meter and wait. What you get is small (nanoamps) and it takes a while (several hours) before the flow of current begins and peaks.
But this work is in its infancy. Bacteria which can perform this trick, such as geobacter, have only recently been discovered. It's very likely there are bacteria which can happily thrive and utilise the JP8 fuel, but more important is designing the cell which will provide the interface between the micro-organism and its feedstocks. Another group from CFD Research is modelling a microfluidic device to provide such an environment.
It's nearly four years since Daniel R. Bond, Dawn E. Holmes, Leonard M. Tender and Derek R. Lovley published their findings in the U.S. Journal of Science and I'm sure we'll be hearing a lot more talk about applied microbiology and power – because it makes for a very field-sustainable war fighter. I think I'm catching on to Pentagon-type terminology.
Armies used to march on their stomach and to some extent still do, but they march on their power sources even more. Anything that can be readily
powered from something that can be requisitioned, adapted or stolen from what's in the field has an advantage. On the fuel cell front the solid oxide type has been overlooked.
That was certainly the view of Timothy LaBreche of Adaptive Materials Inc, a company building solid oxide fuel cell systems which can happily run off propane. You can find this just about anywhere – even on the streets of Iraq, as one of LaBreche's slides clearly indicated.
The beauty of the solid oxide fuel cell technology is that it does not need an external reformer for its hydrocarbon fuel, and it is reasonably tolerant of sulphur impurities. The latest iteration of the device delivers 20 watts, weighs less than 1kg, and can operate for 44 hours on a typical 1lb canister of propane.
If this conference shows us anything other than how much money the U.S. Department of Defense can get through, it indicates where the limits of batteries may lie, given our voracious appetite for consumer electronics. And it also shows us what other technologies may soon muscle in to power the mainstream. When writing a report on the same meeting two years ago I touched on the potential of Stirling engines, which had been the subject of a presentation by one Henry Brandhorst.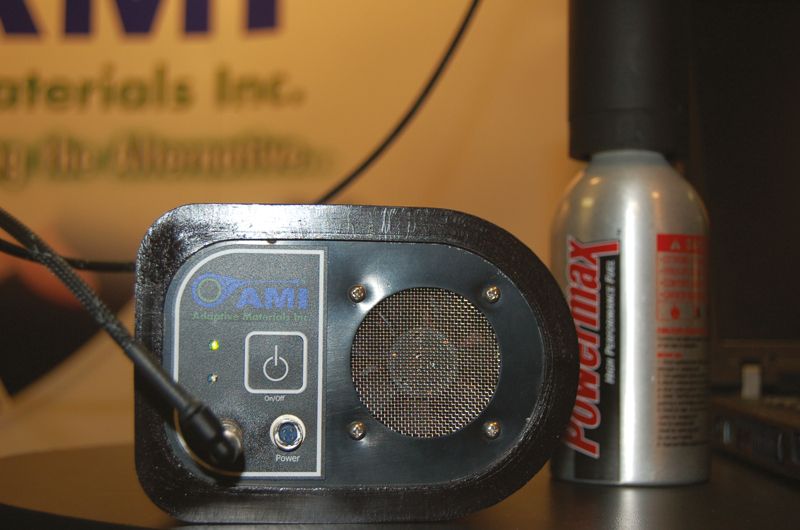 This year there was flock of Stirling engine papers, if that's the collective term for them, perhaps inspired in part by the National Research Council publication 'Meeting the Energy Needs of Future Warriors'. Stirling engines are very quiet, very reliable and have a low heat signature. With the armed forces realising the benefits of rechargeables, there's a need for a small and efficient recharger – and the Stirling engine has been recognised as an excellent solution for power levels between 20W and 5kW.
In a Stirling engine an external combustion process provides heat to a sealed pressure vessel. Inside this vessel is a gas, usually helium, which is moved between the hot and cold side of the engine by a displacer piston. As it is heated and cooled the pressure of the gas oscillates and has the potential to do work, by converting this linear piston motion into rotary motion via a crank. The oscillating motion can also be used to power a linear alternator.
Tiax, a name known to many in the battery industry and with a portfolio of R & D partnerships in everything from biotech to zeolites, has taken what's known as free piston variant and refined it with some control electronics into a device which can produce some 600 watts of electrical power with a potential manufacturing cost of less than US$300. The machine is astonishingly quiet too, between 55 and 65 Dba at one metre. That's around the noise output of your average air conditioner, and a lot quieter than the standard IC engine genset. However it doesn't yet meet the power density and efficiency which the army programme known as TEP ORD requires.
But Tiax isn't the only player. Infiniacorp, whose all-singing all-dancing website (www.infiniacorp.com) doesn't contain so much as a mention of the Scottish clergyman who took out a patent on the damn thing in 1816, certainly seems to have the measure of the technology and is applying it to matters civil and military. Infiniacorp's design is, like the Tiax version, a free piston variant but this time it has a projected efficiency of 22% and a weight of 270lb for 3kW output. The company produced some interesting comparisons with tactical quiet generators: each generator set would save the army approximately US$1,100, or as much as US$10m during peacetime operations.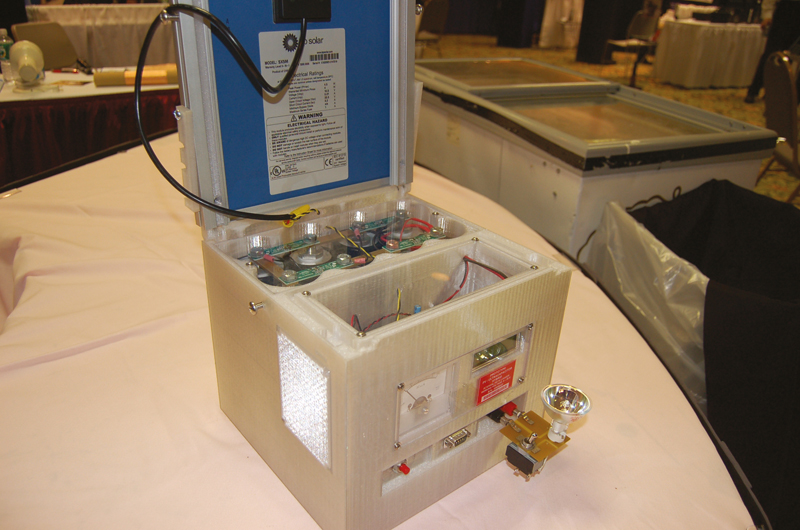 There should always be a mention for new technology which is simple, efficient and elegant, and perhaps the prize for that goes to a project in which one of BEST's contributors – John Miller, our ultracap man – had a hand.
I remember attending a conference several years back of lighthouse specialists in France. They were plagued with problems of undercharging various batteries which backed up solar-charged buoys. Well here's the answer: solar-charged ultracaps. Miller, in conjunction with BAE Systems, has now designed a PV/ultracapacitor system capable of continuous 24 hour operation with a lifetime of 20 years.
Six points make this system an absolute winner for the job:
(1) The system copes well with variable sunlight
(2) Ultracaps can be completely discharged without any problems
(3) They accommodate peak load current without harm
(4) They have lifetimes of greater than one million cycles
(5) They work well at very low temperatures
(6) They can be charged at a high rate without a charge control circuit.
The only piece of electronics needed in the system was a diode to prevent back charging. The design rules are so simple I'd be amazed not to see a string of solar-power marine warning systems built around ultracaps within a couple of years.
If you want to see the future in portable power, then the Power Sources Conference really is the place to be. It's bound to be back in Philadelphia in 2008. It has been there every two years for nearly half a century!