Battery recycler Aqua Metals has a colourful and chequered history that involved market distrust, class action and a $7 million settlement, management bust-ups, a fire that burned down its plant and surviving the Covid pandemic. It now claims to be in calmer waters with a steady course to full-scale commercialisation of lithium-ion battery recycling. Its once main focus, lead, is now a minor side show. Andrew Draper met with CEO Steve Cotton and Ben Taecker, Chief Engineering and Operations Officer, to learn more.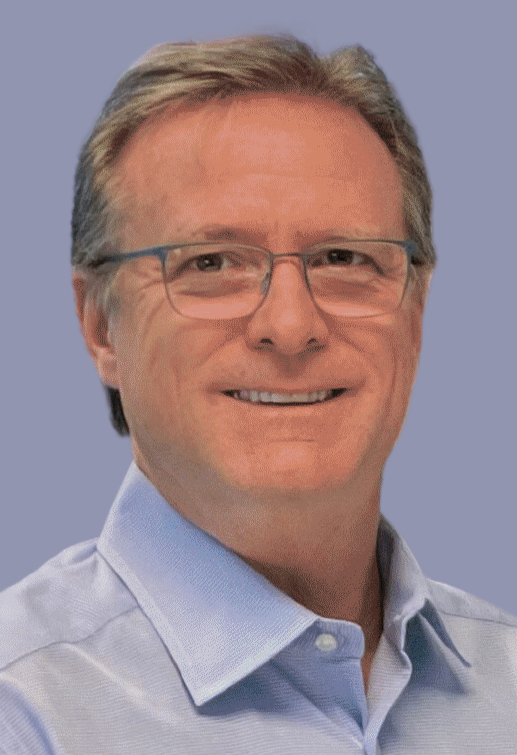 The company, based in the US state of Nevada, believes in a steady-as-she-goes approach and is building up its operations in stages. Its lithium-ion battery recycling pilot facility has switched to 24×5 operations and it now has its eye on full-scale commercialisation.
Cotton said its eggs are firmly in the lithium basket these days, adding it might even consider selling off its once-dominant lead recycling activity. He claims it is a completed product, on show and ready to be licensed. Aqua Metals considers the lead recycling IP to be complete.
Its lithium battery recycling – now 90% of activity – starts with black mass supplied by multiple sources. It digests the material in a mild sulfuric acid, using electricity as a reagent. "And that is probably 50% of our key IP, how we digest that material," said Taecker.
He said they follow a traditional hydro and leaching process, in which they adjust the pH to remove impurities. "Mostly what we're looking for with … that adjusted pH is to make sure we don't have iron and aluminium in the mix. Because those are the types of things that will kill a battery if they were to get into the cathode powder."
Measuring parts per billion
In terms of the laboratory, Aqua Metals uses very sensitive analytical equipment that can measure down to parts per billion. Taecker added: "All of our specs are in ppm level. For example, iron. We're taking samples every hour to ensure that we don't have any iron getting through. Because that's a big sensitive impurity in the battery manufacturing industry."
Cotton said many battery shredders will produce black mass that contains nickel, manganese, cobalt and iron. He said: "So one surprise for us in the early days of our efforts was, why is all this iron in here? And then we started to figure out what was really going on."
The company works with black mass providers to explicitly and specifically recycle the LFP batteries separately. Cotton said: "So then, we can actually extract that lithium with our novel process cleanly.
"But we have developed our process to be flexible to get the iron out, as Ben was mentioning, which is a really key impurity that we think that some of the other hydro providers are going to have challenges with when they try to even reach our scale that we're already at with those iron impurities."
The iron is removed by adjusting the pH to a point where the metal is no longer soluble. It is then filtered out.
The company said other businesses are attempting this type of process, but they often use sodium hydroxide, which results in sodium sulfate once neutralised. "One way to look at it is for every ton of black mass that they produce, they're going to produce about 1.2 tons of sodium sulfate as a waste product. So it's not a very sustainable solution," said Taecker.
Solvent extraction
Solvent extraction results in a nickel sulfate solution and a cobalt sulfate solution, which can be sent for plating as very pure metal and sold back into the supply chain for batteries or to alloy manufacturers, for example.
After removal of the cobalt and nickel, a liquid lithium hydroxide remains. After running through a crystaliser, a very pure lithium hydroxide is left. Aqua Metals also has a process to convert that to carbonate – a product requested by many offtake suppliers for LFP development.
Its top three recovered metals are lithium, nickel and cobalt (in that order by value). Lithium is especially lucrative due to its high price, said Cotton. He said the stated recovery rate is 95% and they are working towards 98%. Actual recovery is somewhere between these two figures, he said. Extracted graphite is passed on to local mining operations.
"Our goal is to recycle and reuse all of the battery and not have any waste streams. Our current process doesn't have any liquid discharge whatsoever, and will remain that way as long as we select the right black mass that doesn't bring in different impurities or significant moisture that would need to be removed," he said.
The company regenerates the chemicals it uses in a closed loop and claims not to produce any waste streams.
Pilot line an important step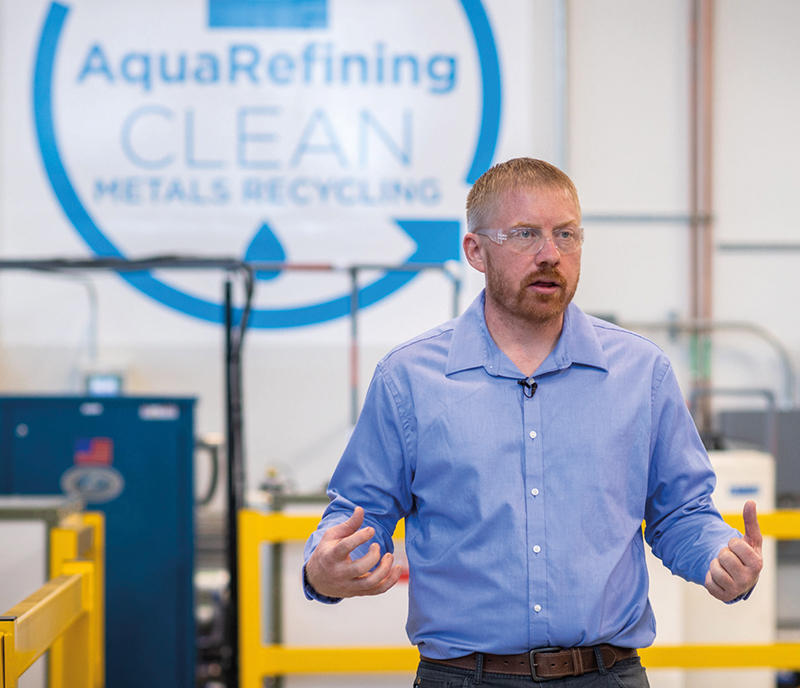 Taecker said building an intermediate pilot line was important, as each process change costs a lot of time and money. "So what we did in this programme is we purposely picked a pilot size that was scalable. So if you look at our anodes and our cathodes, the anodes and cathodes going into our larger scale facility will be almost identical.
"And the reason for that is we know the parameters, we know how it plays out. We're just going to add a whole bunch of them. Instead of five anodes and cathodes…per cell, we're going to have 25 or 50 per cell, depending on the metal."
In January, Aqua Metals announced plans to develop a five-acre commercial-scale recycling campus in Tahoe-Reno, Nevada. It will be designed to process more than 20 million pounds (some 9,000 tons) of lithium-ion battery material each year.
Foundations are being built and the plan is to start processing black mass next year, with an initial goal of 3,000 tons of output per year. The business has customers for its processed battery products. Some are not concerned about the presence of cobalt and nickel, Cotton said. This reduces time and processing costs.
"Positive customer feedback"
"But for the lithium, in the form of lithium hydroxide that we've already provided to some battery manufacturers, we've gotten a resoundingly unified response that this is the purest and best lithium hydroxide they've ever received," said Cotton.
Among its stated battery manufacturer partners is Dragonfly Energy, also of Tahoe, Reno. It is about to build a gigafactory making LFP solid-state batteries for, among others, the recreational vehicle market.
Another partner is cathode active material maker 6K Energy of Massachusetts. Aqua Metals is planning to co-locate with them at a pilot plant in Jackson, Tennessee, and hopes to see it up and running by 2025–26.
A third partner is Yulho Co. of South Korea. It produces high quality black mass and has licensed the Aqua Metals refining technology to produce 8,000 tons of the material per year. Cotton said Yulho is supplied by SK, LG and SDI Samsung. The licensing agreement covers up to 100,000 tons, representing a couple of billion dollars a year of material. The licensing fees are "close to 10%", making it a lucrative deal for both parties.
He said Aqua Metals is very flexible in its business model and is open to joint ventures, licensing deals and co-location. It claims 73 global patents and has 43 patents pending.
"We've got the organisational capability, we've got the IP, you can't license trade secrets, you can only license patents. So we're the company that has the patents. You know, a lot of the other companies that are doing the hydro can't patent it because it's just non-patentable because they're just using standard processes from the mining industry from 100 years ago."
Building on the lead programme
Cotton said the company, which prior to 2019 was focused on lead recycling, has developed "a brand new technology for the old lead recycling world."
It is an industry being built from the ground up. "And so we're much more excited about the lithium because there's a lot more money in it. The value per ton is just orders of magnitude more exciting. But there are fewer barriers for us in the lithium world because we're not talking to lead smelter operators that don't want to change."
He said the R&D for Aqua Metals' lead programme is complete, on its third generation, and has been on show since Q4 2022 at the company's partner in Taiwan, Acme Metal Enterprise Co, for anyone in the industry to visit.
Cotton said the company will no longer put money into lead recycling facilities but is happy to license its lead technology. Lead now accounts for only 10% of the company's focus, he said. He claims an IP valuation of the lead business worth "hundreds of millions of dollars". That includes a patented copper removal process.
Aqua Metals declines to say what its costs are to produce a ton of lead. It also refuses to specify costs of producing recycled lithium, nickel and cobalt on the grounds of it being proprietary information.
$3.5 million on R&D
Aqua Metals spent $3.5 million in the past year or so on R&D, said Cotton. This helps build its resilience. He sees some $200 million in annual revenues from the first campus and its annual production of 10,000 tons of black mass. The business has stated it should bring a net margin of 30%.
After our interview, the company announced a net loss for the second quarter of 2023 of $4.8 million, compared to a net loss of $3.2 million for Q2 2022.
Operating loss worsened to $4.9 million in Q2 2023 from a $4 million loss a year earlier. The company said this significant worsening reflects increased investment in R&D expenses and growth, and is in line with its forecast and plans for expansion.
De-risked technology but hurdles remain
Cotton claims the company has de-risked the technology greatly, and by more than anyone else. "But there are always going to be hurdles in that technology," he said. "We've built the organisational capability to overcome those hurdles. By our very nature as Aqua Metals, we're kind of a gritty resilient company. You know, we've been through a fire, we've been through a pandemic, we've been through a difficult transition of management teams a few years ago. But this company is resilient and has survived all that. So we know it's built into the company's DNA that we can jump over any hurdles on the technology side, but also on the execution side."
The fire
A fire in November 2019 caused significant damage to the refinery area of Aqua Metals' Nevada plant. Its equipment, including all 16 AquaRefining modules, control wiring and other supporting infrastructure, were damaged by the heat and smoke.
The $30.25 million insurance payout and sale of the plant ($12 million net proceeds) allowed the company to survive without returning to the capital markets. During Covid, it applied for and received $330,000 under the federal Paycheck Protection Program. The company said this is going toward the lithium-ion pilot facility and toward purchasing equipment for its first commercial facility.
Cotton said the fire – which he blamed on contractors – "basically accelerated in a very perverse and weird way the path forward for the company." It was weeks away from full capacity start-up of the facility, with an exit strategy to sell it.
The lawsuit settlement
In March 2022, Aqua Metals was hit with a $7 million settlement after a US court found it misled investors between 2016–17 regarding its lead-acid battery recycling refining process.
The District Court, Northern District of California, ruled that Aqua Metals artificially inflated its stock price by misleading investors about the viability and profitability of its lead-acid battery recycling technology – and when the truth about the technology was revealed, Aqua Metals' stock price plummeted in a series of one-day drops, causing investment losses.
Management turbulence
Cotton praised the company's original founders for their vision but said their wish to take the step from bench scale lead battery recycling to a giant facility caused "a lot of gyrations" and challenges. Cotton joined the company in late 2014 and subsequently became the chief commercial officer. He left in 2017 but returned in 2018. A purge began of people who were "not a good match" for the business' future, he said. Accounts of what happened from those close to the turbulence tell of bust-ups and even altercations.
But change happens, Cotton said, and a new management team and board are now in place. Former CEO Steve Clarke no longer has a role at Aqua Metals.
"So it's just common. It just happens. So there's no uniqueness really to our journey on that front – other than the fact that we had the fire event and the pandemic to get through, and some kind of unique things in the context of where our business was at at that moment in time."
Regular attention from the DOE
The tight team now in place is drawing regular attention from the US Department of Energy (DOE), he said.
"You know, the DOE used to wonder who we were. Now they're calling us saying 'Hey, you need to apply for this.' And they know us, and they like us. They like what we're doing, and they want us to succeed. So that's a good sign." The rest, as they say, is history.