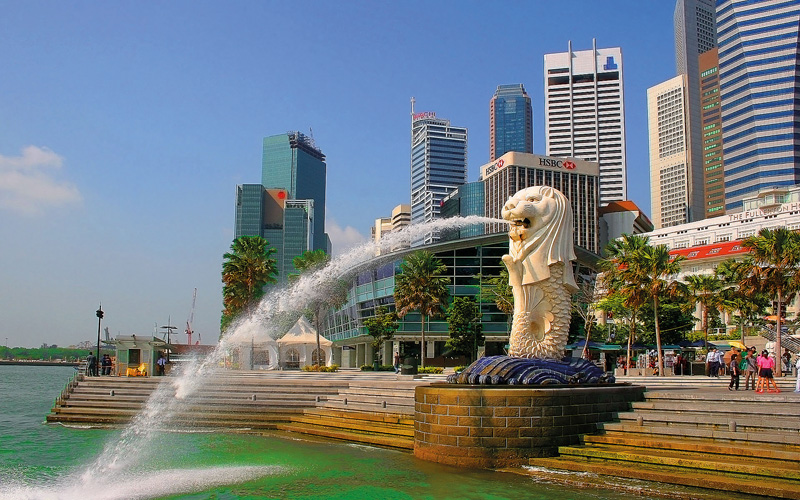 The biennial Asian Battery Conference returned to Singapore for the first time since 1987. My how it has grown! Editor Tim Probert finds an up-beat conference, excited by the possibilities of carbon additives for lead-acid, let down a little by too many videos and too much lithium-ion paranoia.
The last time the Asian Battery Conference (ABC) was in Singapore, the film 'Dirty Dancing' had just been released and Madonna was top of the charts with 'Who's That Girl'. Back in 1987, ABC was a different beast: a highly technical conference of the old school with only 150 in attendance.
ABC is now an 'event', where possibly everybody who's anybody in the lead-acid battery world tends to show up. A record-breaking 712 delegates attended ABC15, smashing the previous best of around 600, from over 40 nations.
The commercial attraction of ABC is a double-edged sword. It appears exhibitors who fork out for a booth may also get first dibs on the conference, and so the presentations were split into three main categories: insightful; those rather painful presentations by Chinese students reading their slides aloud word-for-word as if from an English class school textbook; and blatant advertising.
The networking opportunities are superb yet the conference suffers from too much puff, and certainly too many videos. Video can enhance a presentation, but when it amounts to little more than 'Introduce Company X; Introduce Product Y; Press 'Play'; "Any questions?'' it rather defeats the purpose of a conference.
While the show enjoys being a showpiece of the lead-acid battery industry, it is not clear if much business is conducted at ABC or whether suppliers are merely talking to other suppliers. That said, it is a comprehensive conference, running the gamut of lead-acid, from the price of lead to next-generation batteries and everything in between, so there is something for everyone.
Being a lead-acid show, delegates and speakers seemed all-too-keen keen to talk down lithium‑ion. Eco-Bat's Ray Kubis almost gleefully highlighted the well-publicised events— did anyone say Boeing 787 Dreamliner?!— since the last ABC in 2011. The perceived easy-ride lithium gets in terms of recycling— "not good enough!"— continues to be a bugbear of the lead-acid community.
Part of this is jealousy. As I blogged on the BEST website recently, the relationship between lead-acid and lithium-ion is like that between a slightly aging actress and a young starlet. The younger woman gets most of the attention – Electric vehicles! Power tools! iPhones! – and the aging actress looks on with some bitterness and envy.
Yet the lead-acid industry has no need to be so defensive. It may be aging but it has still by far the biggest box office, and will continue to do so for some time to come. And as ABC15 demonstrated, carbon additives— the Botox of batteries— are prolonging their beauty.
Buzzy atmosphere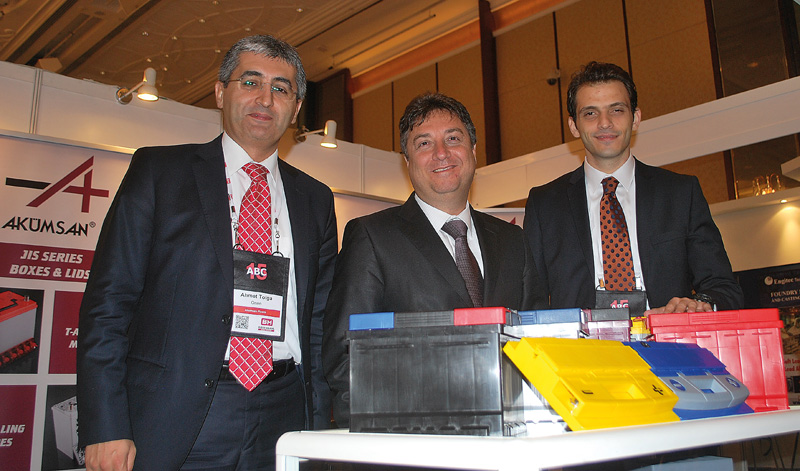 ABC15 kicked off in earnest with a cocktails-and-canapes network reception the previous night, which was positively buzzing and led to a genuine sense of occasion. Day one of the conference began with insight into the global lead market. Conclusion? Up, up, up all the way in terms of demand. Asia is the centre of the battery world, with two-thirds of the market. Asia has 60% of the lead-acid battery market and 90% of the lithium-ion market.
Global demand for lead is set to rise from 11m tonnes to 15m tonnes over the next decade, with growth coming from Russia, Asia and Latin America, although North American output is forecast to halve. Asian demand is seen growing 7.1% per year against barely 1% for the rest of the world.
The urbanisation of China and India— which will see a combined 355m people living in their cities by 2025 – is at the core of the anticipated demand. This will have a knock-on effect on demand for cars, two-wheelers and telecoms.
In the short term, consolidation among US smelters is driving regional tightness and may push the United States to renew imports, drawing in supply from the rest of the world and lifting premiums in Asia and Europe. Helen Matthews of consultancy WoodMackenzie expects the global lead surplus of around 100,000 tonnes this year halving in 2014.
WoodMac sees lead prices, currently trading at around US$2,100/tonne, rising US$100 higher next year, and in a US$2,200-2,400 band for the next few years. Neil Hawkes of analysts CRU said international US premiums paid on top of LME prices to obtain metal, are around US$0.10-0.12/lb (US$220 to US$265 a tonne), but could rise US$0.15 next year.
Chinese problems continue
Yet while demand for lead continues to be strong, not everything is totally rosy in the Asian battery world. Increased performance has reduced demand for replacement market for forklift trucks, while growth for new e-bikes in China is seen as flat at best, with negative growth likely.
E-bikes, dubbed a 'silent killer' because they are difficult to hear until it is too late, are being banned in several major cities due to a large number of road accidents. With e-bikes comprising one-third of the Chinese battery market this could have a significant effect, though the huge existing fleet requires new batteries every two years and so the replacement market will remain reasonably firm.
China may have culled its battery manufacturers to just 300 from 3,000 in ten years, but the "environmental storm" was far from over, warned Dong Li, CEO of Leoch Battery Shenzen Group – China's fifth largest battery firm.
Chinese battery manufacturers, not wishing to commit suicide, have made a collective decision not to apply for a license to continue operations, fearful of a Government yet to make certain of its new regulations. With everyone waiting for everyone else to apply, the Government has delayed the process until next year.
Many Chinese firms fear the reaper and the impasse is exacerbated by the ban on banks lending to small and medium-sized battery firms and there are big challenges ahead.
Sustainable – yeuch!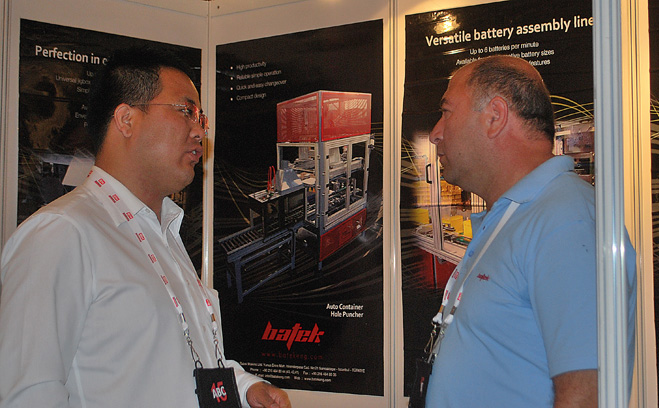 Continuing the environmental theme, Kubis went big on demonstrating how lead had improved its 'sustainablilty', that dreadful catch-all – yet pretty meaningless – term, plucking out a brilliant stat that a 1957 Chevy pumped out the same amount of lead – 8.8 lb – over 15,000 miles as the 12,500 tonnes/year Quemetco recycled lead facility in Indianapolis today.
The imminent closure of the only primary lead smelter left in the United States— Herculaneum in Missouri— not to mention the declining North American primary lead market in general, offers an opportunity to the secondary lead market, and don't they just know it.
David Prengaman of Eco-Bat is marketing its 'SuperSoft' secondary lead as a direct replacement for Herculaneum primary lead, boasting of its almost identical purity, except – joy of joys! – its higher bismuth content. Whether Eco-Bat's offering will match the price of Herculaneum's soon-to-disappear output is another matter.
Special mention must go to Brian Wilson of the International Lead Management Centre (ILMC), who scooped the 'International Lead Award' gong, which is, of course, a medal. Wilson has spent many years encouraging lead recycling techniques in developing nations, tirelessly negotiating with government departments in India— an almost thankless task— and Africa.
Wilson regaled the audience with the time he spent in Russia at a smelting plant. As a vegetarian, all he would eat was cabbage fritters, while his Russian comrades would demand endless slabs of meat. Such was his appreciation of their cabbage fritters it brought offers of marriage from what Wilson described as attractive yet put‑upon dinner ladies, though quite what his Russian brothers and sisters made of his all-too-probable flatulence, we were not told.
Patchy presentations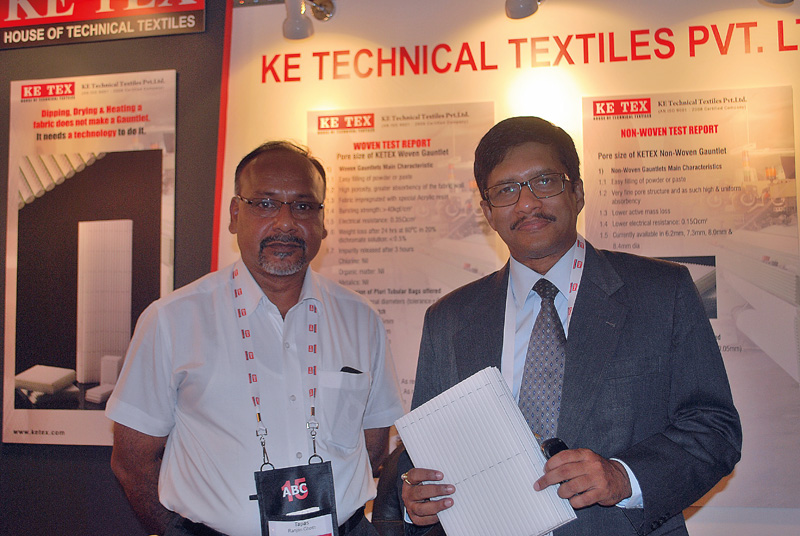 It is doubtful whether Ajou University's Jeongbin Lee will look back on his presentation at ABC15 with relish. Presenting research on the charge/discharge behaviour of an absorbent glass mat lead-acid battery, which was simultaneously very brief yet 'thorough', the audience proceeded to bombard with questions poor Jeongbin— whose English was somewhat less than fluent— to fill the time, and he walked off the stage somewhat dazed and confused.
Jun Furukawa will probably not look upon ABC 15 with fondness either. One by one industry heavyweights took potshots at Furukawa's patchy Ultrabattery presentation.
NorthStar's Gunder Karlsson queried how Furukawa had magically solved the problem of acid stratification. The International Lead Zinc Research Organisation's Boris Monahov questioned the performance of the positive plate, while a representative of Exide wondered how cycling life apparently improved with greater depth of discharge.
Maybe the questioners are not keen on seeing the Ultrabattery progress, or maybe it was just a duff presentation with more holes than Swiss cheese. Whichever the case, Furukawa's Ultrabattery is already on the market and appears unlikely to be going away.
Ultrabattery got two goes at ABC15. John Wood of Ecoult, owned by East Penn, boasted of its sexiness as a dual-purpose UPS/frequency regulation system, mainly for data centres, which in return for a US$1.5 million per MW investment, could earn around US$250,000/year for balancing services. Wood was tight-lipped over its new customers, but we'll find out soon enough.
The author was also disappointed with Abertax's KD Merz presentation on coupling solar PV with, among others, lithium-ion energy storage batteries, as it appeared to conclude it needed a CHP unit to make it work. Funny that!
Alan Cooper of ALABC was much more satisfying with an excellent presentation on converting various VW Passats to a micro-hybrid with 12V and 48V lead-acid batteries in conjunction with an integrated starter charger and electric supercharger.
This award-winning programme has real potential to be deployed in the commercial field as an inexpensive way to increase performance while reducing emissions, even though fuel efficiency may be compromised. Again, though, one had the suspicion that here was another case of being seen to preserve the relevance of lead-acid against the young upstart, lithium-ion, and hearing of a stalled project run by Hyundai – but using a car made by arch-rivals Kia – deflated the optimism somewhat.
More 'Lead Ain't Dead'
The second day continued the theme of 'lead ain't dead'. Geoffrey May of Focus Consulting expects lead-acid to dominate for at least the next 20 years, bolstered by demand for stop-start batteries, which will be in the majority of all new cars sold within the next ten years. We shall see.
Perhaps again with lithium-ion in mind, NorthStar's Gunder Karlsson presented his research on thermal runaway in VRLA— research that was actually conducted more than a decade ago. Once more, it was an obvious example of 'Lead-acid 1, Lithium-ion 0', because thermal runaway in lead-acid cells is really a thing of the past.
Meredith Block of the Blacksmith Institute (BI) – having recounted a project in Senegal to clean up some gruesome levels of lead in villagers' homes – told of progress in China, which is not quite so offended by the thought of Westerners poking their noses in their business as it once was. The University of Zhejiang, which has received a grant to research lead clean-up, approached the BI, and work is set to commence in November at lead battery manufacturing and recycling facilities in Chanxing County, Zhejiang Province.
Batteries Plus' director of quality assurance Oz Rahman made an interesting presentation on how his firm, a major battery retailer with over 600 stores in the USA, sources its batteries, of which 75% come from Asia.
According to Rahman, visiting an Asian battery factory is like stepping back in the past, with antiquated facilities and techniques which usually don't cut Batteries Plus' mustard. Only one-third of Asian batteries sampled pass their tests in Shenzen and Milwaukee, and Rahman was clear: if you want to sell batteries to me you need better quality control with better verification data.
Additives Day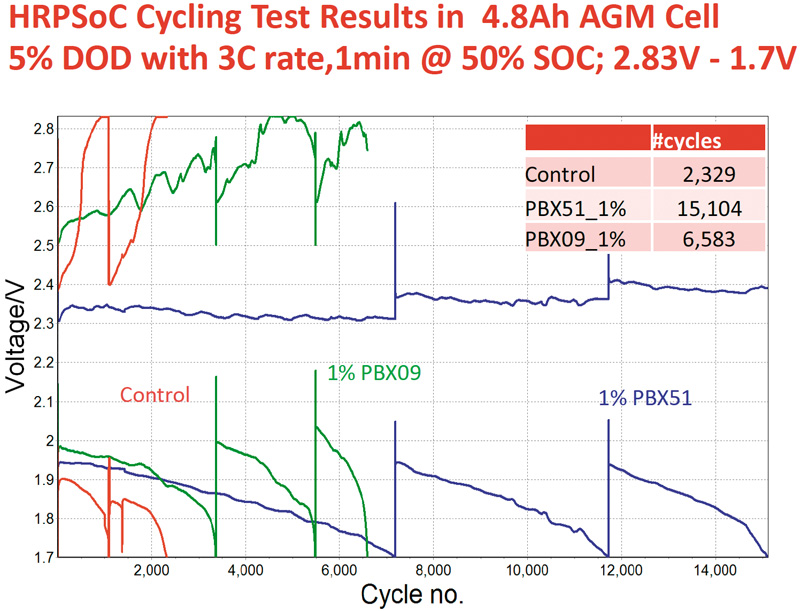 Day three was, mainly, 'additives day' and certainly the most academic. While carbon additives show enormous potential, they are not without drawbacks, primarily high-rate discharge and high water loss. There is strong evidence that decreased high-rate discharge and higher water loss are due to partial adsorption of lignosulfonate on the carbon surface.
Developing the right carbon additive for advanced lead-acid batteries is not easy; there is no one-size-fits-all solution due to the differing depth of cycling for various applications, be it e-bikes or stop-start.
Paolina Atanassova of Cabot seemed very proud of their carbon black additives, which she claimed improved cycling rates by 300-1,000%. Quite how carbon additives improve dynamic charge acceptance and cycling life so dramatically is not fully understood, and this came through in Paolina's presentation, though maximising the surface area using the minimal volume of carbon black is the general rule of thumb to success.
However, maximising the surface area of the negative active material (NAM) while lowering carbon black additives can result in depolarisation of the negative plate, while raising carbon content leads to a big water loss headache. Atanassova said Cabot was surprised by profound test results showing when the overall concentration of lignosulfonate in the negative plate paste is appropriately adjusted, high-rate discharge performance and water loss can both be restored to an acceptable level.
The Bulgarian revealed Cabot is testing new carbon additives for lead-acid batteries resulting in a significant dynamic charge acceptance performance improvements, and is close to releasing highly promising trial data results.
For many, carbon additives are a case of suck-it-and-see. New Zealand is not renowned for its battery expertise but a start-up – ArcActive – is giving it a shot. ArcActive's schtick is developing negative plates based on arc-treated carbon fibre loaded with lead NAM to enhance direct charge acceptance.
The carbon fibre is heated to around 3,500°C – you cannot get much hotter without vaporising it; it has taken the Kiwis ten years to optimise the process and they say it is worth the effort. Having initially sought to harness the technology for supercapacitors, it wisely decided to pursue a hybrid lead-acid/supercapacitor battery instead.
ArcActive is targeting 80A DCA from a 25 mA/cm2 superficial area with nine negative plates and 17 plates, using a simple leady oxide/vanadium/barium sulphate paste. Working with Focus Consulting's Geoffrey May, who doled out some 'tough love' to improve ArcActive's poor performance, the New Zealanders have improved its CCA data from 170mA/cm2 at -18°C to 390 mA/cm2, though CEO Stuart McKenzie is not quite sure exactly how…
The New Zealanders have obtained NZ$10m (US$8.5m) – a whiff of an oily rag, as they put it – but they say it has attracted the attention of a number of suitable manufacturers. Watch this space.
Meanwhile, Angel Kircher of Laboratoire de Stockage de l'Électricité, part of France's CEA, and erstwhile student of the Institute of Electrochemistry and Energy Systems, Sofia, presented the results of a study into carbon honeycomb current collectors for lead-acid batteries operating in high-rate partial state-of-charge (HRPSoC) applications such as hybrid electric vehicles.
The upshot is HRPSoC operation without irreversible sulfation of NAM comes at the cost of disappointing energy efficiency due to the thickness of the plates (3.5mm), as well as high water loss. Moreover, the Faradic efficiency of about 99% results in disappointing micro-cycling results.
The HRPSoC cycling of the negative plates proceeds with a Faradic efficiency close to that of the positive plates. Thus the negative plates become sulfated after about 50 capacity turnovers. The sulfation is highly reversible, however, and the capacity of the negative plate is completely recovered even after only five HRPSoC schedules that involve several deep cycles.
As ever, NorthStar's Gunder Karlsson probed deeper and ascertained that Kirchev had not made any attempts to observe the size of lead sulphate crystals after NAM sulfation. Kirchev said this information would be available "sooner or later", without suggesting when.
To summarise a decent show and few would have left ABC15 too disappointed, but then again the author wonders if many left enlightened, even after a three-day marathon.
Smelterless lead recycling?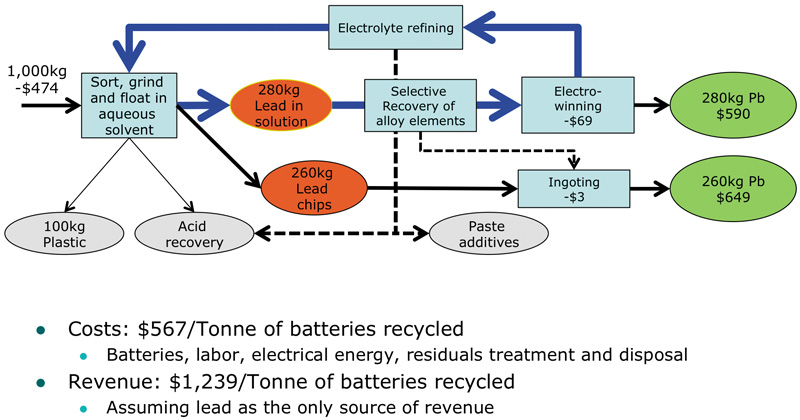 Around 220 delegates attended the 3rd Secondary Lead conference, which was a big jump on the previous show and for what is a pretty niche event which took place two days before ABC15. There was good feedback from delegates and Australian event organisers Conference Works were pretty excited about the prospects for 2015.
Perhaps the most interesting presentation was by Britain's Stephen Clarke, CEO of California's Applied Intellectual Capital (AIC). Clarke unveiled 'smelterless' lead-acid battery recycling via an all-aqueous process incorporating a new electrolyte.
Due to environmental issues, it's becoming difficult for lead-acid battery manufacturers to be 'hivers' of lead and conduct on-site recycling with a smelter. China is making it illegal for manufacturers to own recycling facilities, making it hard to be vertically integrated.
AIC's objective is to produce an automated, closed loop recycling plant using an all-aqueous process with no waste gas, liquid or dust emissions. Lead oxides go in and lead comes out via a new, non-toxic, biodegradable electrolyte. As there is no CO2, SO2 or lead dust emissions from the process, Clarke suggests 'smelterless recycling' may not even require a permit.
AIC got into this when it worked in Hawaii to recover lead, lead oxide and lead sulphate from coral sands at the Pearl Harbor burial ground on behalf on the US Navy. Being calcium carbonate, coral sand is more soluble than lead, lead sulphate and lead oxide, so AIC developed an aqueous solvent extraction technique, a closed-loop process re-uses the solvent and the development of a novel plating process to preserve the aqueous solvent.
Despite the success of the project, AIC found no wider marker for taking lead out of soil and the work gathered dust on the shelf for the best part of ten years. In 2012, AIC revisited the concept to adapt it to lead-acid batteries.
Clarke insists AIC is not a firm of "white-coated lab rats" and it has built a 1-2 tonnes/day prototype as proof of concept. The pilot works by dissolving and plating lead rather than melting it, a 2000 year-old technology; the lead chips are melted into ingots and then split into two streams primary and secondary lead – the tricky bit.
AIC's modelling estimates the process has an all-in cost of US$727/tonne, earning revenue of US$1174/tonne. At commercial scale, at a US$20m capital cost for a unit processing 40 tonnes/day on-site, revenue of US$1239/tonne would accrue from US$567/tonne costs.