Germany's green politicians are spreading the word that electricity can be stored, and that it can help the uptake of renewable energy. There could be no better boost for the battery business says the Editor in this report from Gelsenkirchen.
The world seems to become a smaller place with every passing issue of BEST. I can spend a couple of days in Germany at a meeting, then cross the Atlantic to attend a very similar meeting in the U.S. and get an entirely different perspective. All in the course of one week, and all in the cause of Energy Storage Technology.
That's what it was like at the end of October when I attended the first meeting on energy storage – organised by Eurosolar and held in Gelsenkirchen, Germany – and then flew to Washington to attend the Electricity Storage Association's peer review meeting.
If you are not familiar with Eurosolar, it describes itself as a non-profit European body which conducts its work "independently of political parties, institutions and commercial enterprises". Its goal is the total replacement of both nuclear and fossil energy.
It's true that passions are aroused occasionally at battery conferences, but the Gelsenkirchen meeting was like nothing I'd ever attended before in this energy storage arena. The meeting had delegates from 27 countries, though the great majority were German. But no matter who you've got lined up to speak, a meeting only comes alive if the delegates are engaged; the magic ingredient here was politics and, particularly, politicians.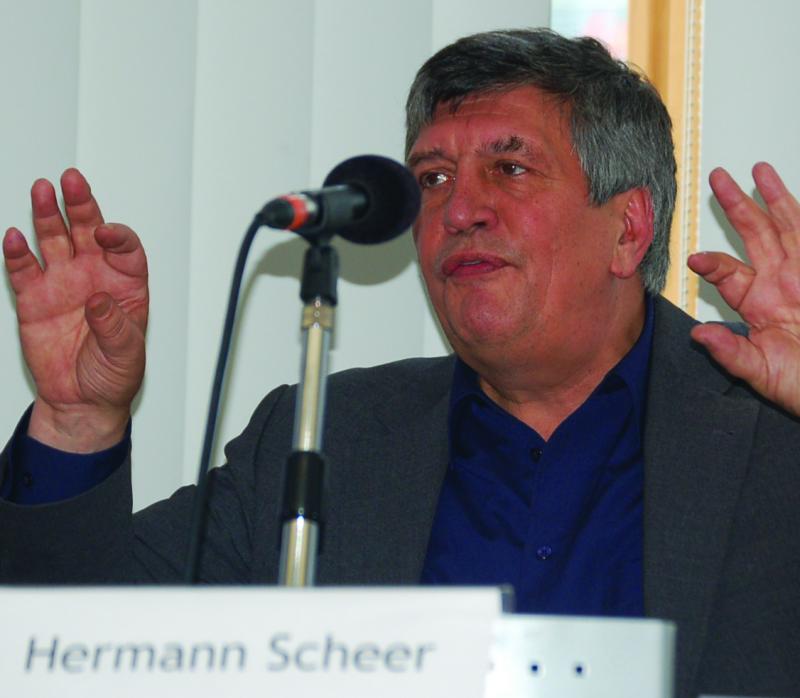 In the same way that plug-in hybrids have captured the imagination of both democrats and republicans in the U.S., electrical energy storage has caught the imagination of green politicians in Germany. The leading light in this sector is one Dr Hermann Scheer, who chaired the meeting, talked a great deal, and gesticulated even more.
This man is without doubt an absolute powerhouse of technical know-how and political clout. He is a very serious challenge to the status quo of electricity generation in Europe, so there are probably a lot of people who don't like him. As well as being a member
of Germany's parliament, he has received a lot of
accolades – including being named 'Hero for the Green Century' by TIME magazine in 2002.
Dr Scheer is of the opinion that renewable energy sources such as wind and solar, when coupled with energy storage, can help the human race move forward without being dependent on nuclear power or the other stuff – fossil fuels. And that has a bearing on climate change.
There was a certain degree of poignancy about the timing of the meeting. In London, Tony Blair was simultaneously introducing the so-called 'Stern Review', an analysis by Sir Nicholas Stern, one of the UK government economic bigwigs on the financial impact of climate change. In a nutshell the review estimates that if we (i.e. the world) don't act, the overall cost – and risk – of climate change will be equivalent to losing at least 5% of global GDP each year, now and forever.
If a wider range of risks and impacts is taken into account, the estimates of damage could rise to 20% of GDP or more – the worst recession you could possibly imagine. So that meeting and Dr Scheer's commentary were unusually timely.
Of course he's not an engineer, and there will be lots of critics who'll say it can't be done without spinning reserve, and the European grid can't work without that, and all the other arguments that involve building new nuclear plants.
If nothing else, Dr Scheer is encouraging that rare process on the political landscape known as 'thought' and considering different ways of doing things. His new book, Energy Autonomy, examines why there is resistance to alternative energy, and how that resistance can be overcome.
If George W. Bush was running a battery business he'd probably come to the conclusion that Dr Scheer is 'with us', rather than against us. If nothing else Dr Scheer is communicating the simple fact that electricity can be stored – and that's something the battery industry, and all those who champion electrical energy storage, haven't really had that much success with. Let's be honest, have they?
If the Gelsenkirchen meeting had been a comedy show, which it was not, then the politicians, including Dr Scheer, were one big warm-up act, which went on for the best part of a morning. This was a big technical meeting too, with sessions stretching into the early evening; and half of it was devoted to thermal energy storage, which I believe BEST's readers have limited interest in. Batteries were the reason I was there, and the usual suspects from the world of batteries – Jim McDowall of SAFT (also representing the Electricity Storage Association) and Michael Reed of Electro Energy to name but two – were there also.
From the world of battery academe, there was Prof. Dr Dirk Uwe Sauer of Aachen University and from France Dr Marrion Perrin who made a witheringly accurate summary of all things electrochemical that were delivered. "So what?" some ofyou may be saying. "Where's the business opportunity?"
Germany can, in theory at least, make a major switch to renewables for power generation, especially wind; and there are significant battery opportunities not just for large-scale flow batteries but for lead-acid systems too. Who says so? Vanessa Grimm of the Wuppertal Institute for Climate, Environment and Energy.
Grimm's work focused on studying how much balancing power would be needed to cope when as much as 50% of Germany's electricity generation comes from intermittent sources. With wind forecasting and modelling now an advanced art, this isn't such a difficult
problem to solve – the figure is anything between 1.7 and 3.6GW per day. But how should it be sourced? That isn't so easy to answer, because of the varying running costs and capital costs of the technologies that are available. It's back to 'suck it and see' science, or what are known as pilot projects – and everyone's trying something different.
Close enough to BEST's own backyard (in Ireland to be precise) VRB Power Systems has announced the coupling of a 12 MWh vanadium redox battery with a 32MW wind farm. It should be completed at the end of this year.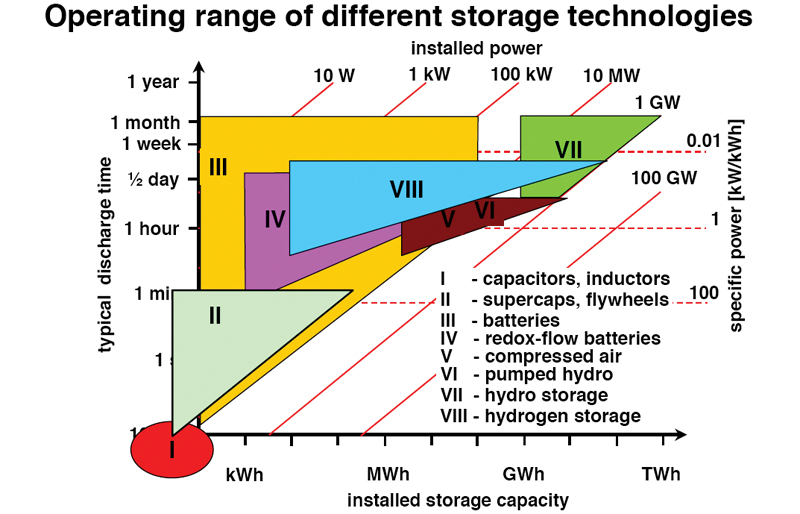 Compressed air energy storage is also favoured but, while the economic models can show relative costs, they can't show reliability, availability and efficiency. That's why metal must be bashed and put to the test.
In Japan a 6MW vanadium redox battery has been coupled with a 30MW wind farm. Both these technologies work out at least twice the cost of balancing wind power with coal fired plant when capital costs are taken into account; but with increasing carbon taxes it all becomes more feasible. Engineers show what's possible, and also, perhaps, what's a little crazy. Take for example the Norsk Hydro project on the small island of Utsira off the southwest coast of Norway.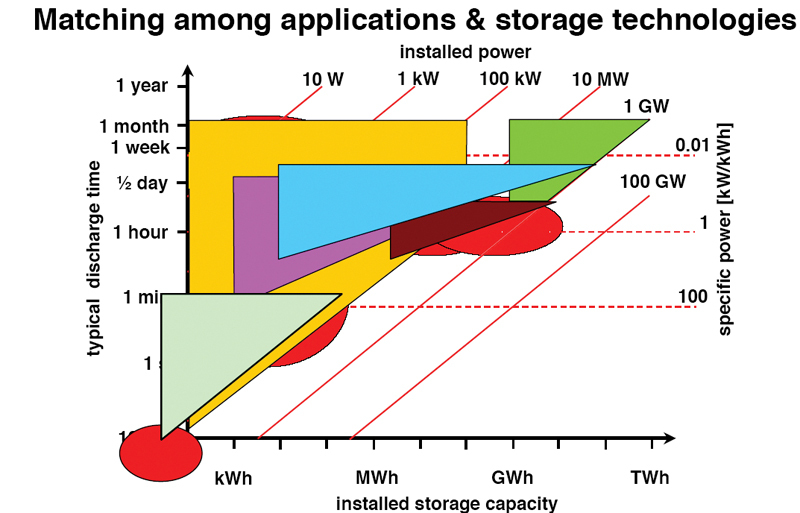 Back in 2004 the company, which is a major builder of water electrolysers, collaborated with turbine builder Enercon to provide a system in which two 200kW windmills drive electrolysers to power a fuel cell and a SAFT Ni-Cd system to provide electricity for – wait for it – just ten households! One assumes that the community doesn't have to pay the true cost of its electricity supply. Norsk Hydro describes the site as a 'hydrogen community showroom'. In my humble opinion this is a Maserati showroom where the customers are really looking for Fords.
There are cheaper and simpler options for off-grid communities, as JK Kaldelis of the Laboratory of Soft Energy Applications & Environmental Protection in Piraeus described. Greece has plenty of them – it's a country I once saw described in a geography textbook as 'slashed to ribbons' because of its hundreds of small islands. Kaldelis applied some horribly complex cost-benefit analysis to the problem, comparing hybrid wind, solar and diesel systems with a variety of energy storage solutions; he determined that sodium sulfur batteries offered the most cost-effective system of all. But what suits Greece, where there is a lot of wind and a lot of sun, will not suit Germany.
As Prof. Dr Sauer illustrated, Germany's problems (and those of the rest of Europe) are more about transmission line congestion. New lines take years to plan, they are expensive to build, and their capacity is limited. Storage is also expensive, but it can be very flexible in terms of what you need and where you need concerning power and energy capacity. If there's one message that delegates should have gone away with, it's matching the technology to the capacity; there is no 'one size fits all' solution. There are opportunities to use different technologies at different points in the network to facilitate the utilisation of renewables and minimise the stress on a less-than-ideal grid.
Perhaps the real masters of electrical energy storage in Europe are neither the French nor the Germans but the Swiss. You only have to look at a map to see why this should be: the country may be outside the Euro zone in monetary terms but it is slap bang in the middle of the European electricity network. Vast quantities of power flow through the Swiss network from the French nuclear system to the rest of Europe in grid balancing and peak demand deals.
The Swiss electricity generation network has a very small carbon footprint – it's 56% hydro powered (look at the geography – lots of lakes, rivers and glaciers). And there's plenty of opportunity to use these natural features as energy storage facilities.
Rudolf Rechsteiner, a Swiss parliamentarian, entrepreneur (wind farm investor), economist and anti-nuclear expansionist brought out some interesting home truths concerning how the Swiss are now using storage. It can be used either passively, without overnight pumping, or actively, which is 20% less efficient. But it's in the Swiss electricity industry's interest to do just that, as it can sell the power at a high price because of the growing demand across Europe as a whole and the insufficient reserve capacity across the continent.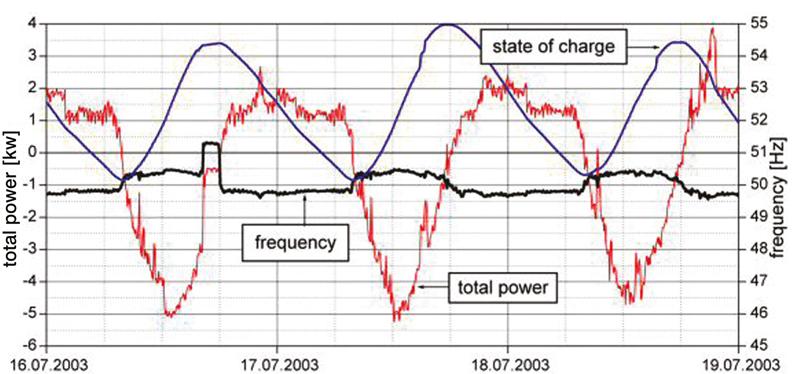 Climate change is also making itself felt. Summer power demand in Europe is overtaking that in winter, presumably because of the reducing need for winter heating and the increasing demand for air conditioning in the warmer months. The Swiss built large-scale energy storage facilities to meet their own peak power needs many years ago, but now it is more lucrative to bail out the rest of the continent which hasn't invested sufficiently in generating technology or is paralysed in the headlights of choice over renewable nuclear and cleaner fossil fuels such as gas from the former Soviet Union.
Rechsteiner used the remainder of his time to give the International Energy Agency a good kicking for denying that renewables will ever play a major role in power generation. In fact the renewables industry has grown much faster than its champions (like Greenpeace) ever imagined it would – 75GW at the end of 2006, rising to 100GW by 2008; by 2020 wind power will be generating more electricity than the nuclear industry.
But even with system operators picking up the cost of transmission, the issue of intermittency doesn't go away. Rechsteiner used the argument (first presented by German physicist Dr Gregor Czisch) that the issue of intermittency in wind farms can be smoothed out by increasing the distance between wind farms. In the transition to the new ideal 'super grid' which would allow this scenario, Rechsteiner calculates that a Europe-wide system (660GW of wind) would need 9% of additional back-up power.
Rechsteiner estimates that pumped storage capability in Europe is more than sufficient, at about 15% of demand, but it is rated at just 96GW; another 120GW are needed. One way of doing this might be to expand Swiss pumped storage. Another way, of course, is to establish many more large scale back-up battery systems.
There was a mournful air overshadowing the presentation of Norbert Lewald of Stadtwerke Karlsruhe. Here was someone with practical hands-on experience of integrating and operating lead-acid-based energy storage systems for his utility. They work, but they are not economic by today's standards. That's because there is a world of difference between the classic grids of today with their high (330–440kV), medium (10–20kV) and low (400V) distribution systems and the grid structures that are really needed to make the best use of renewable sources of energy, distributed generation and even bi-directional flows of energy from plug-in hybrid cars.
Lewald let it be known that he would soon be a casualty of reorganisation within his company. Maybe this was a metaphor for the kind of fresh thinking that's needed, not just by renewable operators but by those with a massive vested interest in the status quo of power generation and distribution. And it's not obvious that it is coming.
Intermittency (and, to a lesser extent, cost) is really the last barrier that the pro-nuclear and pro-fossil lobby groups can rely on to slow the uptake of renewables in mainstream electricity generation.
What this meeting showed without a shadow of a doubt (and somewhat repetitively) was that, if you get the numbers right, intermittency can be conquered. You can have stable ac coming from renewable sources – possibly even more reliably than that which comes from conventional mains supplies.
Michael Vandenberg and Prof Dr. Jürgen Schmidt of the Institut für Energieversorgungstechnik showed, through illustrations of the hybrid power system on the Greek island of Kythnos, that thanks to modern power electronics and innovative design it's quite feasible for the elements of a mini grid to come and go together (resulting in islanding of parts of the system) with minimal transients, providing there's enough storage capacity.
Can this be done on a large scale? Yes, if the storage capacity is located under the bonnets of our cars. If the 216 million cars in Europe were plug-in hybrid electrics, and each carried 10kW worth of storage, that would give 2160GW of storage capacity – three times the total of Europe's generation capacity!
Of course it's all a big if, but not an impossible one. It's about the integration and application of existing technologies – not waiting for technical breakthroughs that are years away. The toolkit is there, and the battery industry is at the heart of it. So what are we waiting for?