A short-circuit on a e-rickshaw battery is suspected to have caused a fire that left 100 vehicles burnt at an electric vehicle charging station in India on 8 June.
Investigations into the cause of the blaze at the parking area of Jamia Millia Islamia (JMI) Metro station is ongoing but is thought to have happened while an e-rickshaw was being charged.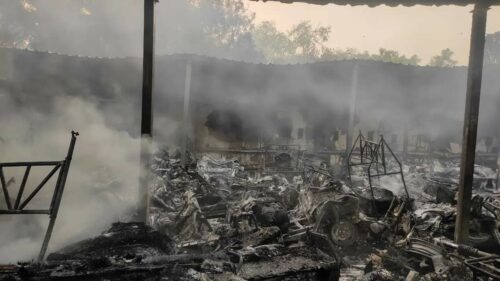 A total of 10 cars, a motorcycle, two scooters, 30 new e-rickshaws, and 50 old e-rickshaws caught fire, according to reports.
No casualties were reported by the Delhi Fire Service.
A total of 11 fire tenders were rushed to the spot around 5am on the day.
India battery fires
In April, Indian electric scooter maker Okinawa Autotech launched a recall after concerns the lithium-ion batteries in their Praise Pro scooters had caused a fatal fire.
The recall affected around 3,215 batteries and follows a spate of electric scooters catching fire in India.
A Praise Pro caught fire while charging, resulting in the death of a man and his 13-year-old daughter in the city of Vellore on 26 March, reported by the newspaper Economic Times of India (ETI).
Electric scooter recall after battery fire causes deaths amid spate of two-wheeler fires in India