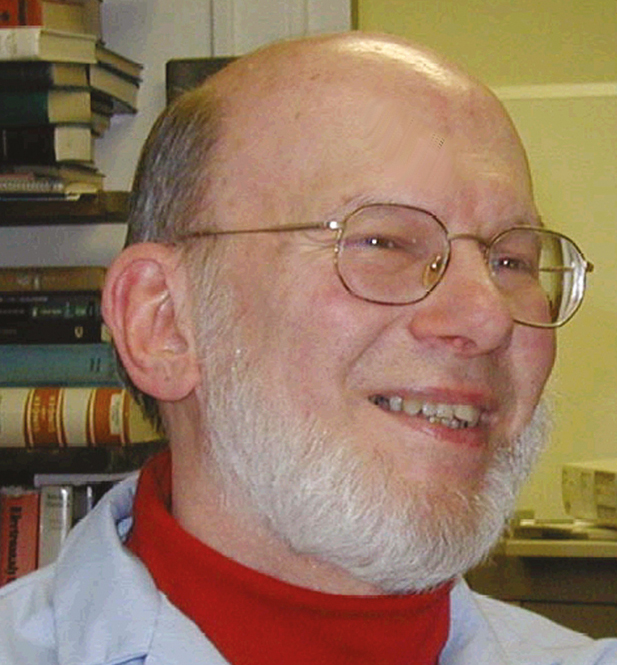 George Mayer has given you most of what you need to know to charge batteries and measure battery parameters. Now you can start testing in earnest.
Greetings again from BEST Battery Practices. In three previous columns, I've expounded about plate curing (BBP1), Peukert curves and choosing a battery (BBP2), battery charging (BBP3) and ISO 9000 and other quality issues (BBP3). If you are a new reader to this series and haven't read my previous columns in previous issues of BEST, then contact Gerry or Hugh and ask what sort of back issues or reprints are available. Sometime in the future, we hope to print these all up in a book. In the meantime, here is BBP4, where we continue the saga on charging.
If you are interested more in chemistry, then see the article from Hammond elsewhere in this issue and compare the contents with previous articles from Addenda and Penox. But be prepared for the ultimate article on curing from BTC in the Summer or Fall 2005 issues of BEST.
In the rush to get out the last column, some information wasn't included. The references for the Ruetschi, Will and Willihnganz/Mayer/Zachau papers are given in the footnotes. Also, for BBP3, the power supply-as-charger circuit I described is easier to visualize with a schematic diagram, given here as Fig. 1. Most of the components are described in the Parts List. Not shown or described are some of the practical details such as a cabinet, a heat sink for the diode, and the cables to connect the box to the charger and to the battery. The diode should be electrically isolated from the heat sink and/or the heat sink electrically isolated from the cabinet. The wiring should be adequately sized to carry the expected currents – not only between the box and the charger and the battery, but also within the box. Wire size for low voltage DC is not much different from the size of wire for mains power AC. It can never hurt to use a larger wire size: the added cost is offset by the added safety. Your country may have special requirements; in the US we have the NEC (National Electric Code). Don't overlook the choice of wire insulation material. For the lab, PTFE in its many forms, is best. Avoid power wire with an overcoating of nylon unless you're working with alkaline-electrolyte rather than lead-acid batteries. Acid eats nylon very aggressively.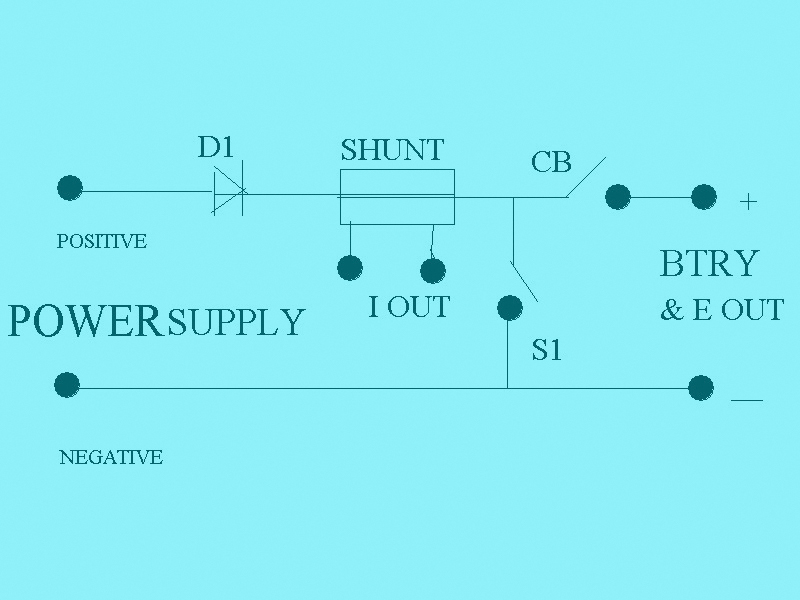 The circuit in Fig 1 is used as follows: maximum charge voltage is adjusted on the power supply with the battery disconnected. You can add test points in parallel with the box output to measure voltage. Battery disconnection can be from opening the circuit breaker CB, then maximum charge current is adjusted by shorting the box output by closing switch S1 WITH THE BATTERY DISCONNECTED AND THE CIRCUIT BREAKER CB OPEN. Re–read and heed all of the safety information in BBP3, and follow the safety procedures mandated by your company. Just in case there is any confusion, we are NOT using the convention for plumbing or internet connections or doors, i.e. here OPEN means disconnected and CLOSED means connected.
A discharged battery put onto charge through the box (with circuit breaker CB closed) should quickly go to the current limit. Then, as the counter EMF (voltage) rises, the current will taper off. Some batteries, especially nonantimonial, may show a delay in charge acceptance, because of deep sulfation and/or a barrier layer between the positive grid and the PAM, the "antimony free effect". If current doesn't flow within a few hours, the battery may need to be scrapped out, or charged at a higher voltage, or charged by a more exotic machine such as a pulse charger. The initial charge current is therefore a simple nondestructive indication of sulfation or the "antimony free effect".
The reams of data (voltage, current, temperatures, and maybe impedance or polarization) can certainly be collected by hand, using a simple digital multimeter, a clock and a clipboard. Next higher in sophistication is a single or multichannel strip chart recorder, and next higher is a digital multimeter connected by a serial or parallel link to a computer. Still higher, you can use a datalogger made by one of several vendors. My favorites are by Fluke, the Hydra 26XX series, 228X series, 2400 series and 22XX series, where X is some digit (2625, 2635,… 2240, etc.). Dataloggers can also be assembled using dedicated voltmeter or A/D converter cards made by National Instruments and others. The DVM card should resolve to preferably 16 bits. The outputs of many stand-alone digital multimeters and dataloggers can be handled by datalogging software, with the top brand being "Labview" from National Instruments. Although Labview can be pricey, it is cheaper than writing thousands of lines of code, since Labview programming is graphical (and was first developed for the Macintosh computer). Labview is a sort of CAD program for building what NI calls "virtual instruments." Back in the 1980's, when I was doing battery research and testing at Mellon Institute/Carnegie Mellon University, we had a float life test of several hundred batteries, and our cheap student labor wrote a 50 page program to capture E and I data from a Fluke Helios (228X) system. Modification of this program would take man-days (or more) of effort. Today we can generate a new Labview program in a few hours.
Your battery testing requirement may be for a cycling rather than a float application. For this, the data logging may be only slightly more difficult, depending on whether there are separate shunts for charge and discharge. The control is more complicated: the batteries need to be switched between open circuit, charge and discharge. Fortunately, NI and others make digital output computer cards, with which individual channels can be switched on or off in response to software instructions, also addressable through Labview. I'll send by email a generic circuit for a cycler to anyone who wants a copy. For reference, see 3 articles on cycler design published in J. Power Sources by ITRI (Taiwan) and others (see footnotes). The ITRI design shows a manual cycler hooked up to a computer for automation. You can make a cycler from modular components: a power supply as charger and a solid state or hybrid load as discharger. A hybrid load consists of a low ohmage high wattage resistor in series with an electronic load bank. Most (US) commercial load banks are rated at 1 KW (Power Designs LL300B, Acme PS2L1000 and several from Transistor Devices Inc.). These loads are generally limited to 50-60 volts maximum, 1 KW maximum and 200-300 amps maximum. Let's assume we want to discharge a 12 volt lead-acid battery at 100 amps: this is clearly more than 1 KW, and the OCV may have the start-of-discharge voltage to nearly 13 volts.
The load bank needs at least 2 volts to operate its control loop at end of discharge, where the battery voltage may be 9 to 11 volts. Up to 7 volts can therefore be dropped in an inexpensive robust resistor. Pick an intermediate resistor voltage drop of, say 5 volts. The 100 amp load will require the resistance be 5/100 ohm, with a dissipation of 500 watts. Make that resistor >1 KW for safety, and assemble this from two resistors in parallel of 0.1 ohm each, 4 in parallel of 0.2 ohms each, etc. Put this paralleled resistor in series between your battery and the solid state electronic load bank. You can also parallel two or more electronic loads if needed.
For cycling, the battery is connected alternately to the charger, the discharger, or nothing during rests. Wiring size is described above; the connections also need to be sized to the load. This includes mechanical connections such as lugs, terminal strips, connectors, etc. and also the switching actuators called relays or solenoids or contactors. Low voltage battery test circuits can use inexpensive contactors available from the automotive industry, the golf car industry, or military surplus. A contactor can also be a semiconductor such as a SCR, a bipolar transistor or other semiconductor. For switching larger currents, the transistors can be paralleled. The best semiconductor contactor is one or more VMOS transistors. These have nearly zero on- resistance, nearly infinite off-resistance and very low drive power: milliwatts can control kilowatts.
Above, we described the use of a lab power supply at a fixed starting voltage and current, with a manual setting of these parameters. Most modern power supplies can also be programmed by an external voltage or resistance, and the programming can be changed by relay switching during test. Voltage programming can come from a second power supply, a power supply programmer which converts a digital (IEEE 488) control signal into an analog output control voltage, or from a data acquisition system that has D/A (digital to analog) output. Some power supplies even have direct IEEE 488 control inputs. Resistance programming can be a multiturn potentiometer that is tweaked as needed, or different fixed or variable resistors that are switched in by an external timer. A particular use of a programmed current function is for the formation charge of batteries. Traditionally, formation was done at a fixed current for a fixed time. Weighall and Nelson (see footnotes) in a publication for Digatron/Firing Circuits, showed a more modern formation sequence, where current is stepped up from zero to some maximum and then stepped down to some minimum. The formation profile can also include rest periods to allow acid diffusion between plates and bulk, and also allow some cooling. Some battery manufacturers allow for slight discharges in the profile, to build up the capacity. Some entrepreneurs even push pulse charging for formation.
Cell voltages in monobloc batteries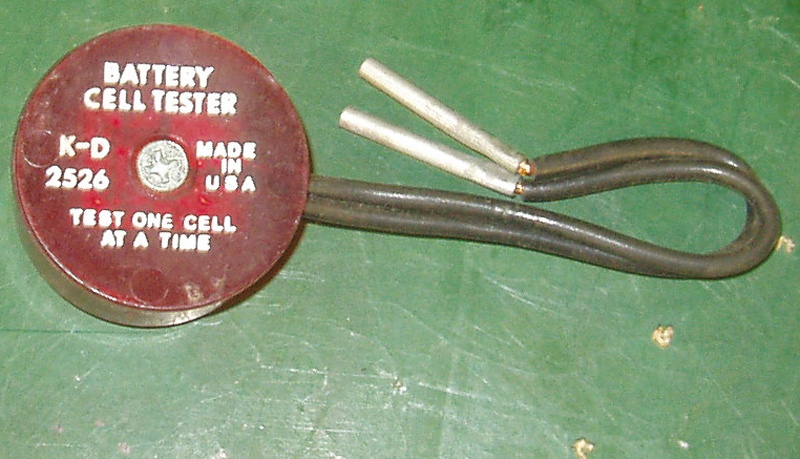 In the "old days", lead-acid batteries in hard rubber cases had intercell connections visible and accessible on the outside (top) of the cells. Cell voltage could be measured by prodding a voltmeter into the opposite polarity posts or intercell straps. Semi-permanent connections could be made by tapping metal screws down into the lead. Monobloc batteries are not so easily measured. For an epoxy-sealed battery, the cover may show dimples over the loop-over connections, and these can be accessed by drilling (offset to one side) into the loop-over post. Heat-sealed covers pose more of a challenge since these batteries generally have thru-the-partition intercell connections. If the battery is flooded electrolyte with removable vent caps, then open a cell and look for, or probe for (using a plastic prod) the element straps. Once the straps are located, holes can be drilled down through the cover for access by corrosion resistant (alloy 316 L stainless steel) screws. You can also drill a bit into the strap to get a better attachment by the screw. After a day or so, the screw-to-strap interface will be corroded, but you may be able to get a fresh contact by retorquing the screw(s). If screws are used, they should be sealed to prevent gas flow, acid loss and most especially any leak of gasses which could ignite external to the battery and breach down into the cell to cause an explosion. Reseal the screws if used, and retorque.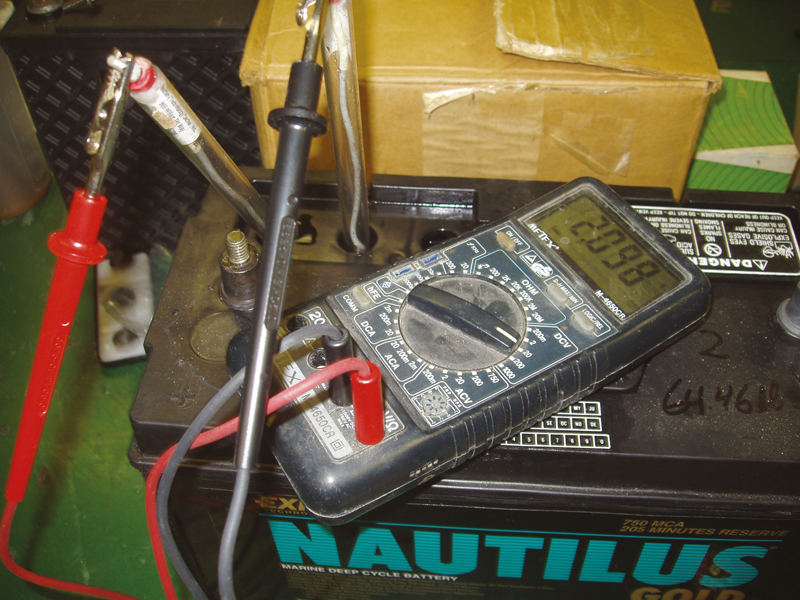 If a reference electrode is used in a sealed cell battery, this should be inserted via a PVC, polyolefin or PTFE pipe connection, which can be tightened down to maintain a seal.
Another way to measure monobloc batteries, without drilling and screwing, is to use two reference electrodes in (the vent holes of) two adjacent cells. A simple antique version of this is shown in Fig. 2, where the reference electrodes are the shiny rods at the end of the voltmeter (LED indicator within the red housing) cable: these rods are plated with a thin layer of Cd. A more precise method is shown in Fig. 3, where the two RE's are BTC Hg/HgSO4/H2SO4 electrodes and the voltmeter is a DVM. The two RE's were chosen to match in voltage within +/- 2 mv in a common beaker of electrolyte.
Now that you are knowledgeable about power supplies as chargers, data acquisition and reference electrodes, you can combine these three tools to measure the charge acceptance of a battery. If the battery accepts charge, how much is going to the positives and how much to the negatives? More importantly, if it doesn't accept charge well, is the problem with the positives or with the negatives? Can a boost or equalizing charge improve the battery performance? You know that all plates in all cells pass the same current (well, maybe not if a plate lug has corroded or melted off), so how does the voltage split? Tafel curves can show you this split. A cell (or battery, or string of batteries) is probed by a reference cell, and the readings versus the cell terminals are recorded as the cell is charged. Either constant current or constant charge voltage is applied; generally, a constant current is preferred. A comparison of CC and CV Tafel testing was reported by Gates (Magyar,
Kepros & Nelson), as reported in J. Power Sources (see footnotes). In CC mode, the time to stabilize the voltage is inversely proportional to the current: high currents stabilize quickly, in hours at most. Low currents may require several days or longer to settle down. Each data point on the Tafel curve, in the example shown in Fig. 4, consists of a positive polarization, a negative polarization (of the appropriate polarity plate vs. the RE), and if accessible, the cell voltage. You can follow the steps for monobloc batteries above to get the cell voltage, if necessary. The polarization voltages and cell voltages are plotted on a semilogarithmic graph paper, or on a computer using Excel, but more easily by using Cricket Graph (Mac) or Mathcad (Windows or Mac). The logarithmic current axis is normalized for battery size by plotting charge current in micoamps and milliamps per ampere hour of rated capacity. The positive Tafel curve, that is, the Tafel curve of the cell's positives, normally has a slope of approx. 70 mv per current decade, and the negative Tafel curve has a slope of approx 110 to 120 mv per current decade. The negative Tafel curve also usually contains a portion of the curve where the voltage plunges to zero quickly, rather than have a straight-line behaviour like the positive. This is because of partial discharge of the negative, by depolarization by oxygen, etc. and is more prevalent and larger in magnitude in sealed lead-acid batteries. We'll discuss this break in the curve in a future column. The preferred values for polarizations can be requested from the battery manufacturer if you are a battery user, or can be measured whether you make, test, or use the battery. The curve in Fig 4 omits the OCV for the battery, which is dependent on electrolyte concentration and temperature (remember the Nernst equation?). A battery (telecom or stationary) cell with 1.210 sp.gr. electrolyte will have an OCV of 2.059 volts at 25 deg. C, for example. Fig. 4 shows that, at a current of 230 microamps/AH, the negatives have zero polarization and the positives have 100 mv polarization. Below 230 microamps/AH, the negatives have zero polarization, and in practice, will lose charge and lose capacity.
The detailed interpretation of Tafel curves will take a lot more presentation, so this will be continued this Summer in BBP5. As a teaser, a boost or equalization charge of the cell in Fig 4 to a current of >300 microamps per AH will raise the positive polarization to 105 mv and raise the negative polarization from zero to 110 mv at the equalization current. Prolonged (hours to days) of equalization can start to reform negative active material such that subsequent Tafel tests may show less of a break in the negative Tafel curve, for example to the behaviour shown in Fig 4 in the dotted curve. In this example, the negatives would have a polarization of 55 mv and the positives a polarization of 70 mv at a float current of 100 microamps/AH.
The cell voltage of a cell depends on the Nernstian OCV plus any positive and negative polarizations. A cell voltage is plotted above the negative and positive Tafel curves in Fig. 4. I assumed a cell with 1.210 sp.gr electrolyte. Note that the voltage is flat at the OCV below any plate polarization, then cell V climbs with the slope of the positive Tafel curve, then at the combined slopes of the positive and negative Tafel curves. Now you know why the voltage and current aren't in any simple relationship!
This BBP4 column is written in a shorter time, so Gerry could have Spring 2005 issues of BEST available for the BCI and Battcon meetings. Your feedback is valuable on anything I've said in BBP2 or BBP3, or anything you'd like to see covered in future BBP columns, or any of your favourite recipes for free Pb testing. We're still open for any/all of the above.
Dr. George Mayer at BTC Inc, 865 William Pitt Way, Pittsburgh PA 15238, USA, telephone 412-826-3495, fax 412-826-3497 and e-mail at either batphd@netscape.net or mayers1@earthlink.net. We still hope to have our website up again soon at www.batterytechknowledge.com
•P.Ruetschi, J.Power Sources vol 111, pp 363-370(2003)
•F. Will, J. Electrochem. Soc. vol 133, pp 454 ff (1986)
•E.A.Willihnganz, US 3657639, dated April 18, 1972
•E.A.Willihnganz, G.E.Mayer and L.D. Zachau, "A Reference Electrode for Testing Lead Calcium Stationary Batteries," paper C75-193-8, IEEE 1975 Winter Power Symposium, Jan 26-31 1975, New York.
•ITRI (Taiwan): J. Power Sources,vol 35, pp 189-193 (1991)
•Others: J. Power Sources vol 16, pp 119-130 (1985), ibid. vol. 32 pp 99-104 (1990)
•Gates: J.A.Magyar, M.A.Kepros and R.F.Nelson, J. Power Sources,vol 31,93-106 (1990)
•Digitron: M.Weighall and R.Nelson, "A Guide to VRLA Battery Formation Techniques".
•D1 diode rated PIV > 2 times maximum power supply output voltage, rated current > 2 times maximum rated power supply current.
•SH 10 mv to 1000 mv drop at max rated current (commercial shunts usually 50 or 100 mv full scale).
•S1 momentary ON switch (normally OPEN i.e. disconnected) switch, prefer push-button type, MUST be rated for more than power supply short-circuit current, can use another circuit breaker here.
•CB circuit breaker, DC, rated for > maximum charge current and preferably for > power supply voltage. Common USA DC circuit breakers are rated at 65 volts DC maximum.
•I OUT Shunt (current) connections for datalogging.
•BTRY OUT voltage connections for datalogging, or separate connections in parallel with these. The power supply/charger positive is connected via diode, shunt and circuit breaker to the battery positive terminal. The power supply/charger negative is connected directly to the battery negative terminal.