A UK company has come up with a product that allows lithium‑ion batteries to be shipped without them being classed as dangerous goods. Ruth Williams visited Accutronics in Newcastle-under-Lyme, UK to hear about the innovative product and how business has boomed in the last three years.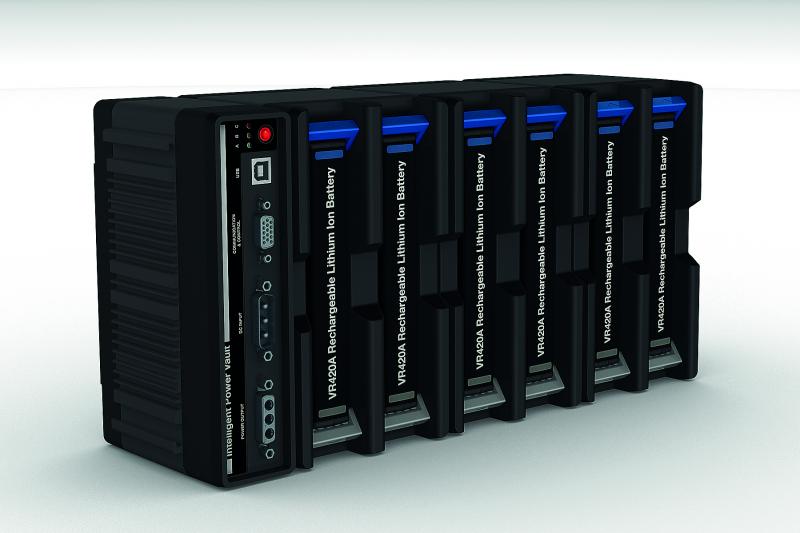 A UK company has come up with a product that allows a high energy lithium-ion battery system to be transported without the cost and hassle associated with Class 9 dangerous goods shipping. Ruth Williams visited Accutronics in Newcastle-under-Lyme, UK to hear about the innovative product and how business has boomed in the last three years.

Accutronics is a British company that designs and assembles custom and standard lithium and nickel-based battery packs and chargers for professional applications. This includes defence and security, medical and healthcare, and industrial and portable electronics. It employs 60 staff at one facility where the research, development and assembly all take place for engineering the mechanics and electronics of battery packs.
The company works on dozens of custom pack designs each year, having designed thousands over the years. More than 90% of its products are exported to 31 countries, mostly in Europe and the Middle East.
Accutronics has come up with a battery system called the Intelligent Power Vault (IPV), which is a clever way to ship a >100Wh lithium-ion battery system without contravening shipping regulations that class lithium batteries over 100Wh capacity as dangerous goods.
Anyone shipping lithium‑ion batteries must comply with regulations for domestic and international shipments by land, sea or air. Lithium-ion battery packs that exceed 100Wh must be shipped as a class 9 hazardous material. This means companies shipping them must adhere to packaging, labelling and documentation requirements. Certification and special training is required for employees of companies wanting to transport class 9 dangerous goods by air, sea or road.
This regulation came into force following incidents of individual cells and some batteries overheating and the catching fire aboard aircraft. When exposed to high temperatures lithium-ion batteries have the potential to suffer thermal runaway, leading to self-heating and eventual combustion.
Obviously this ruling has created challenges for lithium cell and pack makers as well as OEMs. Now the IPV offers a solution— by managing each battery and keeping each one below the power limit.
The IPV delivers up to 1.4KW/h of energy and can be shipped without violating the rule. It has a plastic casing that can hold between two and 16 individual 90Wh batteries.
The IPV incorporates an electronic control system that interrogates each installed battery and provides pertinent information such as remaining capacity and runtime back to the system user. The control system also ensures that each battery is balanced whether it is being charged or discharged which maximises system efficiency and promotes longer service life.
Gareth Hancox, Engineering and Production Manager at Accutronics said: "The smart charging system and the electronics in the IPV manage everything seamlessly. With two batteries it is not too complex but when you have to manage 16 there is a lot of software running in the background to ensure everything works properly".
The batteries in the IPV are charged using power from an external supply. This supply is also passed through to the output and is configured so the IPV can switch seamlessly to the battery power if the input supply fails – just like a UPS. The IPV can also be used in transportable applications such as medical carts where the high energy density allows OEM designers to be more flexible with their designs compared to using large heavy lead-acid batteries.
The beauty of the IPV is, with changeable batteries, the user can put in a charged battery when the previous one goes flat instead of having to charge the whole piece of equipment.

The challenges the electronics team faced were to make the IPV and batteries work together to feed information back to the machine user and engineering both so the batteries could lock into the system and work with the charger. Since 2009 the electronics team has doubled in size because the majority of Accutronics' batteries now feature some form of electronics.
This impressive system helped the company win the Lombard Award for Products and Processes at the Manufacturing Excellence Awards in November 2012. This is a competition run by the Institution of Mechanical Engineers in the UK.
Hancox said the IPV impressed the judging panel for the ManEx Award: "We showed a gap in the market, overcame a technical constraint and come up with a product to solve that problem. Being able to take the finished IPV to London impressed them – it was a room full of engineers."
Accutronics entered the award when Hancox, a fellow of the Institution, heard about it and saw merit in entering.
"Initially it was done as a benchmarking exercise – we thought it would be good to measure our manufacturing techniques against those of other UK organisations." The team wanted to see where they were weak and how the business could grow, Hancox continued: "It was a very in-depth look at how we worked, we were very honest in order to get the most out of the process ourselves."
The innovation in process came as a result of a Knowledge Transfer Partnership (KTP), which Accutronics became involved in in 2010. KTP is a UK Government programme, under the Technology Strategy Board, that matches businesses with universities to improve performance and productivity. As part of the scheme Prabhijt Singh Chugh from Aston University came to work on site at Accutronics. He analysed existing manufacturing processes to find areas to improve.
One process he implemented was to find out what customers actually wanted rather than what Accutronics perceived its customers wanted. "This meant looking at processes from a customer's view point and realising each customer is different. We listened to customers requests and actually responded to match what they need." Said Hancox. This varied from quick turnaround to absolute best quality depending on the customer requirements. Seeing where there were weaknesses in the business enabled it to improve its processes.
The company has achieved a lot in a short time, made even more remarkable by its interesting history. Hearing of European companies moving to Asia is common but to hear about manufacturing going the other way is refreshingly different. In just over three years Accutronics has gone from being an asset of a failing Chinese company to an award-winning manufacturer on British soil.
It was bought in 2009 by Rob Phillips, the Managing Director, and a team of investors as an asset of a failing business called Moltech Power Systems.
The company had a long history, beginning life as part of US General Electric before being sold to Florida-based Gates Energy Products in 1987. By this stage it made cells for nickel-based systems.
In 1999 Gates Energy was purchased by Moltech Power Systems, based in Arizona, US, and continued to make cells in Florida. When the profits began to dwindle, Moltech was sold to a Chinese company called STARC but retained the name Moltech.
Moltech was moved to Shanghai to make cells and assemble the packs. High start up costs and problems using the transported cell manufacturing machinery meant that cell production never took off for the Chinese owners. No cells for commercial sale were made in Shanghai.
During this time the facility in Newcastle-under-Lyme was operating as a battery pack assembler, owned by Moltech. As the Chinese based business was in trouble and pack making looked set to move to China, Phillips and the investors stepped in to buy the assets from Moltech. Accutronics was born in September 2009 and battery pack and charger making has continued since.
Neil Oliver, Technical Marketing Manager of Accutronics, mused on why the move to China was unsuccessful: "They really failed when they tried to move manufacturing of cells from the US to China. They just couldn't get the technology to the production stage."
And what happened to the remainder of Moltech? According to Oliver, it disappeared. "It's difficult to know what happened. With it being a Chinese business, it wasn't widely reported but it doesn't exist any more."
There have been changes in the way Accutronics operates since the re-birth: the focus is now upon high-tech OEMs rather than lower technology work it did under American and Chinese ownership. Accutronics works with OEMs that are at the top of their game in medical and defence fields.
Focussing on the professional market is the key to the company's success. The success China (ordinarily) has lies in its ability to make products cheaper than European manufacturers. But Accutronics has flourished in its market of professional electronics because the cost is not the number-one driver.
Oliver said: "We feel the quality level coming out of China is not good enough for professional applications. It's adequate for consumer goods, but for a battery that needs to function when someone's life depends on it, it must be the highest quality."
Accutronics exports its products largely to Europe and finds being in the same time zone to its customers is beneficial for close working relationship. This combination of location and more demanding quality mean Accutronics is well positioned to work with the professional electronics market.
The bulk of Accutronics business is in medical and healthcare devices. This market demands the battery be reliable and durable. The product lifecycle for this market is longer than for consumer products so the battery must be able to be in production for as long as the machine is being made. Which poses limitations on the cells used, because they must be guaranteed to be available for the life of the product.
The company makes both standard and custom battery packs. Oliver explained the importance of the standard range for specialised applications: "A lot of medical equipment is not high volume. A company designing a patient monitor is not going to make millions of devices, but it might sell 10 000. So a non-custom but still high quality battery is going to save money."
Working in a specialised market means even the standard batteries must meet rigorous requirements so Accutronics put together a lengthy questionnaire to establish what its customers want, not only now but in the future, from battery packs.
In this area the energy density of lithium-ion is ideal, cost is less important for customers. Oliver said: "safety, durability and reliability are more critical."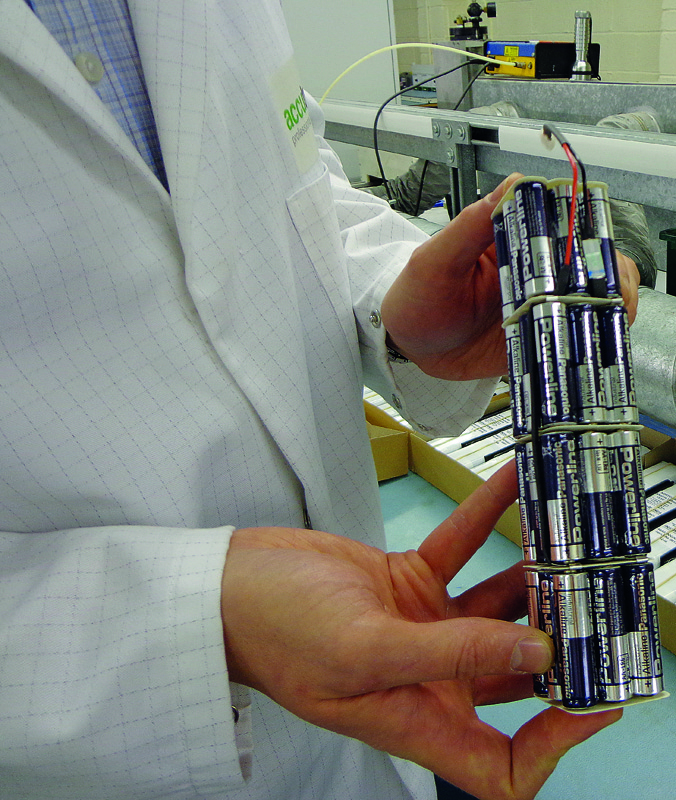 Accutronics only makes one non-rechargeable battery. It supplies information about oceanic conditions. It has to be totally reliable because it operates at the bottom of the ocean to feed information back about sea temperature. Retrieving the equipment from the bottom of the ocean is very costly so the battery cannot fail.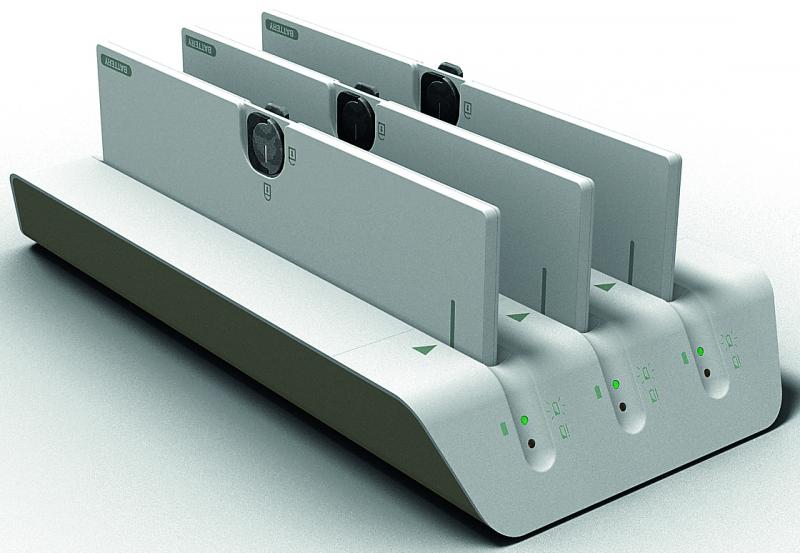 This smart battery and smart charger duo are exemplary of the changes in customers' expectations of battery products. Oliver said: "Since everyone has an iPod and iPad, functional isn't enough anymore; people expect the batteries and chargers to look good also."
Neil Oliver dreamt this up on a plane after a visit to the States. He realised the measurements required for a new battery design were very close to the size of a credit card so decided to make the battery to those dimensions. "Everyone knows the size of a credit card so can visualise the battery size. If someone is sketching out a machine design they can draw around a credit card and know exactly what space the battery will take up."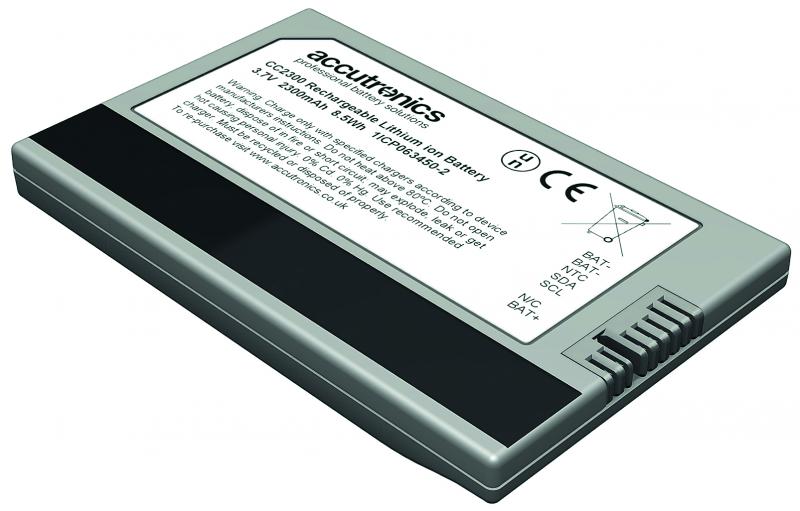 He said the design would have been far easier if it had been a couple of millimetres bigger, but then it would lose the unique selling point so he insisted on the size.
It is available in two sizes – both 3.7V, one has 2.3Ah and 8.5Wh, while the other offers 3.8Ah and 14.1Wh.