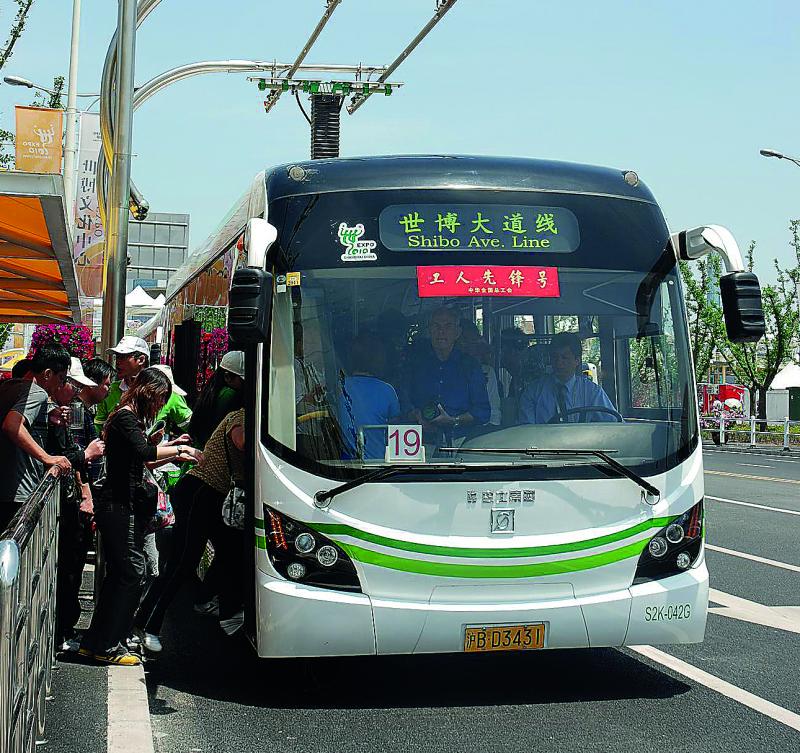 1) Electric buses being operated at the 2010 Shanghai World Exhibition are receiving considerable attention. Why?
The Shanghai World Exhibition buses have asymmetric electrochemical capacitors powering them from bus stop to bus stop on Bus Route #11. The accompanying photograph (Figure 1) shows an example of one during the charging phase, which occurs while the bus is loading and unloading passengers at a stop.
Operation does not require the usual catenary power lines, lessening the visual impact on that part of the city that is on the bus's route. In contrast to trolleys, there are neither tracks nor catenaries to fix the route, which can readily be changed so long as the distance between stops is not greater than can be powered by a single charge.
Storing limited energy for short hops is, as it happens, not an entirely new concept. Older readers may recall childhood toys that got their motive force from an internal "motor" that, like a top, could be spun up to store energy for forward motion. Historically, the concept of storing limited amounts of energy for use in transportation was first developed in the early 1950s. Oerlikon, a Swiss company, manufactured an all-electric bus, the Gyrobus, that used a 1½ ton flywheel to store energy. It travelled from stop to stop on the basis of electrical energy taken on board at each stop (through arms that extended conveniently upward) that was stored as kinetic energy in the flywheel. Each charge gave it sufficient energy to spin up the flywheel once more for travel to the next stop.
As the Gyrobus project developed, a number were manufactured until, finally, a fleet of twelve was in operation. Although initially considered a great success, the project was eventually abandoned because of the high cost of electric power at the time.
Only one of the buses is reported to have survived, which is on exhibit at the tram museum in Antwerp, Netherlands.
In the early 1990s the ESMA Company of Moscow in Russia developed a capacitor-powered bus that is the direct predecessor of the ones in Shanghai. The ESMA bus travelled a circular route and was recharged in a matter of some fifteen minutes upon each completion of the circle.
The vehicle stored some 30MJ of energy in an NiOOH/KOH/C asymmetric electrochemical capacitor. ESMA manufactured a fleet of these electric buses, also developing in the process a fleet of capacitor-powered trucks to transport materials between the warehouse and the factory.
Stopping at either location provided opportunity charging while the trucks were being loaded or unloaded. With both the buses and the trucks, just enough energy was stored in charging to accomplish a defined mission, whether navigating a circle route or two-way pickup and delivery.
The Shanghai buses similarly define and limit their mission to making it from stop to stop, with the amount of energy carried tailored precisely to that mission.
This is, after all, a concept that makes a great deal of sense. Why carry a great amount of excess weight for energy storage in situations where energy demands are both limited and very well defined?
Development work on the ESMA bus revealed that if it were to be operated using batteries and needed to be on the road for sixteen hours a day, it would require either that its batteries be replaced during the day or that such a load of batteries be carried that there would be no room for passengers.
The Shanghai electric buses have attracted a great deal of attention both because of their introduction at a world exhibition and because storing and replenishing just enough energy for a specific transportation task is a concept with a well-defined past and a very promising future.
2) A streetlight with a capacitor storage system was recently described. Is it practical?
Readers of this column may recall seeing the Ecolight featured some time ago, a flashlight that used electrochemical capacitors for storage and light emitting diodes (LEDs) for a light source. It could be charged by the USB port on a computer or by solar cells mounted on the upper surface of the flashlight.
The practicality of the device is particularly owing to the high efficiency of the LEDs. A 15W LED is roughly comparable to a 100 W incandescent bulb.
This efficiency improvement in creating light of some six- or sevenfold is quite interestingly comparable to the difference between the energy density of a lead acid battery and an electrochemical capacitor.
It means that a lead acid battery powering incandescent lamps will have, on a mass basis, approximately the same run time as an LED powered by capacitors, both generating light at the same power level.
Considering the number of battery powered incandescent flashlight lamps likely in operation today, it certainly seems that lighting applications in general that use capacitors for power have very practical possibilities.
Since the Ecolight was introduced several years ago, several similar versions of it have appeared.
One is an industrial model now being sold to fire and police departments, in which three LED bulbs provide a very intense beam of light for periods of up to two hours.
Only 90 seconds of charge are required to charge its capacitors and make it ready for another two hours of operation.
The manufacturer claims that a cycle life of some 50,000 charge/recharge cycles can be expected. Once purchased, unless lost or damaged, this is a product that should last for a very long time, and with very high reliability. One especially attractive feature of the device is that it provides its user with very up-to-the-moment information on its state of charge, showing what the remaining operating time may be. This is a feature rarely if ever seen in battery-powered flashlights.
In regard to the streetlights initially mentioned, a recent paper reported results from a demonstration system installed in Japan.
This included two 15W LED light systems, 240 double-layer capacitor cells of 2300F each, and a controller between the two.
Charging was by a photovoltaic system with two panels rated at 180W peak each. The lights can be installed at remote locations where there is no possibility of connection to the utility grid. Energy generated by the photovoltaic system is stored by the capacitors during the day for release at night as light.
Of special interest is that the demonstration system was located in a cold climate in northern Japan, where operation at low temperatures was found to be very reliable, typical of capacitor-powered systems.
Are capacitor-powered lighting applications practical? Indeed, there are portable systems that use LEDs powered by capacitors, and some stationary systems as well.
Both the improved efficiency of such systems and the current trend away from incandescent bulbs suggest that there will be more and more opportunities for linking electrochemical capacitors with LEDs. The cell voltages of capacitors are in fact near ideal for such applications.
Both LED and capacitor technologies have very high and virtually matching life, making them easy to pair in applications. Both are also completely maintenance free, with no need to change out the LEDs as incandescent lamps need to be or the capacitors, as batteries need to be.
We can expect to see more and more applications employing LED/capacitors systems as the volume production of LEDs gets up to speed. Is a capacitor-powered streetlight system practical? Certainly, and we are likely to see a lot more of them.
3) I understand that a double-layer capacitor cell actually has two double-layer capacitors in series. Shouldn't the operating voltage of such a cell be twice the voltage limit of the electric double layer?
This question shows a clear understanding of how an electrochemical capacitor is fabricated.
There are in fact two electrodes with double-layer charge storage on each in a cell, and they are indeed in series. Since they are in series, it certainly seems there ought to be a higher operating voltage than could be obtained from only a single electric double layer.
This really ought, of course, to be true, except that the two electric double layer capacitors share a common electrolyte. There is thus a voltage window of stability that both identical electrodes must be operating within, limited by the fact that both are operating within the same electrolyte. Owing to this, a symmetric electrochemical capacitor cell is limited to the voltage stability limit of the electrolyte.
One end run around this limitation is to use a design configuration known as an "asymmetric" electrochemical capacitor. In it the electrodes are no longer identical but made of two completely different materials.
Despite the fact that both of the electrodes are in the same electrolyte bath, operating voltage can exceed the breakdown potential of the electrolyte because of the two dissimilar materials with, in some cases, reaction kinetics and not thermodynamics establishing the maximum operating voltage. Thus it is possible to operate an asymmetric capacitor above the breakdown potential of the electrolyte.
This is precisely the case in a lead acid battery, which has a water-based electrolyte operating at 2 V. In principle one would expect it to generate oxygen gas on one electrode and hydrogen gas on the other above 1.22V at room temperature, but in fact it not only operates at 2V but does so very well.
This question is quite an interesting one, based on a solid understanding of the operation of symmetric capacitors. The deciding point is found in the fact that both identical electrodes share a common electrolyte.
4) Commercial electrochemical capacitors have ratings of 85°C or less, while other capacitors, including aluminum electrolytic capacitors with liquid electrolytes, are rated up to 125°C. Why?
Electrochemical capacitors, despite their many advantages, do have some limitations. Several electrochemical capacitor product lines are rated at 70°C, with the highest temperature 85°C.
Some electrolytic capacitors, which have water in their electrolytes, are rated at 85°C, 105°C, or even 125°C. And these latter are products that operate quite reliably at such temperatures and have been doing so for many years. In the aluminum electrolytic capacitor, or any electrolytic capacitor for that matter, almost all of its voltage is maintained across a solid, as opposed to a liquid, dielectric material. For aluminum electrolytic capacitors this dielectric material is Al2O3, alumina. The probability of an electron transfer for a solid does not increase with temperature like it does for a liquid as found in an electric double layer capacitor.
The reason why electrochemical capacitors have difficulty operating at higher temperatures is generally related to leakage current problems.
A close look at the leakage current of an electric double-layer capacitor reveals that the leakage current increases very rapidly indeed with applied temperature, related primarily to the probability of an electron transfer across the electric double layer. An electron transfer may generate gas, and in an enclosed device this creates pressure that can lead to a failure of the package. If it does not lead to gas, it still has the potential to render the device so "leaky" that it would be totally unsuitable for storing energy. At high temperatures, a very substantial portion of the stored energy will go to self-discharge, with little left for a load. This makes it relatively impractical to use an electrochemical capacitor at high temperature because of high leakage current that limits the usefulness of the device.
In both the patent and the open technical literature approaches can be found for reducing leakage current. Changing the electrolyte is one common solution.
Design can also be changed, in some cases involving alterations to the form factor that reduces leakage current and renders a product viable for use at higher temperatures.
5) What bulk energy storage technologies were funded by the DOE in the recent ARPA-E solicitation?
As this column is being written, the DOE has not as yet made any announcements on what it will be funding. It is, however, quite interesting to consider that what DOE was looking for in the solicitation was a bulk storage technology with the potential cost of $100/kWh of stored energy delivered for at least one hour at 80% efficiency with 5,000 cycles of operation.
Converted into a cost of storage, the announced primary goal of the solicitation is a storage cost of ~$0.025 per kWh. There were, of course, also secondary goals of the solicitation, but no technology was ruled out as a possible solution.
It will be fascinating to see what sorts of technology matched to these cost targets will be funded. Perhaps the most important constraint of the solicitation was in fact the cost metric, storage cost per unit of energy per cycle. DOE expects to have contracts in place before the end of the government fiscal year, and this suggests that information on the technologies related to bulk energy storage that have been funded will be available by the next issue of BEST.