Battery manufacturing firm Wuxi Lead Intelligent Equipment (LEAD) has finalised a deal to supply German vehicle OEM Volkswagen's lithium-ion gigafactory with 20GWh of battery manufacturing equipment— more than 65% of the total equipment quantity.
The equipment will be for Volkswagen's Salzgitter plant, part of the German company's €30 billion ($31 billion) investment to build six battery factories in Europe totaling around 240GWh by 2030.
China-based LEAD will provide Volkswagen with lithium battery equipment including: calendering, roll baking, cell assembly line, electrolyte filling, cell baking, formation and aging, and the whole line logistics.
European battery focus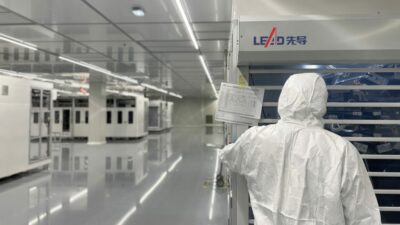 In April, LEAD signed a strategic cooperation agreement with European battery manufacturing association Automotive Cells Company (ACC) to provide lithium-ion equipment and solutions for the latter's 13GWh battery factory.
The two organisations will work together to accelerate the construction of ACC's planned plant in Billy-Berclau/Douvrin, France which will be able to produce at least 40GWh per year when completed in 2030.
In 2019, Lead began a partnership with European gigafactory developer Northvolt and within two years had delivered the first group of whole-line equipment.
Both companies plan to continue cooperation and promote technical innovation based on the firms' partnership during the first and second rounds of cooperation.
Last December, LEAD and battery technology and manufacturing company InoBat Auto signed a purchase contract for the latter's lithium-ion battery production line in Voderady, Slovakia.
Lead is the sole equipment supplier for the pilot phase of the project and will design, manufacture, and assemble a customised turnkey solution of lithium-ion batteries.
The whole pilot line, capable of producing 260,000 battery cells annually, aims to produce its first batteries by the end of this year.