Higher voltage cathodes in lithium-ion batteries mean higher performance systems. But how can they be produced rapidly for evaluation? Gerry Woolf learned from Wildcat Technologies how the company is bringing this about in the lithium-ion industry.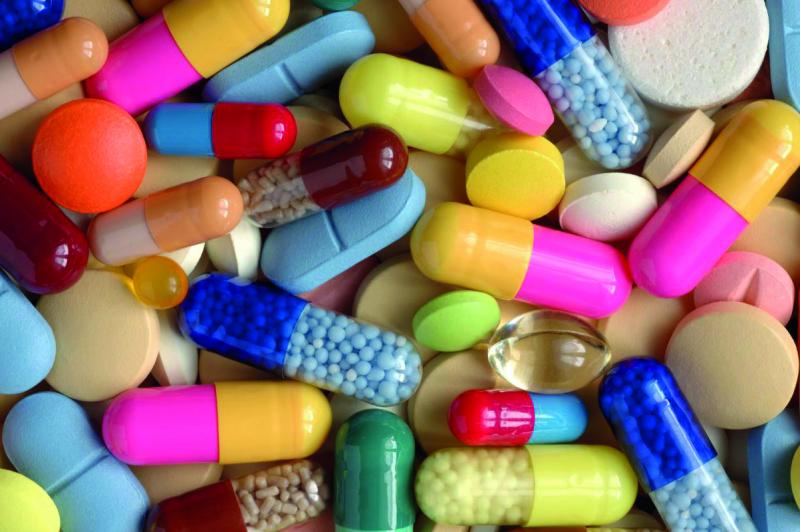 There's a lot the battery industry could learn from the pharmaceutical industry. The first thing a drug company has to have is a huge portfolio of drugs in development to keep investors happy because pharmaceutical patents have short lives. Today's winner is tomorrow's generic. The second thing a pharmaceutical company needs is a means of evaluating chemical entities for efficacy— showing some useful property and that's way before they assess for safety in a myriad of ways. And doing this faster and more efficiently was the rationale behind the huge number of Pharmaceutical mergers that took place in the early 1990s.
Today there is some evidence that at least one specialist firm is developing this kind of technology which could give battery specialists a range of new materials to evaluate in short order.
The company is called Wildcat Technologies. Founded just five years ago, the company's scientists can synthesise and evaluate thousands of materials in the time it takes most labs to evaluate only a handful. This massively parallel high throughput approach to materials discovery enables Wildcat to explore a much broader range of material compositions, synthesis conditions, and formulations than is possible through conventional methods, and reduces the costs and time required to make breakthrough discoveries.
Wildcat's high throughput tools enable its scientists to synthesise and evaluate over 1 300 active materials every week. Each material is synthesised as a bulk powder, formulated into a slurry-coated electrode and evaluated in a complete cell. Wildcat successfully used this approach to engage with corporate partner collaborations for over 30 companies throughout the battery supply chain in 2010, including global chemical and material suppliers, cell makers and OEM's.
High Throughput Workflow
Wildcat has invested more than US$10M to create a high throughput battery synthesis and screening process. As described here, this patented high throughput workflow encompasses the entire discovery process, from setting up the reactions, to synthesising the material, to formulating, assembling, and testing the cell. This parallel work flow is enabled by software tools that aid experimental design, interact with the automated dispensing tools, electronically tag and track reactions throughout the process, perform preliminary data analysis, and store all pertinent information in a central database for later visualisation and manipulation. Moreover, each of the components is built as a separate module so that the system can be rapidly scaled up as additional capacity is required.
Electrode and Electrolyte Formulation and Cell Assembly.
Electrode formulation is performed using automated solid and liquid handling tools to dispense designated quantities of reagents and solvents into an array of vessels, which are then sealed and agitated to produce a homogeneous slurry.
Wildcat's materials handling tools contain robotic arms capable of accurately dispensing liquids and solids, such that once the stock reagents and solvents are loaded, the entire formulation process can be performed with minimal human intervention. The resulting slurries are then coated onto an array of current collectors and dried to give electrode films. Using Wildcat's formulation platform, over 2 000 electrodes can be produced per week, allowing active materials to be rapidly screened in combination with a variety of binders, conductive fillers, and other additives in multiple ratios.
After electrode formulation, separators, electrolytes and counter electrodes are then added and the stacks compressed and sealed to give an array of fully assembled cells. Using the automated liquid handling tools described above, electrolytes can be formulated individually for each cell from an array of stock reagents, enabling rapid screening of electrolytes solvents, salts, and additives.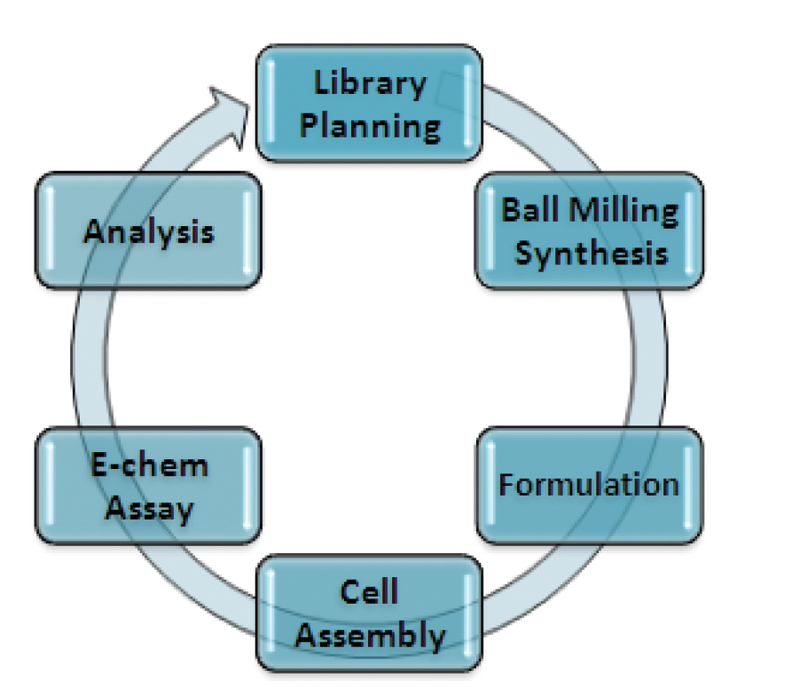 Screening.
Once assembled, cells are screened using massively parallel potentiostats designed and built by Wildcat to evaluate thousands of cells simultaneously. With voltage and current ranges of 0-8 V and 0.02 – 500 mA, the potentiostats are capable of performing a wide range of DC electrochemical measurements at temperatures ranging from -40 – 150ºC, including cycling under constant current, voltage, and power, cyclic voltammetry, and galvanostatic intermittent titration (GITT). Moreover, each cell is individually controlled; i.e. all cells are physically isolated from one another and have independent current and voltage control, enabling screening of each cell configuration under a variety of discharging conditions.
Validation.
Wildcat has already built and demonstrated a platform capable of synthesising and screening 2 000 primary cells per week (or 1 000 secondary cells per week). It is currently using this platform for the development of new electrode materials for lithium‑ion batteries. Its high throughput workflow was validated by synthesising, formulating, and assaying several widely studied positive and negative electrode materials.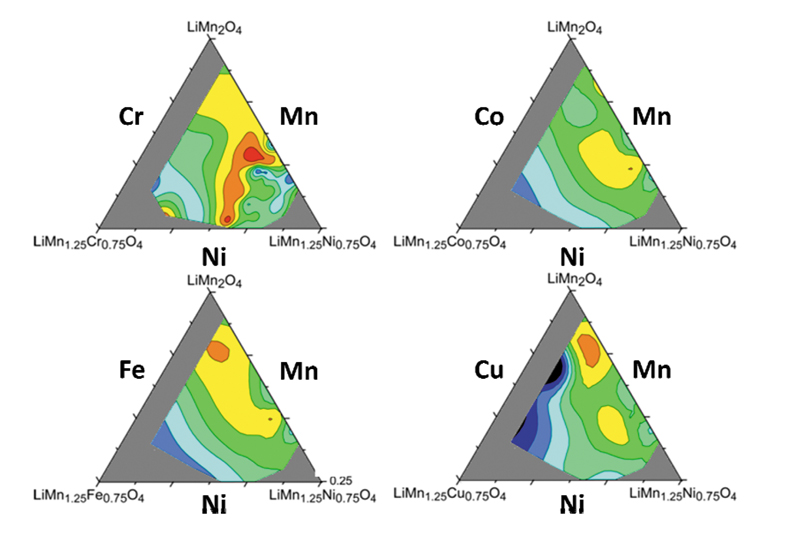 The results for cells containing LiCoO2, and LiMn2O4 as well as a ternary composition-property plot for LiMn2-xMxO4, are shown in Figure 1. All materials exhibit reversible capacities close to the expected values, as well as excellent capacity retention. Moreover, the results are extremely reproducible, with standard deviations of < 2.5% for all compounds.
Wildcat's high throughput battery workflow allows synthesis and testing of 1 320 battery materials each week. This fully integrated set of tools, includes the synthesis of electrode materials, formulation of materials into electrodes, assembly of electrodes into individual cells, and testing of each cell on independent, potentiostat based electrochemical assay. These tools produce highly accurate, repeatable results, with cell to cell variation averaging 2% or less. With this high throughput workflow, Wildcat's scientists are able to rapidly explore and improve a wide range of different battery chemistries. The high throughput approach is ideal for discovering novel compositions and accelerating the development of promising materials.
At last month's Powersources meeting in Florida, Dr Steve Kaye of Wildcat described one such new material—a 5 Volt cathode material— and an iron phosphate variant— the highest lithium ion system voltage announced to date— and an accompanying electrolyte which are claimed to offer a 60% improvement in volumetric energy density over conventional iron phosphate cells. The LiCONi variant has been produced in scale up quantities now of up to 20kg and its performance has held up over 100 charge and discharge cycles.
You wouldn't expect a company to give these new products glamorous name and they haven't.
EM1, is the name of the electrolyte, and CM1, the cathode material. But the publicity opportunity has not been missed
"This is a breakthrough discovery by our development team, which can lead to batteries capable of storing much more energy than current materials allow," said Wildcat CEO Mark Gresser. "When batteries hold more energy, it creates new options for design engineers – electric cars can go farther, tablets, laptops and smartphones can be smaller with no loss of runtime, soldier packs can be lighter, and implanted medical devices can last longer before the need for replacement surgery. And while our initial tests have shown a 61% improvement in energy density, this is just the beginning – because the EM1 electrolyte is stable at 5-volt operation, it opens the door to development of a new world of cathode materials that should bring even greater advances."
Gresser added that the new materials are fully compatible with industry-standard anode materials.
The EM1 electrolyte's high-voltage capability is of special interest for the automotive sector, where cell development has been restricted by the inability of existing electrolyte formulas to cycle at high voltages. Current EV systems based on low voltage cells require complex and expensive pack designs and battery management systems. EM1 enables high voltage systems which are expected to reduce required cell quantities 30-40% vs. competing materials like LFP and NMC.
Fewer cells and simpler pack designs translate into substantially lower costs for auto makers— which if you've read the other articles in this issue, they sorely need.