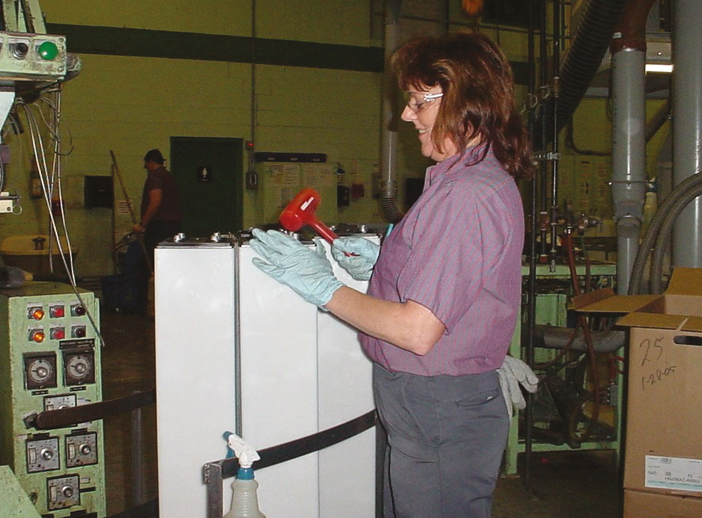 It can be cheaper to make your products in the USA – Leonard Greene reports on how one US battery maker is bucking the trend of outsourcing.
Crown Battery Manufacturing Company's announcement that they had purchased selected assets of C and D Technologies' Motive Power Division late last October barely seemed like 'news', in the ever-shifting sands of America's manufacturing sector. After all, the stiff head winds of a global marketplace – unfair trade and currency policies, record-setting trade deficits, and pressure-for-profit – have forced countless companies to restructure regularly just to stay competitive.
Over the last ten to fifteen years, restructuring has usually resulted in painful layoffs. Between 1995 and 2005 the U.S. lost more than 3 million manufacturing jobs (1.9 million since 2000), over one third of them in such Great Lakes states as Illinois, Indiana, Michigan and Ohio, where companies have traditionally produced the parts for automobiles, construction equipment and industrial machinery. The effect has been particularly devastating in these middle region states because they derive about 50% more than the national average of personal income from manufacturing.
We know all the reasons: unable to raise prices, companies have had to find ways to reduce costs and maintain profits. Most have felt they had to take advantage of lower labor costs on offer in South America and Southeast Asia just to position themselves competitively in a cut-throat global market. Mergers and acquisitions, outsourcing and cost-cutting, layoffs and buyouts have all become standard tools in the corporate survival kit.
So the announcement – that two mid-tier battery manufacturers make a sensible deal to optimize their individual strengths – raises no eyebrows. That the buyer plans to bring jobs in the newly acquired seller's factory in Mexico back to their plant at their Fremont, Ohio, headquarters – now that's news.
Good news, even if it begs the question: Why buck the prevailing wisdom, which has been to compete almost exclusively by moving operations and jobs out of this country? And why buck it now, with the global economy in full-jitter mode?
It took two weeks of phone tag before Mark Kelley, Crown's Vice President of Sales-Motive Power, could sit down long enough to answer those questions for us. He'd been on the road constantly over the previous five weeks, finessing the finishing touches to what might prove one of the industry's better good news stories in the last year.
'It's been a wild ride, but we were ready for it,' he says, explaining that though the deal concluded fairly quickly – signing papers and completing attendant adjustments in Canada, Los Angeles and Buffalo in less than five weeks – both companies had engaged in dialogue for well over a year.
Initially, Crown had been interested solely in C&D's charging company. C&D, having expanded their reach over the last decade to include a broad range of electronic products and services as well as batteries, decided last year to refocus on their core motive power business, which generates $500 million of their $550 million in sales. Since C&D's core business has remained, despite its electronics acquisitions, the stationary battery market, and Crown's has never wavered from deep cycle, commercial and industrial applications, the whole deal just made sense on many levels, even in an uncertain American economy.
'We had a long term five-year strategic plan than included expanding our motive power business, but we didn't purchase these divisions just to get their sales,' Kelley says. 'We understood last May that while they planned to exit the motive power market, they would still need to support the product they'd sold over the last 5 or 6 years. A key point in discussions then, was whether or not we would provide them with product to support their warranty liability on products sold over the last 5 years, and also provide our service network to provide that warranty service.'
Crown agreed to market C&D's C-Line, V-Line and Velocity batteries, and supply sealed LIBRA batteries and FERRO series chargers to the motive power industry. Kelley clarifies that Crown did not purchase anything. 'We saw C&D as a customer of ours that we would have sold batteries to, as though C&D were an account.'
Once Crown agreed to product and service to support warranty, discussions moved to include the appropriate motive power branch operations in Canada, New York and California. Decisions were pretty standard operating procedure: within five weeks of the deal's closure, Crown had sold the Los Angeles operation to their agent, who will employ all workers, and begun negotiations to sell the others under similar conditions. But deciding to move operations – and jobs – in C&D's plant in Reynosa, Mexico, back to Ohio, was anything but standard.
'Naturally, we're excited to add jobs to our operation here in Fremont,' Kelley says. 'We committed to transition twenty C&D employees attached to their field sales group. They had the choice to either accept employment with Crown Battery or take an exit packages from C&D. Eight have accepted so far. But yes, moving plant jobs from Mexico to Ohio – we'll be adding between 25 and 30 factory jobs right here in Fremont because of this deal –is news.'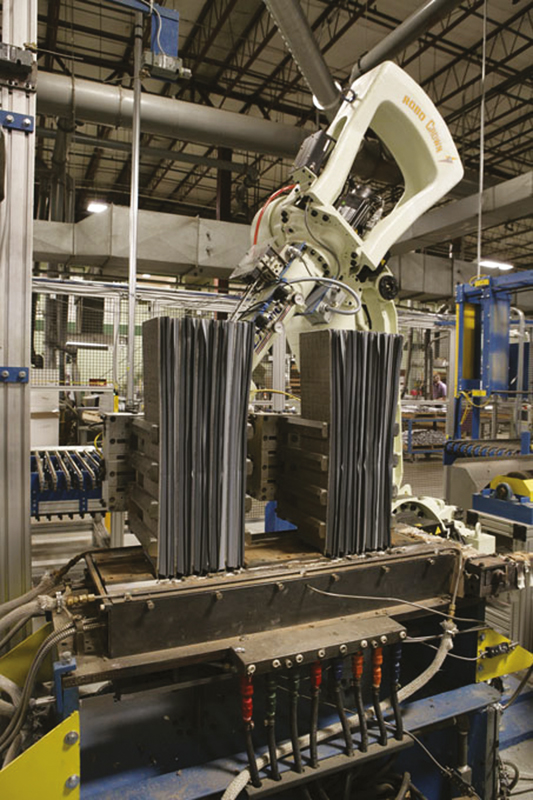 Good news certainly, in a state devastated by years of layoffs. But not, according to recent industry reports, so usual anymore, as such moves as Crown's are proving that manufacturing via smart business practices is not dead after all. According to the latest analysis by the Federal Reserve Bank of Chicago, manufacturing is on the rebound throughout a number of Rust Belt states such as Ohio. Indeed, recent industry reports indicate that some companies are beginning to understand that, given an adequate level of capital investment, even very high-priced American labor can be a bargain over the long haul.
But then Crown, having never shipped jobs abroad in the first place, hasn't had to relearn that lesson; they never moved their finger from the page in the Book of Sound Business Practices.
Outsourcing never made sense to Crown, Kelley says, though he concedes that the model is attractive. 'Certainly the cost of outsourced labor is less expensive, but our research showed that outsourcing usually means it takes more people to do the job. By the time we weighed in the cost of transport, the freight of raw materials and product from the States across the border into Mexico, into the factory, and then back out across the border as market product, and prepared it for distribution – the cost of all that far exceeded any projected savings in labor costs.'
As would the potentially higher cost of warranties associated with the production quality of any item not coming from their own factory, says Kelley. 'That was something we were aware of long before the many problems with Chinese-made materials and products hit the news this last year, and yes it figured into our thinking about this purchase.
'Our research showed that though the C-line product that C&D marketed for many years was certainly one of the premium brands in the industrial market, they had nonetheless experienced an increase in the warranty costs.'
From a competitive standpoint, then, it only made sense to bring all operations to Fremont. 'Ohio and Michigan are heavily automotive supply oriented, so we've got a huge pool of skilled plant labor,' he says. 'All our manufacturing is done here.
We have always believed we could keep tighter control on quality if we do all our work under the same roof.' Fremont's central location, and easy access to turnpike and rail transport, are also key. 'We're close enough to shipping ports that we can easily get our produce to South Africa, where we service the coal mining industry. We may not be the least expensive freight point in the world, but it's certainly manageable from here in Ohio. For example, we have no trouble shipping product to a mining client in South Africa.'
Founded in 1926 by German immigrant William Koenig, Crown Battery's history reads as the quintessential American small-town-business-makes-good success story.
From its earliest days as a battery repair and distribution shop through 8 decades of steady growth as a small, and then mid-sized manufacturer, the Koenig family maintained their commitment to Fremont, Ohio, a town of 17,300 located midway between Toledo and Cleveland, not far from Lake Erie's shores.
They believed that the single site manufacturing facility (from which now operates a nationwide network of agents and factory branches) would provide good access to a proven quality labor market and allow for easier control over the environmental issues inherent in operating a battery plant producing both SLI and industrial steel case batteries.
Over 80 years, the factory expanded on five occasions to accommodate its ever increasing sales and distribution, most significantly in 1976, when they built a new 76,000 square foot facility incorporating clean air, water and energy savings techniques. When sales increased accordingly, they added another 46,000 sq feet in 1983, and 48,000 more in 1990, for a total of 170,000 sq. feet. By century's end, Crown had achieved a respectable status as a mid-tier company of 325 employees producing an enviable product line of industrial and automotive batteries and chargers to such markets floor care, marine, mining, and commercial truck for a broad, loyal customer base.
Crown remained a family owned business from 1926 to 1998, at which time family members decided they did not want to continue ownership of the company. Then CEO and President Lee Koenig provided an opportunity to a management team, led by Hal Hawk, of nine initial members, all employees. Though the company received any number of purchase offers from outside investors over the years, the management group, under Mr. Hawk's leadership, has remained committed to continuing the Koenig family's vision for a company run by sound fundamental business practices and procedures, a lot of common sense.
'We just try to keep it simple,' Kelley says. 'We're a non-union facility. We don't have a lot of turnover, in management or in the plant. We recently automated our assembly lines, which has meant that we can assure a more consistent quality of product, and that we don't have to worry so much about the usual turnover rate in employees, usually around 2 %. Because Fremont is a smaller town, we realized that as we grew, we would have to stretch further to find more skilled employees. So we felt, within the context of our operation, that by investing some dollars in equipment, we could grow the capacity significantly without having to try to build a workforce from regions further away. The recent automation means we can utilize our highly qualified veteran employees to an even greater degree, thus increasing our plant capacity by 60 %.'
So how does Crown see itself fitting into a market dominated by the Big Guys like Exide, Enersys and East Penn? Moving up on the inside rail fast, Kelly says.
'When I started with Crown in 1997, there were fourteen brands of industrial batteries in the marketplace, and we saw ourselves in the bottom third. Today, there are only seven. Half the companies that were in the market have either merged, expired, or left the business.' But though they've moved up in the pack, he says, they don't worry about becoming number one or two. 'Our main concern is making sure we can be here­ for our community, for our employees, for our shareholders, for our suppliers, for the industry – for the long term.'
Having diversified their product automotive, commercial and industrial batteries, they seem set to handle whatever market winds blow along, even as the price of lead skyrockets and industrial truck sales decline. Kelley estimates the company's revenues should soar to about $70 million (compared to $35 million six years ago) in motive power sales in 2008 alone, $130 million overall.
But while the company has moved from the bottom third in sales volume to the middle to the top third, sales still don't motivate them, Kelley insists. 'We actually believe now that, given the numbers currently available on the big public companies, we would put ourselves into that number three or four slot. Ant that, we think, allows for better survivability for the long term. The idea here is to make this a healthy business for our factory. If our factory is going to be a lot busier, then let's put good business into it, and hopefully the market will see that as an opportunity to do the same thing.'
Evidently, it is. According to a recent economic report from the Federal Reserve Bank of Chicago, manufacturing remains a major driver of the nation's economy. Thanks to such savvy investment spending as Crown has implemented, regional manufacturing output growth has begun to recover in selected industries and areas. For example in the neighboring Midwestern states, machinery and other basic capital goods production have recovered significantly, and some sectors continue to expand. And though automotive production continues to flag, reports indicate that manufacturing of basic industrial equipment such as electrical construction and mining equipment has been growing steadily throughout the region.
Might this be happening because more U.S. companies, rethinking the prevailing low road (low wages, low investment) race to the lowest common denominator, are beginning to understand that capital investment and higher-priced labor pay off in the end? Maybe, if Crown is any indicator. In any case, they seem to be well ahead of the trend. 'Timing for this acquisition was good in that it allows us to secure additional brands and trademarks, so that when the market does recover, we don't have to be aggressive to expand our business,' says Kelley. 'We've already built the foundation for future growth. Now we can focus on a strategy of steady, sensible business retention; so we'll be here for the long haul.'