The Editor reflects, light heartedly, on another European lead battery conference
There are millions of young people out of work all over Europe. I look round the assembled gathering of the great and the good of the lead-acid battery industry in Paris and could see why. ELBC is really held at the 'Hotel California' where you can check out, but never leave.
Dear Detchko Pavlov, now well into his 80's and still contributing to the cutting edge of lead-acid battery science, leads a battalion of septuagenarian's and older who shape every aspect ELBC and ensure its format never changes.
So you can be pretty sure that in a decade from now, when the Global Lead Battery Conference (GLBC) takes place in Shanghai (BCI and Lead International will have been swallowed by the Chinese), there will be someone, a lot like Neil Hawkes, giving a paper entitled "The outlook for lead in the rest of the world". Only he'll be Chinese too and called 'Kevin'.
Globalisation and consolidation will be more or less complete with perhaps six major players in lead-acid throughout the world. I'm not sure who they'll be, but Johnson Controls could well be a statement of fact, rather than a brand name.
This 13th ELBC meeting returned to the city where the series began, some 26 years ago— Paris. Unlike Eurovision, the federation of European Broadcasters who run the flakiest pop music competition annually, ELBC never makes forays in the European outer limits like Oslo in Norway (where lead is probably unwelcome) or Tallinn, the capital of Estonia or even Helsinki, capital of Finland. They're all EU states and you have to wonder whether it would be because it would make an expensive conference even more so, or there isn't a venue big enough. This clearly explains why the event is next going to Edinburgh, Scotland where the main attraction isn't lead at all, but whiskey. Are you getting the picture?
'It's law unto itself is ELBC' but this year the event seems to have caught up with the editorial line I've been pushing here for nearly three years. That when it comes to auto hybridisation, the power source of choice has inexorably moved towards incumbent lead. The large format lithium-ion machine (the segment attacking the EV and hybrid market) has failed to get out of the pit lane, though it dominates portable electronics.
What all battery events love are market forecasts and this one is no different.
Ray Kubis of Enersys puts things into perspective. Of the 450GWh of electrical energy storage that will exist in 2013, just 11% will utilise lithium-ion technologies. The OEM solution for 'under the hood' remains Pb.
"Yes Ray but what about all this REACH authorisation nonsense?" I ask. That's going to be bad for lead-acid manufacture in Europe. Hasn't Eurobat (whom Ray speaks on behalf of) 'over gilded the lily' on Lithium‑ion and played into the EU Commission's hands?
Surely it should have defended lead more vigorously? Ray disagrees. Eurobat has been battery agnostic he says, (even though most of it members make their money out of lead-acid). So does his PR, Alfons Westgeest, who proffers his Eurobat position papers at me, like they are light sabres in defence of lead.
And perhaps it's not that important. Enersys is after all a global player, if lead-acid manufacture got too difficult or uncompetitive in Europe it could always make lead-acid batteries outside the EU and import them. That is, until the Vehicle End of Life Directive gets reviewed in 2015 and lead-acid has stayed on sufferance. And like Fleetwood Mac, the lead industry clearly isn't thinking about tomorrow.
At coffee, Menahem Anderman, who just happened to be in Paris (maybe talent scoutin' for his European event?), had a word in my ear.
"You know Mercedes are plannin' to put lithium-ion in their cars for 2015," he says, "Could be 100 000 cars." Quite. That will make the Commission think. If it's good enough for Mercedes, why not the rest of you? Especially you Eckhard Karden (more of that later).
This is an argument not heard by John Peterson, who writes for 'the other rag' and the latest recruit to the 'rah rah let's hear it for lead-acid' brigade, because it's cheap and scalable and abundant and recyclable.
True enough. Describing himself as a 'lawyer with an interest in science', this writer was concerned lest he strayed into the minefields of dynamic charge acceptance, electrolyte stratification and all the other shortcomings which look set to make lead-acid a bedfellow of necessity with other technologies. Wisely he chose not to discuss what he didn't understand. I don't believe in lawyers, from personal experience……
But by now the crowd were getting ready for the very last public appearance of Bob Cullen, now ex H&V and the man who really explained to the battery industry why the industrial battery market had grown inexorably and inevitably as the internet grew to subsume our lives.
Peppered with images of smartphones and the like, Bob's presentations and one‑liners became legendary, as he explained the twists and turns of the global cellular market, the dot‑com boom‑and‑bust and so forth, turning a dull presentation and battery growth numbers into something that was full of life.
This year was no different: Bob could have stood in for Steve Jobs. "72% of cell phones are now smart and are about to become our wallets", quipped Cullen, and "land lines are going away". And all of this is transforming the stationary battery market into a US$9 billion dollar market as we send each other 100 billion text messages. Farewell Bob, we won't see your like for some while.
The kernel of what's going on in automotive, which makes so much of the industry's bread and butter, came the following day— from the Auto industry. Moritz Shcindler of BMW pretty much let the cat out of the bag. When you're selling an expensive vehicle like a BMW, you are seriously at risk of p*ssing off the customers if they have to come back to change a battery frequently. He didn't actually say that of course, but it was written between the lines. The rumour mill about how many of the very best of what lead-acid has to offer— AGM— are being replaced prematurely is in full swing, according to Anthony Kongrats of Cap-XX Ltd but we don't have any numbers. The truth will out eventually… just look at Jimmy Saville (for UK readers only).

So it's no surprise that Schindler put forward the idea of using a lithium-ion battery in series with an AGM. It adds to cost— maybe two and half times the cost of a lead‑acid system alone but it saves a lot of embarrassment. It's a sort of zimmer frame for the elderly technology and 'takes the strain' as it were of PSOC activity. No wonder firms like Enersys are acquiring lithium‑ion businesses— despite all the work on the negative plate improvement and there was lots reported, Pavlov's new additive, carbon loading etc. Stop‑start makes lead-acid batteries work much much harder and auto designers have no intention of lessening the load.
As for the lost cost extended flooded solution, well Joern Albers of JCI, which makes the more costly AGM technology, did a great hatchet job on the budget product.
In essence the problem with extended flooded comes, not so much when the battery is being cycled on the road, but when you park the car. The acid stratifies depending on how long you are parked (and what the temperature is). And as the negative plate sulphates, the situation gets progressively worse. However it's dressed up, it's a technology that's stretched.
But it's so damn cheap. And that's why it appeals to the likes of Ford Europe and Eckhard Karden who reported on the collaborative work done with the University of Aachen, to develop a testing regime to evaluate dynamic charge acceptance in both AGM and extended flooded design.
BEST has reported Karden's reluctance to accommodate any ameliorating technologies to assist lead-acid in the very tough role it now has— be it supercaps or additional battery chemistries and it seems his philosophy is to cajoule the lead-acid industry to squeeze the very last drops of performance out of the negative plate. But in order to do this, the company has had to develop a new testing regime to find out if a weak runner can vault the tough hurdles.
It's a pig of a regime, incorporating pulse charging, continuous micro‑cycling and even allows for the acid stratification seen in parking or resting the battery. Combine that with a pile of statistical analyses and Ford actually found that some of their chosen extended flooded lead-acid batteries are actually good enough for the job! But then I don't think Karden would have put up findings that were anything else. If the battery boys don't impress sufficiently, then listen to what the auto specialists have to say.
Neville Jackson of Ricardo, the auto industry's official 'skunk works', showed HyBoost to the world a little over 18 months ago. It's what the auto industry here has to do in order to meet future emission requirements and everyone else will follow. It's electrified cars, not electric cars.
The HyBoost project led by Ricardo in partnership with Controlled Power Technologies, the European Advanced Lead‑acid Battery Consortium, Ford, Imperial College London, and Valeo, with co-funding from the UK government-backed Technology Strategy Board.
The HyBoost concept is based on a 2009 Ford Focus in which a 2.0L naturally aspirated four‑cylinder gasoline engine has been replaced with a 1.0L three‑cylinder EcoBoost engine. In implementing this 50% downsizing by swept volume, the research team delivered zero degradation in driveability, performance or acceleration. This was achieved through the use of a combination of technologies including a belt starter-generator to provide regenerative braking and stop/start, exhaust energy recapture through electric turbo-compounding, advanced lead-acid batteries and super-capacitors to provide energy storage, and electric supercharging to provide improved transient response and avoid the pitfalls of turbo-lag that otherwise place a practical limit on the potential for downsizing.
In the HyBoost concept the recaptured energy is fully stored in the ultra-capacitors. This system works with a floating voltage of between 18 and 27V and can even go down as low as 12V if necessary. Some of the stored energy is fed back into the conventional 12V system via the DC/DC converter to ensure that the standard vehicle system works as normal. This is unlikely to be a production solution for some while, especially with guys like Eckhard Karden overseeing the budgets!
Neville pointed out that advanced lead-acid batteries with high-carbon anodes will probably be more viable when maintaining a traditional 12V network, and lithium-ion for what appears to be a coming 48V standard. So we're going full circle to 1999 and Menahem Anderman's first Advanced Automotive Battery meeting. And a 'lead-acid on its own' storage system was discussed in ALABC's 'Son of Hyboost or LC Super Hybrid', presented by Allan Cooper.
But we are in danger of drifting into an auto electric review and batteries don't get much of a mention. The fact is that by integrating the best‑in‑class of down‑sized engines, motor generators and the best of lead‑acid, you can achieve tomorrow's lean motor car.
The demonstrator embraces low voltage, switched reluctance (SR), motor-generators, which are not currently employed by the automotive industry in mass production. The motors are of simple robust construction using steel, aluminum and copper and avoid the use of increasingly expensive rare earth materials required for permanent magnet motors. The SR technology is licensed from Nidec Corporation of Japan.
The SpeedStart system is the world's most powerful belt‑integrated starter generator (B-ISG) to operate at 12 volts, and the first and only system based on the highly controllable switched reluctance motor-generator technology, which resolves all stop-start issues including the notorious driver 'change of mind' problem.
The lead-carbon battery design (supplied by Exide Technologies) provides a cost‑effective solution, fully realising SpeedStart's potential for high power generation, including regenerative braking, fast restart and torque smoothing.
The inexorable trend for CO2 is downwards in Europe and legislators are expected to confirm the 2020 corporate fleet average CO2 requirement of 95g/km for cars and 147g/km for vans, and are committed to propose new standards for passenger cars for 2025 and 2030.
Cars are going to get leaner, car designers meaner. Legislation aside, the competition is going to have its work cut out if it wants to oust lead from under the hood or increasingly, out of the trunk. Seven hundred delegates went home with a warm glow inside.
Eurozone crisis dampens trade show vigour
What was happening on the floor of the trade show at 13ELBC? Obviously this is a lead love-in, the speakers were promising a bright future for lead and batteries but what was the feeling on the exhibitor stands? Talk was buzzing with the weak economic state of Europe, is business picking up or is there a brave face on it?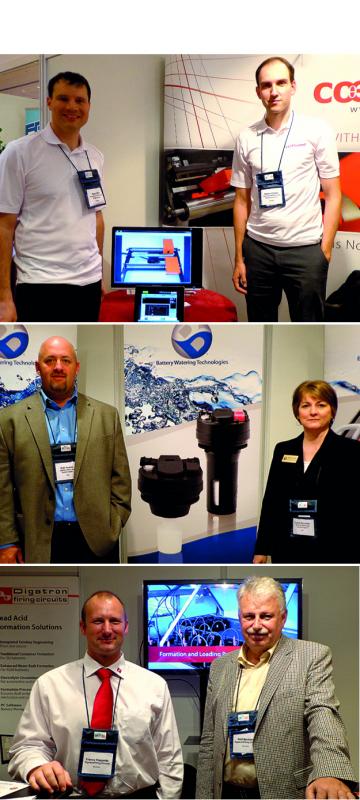 People seemed reluctant to impart any news about their products or company for fear of disclosure to their competitors. For a relatively small industry secrets can be hard to keep.
Giuseppe Gallo of Biasin said: "I think there are more attendees at this years show, which means there is lots more competition – especially from the east." While Cyndi Stuemke and Rob Soares of Battery Watering Technologies said this is the first ELBC that BWT attended and they were disappointed not to get a bigger crowd.
The hush was also felt by Seamus Quinn of Chem Resist: "It's a bit quiet this year but then the industry is going through a quiet spell. It will pick up." Inbatek's Christian Papmahl also saw the show as a mirror for business: "The fact that it's quiet reflects the whole industry, customers are saving money by not coming and won't invest until Europe is doing better."
Rolf Beckers, here with Digatron but also part of the ILA so tending toward complimentary said: "There is always a very high level of speakers and presentations compared to any other conference." This success could be its own undoing however as Sarah Hudson of Chloride Technical & Trading felt "People come for the speakers but miss the trade show – there isn't so much attention on it."
Ahmet Saricam of Zesar Battery Technology said he thought the barrier for some customers getting into the EU is a put off: "Istanbul was better. People wanting to come from countries like Algeria, Egypt or Iran could get visas into Turkey more easily than an EU country."
There were mixed responses from all, some happy, some expecting more but Mark Rigby, UK Powertech reflects the editor's position: "The people in the industry are getting older and older. But, it's a good show and we're in Paris, what more can I say?"
With the outcome of the decision on REACH hanging over industry in Europe it was interesting to hear prognosis on lead. Filippo Girardi of Midac said: "We will do whatever is necessary to stop this strange regulation from going through. Battery making isn't a lost activity." Midac is EUROBAT's newest member and is clearly putting faith in the association to speak up for the lead battery industry. Norbert Maleschitz from Banner is confident there is reason to fight: "There are seventy million batteries being made in Europe, this needs protecting. The ILA and EUROBAT are doing a good job of lobbying but they should join forces to stand together as one voice for what the whole industry is saying."
But the big event was of course the gala dinner, with the presentation of the BEST awards. For the next BEST awards it may be prudent to limit votes to one per person as an unguarded ballot box yielded interesting results. The winners are on pages 30-31 but an honourable mention must go to the runners-up (in two categories):
Co-efficient's lead strip measuring machine is phenomenal; Steve Mate and Martin Cloake had an iPad set up which remotely controlled the thickness machine (from Paris to Ottawa!) and a live feed from the machine was shown on another screen to see the machine move as directions were fed into the iPad. The laser system lets you measure the lead every 15 seconds instead of at the end of an hour. The machine can measure down to two thirds the size of a hair, or one thousandth of an inch. Which Steve Mate said allows you to tackle problems no one else is looking at.
Following the success of this machine, customers have approached the Co-efficient team asking them to develop high-tech machines for other parts of the battery making process make improvements. This company from 'Silicon Valley North' (aka Ottawa) is one to watch.
Maleschitz scoops ILA award thanks to teamwork, and running
The winner of this year's International Lead Association Medal was Norbert Maleschitz, the Technical Director of Austrian company Banner GmBH. Maleschitz won the ILA's award for exceptional contribution to the lead industry, notably in the areas of battery design and development. At Banner Maleschitz is responsible for research and development, quality assurance and maintenance.
Although this award was won alone, Maleschitz graciously attributed the success to his whole company. "A bigger group is always more powerful than a single person. This is not just an award for me, but for the whole of Banner." He said he thought he was nominated because of Banner's strong position working in the OEM market. "We have developed and pushed AGM technology for micro-hybrids with big companies like BMW. This will help advance mass adoption of hybridisation."
Maleschitz's team has also contributed to the ALABC Isolab cell project. Maleschitz said: "It's a very interesting cell design that will advance micro-hybrids. We are working with Honda to use the cell in their cars."
The Isolab cell evenly distributes voltage, taking the load from top and bottom instead of one side, which gives a higher charge and discharge load.
"This could provide a real challenge to lithium because it provides very good performance at a much lower cost."
Maleschitz is an endurance sports enthusiast – namely triathlons and marathons – he said training and being focused on a sporting goal is a lot like his work with battery research and development. "It is all about taking a challenge and not giving up."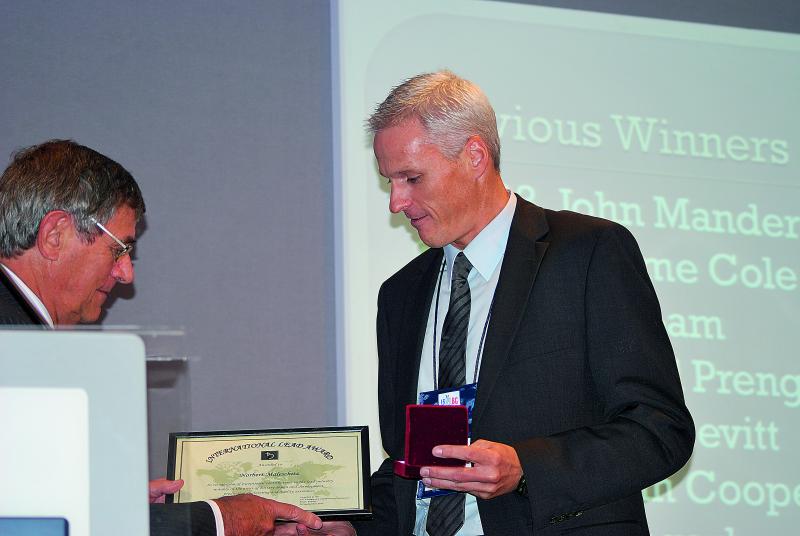 This attitude has helped from the beginning of his career. When he entered the industry he was told lead was dead but he wanted to prove that prediction wrong through his contributions to the research and development of the lead industry.
Maleschitz said the sport helps within his working life: "It is a cliché to say healthy body healthy mind, but if you are fit and in good shape, it is easier to deal with the stresses of the job. Running releases pressure after a stressful day; it helps to clear my head and to get new ideas."
"Everyone has to find his or her own way to deal with life, but sport works for me. I grew up with sport from the age of seven so I have many very positive experiences with sports."
As a sports man Maleschitz uses the same mind-set he applies to sports as he does to his R&D work, "You have to enjoy what you are doing, make it fun and the team must stay together as partners, and as friends."