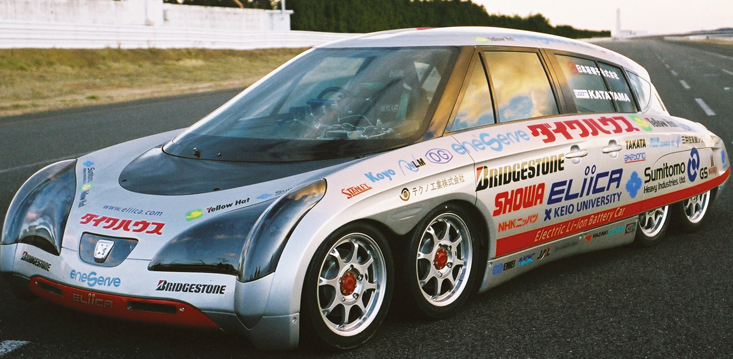 The millionaire's playground of Monaco was the setting for this year's EVS – hybrid and pure electric car show. But the only auto playthings for the rich set were in the windows of the up-market dealerships on the seafront and in the heads of Japanese design engineers says the Editor.
It's been a strange few days. We've got the Spring issue of BEST to press, I'm in the midst of moving out of the famous garden office (see Groundpath page 133) and before I have time to catch my breath it's almost too late to register as a press delegate for EVS21. But I just manage it.
Before you can say easyJet I'm in the South of France making my way to Monaco's Grimaldi Forum. Pope John Paul has died; Prince Rainier, ruler of this tiny Principality, is dying also. 'Act now for sustainable mobility' is this year's slogan. One way or another it's going to be hard for the event to cause much of a media stir.
This should be no surprise, because there's not a lot here that you haven't seen before. But you only know this for sure when you see the final programme, run through the proceedings and look around the exhibition.
EVS shows are a pilgrimage as much as a conference. The faithful who believe in electric and hybrid vehicles come every year and after a couple of days of public interest in the 'ride and drive' they start to talk up the next event like it's Passover – "Next year in Yokahama" (or did they say Jerusalem?).
But there are things happening – you just need to put your spectacles on to see them. Toyota is still picking up accolades for the Prius and has now introduced the Lexus RX 400 – but on its stand there's only a mock-up of the drive train. The irrepressible Professor Gaston Magetto, President of the European Electric Vehicle Association, reels off the numbers: over 800 delegates and 106 journalists (including yours truly). It's a success? Well, as a conference and exhibition, yes; but where's the real business? I meet many of the regulars, and they have the same gripe as I do: what's really new?
Reva – that quirky little Indian company – has managed to drag India's Minister of Science and Technology out here to do a photo call with the company's new battery-powered roadster. Reva is either on the way to becoming what SMART wanted to be, or it's on the road to being the next victim of EV madness. More of this later. SAFT seems to have shown without a shadow of a doubt that its high powered lithium ion batteries are safe and have enough calendar life for ten years and more, yet only a tiny little demonstrator programme between Dassualt and another company I'd not heard off seem to be taking notice. And there are some significant incremental improvements in some aspects of lithium technology, but no one was shouting about them from the rooftops.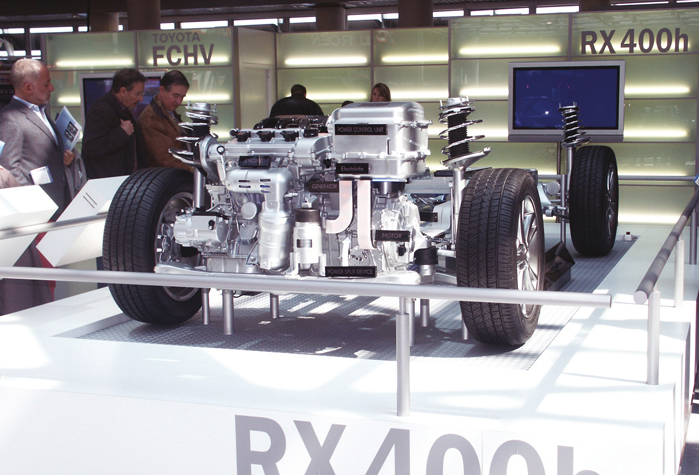 The main players in the European car industry are, as ever, vacillating over what direction to take with hybrid electric vehicles. It's pitiful. And there are no major developments in batteries or fuel cells being announced here (not that you'd expect there to be). There are no presentations on lead-acid developments at all and the only good news for this technology comes in the industrial truck field (see the feature on fast charging, page 39). In the real world, oil prices are in the high US$50s and the realists among the crowd know that the global economy will go into recession first before it makes a serious move to alternatively fuelled vehicles.
The buzz on the exhibition floor is that the Chinese, committed to having 1,000 EVs running for the Olympic Games in 2008, are here on a shopping spree – but when you see Beijing's promotional video on its EV programme for the Olympics, you just know they've got it all sewn up already. It looks like they could sell EV buses and the like to the rest of the world. They probably will! And there's so much I didn't see, because there are five parallel streams and a heap of poster presentations, not to mention the round tables.
What was eminently clear to the technical cognoscenti (those who were prepared to speak out) was that it's still only Toyota and Honda that are leading the way in hybrid development in the mass car market. The South Koreans are going to come up fast from behind, and the US and European auto industries look directionless, hiding behind their flimsy smokescreen of fuel cell R&D and hypersensitivity concerning the supposed fire risk of lithium ion in an auto accident. Give me a break! Thousands die in car crashes every year and some are unfortunately incinerated in the process, because gasoline is somewhat flammable. This is no reason not to adopt lithium in a wide range of hybrid designs, reducing cost, increasing availability and also making possible the plug in hybrid and pure EV with pretty decent range (200km on a single charge), giving an even greater chance of reducing CO2 emissions.
All of these messages are being lost against the background of the oil price hike – which even the mighty Alan Greenspan is beginning to take notice of. Not only that, but the great majority of climatologists now accept the idea that global warming is linked to increased CO2 emissions.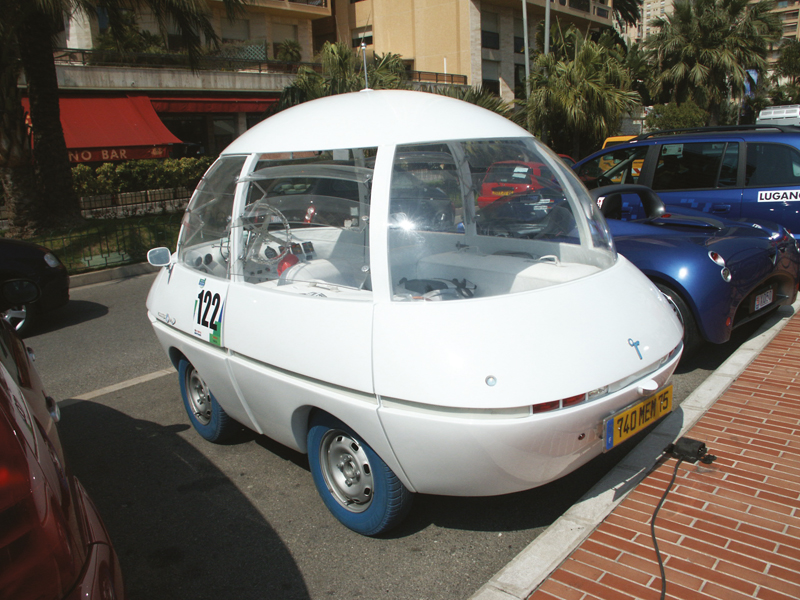 Perhaps only a new Pope, with an eye to sustainable development, could give this industry the boost it really needs – because it sure isn't coming from any politician. I must stop dreaming – though it's the willingness to dream and be bold that makes this market happen.
EVS is always a veritable smorgasbord of brilliant, sometimes wacky, engineering and nothing could really compare to the Ellica high performance (370 km/h) vehicle built at Keio University (article introduction picture). It's a couple of years old now and the major motivation behind the development of this car, which reaches 160km/h in seven seconds, according to professor Hiroshi Shimizu, was to show that electric cars do not have to be slow and feeble. But how many times do you have to repeat that message? Peoples' memories are short. Bernie Ecclestone has yet to create the sustainable Formula One event to attract huge international TV audiences which might ponder and ask themselves "Why can't we purchase a production EV, which would cost pennies to run, running on lithium ion?"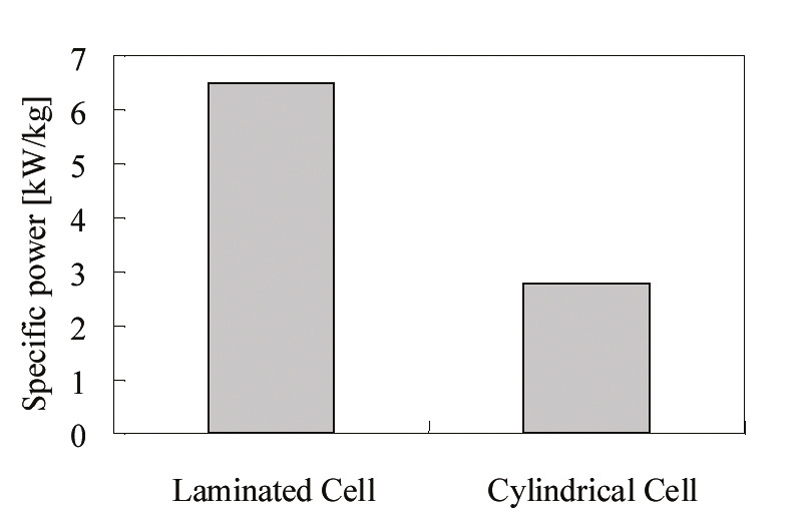 For those who haven't seen or heard of the car before, it really is worth a comment. It shows what can be achieved when money and imagination are available. It's a an eight-wheel, five-passenger sedan, with a top speed of 400km/h. The only sensible place to put batteries in a designed-from-the-ground-up vehicle is in the floor, and that's exactly what they've done. The best place to put the motors is in the wheels, so no surprises there either. Whether you can buy one is another matter.
One car you certainly will be able to buy in the not-too-distant future will be a hybrid-electric Tucson SUV from Hyundai. They didn't announce an availability date, but what the paper from Kil Young Youn and his colleagues certainly showed was the rationale behind staying with NiMH technology for the foreseeable future. If it's good enough for the Japanese, it's good enough for South Korea. The paper also spelled out how to develop both the battery and control spec, the cooling spec, and just about everything else.
Not surprisingly for an SUV the vehicle has an electrical engine power of 32kW and a 216V, 6.5Ah NiMH battery. Its fuel efficiency is 45% better than the petrol engine version – not surprising when the IC engine is now confined to a mere 1.4 litres. The overall message is that in the near future the auto industry will stay with nickel metal hydride, and what's happening now is simply refinement, refinement and refinement.
Keiji Kakizawa from Toyota showed the new and brutal 200kW hybrid transmission for its Lexus RX-400h SUV. The Prius has an 82kW drive train/motor. Toyota added a gear reduction for a higher speed, smaller electric motor that turns at 12,400rpm instead of the Prius 6,000rpms. It also has a smaller stator and a fuel-efficient low loss design. Presently, he said the Prius is operating at 500V (not 288V as Ford claimed using the older Toyota technology) and the new Lexus RX-400h is operating at 650V. Watch out for fried automechanics! Not everyone was impressed though including a Japanese environmentalist: "Who asked you to design such a car?" he asked.
At the other end of the scale was the Italian Maranello, another budget "Smart-like" vehicle which is offered in a hybrid mode using lead-acid gel batteries. No technical details were available however. From Nissan came an interesting paper on a new way of packaging high power lithium ion, though some would say it's been done before (Kokam Engineering). Nissan calls its cell, rather boringly, laminated lithium ion. It's kind of obvious – the electrodes are simply packed in a manner not unlike a lead-acid battery with a two-current collecting path.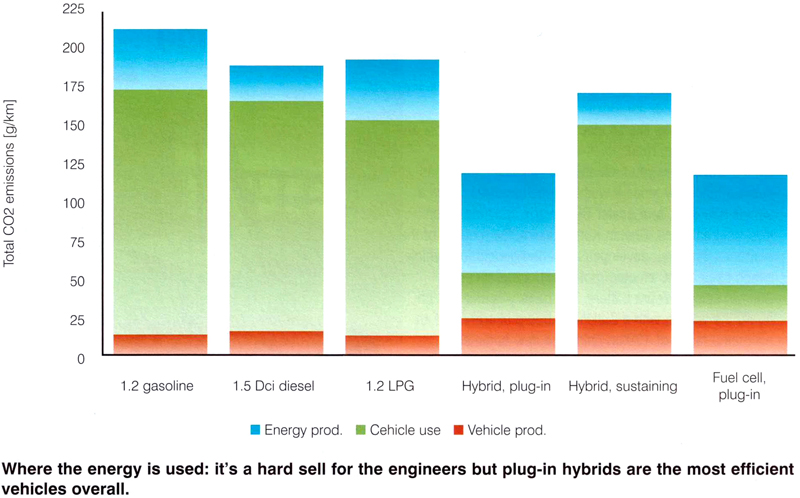 Form is everything – you get much better specific power. You also get a better cooling performance with a greater heat radiation area.
The French continue to beaver away with all-electric vehicles. Pierre Midrouliet, an engineer with ADEME, presented a viable and interesting paper concerning the operation of a ten tonne delivery truck using lead-acid batteries. There shouldn't have been anything surprising here: an 80kW motor, 2.6 tonnes of lead-acid battery and a standard Renault chassis. The range is just 60km and the vehicle's top speed is 70km/h.
The French can claim very low greenhouse gas emissions because most of their electricity comes from nuclear power stations. The price of the truck? They don't say, but EDF (the French national power company) and local government are providing a subsidy on the running costs as well as a subsidiary company to deal with battery replacement and maintenance.
Call me cynical but I know that this kind of positive EV story will bloom in the pages of EV and alternative energy magazines… but achieving the breakthrough into the real world of freight transport, well that's another story.
France has also experimented extensively with electric buses. More than 40 cities have them in operation – 170 buses in all – and you can guess correctly all of the results. People like them but small buses (less than 50 passengers and 8m in length) are limited. The batteries are the greatest concern but it's the old old story; lead is popular because it's cheap but everyone wants to move to lithium ion because of the performance.
If public service vehicles follow the trend of the auto industry, these buses look set be running on nickel metal hydride because of sheer availability. And one gets the impression the rest of the battery industry has the same idea – certainly it's in JCI–Varta's battery portfolio.
If EVS were a political conference then the centre ground is dominated by Toyota and Honda, but the really interesting ideas are always at the political fringe. And the most radical and sensible green ideas – taking hybrids beyond mere idle stop, braking energy recovery systems – come from those who promote plug-in hybrids – cars that really do have the very best well-to-wheel efficiencies and where it really would be possible to almost eliminate visits to the gas pumps.
So far no large automaker is offering such a vehicle, probably because it's quite difficult to explain the concept to the consumer. But when you analyse the numbers, it surely is the very best and practicable way forward in terms of achievable clean vehicles.
Two young Belgians presented the proof in an intriguing paper entitled 'Further than Kyoto Goals with a Combined Hybrid Delivery Van'. Quite simply, taking the somewhat petite Renault Kangoo delivery vehicle – which a number of European groups have used as a test bed for EV programmes – and by deriving some of its range from electricity charging derived from the power grid and the rest from its 1.1 litre diesel engine, you reduce CO2 emissions to 93g/km from the baseline of 163g/km in the pure diesel and far far better than the 140g Kyoto goal.
Now this really would be a major contribution to reversing climate change. M Toussaint, who delivered the paper, was quite unassuming and made his presentation to maybe 50 people, and on the last day of the meeting; so I wonder what hope he and his small company, Green Propulsion, have of developing it further? If oil prices rise to more than US$60 a barrel later this year, then surely the promise of a vehicle that delivers fuel economy of 3.2 litres for every 100km travelled must be a winner.
Perhaps not. On Wednesday evening all vestiges of EVS21 had disappeared from the Grimaldi Centre. Almost opposite the venue was a very up-market car dealership, with Lamborghinis and the like in the windows. Next door, a real estate vendor – apartments with sea views, several million Euros. The residents of Monaco and a lot of other places aren't too worried about soaring fuel prices – they can easily afford them.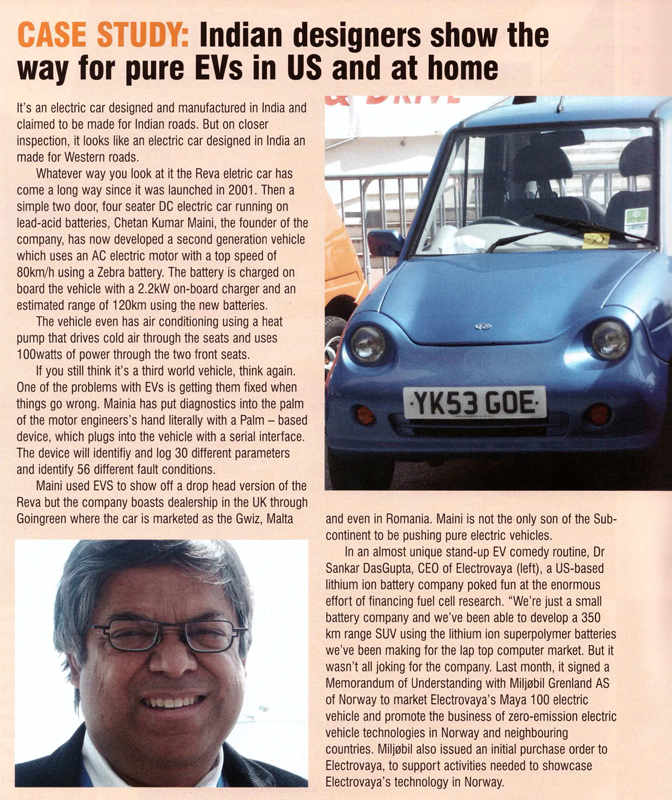 Perhaps Professor Hiroshi Shimizu, one of the gentlemen behind the Ellica car, should try to transform this prototype into a plaything of the super-rich… it might just kick start a fashion-driven trend.