Leading figures in the battery industry are working to educate and persuade legislators and regulators on the merits of energy storage. They are arguing that without it, electricity grids will not be able to cope with the huge increase in demand – at varying times of the day – that a switch to electrification will bring. Andrew Draper reports.
The demand, from people charging their electric vehicles (EVs) day and night, for example, will be so great that no single battery chemistry will be able to supply it all, so it will be all hands on deck, they say.
Forecasters are predicting that renewable energy will be supplying around half the electricity supply by 2050.
The International Energy Agency announced in a new report in June that global additions of renewable power capacity are expected to jump by a third this year as growing policy momentum, higher fossil fuel prices and energy security concerns drive strong deployment of solar PV and wind power. Global renewable capacity additions are set to soar by 107 GW, the largest absolute increase ever, to more than 440 GW in 2023. This is across the world's major markets, it said.
The US Energy Information Administration, meanwhile, predicts in its most recent international energy outlook (2021) that 42% of international electricity generation will come from all renewables in 2050. Renewable energy consumption has the strongest growth among energy sources, it said.
BloombergNEF forecasts 1.1 TWh of global ESS installed by 2040, massively up from 11 GWh in 2021.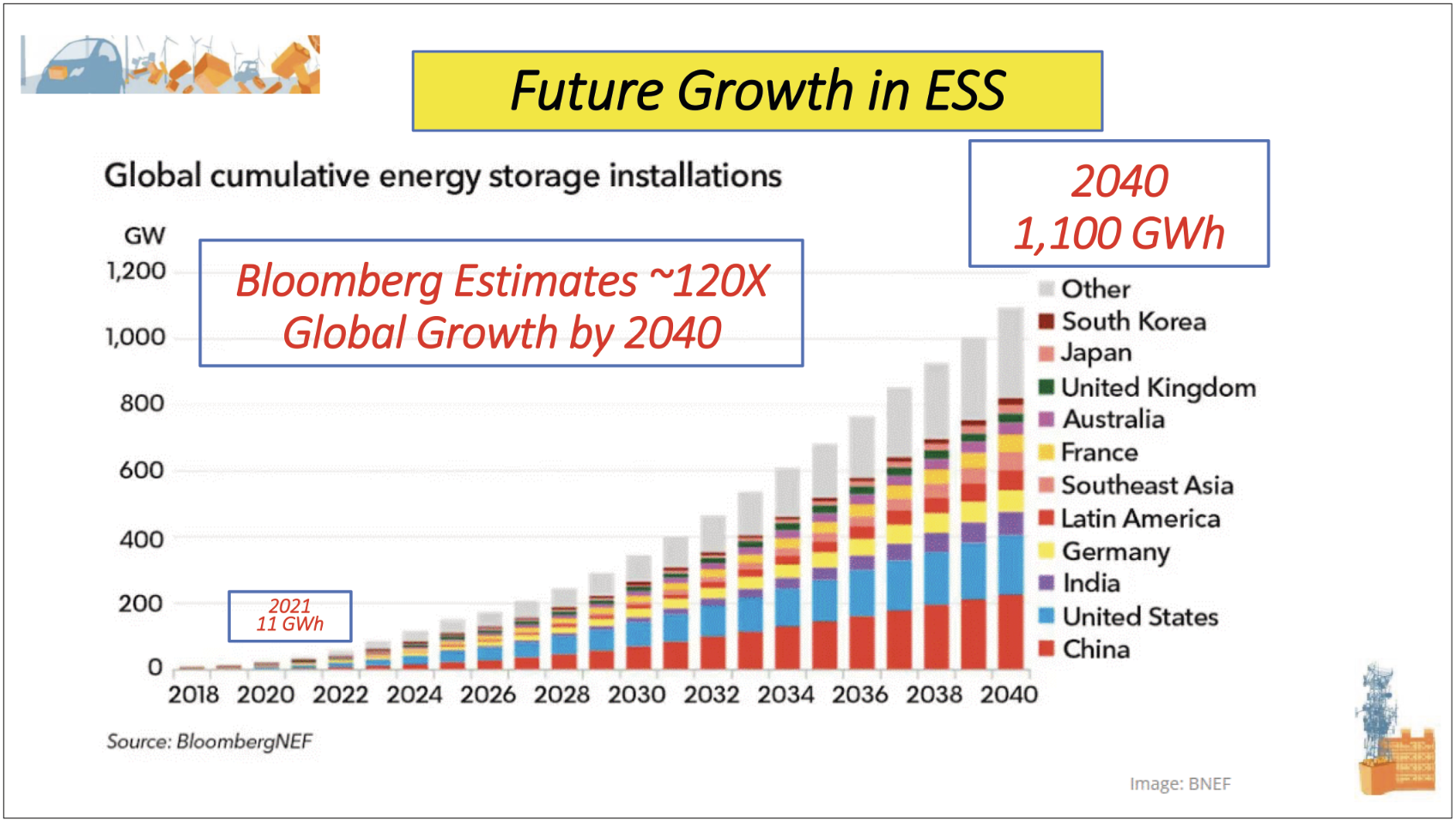 "All estimates predict an amazing growth in renewables," George Brilmyer of Batt-Tek Consulting told an audience at Battery Council International's April convention in Kentucky.
He later told BEST: "The key thing is, if wind and solar installations grow as much as predicted, then the market for battery energy storage will be massive and much larger than current sales for lead batteries."
He shared with his BCI audience that a typical day in California sees lowest energy demand around midday, rising sharply to peak in the evening. He posed the question how much energy needs to be stored. A forecast by S&P Global last May for the US set overall power generation at 4,250 TWh in 2030, 30% of which will come from renewables. This compares to a forecast 3,800 TWh in 2020.
Brilmyer identified and provided examples of six options for energy storage:
pumped hydro
compressed air
thermal
flywheels
gravitational
batteries.
Batteries carry a number of advantages, he said, including flexibility and scalability of power and energy. They need a limited infrastructure, are not limited by geography and are available in front of, or behind, the meter. Finally, they can be available at utility, neighbourhood or home level. They include lead batteries, which have stability of performance and do not catch fire, as has happened with some lithium-ion ESS installations.
Re-emerging interest in ESS
He said interest in energy storage systems (ESS) waned in about 1995, though the recent rise in renewable energy has once more sparked interest.
Notable projects include:
NorthStar Battery/Springfield Power Co; emergency power in 15 parallel strings in two 40-foot containers; each string 76–12 V monoblocks; 1,140 monoblocks 2.5 Mwh.
Crown Battery Mfg; Bamyan province, Afghanistan; off-grid system powering 2,500 homes; 1 MW solar/8.75 MWh of batteries; 48 x 4,800 Ah.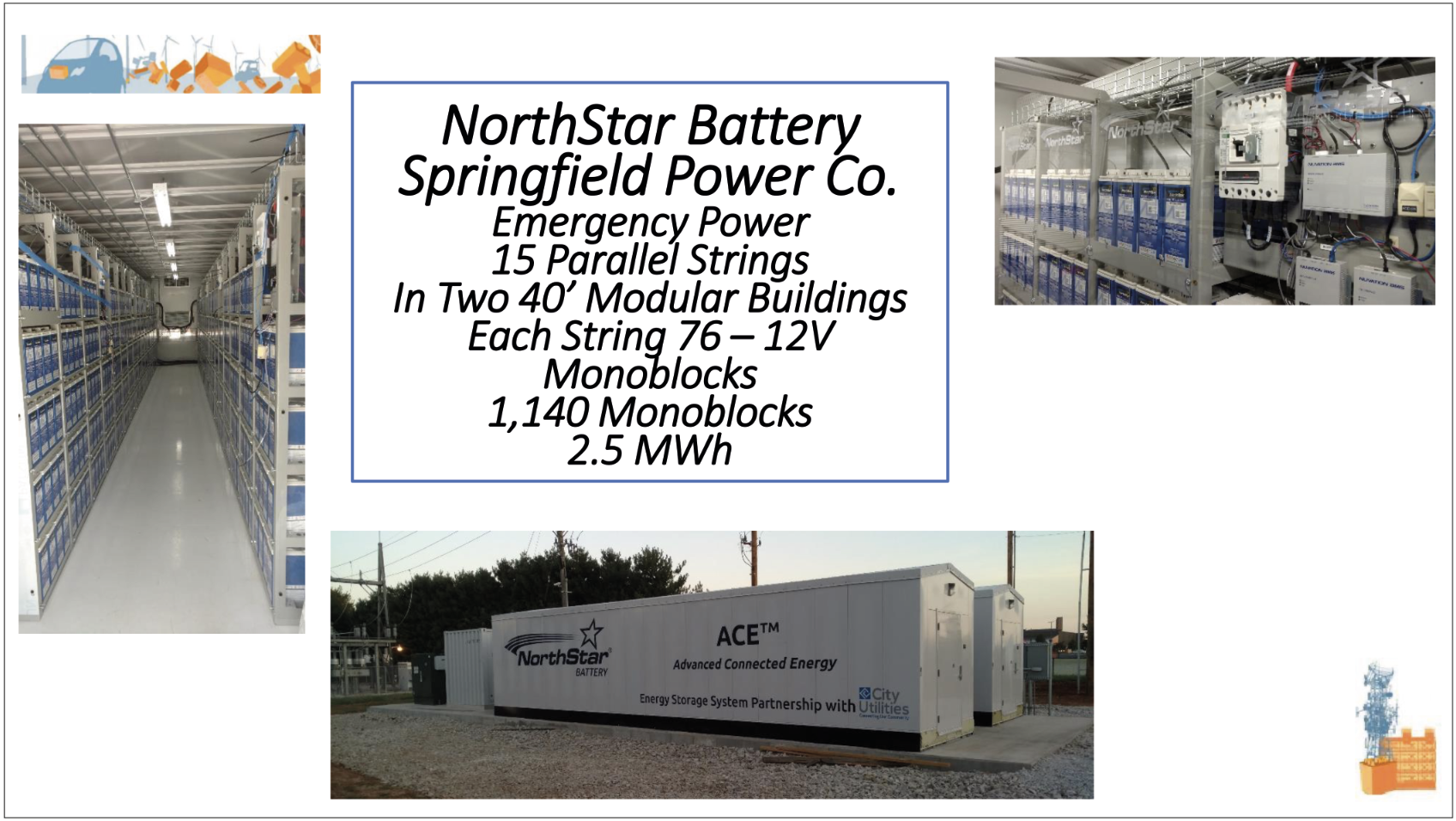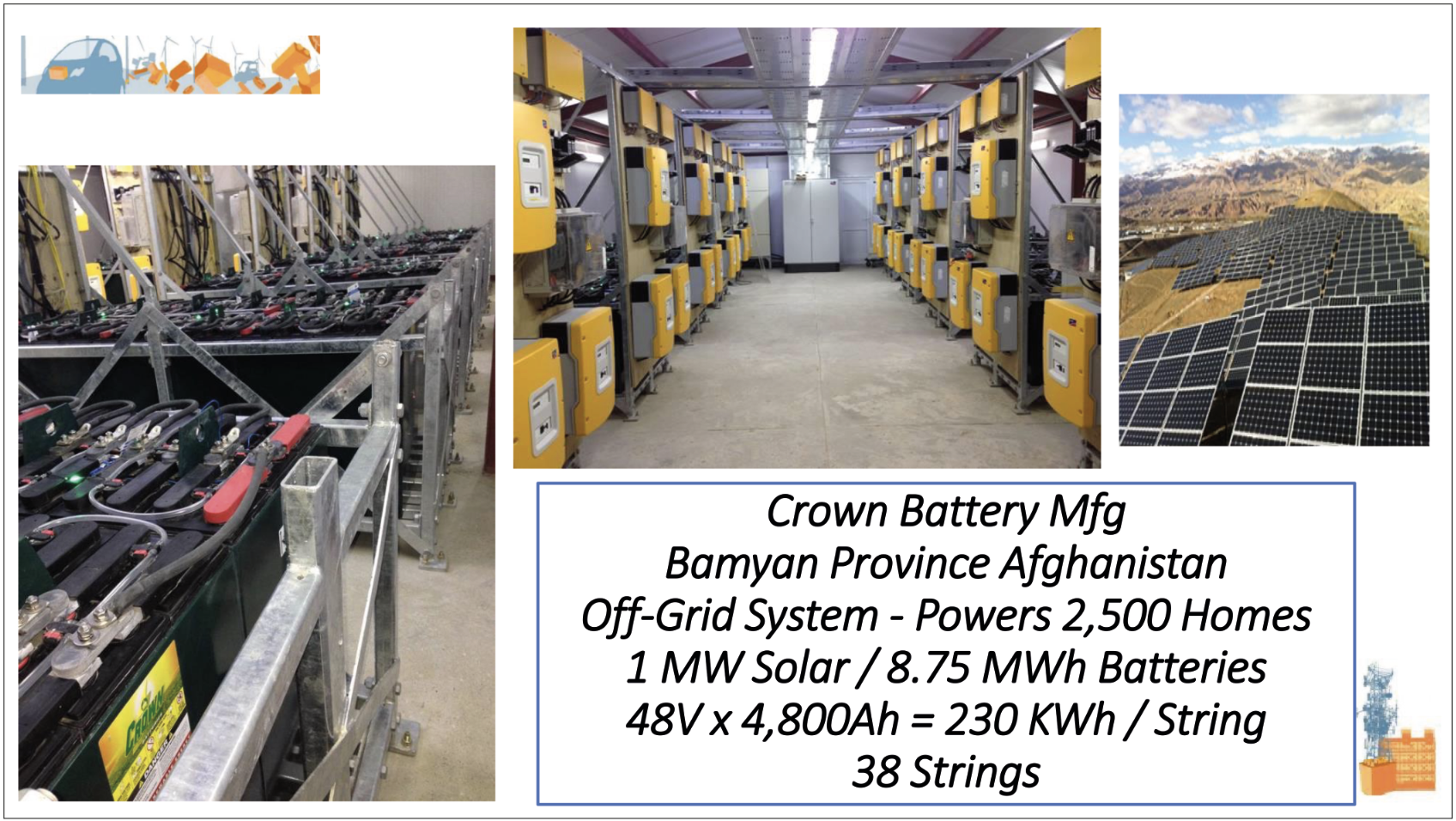 Record growth in commissions, but decline in deployment
In the US alone, the American Clean Power renewable energy body said energy storage witnessed a record year in 2022 with 4 GW and 12 GWh commissioned, representing an 80% increase in total operating storage capacity.
But in its Clean Power Annual Market Report for 2022, it said by the end of 2022, 53 GW of ESS projects were experiencing delays due to ongoing regulatory, supply chain and interconnection challenges. This contributed to a 15% decline in deployment volume from 2021. Its forecast is that between 2023 and 2027, the US storage market will install almost 75 GW, with grid-scale installations accounting for 81% of the total additions.
Chair of battery maker Gridtential Energy, Ray Kubis, presented a paper as one of more than 20 speakers across two days in June on behalf of the BCI to the US Department of Energy's Electricity Advisory Committee.
He spoke on how batteries can help the dramatic challenges facing the US grid as the country concurrently moves to more renewables and needs to plug in more EVs.
Kubis told BEST: "It went quite well, with a number of officials advising it was eye opening. And given the many challenges integrating lithium across the grid, we have a very good opportunity, also considering the safety and sustainability."
The US network of transformers and transmission lines are already facing a challenge in many areas as consumers demand full, fast EV charging in minutes – and whenever they want it.
"So, with forecasts of tens of millions of new EVs in just a few years and hundreds of more gigawatts of solar and wind power, the job ahead is a very big one," he said. "Batteries will have to play a big role to help sustain happy consumers and a reliable grid."
Decades or more to transform the US grid
Transforming the US grid to cope will take decades, if not a half a century, he said. The four Ps (plans, permits, parts and people) all have to come together over thousands of points and tens of thousands of miles of transmission lines.
Batteries will provide critical support across the diverse applications to balance power and energy demands in the first instance and will also help avoid thermal overloads and potential high costs for businesses and consumers.
Kubis told the committee members the pros and cons of lithium, lead and flow batteries respectively. Funding and new developments are coming in lithium battery technology, lead has clear innovation pathways, and flow batteries are a scalable contender for long-duration energy storage.
Beyond the huge demand for batteries in transportation and industrial applications, the ESS market demand for batteries will be significant even if only modest LDES applications are deployed, he said.
Patrick Balducci of the Argonne National Laboratory has done a detailed survey of how and where industry believes the best improvement in lead-based batteries will occur.
The most promising areas are redesign of the current collectors, novel materials/additives and system management improvements, said Balducci. He told the BCI convention in April that the investment cost needed to meet the DOE's dramatic improvement goals were much lower for lead batteries than for lithium technologies.
The X axis on the lead chart below shows a top-level investment requirement of $175 million, while the X axis on the lithium chart shows a top-level investment requirement of at least $1 trillion. This means the budget investment requirement (all items added together) for lithium R&D to get to DOE's price target of $0.05/kWh is approximately 5-6 times greater than for lead R&D.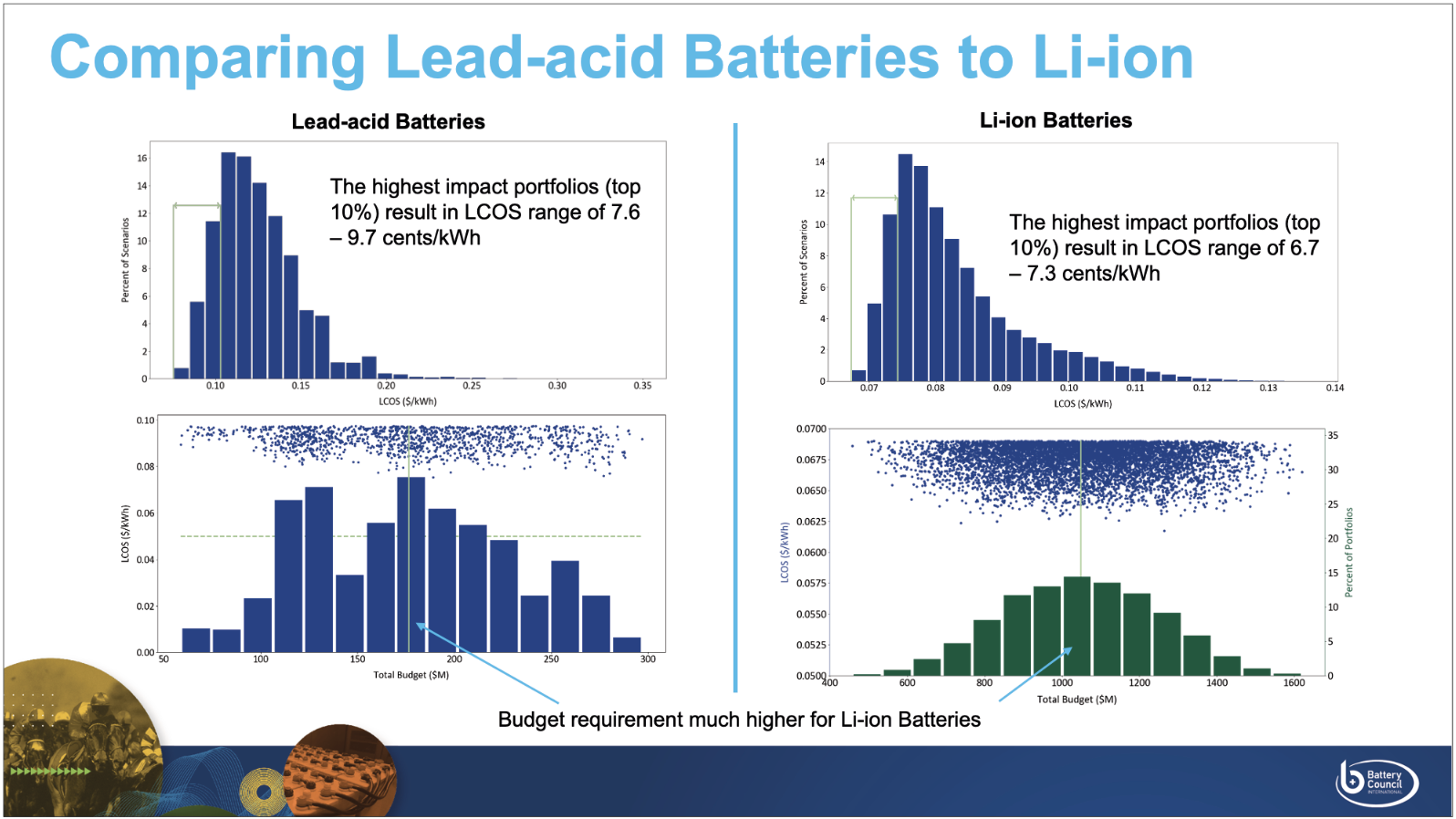 DOE: more non-lithium R&D
John Howes, Principal of the Redland Energy Group, told BEST that Congress is directing the DOE to step up its R&D efforts for non-lithium research.
In its just-issued report of the House Appropriations Energy & Water Development Sub-committee, the following directive is included: "The Committee notes the Department's previous awards focused on lithium-ion based battery chemistries.
"The Committee believes the Department should also seek to accelerate the deployment of domestic battery manufacturing for alternatives to lithium-ion chemistries in areas such as stationary, grid, and other battery energy storage end-use applications.
"The Department is encouraged to craft programmatic advanced battery solicitations focused on a broad spectrum of non-lithium-ion battery chemistries for these other application areas including grid-scale batteries."
Lead battery industry already on-shore
In terms of lithium batteries, the mines, materials, processing and cell production are largely coming from elsewhere, including China. However, lead battery production and recycling are already on-shore, Kubis noted. They are expandable and adaptable to the market improvements being developed.
This includes over 200 GWh of battery production and more than 1.5 million tons of lead battery recycling, in an industry valued at $32 billion of economic activity in the US.
Alternatives to fully charging EVs
There are alternatives to fully charging EVs, Kubis said. Emergency EV charging, where a breakdown service gives your battery a top-up, is one. "Though slow, it is surely preferable to a tow truck if your vehicle is fully discharged." The AAA breakdown company said its service trucks with mobile EV charging capability in Oregon and Idaho provide a Level 2 charge and can typically provide about 10–14 miles of range in about 30 minutes so that EV drivers can get home or to a charging station.
Ten companies worldwide are advancing fast battery swapping as a solution to keeping vehicles moving rather than finding and waiting at charging stations. "My guess is that for some 'last mile' EV delivery truck fleets, this option could have some merit," Kubis added.
Innovative solutions will continue to emerge, such as Ford's F150 Lightning vehicle to grid capability. "This type of solution, along with home energy storage systems open up the entire concept of V2G or H2G solutions. It is fair to say such system concepts open up all kinds of new questions on battery use, warranty and life, he told the committee.
Holy grail of battery designs maturing
Kubis said an alternate electrode design family are dual polarity electrodes, which have long been promoted as "the holy grail" for battery designs. "Such designs now are maturing across multiple chemistries. These designs generally offer 2-3 times performance upgrades based on the combination of far more direct and uniform current flow, which can also reduce normal wear-out from heat and other factors," he said.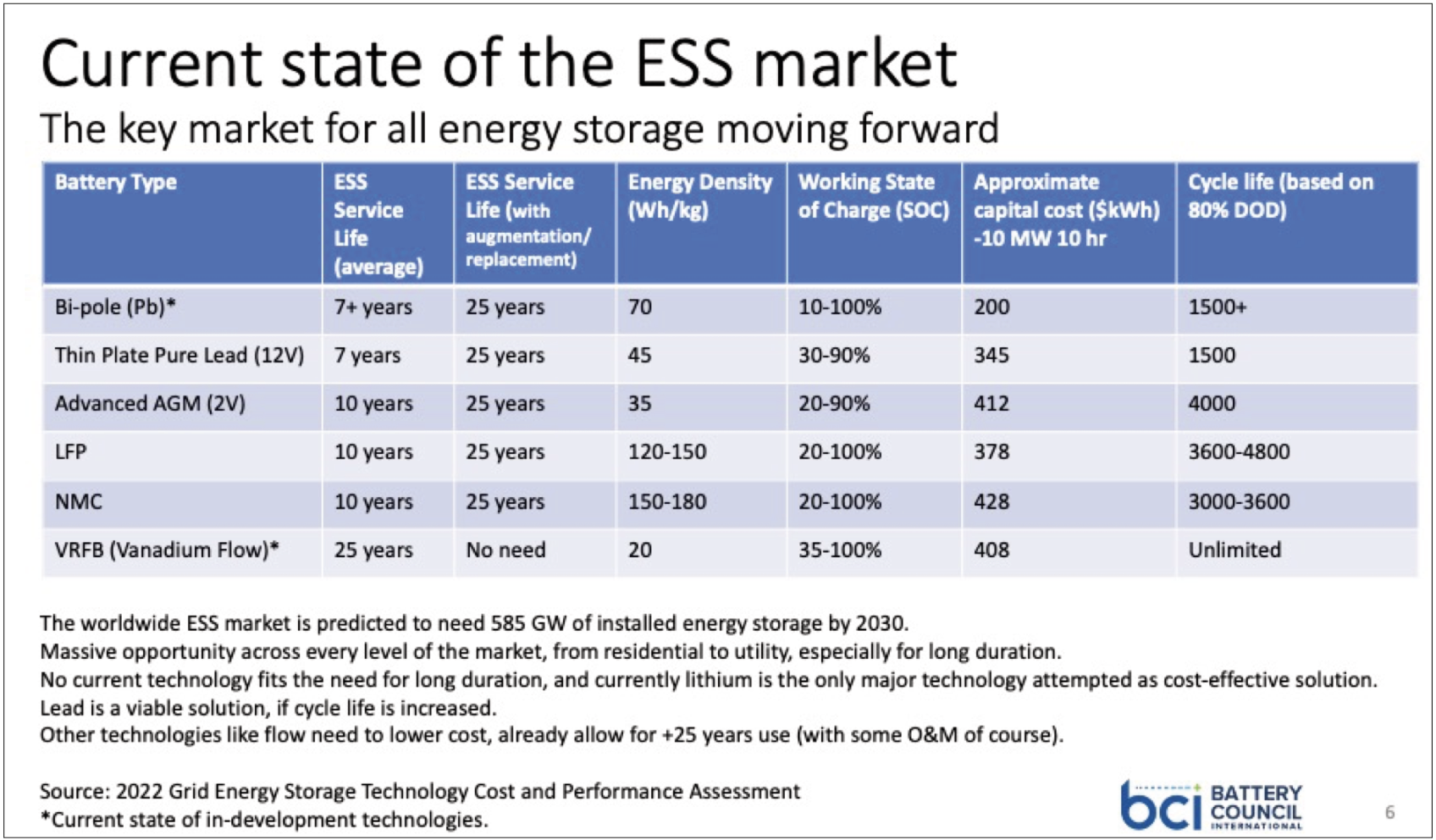 ESS market forecast at $30bn value by 2030
The UK's Consortium for Battery Innovation, part of the International Lead Association, estimates that overall demand for batteries is set to be huge. By 2030, it sees demand for ESS batteries alone at approximately 550 GWh and worth $30 billion. The entire lead battery market is currently worth $50 billion and 600 GWh.
Quoting its own research data and Avicenne market reports, the CBI said lead and lithium are the only battery technologies of scale: lithium has a 56% market share, while lead has 43%. All other technologies make up less than 1%.
In its Battery 2030 report from January 2023, McKinsey & Company said almost 60% of today's lithium is mined for battery-related applications, but that could reach 95% by 2030.
It argued that lithium reserves are well distributed and theoretically sufficient to cover battery demand, but with technological shifts toward more lithium-heavy batteries, lithium mining will need to increase significantly.
And every mining project will have to go to plan, plus significant additional investment in new technology will be required. It may not happen; in short, CBI concluded that "lithium could be in extremely short supply by 2030".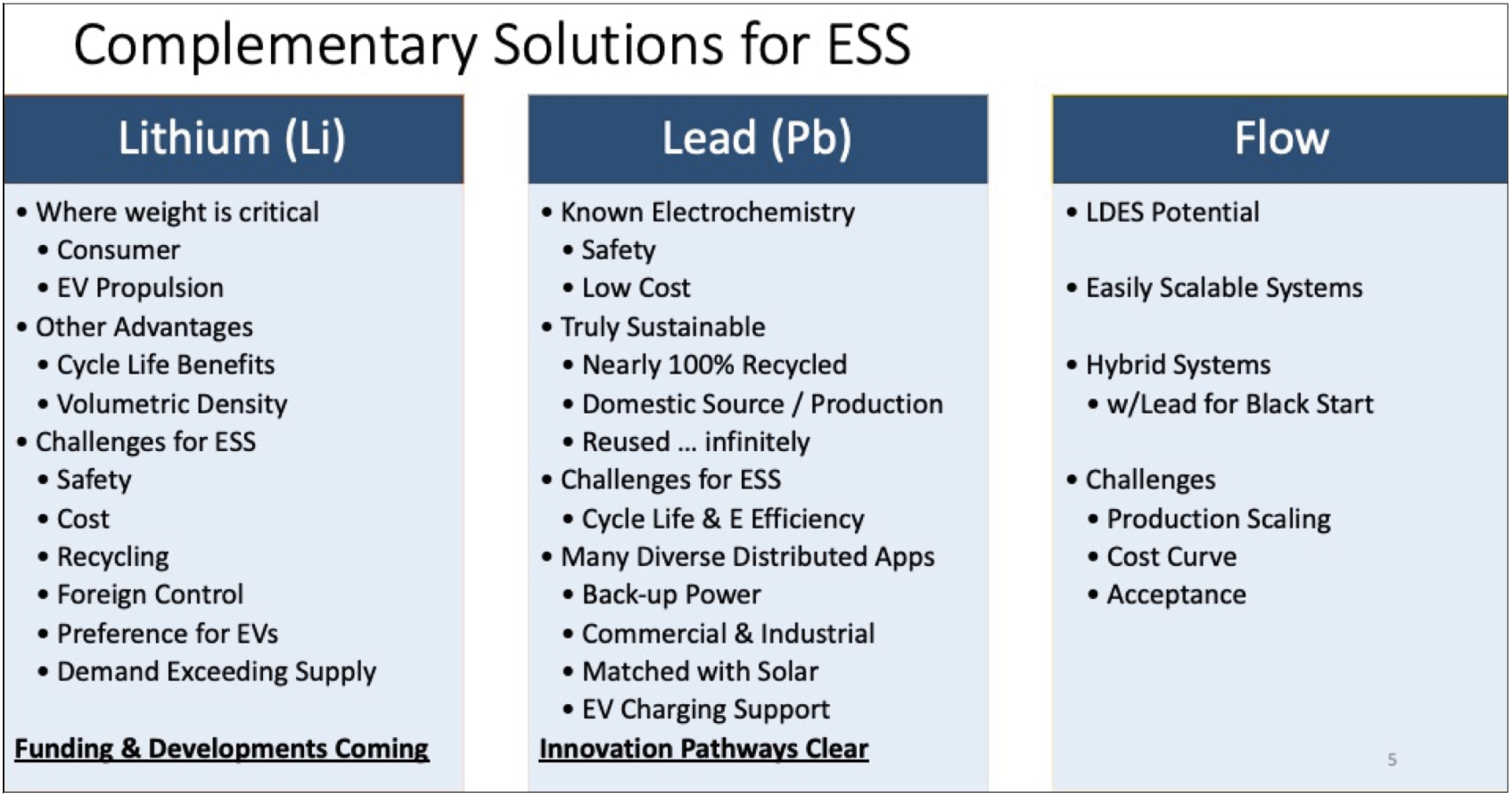 CBI: "Essential to utilise all battery technologies"
This possibility is not lost on the CBI, which is keen to point out that lead batteries are readily available and scalable to help meet demand. In a paper submitted to BEST, it said: "It is essential that we utilise all battery technologies and we should be using technologies which are best suited for a given application."
That means lithium batteries for EVs, mobile phones and laptops, while lead is "very well suited" for ESS applications such as EV fast charging back-up, long-duration energy storage and renewable energy integration. It is also great for commercial, industrial and residential home storage, plus transmission and distribution.
The CBI points to the availability of lead battery products offering more than 4,000 cycles at 80% depth of discharge, allowing for exceptionally high total energy throughput. The cost of lead batteries is relatively stable, in contrast to lithium. The December 2026 contract offer price for lead on the London Metal Exchange was $2168 on 24 June ($2138 for the three-month forward contract).
The recyclability of lead-acid batteries (near 100% in Europe and US) and forming part of the circular economy is being noted, claims the CBI.
Arguments for lead "showing traction"
"We are seeing these arguments showing traction with governments around the world, who realise they need lead batteries to meet their decarbonisation and electrification targets, as well as helping to mitigate climate change impacts," according to the CBI.
This has been demonstrated with successful stakeholder funding bids in the US and Europe. Examples include a €10 million ($11 million) award through Horizon Europe and co-funded by the EU to pair advanced lead batteries with green hydrogen to deliver a new source of clean, reliable and sustainable energy storage for off-grid communities in Africa.
AfTrak (Africa Tractor) is a £270,000 ($343,000) project funded by the UK government's Innovate UK funding body. It will use solar and lead batteries in a prototype programme for a "potentially revolutionary" tractor design, to tackle deep bed farming.
Speaking at the ILA Pb2023 conference in Athens in June, CBI director Alistair Davidson said: "We know the demand for batteries is so large that we need a range of technologies…It's a great opportunity for lead-acid batteries."