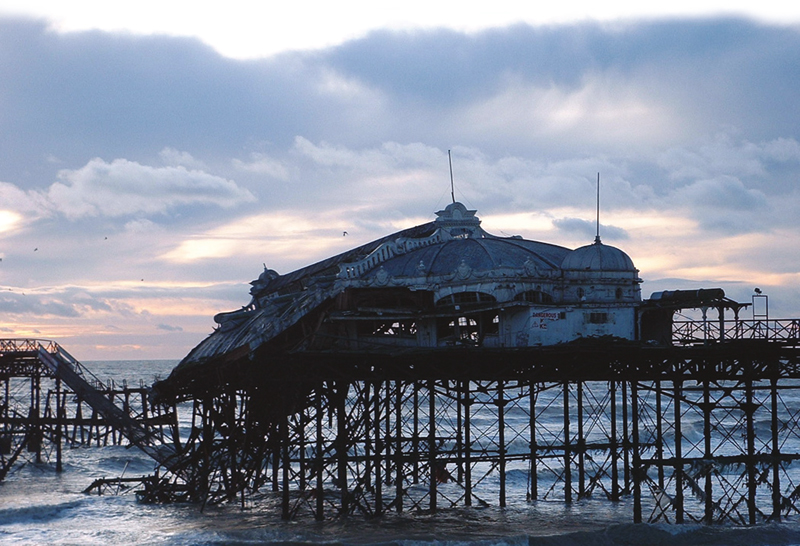 The Editor reports from the International Power Sources Symposium meeting in his home town of Brighton.
I've been accused of giving some battery conference organisers a hard time, so I'm going to show absolute fairness by beating myself up for one conference with which I've been loosely associated – the International Power Sources meeting in Brighton.
You'd think that somehow I'd engineered the event to be held in Brighton – the nearest city to BEST's editorial base. My partner, Hugh Cullimore, was certainly impressed by the lowest expenses claim I'd ever submitted for a battery conference since we started BEST in 2003 – just £22 for parking. In fact, I could have taken the bus, but that would not have proved that it is almost impossible to park in the centre of the venue. In fact it is possible to park in Brighton, just, provided you know your way around the one way systems. But let's not have a tirade about Brighton – suffice to say that there too many Big Issue sellers, too many drunken yobs (even on a Tuesday) and the hotels are over-priced.
IPSS has been coming to Brighton since the 1950s – a sort of seaside outing for the battery industry (without buckets and spades) when there was a thriving battery manufacturing industry in the UK. The UK had a huge defence industry too – a UK Government could put out a tender to three plane makers to build, not one, but three advanced nuclear bombers. Now of course there isn't much left (bombers or batteries) with Yuasa shutting its automotive battery plant in Birmingham, so the hope of pulling in an indigenous British battery sector is a forlorn one.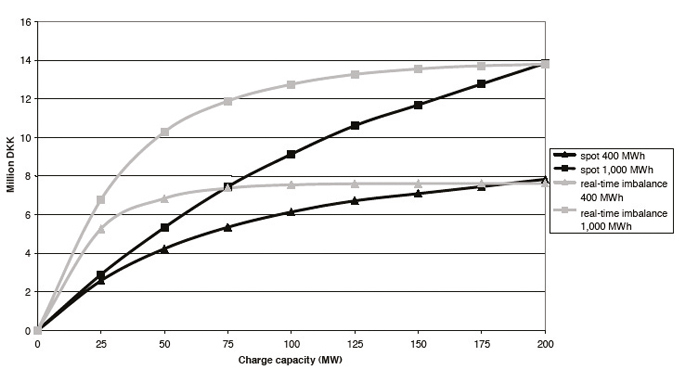 The late David Rice backed the conference move to Manchester in 2001, but sadly he did not live to see its first move overseas, to the Netherlands, in 2003.
My heart sank when the others on the steering committee decided to bring it back home to the UK – the whole purpose of trying other venues was to raise attendance numbers and get better value for money in terms of accommodation.
With the final number of attendees at 120-ish, this year I felt we'd failed (the rest of the committee may take a different view). The reasons though are obvious. The battery research community in the UK is miniscule so, when most of the expertise is now in Asia, why travel thousands of miles to the electrochemical backwater which Britain so obviously is?
However, I did achieve some success by introducing Dr Marion Perrin of the CEA Caderache group in France (where there's a healthy PV/battery/science base) to the steering committee. That helped to inject new topics and the theme: energy storage.
And it's pretty much the first day's events which get attention here, because they were directly related to the theme. After day one and our own attempts to get some discussion going, I felt it was very much a downhill week.
The day before the meeting was given over to a UK Government-sponsored presentation on the so-called Global Watch Mission seminar to see what's happening in the USA. I've already given my opinion on this in the comment column, but if you don't believe me, get hold of a copy of the report yourself. It's nicely put together but if you've been watching this field there's nothing there you didn't already know or couldn't have found out through other means. For more details, go to www.globalwatchonline.com
And on to the meeting proper. I listened hard to what Manuel Sanchez Jiminez – an administrator with the EU Commission – had to say about energy storage. But from what I understood, the Commission doesn't really understand the problem – which is that without storage, the chances of renewables having a fighting chance of supplying most of our electricity needs in the next 20 years are slim indeed.
There's precious little battery funding in the next European Framework Programme and considering how little industry funding there is as well, it doesn't look good at all. I gave Snr Jimenez 'nil points' on my Ambrosian voting card.
The next presentation was for me what I hoped this meeting would be about – energy storage really related to renewables. And this is exactly what the team from Danish grid transmission company ELTRA and Anthony Price of Swanbarton Consultants had to offer.
Denmark already generates more than 25% of its power from renewables (mainly wind). One would think that this is a good thing – Denmark has a significant coastline, and there's a lot of wind coming across the Atlantic and North Sea. But sometimes the wind gets a little too much, as it did this January – the Danes had a hurricane. That's too much for the wind turbines, and within a couple of hours ELTRA lost 25% of its supply. These days that's not a disaster because the Danes can buy in power through interconnects – but these need to be powered up. The Danes keep a thermal station on standby just for that purpose, which is an extraordinarily costly (and environmentally unsound) way of doing things.
Dear Readers, you can see the answer to ELTRA's needs… what's needed is… a battery. A big one. And with luck it could be the first of many.
For the purposes of this report I've simplified the technical issues about why storage back-up could be useful – how to run a power grid is not BEST's remit. But, in essence, it's the responsibility of ELTRA to maintain the mains frequency of the load which can deviate if generators either inside or outside the country trip out. To do this, it needs a separate source of power which can be brought on-line very quickly.
In power industry parlance, it has to provide the following:
• Primary control reserve
• Regulating reserve
• Secondary regulating reserve, available for automatic activation
• Tertiary regulating reserve, available for manual activation
• Reactive reserve, voltage stability and short-circuit power
• Black start.
And it's all highly specified. In the event of frequency deviations, the primary control reserve restores the equilibrium between production and consumption, maintaining the frequency set point.
Primary control reserve is provided by automatic frequency control on dedicated production units. The primary control reserve must be supplied if the frequency deviates by up to ±200mHz relative to the reference frequency of 50Hz. The primary control reserve must be supplied linearly, and be fully activated within 30 seconds up to a frequency deviation of ±200mHz. The control should be maintained for a minimum of 15 minutes until the automatic and manual control reserves can take over. The primary control reserve must be re-established within 15 minutes. The minimum unit to provide primary control reserve is 1 MW.
Secondary and tertiary control reserves can be used in day-to-day operations to equalise imbalances occurring due to miscalculation of consumption and production forecasts, outages or production shortages or other breakdowns affecting power exchanges on international interconnections.
ELTRA is not the first to realise that stored electricity could have value, if you can deliver it at a point when you can charge a high enough price for it. And with real experience of supplying loads with 25% coming from renewables, ELTRA can confidently say that unpredictability of the wind leads to deviations between schedules and actual power production —and there are high trading volumes in the real-time market.
Electricity storage makes it possible to reduce the need to buy or sell real-time imbalance power from other regulating sources.
Thus the storage facility may be used to reduce costs in the real-time market and thereby add value to the power system. This is the kind of text that accountants love: batteries can add value!
The Danes are taking a gentle approach. They've put out a tender for a large (but not as large as one might have expected) battery capable of meeting the following requirements:
a) Commercially available without unnecessary technical or commercial risk.
b) Capable of operation at the required scale (≥1MW and ≥7MWh) and to have been demonstrated at a larger scale ensuring that bigger projects using similar technology can be successfully completed.
c) Should have low maintenance, high reliability and predictable cycle lifetime. It should have low environmental impact. It is desirable that the device should have a fast response time and good efficiency.
According to Anthony Price sodium sulphur, NiCd and vanadium flow batteries are all in the frame. One of the reasons the grid company has opted for a relatively small system is that, by using storage to meet its emergency needs, it also has the ability to compete with the generating companies in some circumstances – and that would be contrary to the regulatory framework of power generation in Denmark. One shouldn't bring politics into a technical article, but isn't it obvious that power generation is a natural monopoly business in any nation state and should be run along the most
cost-effective and environmentally sound lines for the benefit of its citizens?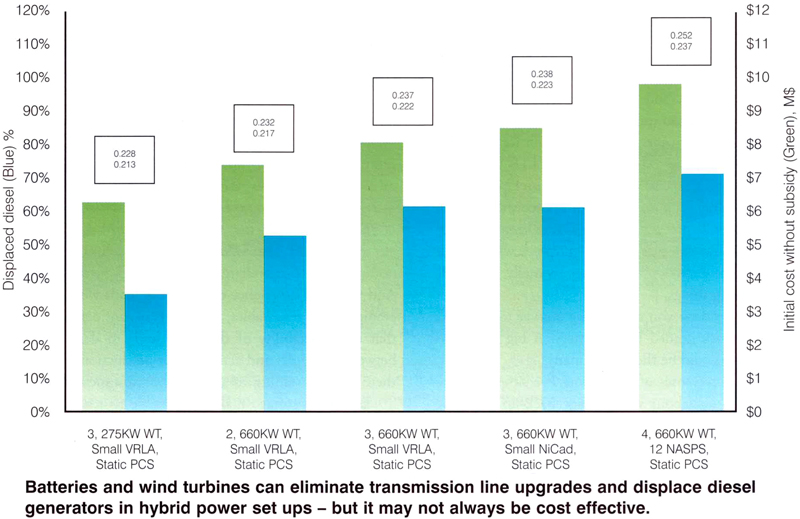 Political rant over.
ELTRA plans to have its battery storage plant up and running next year and to demonstrate it as a commercially viable alternative to paying for its emergency reserve through thermal generation. From the simulations they've already carried out it looks like an open-and-shut case. Unless the Danish power generators kick off and complain about unfair competition, I'm looking forward to my invitation to the inauguration next year (suppliers please take note).
Jim McDowall of SAFT followed through on integrating batteries with wind generation, though this time on a smaller scale: not national grids but small, weak electricity grids – the kind you'll find on remote islands and even some not-so-remote parts of Europe. They may or may not be linked to a mainland grid, and are frequently characterised by a lack of spinning reserves. In size they may range from tens of kilowatts for a few buildings to a hundred megawatts or more.
In such systems the introduction of wind generation can be destabilising, even before 20% penetration is reached. Advances in the power electronics associated with wind turbines have dramatically improved the quality of their output and their ability to ride through voltage sags. Electronic systems cannot, however, cause a turbine to continue producing power when the wind dies. The solution to this problem is energy storage, which can provide sufficient output stability and ramping control to make wind generation compatible with the network and its other sources of generation. Energy storage can allow wind generation to achieve a high percentage of overall generation in weak grids. Such solutions should be examined now to the greatest extent possible, since the lessons learned could provide valuable insight into actions that can be taken to prevent problems in mainland grids resulting from increasing deployment of wind generation.
McDowall reviewed the relative contribution of all chemistries on offer in terms of the time they offered for storage capability. Batteries of all kinds, he said, look competitive when it comes to supplying bulk power for a number of minutes – and in this class he highlighted the largest lead-acid battery ever, the 21MW/14MTh system installed by Puerto Rico Electric Power Authority (PREPA) at Sabana Llana, and not surprisingly the Golden Valley Electric Authority (GVEA) Battery Energy Storage System (BESS) commissioned in 2003, using NiCd batteries rated at 27MW for 15 minutes. The system was installed on schedule by a consortium of ABB and Saft, and in its first full year of operation prevented some 300,000 customer disconnections in the GVEA service area around Fairbanks, Alaska. The BESS is configured for future expansion and during acceptance testing was discharged for five minutes at the full converter capability of 46MW.
McDowall concurs with my own view that what happens in the hybrid electric vehicle market will one day power the industrial battery market also – and the cycling duty of batteries in wind systems will be very similar to that of HEVs. As a Saft man, McDowall must have his bets on lithium ion. We'll see.
Questioning the validity of storage for load shifting, given the specifications of the California Energy Commission (it's a long story – too long for this conference report), McDowall believes the real unique selling point is transmission line upgrade deferral.
In this scenario, system loads are approaching the capacity of an existing transmission line, and continuing load growth requires that action be taken to prevent an overload. Rather than upgrading the transmission line, energy storage can be used to cover the relatively few and short periods when the line capacity is exceeded. If the upgrade can be deferred for a full year, the financial benefit derived is equal to the annual carrying charges for the cost of the upgrade.
McDowall had a nice case study for Europeans too… Røst, the largest of the group of islands off the northern coast of Norway, which has been the subject of two studies. The island is linked to the mainland grid by a 65km-long 22kV transmission line, which is nearing its capacity limit in serving the 700 inhabitants. The line would cost US$5 million to upgrade. If the upgrade can be deferred for one year and the utility's carrying costs for money are 10%, the financial benefit is US$500,000 in the first year alone. The Californian Energy Commission referred to earlier takes the view that the storage technology would be moved to another location at the end of one year, with the possibility of realising further financial benefits in other locations. However, a system comprising wind generation coupled with storage could provide a more permanent solution to the line upgrade; and that has ramifications for many other locations.
Placing wind generation on an island like Røst can yield a further financial benefit, since the line losses in this case are 25-30%. Any displacement of energy supplied through the transmission line will avoid this loss and provide an additional value stream. Realising the upgrade deferral benefit requires generation capacity, so either sufficient energy storage must be installed to provide capacity firming of the wind generation, or a separate generator such as a diesel must be provided. Since the transmission line capacity will be exceeded only occasionally (at least in the early years of the deferral), a less expensive standby unit could be used for this function, preferably running on renewable biodiesel.
But how much storage capacity? McDowall pulled in another study – this time one which investigated the displacement of diesel by wind on San Cristobal in the Galapagos Islands.
The best case scenario, on both cost and performance, was the system with three wind turbines and five minutes of storage which can displace 60% of the existing diesel generation. Oh – you've guessed – the most favourable battery system was NiCd, so McDowall did a good job for his employers too!
Taking the Galapagos numbers and applying them to the Røst situation didn't work quite as well – diesel generation as part of the hybrid system one needs to make this work is more economically attractive than storage. So far, this study looked relatively uncommercial. But that's never the case. What chemistry to choose in these applications? Somehow I didn't think McDowall would come down in favour of lead-acid. We're in the land of partial state-of-charge and he opted for his own company's plastic bonded NiCd offering and, in the longer term, lithium ion.
Even Marion Perrin, a long time aficionado of lead-acid, is being seduced by the performance of lithium ion.
The background is obvious. The battery is described as the weak point in PV systems but, in terms of life of the energy storage system, in the form of lead-acid it can represent half the cost over 20 years. So, argues the team at Caderache, can we expect lithium ion to do in the world of PV what it has done in the world of portable electronics?
The answer is an emphatic yes.
Perrin's team subjected some Saft high power designs to adopted IEC 61 427 procedure capacity tests. The discharged capacities have been measured at C/120, C/10 and C/5 rates. The recharge is done by applying a constant voltage of 4V until the charge current is below 500mA. At the end of this capacity test, a constant current charge (C/10 rate) endurance test is performed. In PV application, the battery has specific constraints, which can be very severe for lead-acid batteries. The battery is cycled daily, sometimes with high depth of discharge. The recharge is done with the current from the PV array, and thus depends on the available solar irradiation. In case of bad weather conditions, the battery can remain for a long period in the discharged state. In addition to this, the maintenance is not always optimal. This can lead to a strongly reduced lifetime compared to what could be expected. The IEC procedure represents the different constraints specific to PV systems: deep and prolonged discharge, daily cycling, and overcharge, especially in Summer.
The batteries came through with flying colours. Perrin's group have other practical ideas for the use of lithium ion technology in the field – it should be possible to drive a 300W electric water pump (for rural communities) from a 100W PV array and a lithium ion battery. Today such a system would need a larger array to keep a lead-acid battery near top of charge – a lithium ion system is still efficient even at relatively low states of charge.
And with more Chinese makers promising high power lithium systems, the inevitable is staring us in the face: lead-acid has to perform well at low states of charge or face the inevitable.
One way or another, renewables and energy storage technologies are going to emerge into a meeting all of their own, without being bogged down by defence interests and other specialist niches, which are well represented through existing events such as the clearly military Power Sources meeting in the USA. This is where the future lies and the promoters of storage for renewables deserve a much bigger audience than they could attain here. Watch this space.