The Editor visits American Electric Power's headquarters in Columbus – venue for the Energy Storage Association's Spring meeting.
For me, Columbus is to America what Rugby is to England. Dull. I lived in Rugby for 18 months. In both places, the architecture has all the imagination of a UPS cabinet. But this description fits Columbus better, because it is the home of American Electric Power, along with its technical section. Totally sold on the value of electrical energy storage, AEP is probably the most forward-looking power utility company in the USA.
This was, in part, the reason why the Energy Storage Association (ESA) decided to hold its annual meeting in Columbus. And what a perfect opportunity it would be to show off its continuing work in evaluating a number of energy storage solutions for power shifting – the newspeak for what used to be called peak shaving. More of that later.
New technology and energy storage
Apart from getting to see the new technology in situ, there were two other significant themes to this meeting: where are flow batteries going, and (perhaps more importantly) what has happened in the energy storage field since the great blackout of 2003?
Imre Gyuk – the sage from the US Department of Energy who has allowed the money to flow into a number of demonstrator projects – was a little disappointed, to say the least, at the almost zero mention of energy storage technology in both interim and final reports from the Department. It was a missed PR opportunity, and in the current climate of fear and heightened tension in the USA it was one that should have been seized with both hands.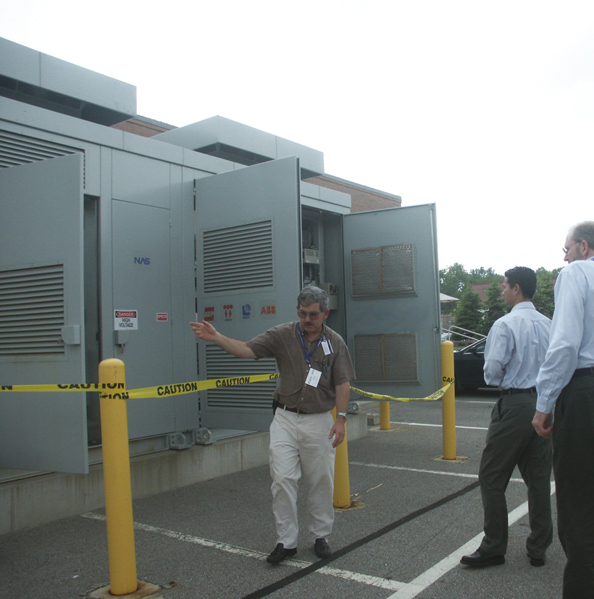 Perhaps it would have been foolish to suggest that energy storage technology could have prevented that blackout. On the other hand, Jim McDowall of SAFT was able to show, without any shadow of a doubt, that the giant battery installed in Fairbanks and commissioned last year has already prevented Golden Valley Electric from having to cut power to its customers on a number of occasions. And in Alaska loss of electricity for even a short period can have disastrous consequences.
ESA is heavily focused on demonstrating the economic benefits to power utilities from the employment of such technologies through not having to upgrade lines, substations etc. But it is difficult to estimate the true economic cost of a power loss to customers; and for a European, where electricity (for now) is so reliable, it's particularly hard to gauge.
Government subsidies
Even though there's now an Office for Electricity Transmission and Distribution in the US Department of Energy, ESA will have to do much more in terms of putting the case for storage in 2004 at Government level.
That's already happened in Japan. Momoki Katakura of Tokyo Electric Power nonchalantly delivered the news that his customers get a 50% Government subsidy if they invest in a large-scale energy storage system. And it's Mr Takayama at NGK who benefits most, because it is NGK systems that are being installed, almost exclusively, for the purpose. Few soccer fans will have realised that the TV broadcasts of the World Cup in Japan were backed up with a sodium sulphur system. But Japanese executives are probably as ignorant of the potential of energy storage as the average soccer fan, so in Kyushu region – Japan's silicon valley – the power utility has set up a marketing team to sell the concept. By cherry-picking the customers and selling storage as part of a 'quality service', it's exactly what should be happening in the US, where outages are a much more common occurrence.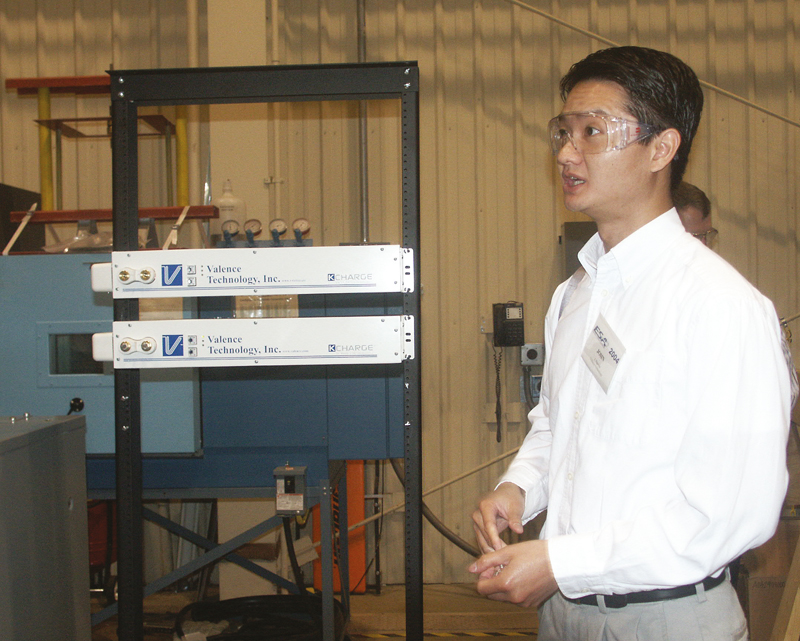 Quality of service
But more blackouts may be on the way in the US. Joe Sayer of New York State Energy Research Development Authority showed quite clearly how short New York City is of generating capacity if summer temperatures spike. But if the lights go out, this fledgling industry must be ready (just as soon as the power comes back on) to say how it could have been prevented.
If the lobbying isn't right, then all the effort put into developing the technology will come to nothing. And even if the lobbying happens and the technology works, there's always the possibility that a key player may pull out of the race – reducing the critical mass and putting future markets at risk.
What of schemes already in place? It fell to Bradley Williams of Pacificorp to describe the background to the decision to build the 250kVA storage battery in Moab, Utah, and its subsequent operation. Readers of the first issue of BEST will know of the dispute between VRB Power Systems and Telepower Australia, which was commissioned to build and test said battery. The dispute concerns non-payment to Telepower for the work carried out.
It must have been embarrassing for Pacificorp then to hear John Hawkins, the boss of Telepower and the individual who probably has the most hands-on experience in building these batteries, deliver a powerful critique of the kind of two-tank design the Moab battery had become – though he was smart enough not to mention it by name.
Two-tank designs are vulnerable to massive shunt current losses, which reduce the battery's energy density to half that of lead-acid.
In essence, the battery could not meet its duty specification, which the Pacificorp presentation claimed it could. However the company admitted it was having problems with its inverters – arguably the least complicated part of the design!
The only way that Hawkins has identified to overcome this fundamental weakness is to design a multi-tank and multi-current collecting membrane, and use hydraulics and process control. The result is an increase in costs, putting the future of the vanadium redox battery in question. It uses less electrolyte (the most expensive component) and achieves the kind of energy density builders were originally looking for.
Movers and shakers
So just when two technologies (Regenesys and vanadium redox) appear to be heading down the pan, up steps another hopeful – Stephen Clarke, another Brit who sensibly left the UK some years ago to establish Electro Chemical Design Associates.
Clarke's personal style is reminiscent of some of the biotech movers and shakers I met years ago: good for him, because it's what this industry needs. His flow battery chemistry is based on the cerium zinc redox couple – a new one to me, but it's been in the literature for more than a decade.
The main electrode reactions of Clarke's chemistry (written as discharges) are:
2Ce(CH3SO3)4+2H++2e → 2Ce(CH3SO3)3 + 2CH3SO3H E0 = 1.715 V
ZnO + 2CH3SO3H → Zn(CH3SO3)2 + 2H + +2e- E0 = -0.76 V
Methane sulphonic acid is used as an electrolyte. To date, pilot cells and intermediate-scale batteries have been built, and these have been extensively cycled at power densities ranging between 600 and 800W/m2. Some additional work has been completed at 1300W/m2.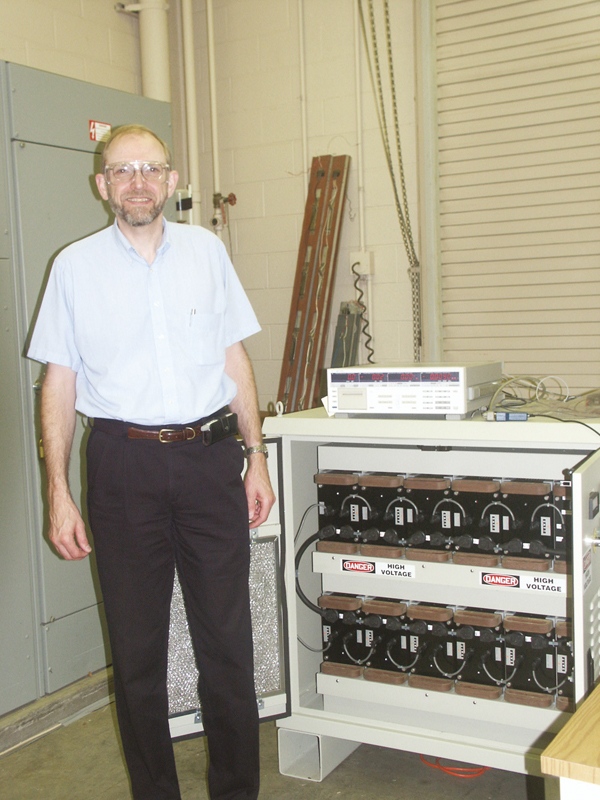 There's a long way to go. Clarke has raised more than $16m privately and talks convincingly of rapid prototyping, but the difficulties of introducing a new battery technology are immense, especially for a market that doesn't yet see the need. Clarke and I agree on one thing: renewables like the wind will never go big time unless they are dispatchable, and it's only large-scale storage systems that can make that happen.
I don't envy him the task of selling the concept and raising the money, let alone doing the engineering; but even at this meeting, there were money men sniffing around for the next big thing – which after the Internet, Viagra and 3G, simply has to be batteries!
Alternative technologies
Well, enough about energy storage: let's see the hardware in action. AEP has made several announcements in recent years about its interests in investigating energy storage technologies. It has a number of goals in this research, such as improving power quality and the potential to load shift; but there is a particular internal purpose – to find an alternative to the lead-acid batteries which are used to back up switchgear operation in substations and the like. Now let's not get into that old argument about reliability and the tedious discussion about what kind of monitoring you should use. The plain fact is that AEP would like to employ a battery technology that requires no maintenance or monitoring at all!
Sodium Sulphur
It was back in September 2002 that AEP inaugurated the first sodium sulphur battery in the USA, at Gahanna, as part of a two-year evaluation of the technology. The location is actually at AEP's headquarters. On a hot and sweltering afternoon, there really wasn't a lot to see. The NaS installation is remarkably compact. It contains two battery modules, each rated at 50kW, that are capable of supplying 375kW hours of energy; and is rated at 100kW for peak shaving or load levelling for about seven hours, and up to 500kW for short-term power quality mitigation. AEP's monitoring has accumulated extensive data on current and power flows in and out of the battery, but the most important fact that I walked away with was that the system had dealt with four major power quality issues a month. Quite how significant these issues were was not made clear – obviously it is not as dramatic as avoiding massive customer disconnects, which the SAFT battery in Alaska clearly achieves.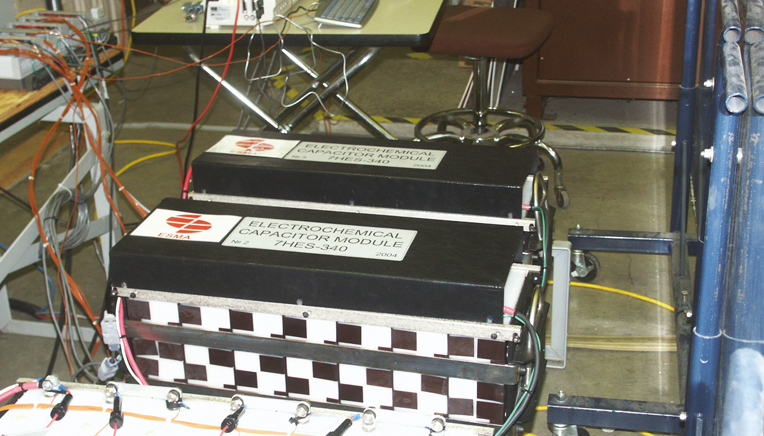 NaS is sexy, lead is not. Nonetheless, it was hard to fault the performance (or indeed the sales figures) of the S&C Purewave UPS, which also sits outside one of AEP's facilities in Columbus. It uses standard type 31 SLI batteries from East Penn or Delphi as its energy storage device, but it's the way they are kept in the cabinet that prolongs their active life, as that old dog food commercial used to claim.
These batteries don't rise above 22˚C all year round – they've got air conditioning and a better working environment than many office staff. The system provides full load for 30 seconds and half load for 60. And the batteries come with a four-year warranty, with no quibbles. With leasing costs at around $2,000 a month for a 250kW system, how can you offer a technology that does more at the price? No wonder Brad Roberts of S&C looked smug and confident.
Lithium
One company that's trying hard to break into this market is Valence. It is coming in with a lithium couple that a lot of watchers have taken a fancy to – lithium ion phosphate. This couple has a lot going for it, on safety and on price. The material has much more thermal stability than cobalt or manganese couples, and is the damp squib of all the battery abuse tests.
This is what the safety conscious are keen to see. All lithium products need electronics to prevent over-charge and over-discharge, but in the Valence K charge unit you can pack in a whole lot more than that. In fact you can pack a whole load of communications and monitoring features into the battery box. And the box isn't very big – it looks more like a piece of IT kit than a battery. You can build a 23.4 kW unit in standard 23in racking at just 3ft tall.
It's the shelf life and the calendar life (as well as the absence of maintenance and monitoring) which could swing the purchase. A calendar life of 12 years on float charge, and more than 2,000 cycles at 80-100% DOD. You can ship the battery at 30% SOC and leave it on the shelf for three years.
Too good to be true? Ask about the price. Today, it's several times more expensive than lead-acid; but K charge business development manager John Nguyen is more than hopeful that Asian manufacture will bring the price down. Valence has plans to offer the battery as a replacement technology for SLI too. AEP has been evaluating the technology for nearly a year, and before too long we'll get the definitive report.
Also on show at AEP's labs was SAFT's high-power lithium ion battery system for power quality, which Nancy Clark reported on at the last ESA meeting (BEST Winter 2004 issue, page 72). What you learn by seeing some of these newer technologies in the flesh is how incredibly compact they are. With space forever at a premium, you can begin to see why companies can have faith in such projects: because they must, at some point, break through into the market. A battery capable of delivering so much power, and no bigger than a small office photocopier, is quite an achievement.
Supercapacitors
But the very best, in my opinion, was saved until last. It turns out that AEP is collaborating with ESMA, the Russian Supercapacitor Company, to build hybrid or asymmetric supercapacitor designs using carbon and lead electrodes. This is the dream-ticket device, offering both high energy and power and an extremely long life. And why? Imagine such a unit at every consumer pole in a residential area in any city. The ability to shift the load over to a reliable long-life storage device even for a few seconds could do wonders for a company's distribution and transmission systems.
All this is some way in the future. But it could be a big part of the future for traditional lead battery makers, if they get into the act.