By the standards of the average battery conference, this was a small and intimate affair. Just two days, with around 200 delegates, from mainly European utility companies, start‑ups and investors. All packed into a side-room on the second floor of the Royal Garden Hotel, located next to London's famous Hyde Park.
However, this small conference had big ambitions. This was a no‑nonsense, taut meeting of some of the world's biggest names, all gathered to explore the future of renewable energy storage. Representatives from heavyweight firms such as E.ON, DONG Energy, Samsung SDI, Younicos and Tesla Motors (Energy) discussed the why, where and how of bringing large-scale storage to grid level renewable energy production.
But why the need for energy storage at grid level, and why now?
Depending on who you spoke to, there are up to 52 ancillary services energy storage can help with in the next five years. And it's not just about storing energy, apparently. Frequency regulation, load levelling, peak shaving and time-shifting were just some of the words bandied around. And batteries were at the heart of discussions: flexible enough to deploy energy at the flick of a switch and meet the plethora of ancillary demands.
New beginnings in an old market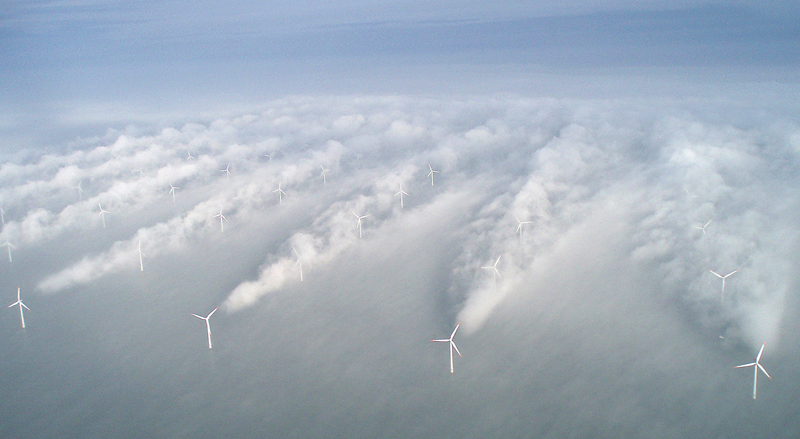 In the renewable market, energy is being wasted every day, or to be precise, it's going unharvested. That means it is costing utility firms money, as James Tedd, Project Manager, Emerging Energy Technologies at Ireland's utility company Electricity Supply Board, told delegates. He informed delegates that Ireland had had to curtail 250MW of wind power every 30 minutes that morning (December 1st) at a cost of around €10,000 each half-hour. And this happens regularly, said Tedd. Storing that excess energy for another time is a 'big challenge' for utilities.
Perhaps one solution would be to follow Germany's lead and sell or buy excess power to neighbouring countries, but you need somewhere to store the energy before it is exported, or indeed when it is imported when supplies fall. And as clean energy production becomes more important as countries attempt to meet climate change demands, the ability to store excess energy becomes increasingly important.
Different researchers give different forecasts on how much storage will be required: International Renewable Energy Agency believes 150GW of storage will be required by 2030; Broker Research thinks 240GW will be needed by 2020; and IEA says between 125-150GW is a more reasonable expectation by 2050.
Asif Rafique, Managing Director of SUSI Partner Ag, a sustainable energy infrastructure financier, said: "The scale of the market is going to grow 300% up to 2030, and one of the biggest needs is the integration of renewables."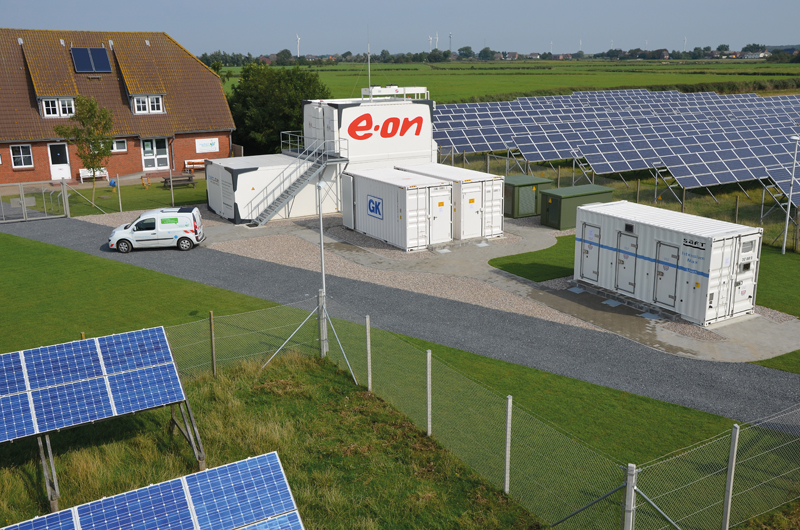 In Europe the so-called '20‑20‑20′ scheme sets out targets to cut greenhouse emissions by 20% while increasing energy efficiency by 20%. To date the European Union has an installed 50GW of storage capacity, which corresponds to about 5% of the area's daily generation. America is already embracing the technology: the third quarter of 2015 saw the largest amount of energy storage deployments since the fourth quarter of 2012. According to GTM Research and the Energy Storage Association's 'U.S. Energy Storage Monitor', the US deployed 60.3MWs of energy storage capacity in 2015. This represents 53.1MW/h. The report predicts total deployment of 192MWs for 2016, triple 2015s total.
It's a cost gamble in a battery agnostic game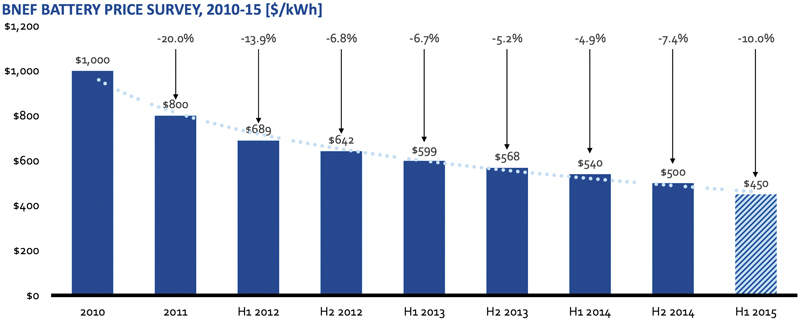 When it comes to the chemistry of choice, most companies represented at ESU were looking at lithium-ion. Vanadium-redox flow batteries, sodium-sulphur and zinc-air were also discussed, but not with the same enthusiasm. Alternatives such as quinone bromine flow batteries and zinc bromine were also highlighted in passing. Lead-acid, with its low depth-of-discharge and cycle life, was not on the agenda (see the interview with Younicos following this report). However, utility firms are profit led and if costs for battery storage are favourable, they will choose whichever chemistry or technology is the cheapest. In other words the companies represented at the conference were squarely 'battery agnostic'.
The reason for lithium-ion's popularity at the show was money. Experts predict lithium-ion battery prices will fall to under $200kW/h by 2020, thanks to advances in the electric vehicle market. According to research firm Lux Research, lithium-ion battery packs for automotive applications sit at around the $300-350kW/h range, depending on cell type. Rather more conservative estimates put packs as high as $500kW/h.
The reduction, say industry forecasters, will be governed by a combination of falling costs in materials, chemistry, production and increased manufacturing volume— such as that seen with Tesla's gigafactory. This is going to have a knock on effect for other applications including energy storage markets, delegates heard.
Bernadino Ricci, Director of Corporate Strategy and Business Development at Korean battery firm Samsung SDI, said: "We can easily see 200kW/h by 2020, that's reasonable. There's still a lot of room to improve batteries. Bigger plants will also move the price down further.
"It's just a matter of time, but it's on the horizon; it's not 20 years, it's more like five years."
Strong words from one of the world's biggest battery firms. Especially when you think it currently has 800 engineers, 400 with PhDs, working every day to bring down costs. So $150-200kWh will be possible, if not by 2020 then by 2021, said Ricci.
He added: "But maybe 60-70% of a battery's cost is the battery, remember the rest is the synergies, and we don't exploit the potential of synergies yet."
Chris Wright, Co-founder and CTO of UK energy storage firm Moixa Corporation, said his firm had noticed a 65% reduction in costs per cell in the last nine months. "I believe, looking at Tesla and EOS, that $150 per kWh, for pretty long life systems, is doable," he said. "So that seems to be a general point that people think we need to be at in a relatively short term."
Dr David Blood, Market Manager EMEA for US conversion system company Parker Energy Grid-Tie Divisions, said that, from his firm's experience using lithium‑ion technology, they had seen significant cost reductions in the past 18 months. "The cheaper the batteries are, the more economical energy storage will be," he added.
In other words, volume of demand and breakthroughs in technology could bring down costs to a point where large megawatt batteries are installed at grid level. As Heiko Staubitz, Senior Manager for Smart Grids and Energy Storage at Germany Trade and Investment, said: "The market is open for all technologies, so it depends on which ones can provide the best flexibility for the cheapest price."
The upshot of larger battery manufacturing set-ups is OEMS– and let's not forget the batteries from military applications— will put electric vehicles on stream. Of course, eventually, those battery packs will need to be replaced or upgraded. But with an estimated 80% capacity still left, the packs used in 2nd life applications are open for exploiting.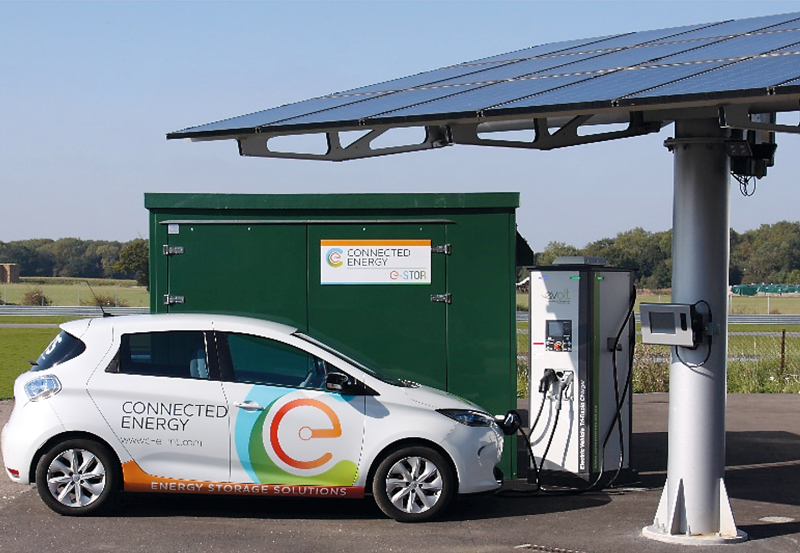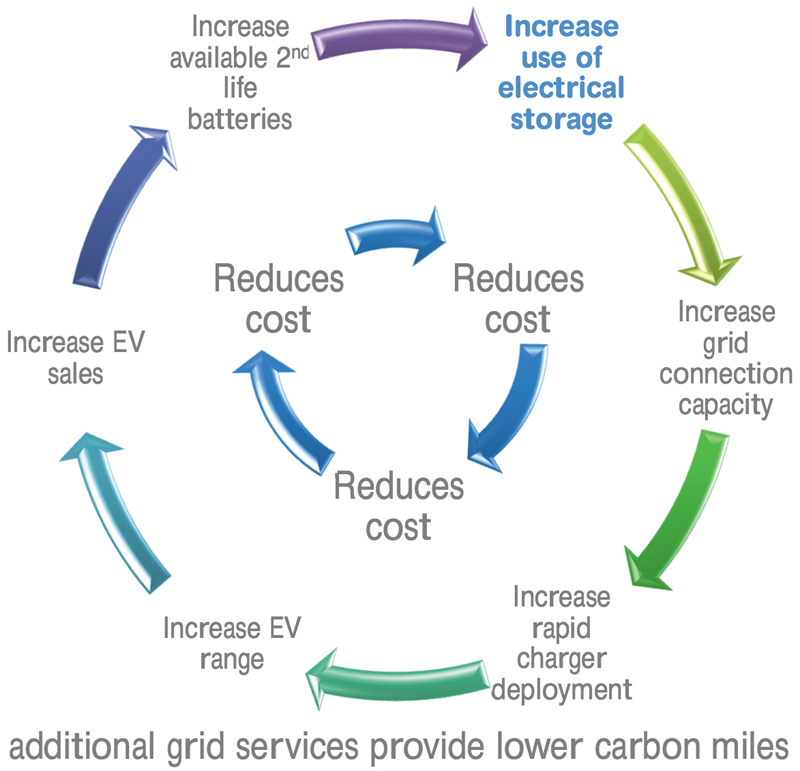 Matthew Lumsden, Managing Director at Uk R&D company Future Transport Systems, said: "There's a problem with second life batteries at the moment, they have a home. But by 2020/22 they will come on stream in big amounts.
"In the future people will be able to buy or lease battery packs from the OEMs. Each battery will have a passport to predict how good the battery is; it will detail the lifestyle, what the vehicle was used for etc.
"People don't know how electric vehicle batteries will work in energy storage applications, but we are testing to see how they will operate under certain work stresses."
However, not everyone is so bombastic about lithium-ion EV batteries. Robert Elrich, Executive Chairman at US power systems manufacturer Arotech Corporation, a co-sponsor of the conference, sounded a word of caution.
Elrich believes his company's zinc-air technology can get prices down to $150-175kW/h within the next three years. And as a side-swipe to lithium technology, he said: "We're still years from a massive EV market, Tesla only sold 20,000 cars this year [2015]. I'm sure it will grow, but at the moment we have to take numbers with a pinch of salt."
Another reason to be cautious about the rise of battery technology in energy storage systems comes with a glance at the European Association for Storage of Energy (EASE) website. It lists 78 companies throughout Europe using energy storage. Of those the majority (42) are pumped‑hydro. Lithium-ion accounts for 16 projects, vanadium-redox just four.
And lead-acid, well that isn't used in a single project listed on EASE's database. It's worth noting, however, Europe's first hybrid energy storage plant in Rhode, County Offaly, Ireland, is a mix of flywheel (160kW) and Hitachi Chemical's valve regulated lead‑acid batteries (up to 240kW). The plant, owned and operated by Irish storage plant firm Schwungrad Energie, opened on November 4, 2015.
Energy storage is not just about storing energy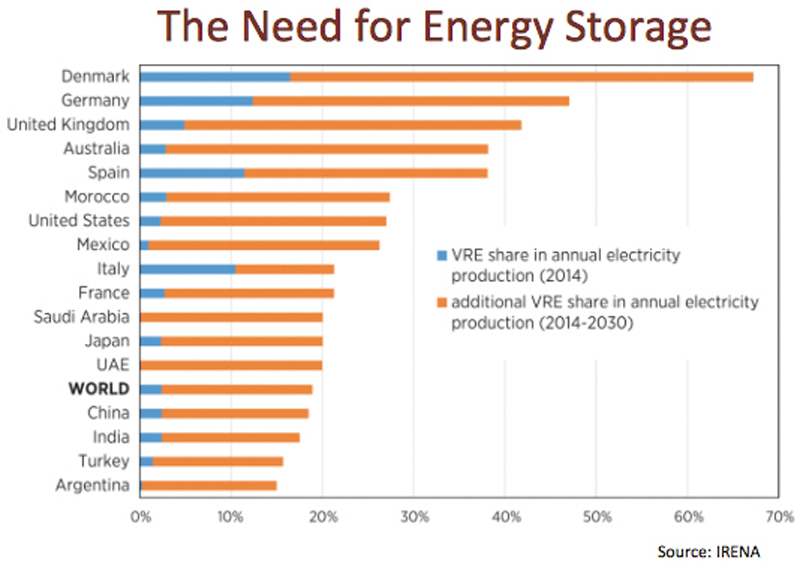 It may sound like a paradox, but energy storage at the grid level is more than just storing energy. Ancillary services such as frequency regulation, ramping, load levelling, isolated islands, and even black-start are among the potential uses of batteries in energy storage.
In Europe, grids operate at 50Hz, in an ideal world. However, renewable energy can be hard to predict. Sometimes the supply is more, sometimes less, depending on the strength of the wind or how cloudy the day is. But the corridor in which a grid can fluctuate up or down is only about 0.2Hz. More than 50.2Hz, electronics get frazzled; less than 49.8Hz, and lights go out. Traditionally, a grid's equilibrium is kept in check by conventional power plants, such as gas turbines, taking or adding energy depending on the situation. But we live in a 'greener' world these days. Fossil fuels are becoming a thing of the past. Soon dirty old coal and gas-fired generators will be phased out and exhaust fumes from internal combustion engines will be a thing consigned to repeats of Top Gear.
This is where fast and efficient batteries enter the fray, like a Clint Eastwood style anti-hero, ready to blast away fossil fuel and 'make the day' of environmentalists.
Lars Stephan, Manager of Regulatory and Government Relations at German energy storage systems firm Younicos, said: "Today, energy storage is not about storing energy. Rather it's really about the value of the service it can provide. It's about the ancillary services and how energy storage can solve problems.
He said Younicos defined 23 services in which energy storage could provide a solution, although this number was eclipsed by another speaker who suggested there are 52 different ancillary uses available.
Of the storage technologies out there, batteries are getting the most interest at the moment, and will potentially overtake storage systems such as pumped-hydro, the conference heard. As we have seen, falling battery prices will help this transition. And it will be cost that determines which chemistry the 'battery agnostic' companies opt for. Alternatives to electro-chemical storage suggested at the conference for harnessing renewable energy included compressed air energy storage (CEAS), pumped-hydro, and flywheels. All of which are being tested with good results across the globe, delegates were informed.
Eliano Russo, Vice President Energy Storage at E.ON, said he saw a number of viable applications for batteries, as the German utility giant eyes up the market, starting with the launch of a new company in January that will focus on energy storage.
Russo said: "The longer-term goal of the industry is to use energy storage for multiple uses. However, the industry is currently on an extremely steep learning curve. We are at the beginning of the industry. We are looking at making investments in storage, but we are technology agnostic.
"We are expecting solutions that are model scalable with ramping capabilities, higher density and KPI in 3-4 years; the improvements already are quite impressive."
The company is investing €10-30million into the sector, which will evolve when the market matures and projects get larger, said Russo. In terms of energy storage that is not a huge amount of cash, but if companies like E.ON are dipping their toes into the market, it is churlish not to take notice.
Not everything is on an equal playing field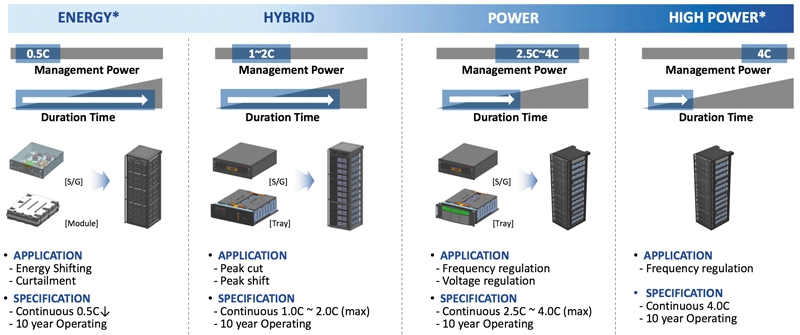 In the UK, energy demand is increasing. However, the country's commitment to renewable energy is suspect. Despite plans to double investment in energy research to £500m, and the country committing to cease coal-fired power generation by 2025, it doesn't appear to have any real commitments to renewable energy. The UK wants to build 20 new gas-fired power stations over the next 20 years, and see a new generation of nuclear power plants. Although the country's government has consented to £10billion worth of offshore wind projects by 2020, as we've seen with Ireland, wind generated power is okay, if there is somewhere to store the energy.
Now compare that to Europe's leading player in the sector, Germany. The country's Energiewende (Energy Transition) scheme has raised the bar in terms of renewable energy policies. It states the country aims to generate up to 60% of electricity from renewables by 2035. Lofty ambitions, but one which batteries are ideally suited to meet.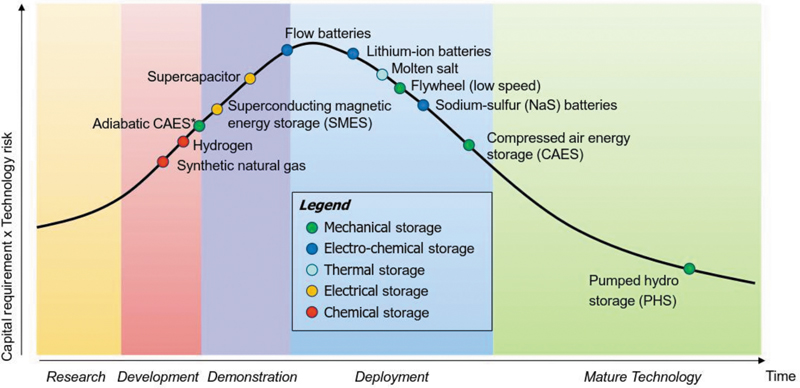 Mick Barlow, Applications Director at electric power systems provider S&C Electric, said with wind or solar energy generation the problem comes if the grid needs more power, and there is no means to generate it— it might be cloudy, or windless for example— during peak times.
He suggested batteries could provide up to 600 times the ramp rate and four times the flexibility of gas turbines, but at a price. "Storage, as in batteries, are at a higher cost but they give companies better flexibility," Barlow said. "When comparing flexible technology at 100MW gas turbines and the same for energy storage, then energy storage is way more expensive. But, when you look at performance, a battery can take less than two seconds to ramp up. So not everything is on an equal playing field."
However, as a note of caution, he added that not all batteries were equal, and companies had to research charge and discharge rates, among other things, if required for ancillary services. The other key area is time shifting, especially when it comes to renewable energy, such as solar, when the peak generation is in the middle of the day, when the load on the grid is usually lowest.
Barlow said: "Energy storage has great potential especially when enabling renewable technology in cities where demand is growing quickly and the generation mix is moving toward energy storage, so the technology will be very, very important.
"The biggest problem is the market doesn't understand storage and has not put much in place at the moment."
Crunch time for energy storage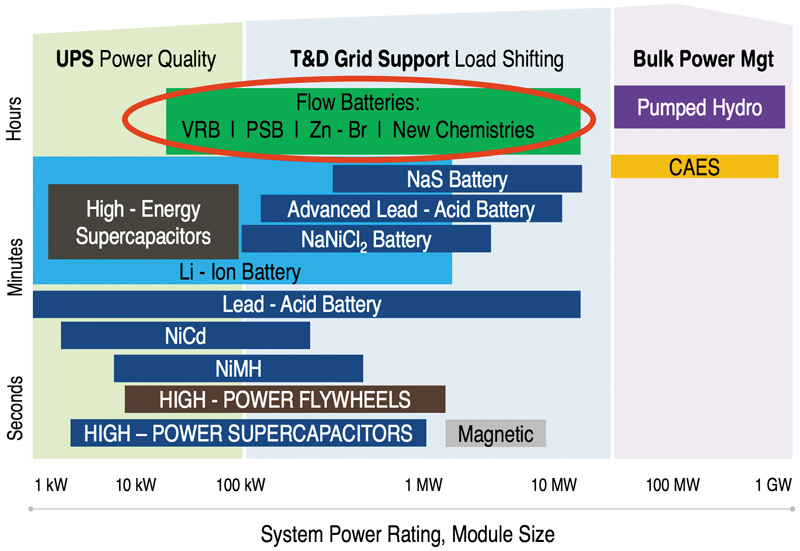 If utility companies want to reap the rewards of energy storage in the long term, or at least the next ten years, they must introduce systems to the grid network NOW. Especially if they want to make the most of future commercial opportunities, delegates were informed.
Anthony Price, Director at electricity industry group Electricity Storage Network, said it was nearing crunch time for decisions to be made within the industry, adding companies had to have the mentality of the bookie and not the bank to reap long-term rewards. Or, like E.ON, spin the wheel, gamble a few million on green and keep your fingers crossed.
Not that battery storage is a huge gamble in the next ten years. Renewable energy will come on stream more and more as utility firms and homeowners alike embrace the technology. The conference heard how the flexibility batteries currently afforded firms made it one of the best solutions.
Speaker Dr David Hodgson, Energy Specialist at UK governmental department UK Trade and Investment, told the conference: "Many companies are looking at opportunities and thinking if they can make a reasonable return now, then once they have the infrastructure in place they can introduce additional services on top of that."
However, cost is not the only factor at play. Younicos' Stephan said the company was not happy about the framework currently in place. It was drawn up when people didn't know much about storage, but now we've things like flywheels, he said.
"We should look at redrafting the framework at European level. At the moment we don't have a level playing field in energy storage industry," he said.
Anthony Price, Director at consultancy firm Electricity Storage Network (ESN), said energy storage was still under appreciated in Europe. He used the analogy that it was like Cinderella waiting for a ticket to the ball, and now just having to wait for its Prince Charming to turn up.
He agreed with Stephan about the need for a new, comprehensive framework. He told the conference: "Pushing forward it's about getting the cost of systems down but at the same time groups, such as ESN, have been working for many years toward this goal; we frequently tell people we need storage and need a framework for it and not one that was written in 1988. There's a tremendous amount of hard work by the industry to ensure the right framework is put in place."
However, one of the stumbling blocks at the moment was persuading Europe's civil servants of energy storage's credentials, the conference heard. This, delegates were told, was failing because of a lack of real-world examples in which they could give their relative country tangible results and hard facts about storing energy. And without these, the bureaucrats are dragging their heels, for the moment at least.
Russo said that any new business had to get support from regulators and investors to know what to expect and a timeframe to get back investment. "In the US we already have this and the market is booming. I wish we could see something similar in Europe as quickly as possible," he said.
Get Green not complacent
The message was clear during the two days: companies must utilise energy storage within the next five years to reap maximum commercial opportunities. And to do this, at least if a country's overall renewable energy generation remains under 60%, then batteries are the answer. A battery's inherent flexibility makes it ideal for a myriad of ancillary services. The question is, what kind of technology will dominate in a rapidly expanding market?