Many cells are made equal, but charging in strings makes some cells less equal than others. Not a quote from Animal Farm, but if Orwell had used it, maybe some batteries would last longer? The Editor reviews a piece of kit designed to put cells on a level playing field…
Time and time again within the pages of BEST, the topic of battery string equalization comes up with alarming frequency. Charge a series string of cells and gradually over time, the cell voltages will differ and drift apart. Eventually this will lead to string failure and most likely, battery failure. How many times does this have to be said?
The problem can be corrected by overcharge but this only works on relative short strings. Now a US company is marketing a technology directly at the various vertical market sectors likely to use lead-acid batteries but whose employees are fortunate enough never to have to attend an Intelec meeting or similar so that they can become incalcated with the ways of batteries.
The product is called SmartSpark Battery Eq and is being aimed at the operators of forklift trucks, battery powered industrial machines and the like with the idea of increasing battery operating life by as much as five times.
For battery packs above 12V, it is important to make sure each cell is properly charged. This can be achieved by external, "active equalization." A variety of methods have been proposed. The best, but most expensive, method is to provide a completely separate charger for each cell or each 12V battery. This method is used in expensive UPS systems. Not only are multiple chargers required, but each charger must float the batteries at precisely the same voltage. Any difference between the chargers translates directly to voltage imbalance, with all of the problems described above. Another simpler method is to switch in shunt resistors, which bleed off some of the overcharge and provide a charging path for the weaker cells. This method is better than doing nothing, but not by much.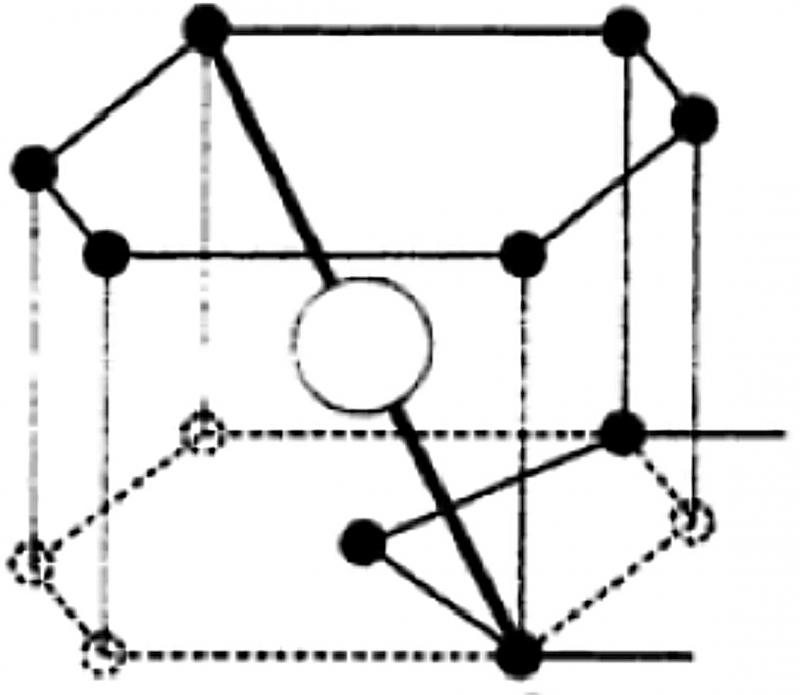 A better method is to simply make sure that each 12V battery, or preferably each cell, is at the same voltage at the same time. Several methods have been proposed, most of which require precise battery voltage measurement, since battery voltages mustbe equalized within one percent. This patented method, which is Battery Eq's method equalizes voltages using a switched capacitor. A capacitor is alternately connected to one cell or battery and an adjacent one at a high frequency. It draws charge off the cell/battery that is sitting at a higher voltage and delivers it to the cell/battery that is at a lower voltage. While keeping the voltages equal, the flying capacitor also provides a current path to deliver charge to undercharged cells, bypassing cells that might have reached full charge and preventing damaging overcharge.
This whole process proceeds without any control, reducing the possibility of voltage imbalance due to measurement problems The process continues until no charge is exchanged, meaning that the two cells or batteries have achieved equal voltage. Typically, the equalizer is connected the whole time the system is charging, to assure equal charging profiles and to minimize post-charge equalization time. There is no harm in leaving it connected after the batteries have reached an equalized state, although there may be harm in extended float charging. The equalizer can remain connected and operating while discharging as well with minimal power draw, or connected and disabled for zero power draw. By proper choice of capacitors, MOSFETs and switching frequency, the equalizers ensure that no cell voltage ever strays from the mean.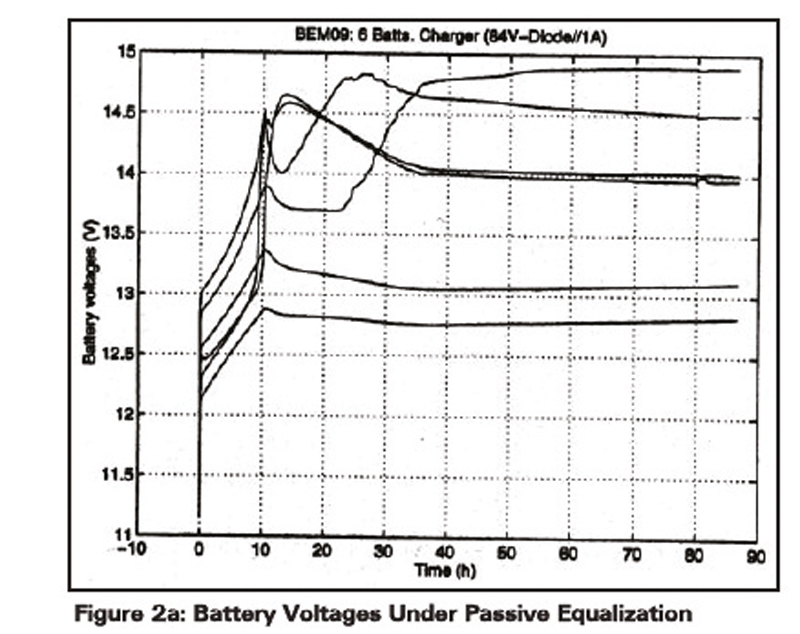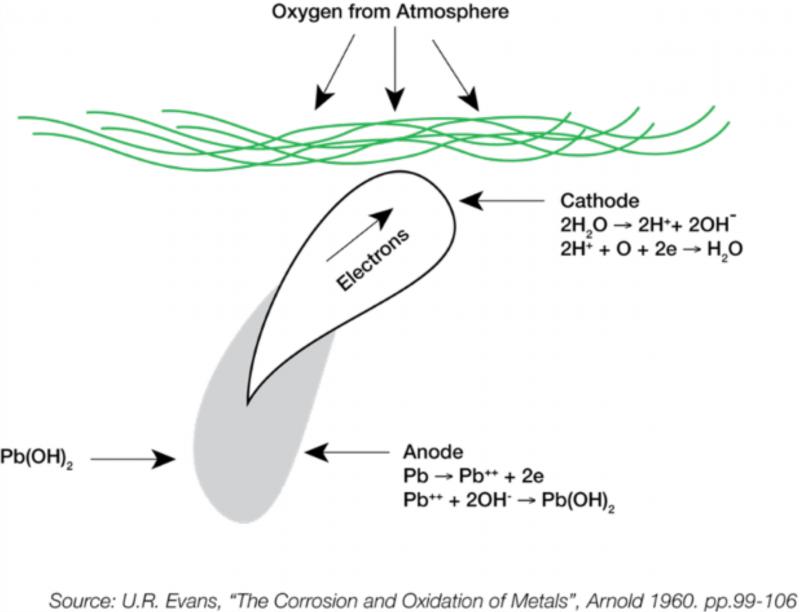 In Figure 2, passive equalization is used, and the individual battery voltages never come together. This indicates that some cells are undercharged and remain undercharged. In Figure 3, active equalization is used, and the individual battery voltages converge quickly. This indicates that all of the cells are receiving an equal charge. A key advantage of this technology is its modularity. It is straight forward to add additional stages to make an equalizer for a 24 V or 36 V system, or to add two more stages for a 48 V system. Also, equalizers can be connected in parallel to increase performance. It has been found that 12 V batteries must be equalized within about 100 mV in order to remain healthy and minimize plate corrosion. For a battery with capacity in amp-hours C, the equalizers must shuttle C/100 amps at 100 mV to be effective. So a system can be built for a given level of performance, then multiple systems connected in parallel to equalize larger batteries.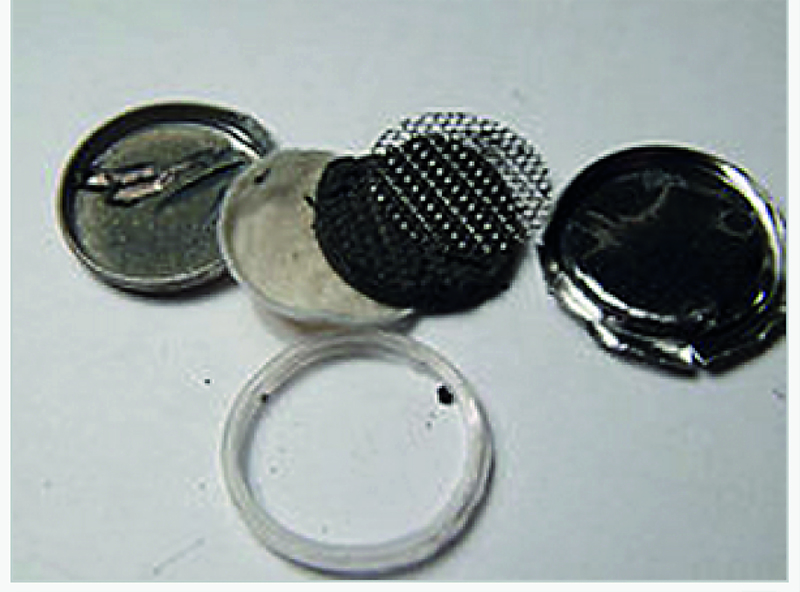 The technology is also beneficial to ultracapacitors. Ultracapacitors are not perfect devices and there are variances between individual cells in a string due to manufacturing tolerances, operating temperature, location within the pack, and life history. These variances can cause charge imbalances between ultracapacitors connected in a series string. During charging and discharging, individual cells may become overcharged or reversed biased which may damage the cells presenting a safety hazard and reduce longevity.
Without equalization in place, the situation shown in Figure 4 may occur, where the ultracapacitor string's cell voltages have split apart (up to 200 mV between the lowest and highest cells). Comparing a cell charged to 2.5 V vs. one charged to 2.3 V, the lower voltage cell would only have 85% of the stored energy as compared to the fully charged cell. Over the length of this study (17 days) the ultracapacitor voltages never come together.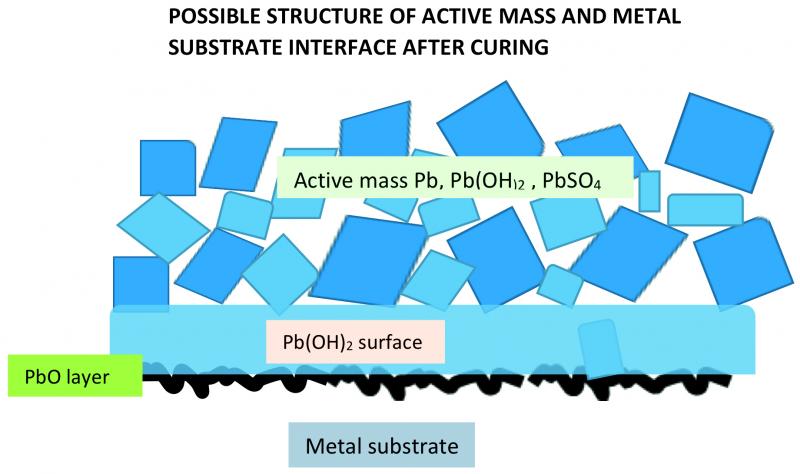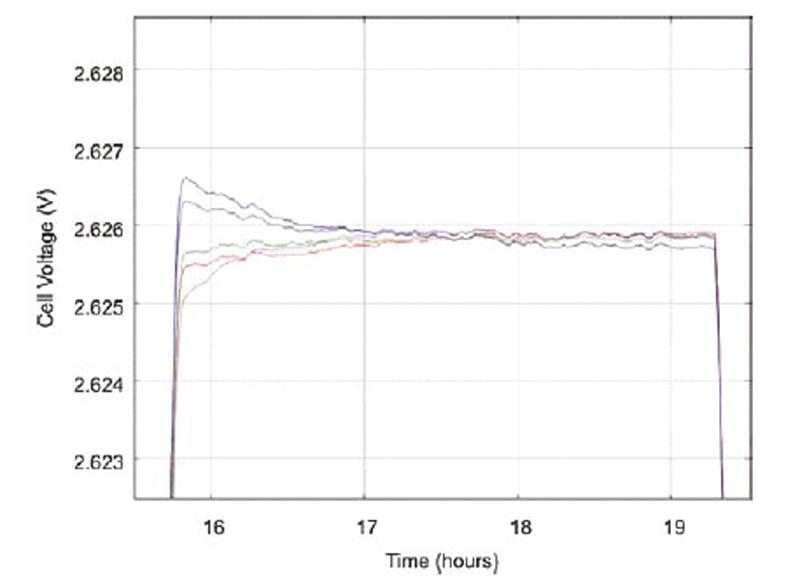 To achieve full potential of an ultracapacitor string, equalization is a necessity. SmartSpark's equalizer was tested in a daily cycling application in which the cells weredischarged for 14 hours (without equalization) and then charged over 10 hours while the equalizer was turned on. Figure 5 shows the cell voltages of the ultracapacitor string over a 48- hour interval during this cycle. We see that during charge the cell voltages are virtually on top of each other. During discharge, we can see small differences between the cell voltages. When the equalizer is subsequently turned back on, the cell voltages quickly come back together. SmartSpark's equalization technology is very precise and able to match the cell voltages exceptionally well. Figure 6 shows the cell voltages of the ultracapacitor string as the ultracapacitors are sitting idle. We see that the voltages are all brought well within 1mV of each other. This close matching of the ultracapacitor voltages helps the ultracapacitor pack to obtain its maximum capacity and performance. This study has been running for over 200 days and the results shown here are characteristic of the entire study. For this study, we only operate the equalizer while the pack is charged to exhibit the effectiveness of the equalizer. In most applications, it would be best to leave the equalizer running at all times (including discharge) to get the best possible performance from the pack.