As European finance ministers struggled to find a way to bail out its banks and debtor countries, recycling specialists gathered in Venice to work out if the EU is succeeding in its mission to recycle batteries. The Editor reports.
The free market is an incredible thing; when there is demand for something, the price one can obtain for the commodity reflects the risk and cost of delivering it. An elementary lesson. And when it comes to recycling, these facts are also true. Lead, we all know till we're blue in the face, is eminently recyclable and commands a high price when you take it to the scrap merchants. So much so that the light fingered members of society are happy to strip it from English Church roofs and railways.
Gold does pretty well, even if you have to commit atrocities to obtain it. But lithium?
Please. Each time I attend ICM's battery recycling meeting, I'm once step closer to joining UKIP — the United Kingdom Independence Party— which promotes UK withdrawal from the European Union. The venue— the Salle de Bains Hotel was impeccable, the organisation superb. But the big premise of this year's meeting, 'was the recycling industry ready for the EV battery boom," was probably as flawed as European Monetary Union.
Ian Jawad of Frost and Sullivan knocked the idea of trying to create a recycled lithium market on the head pretty quickly— the cost of recovered lithium carbonate is currently five times that of primary lithium carbonate so anyone thinking there's a market here is very much mistaken. Some observers are looking at this gleefully on the basis that soon there will be thousands of electric and hybrid vehicle batteries coming up for processing. But first you have to sell sufficient numbers of cars and then the cars have to shed their batteries— we're looking at ten years down the line at least and that assumes the vehicles sell in big numbers to begin with.
Jawad's most pessimistic numbers of vehicles sold in Europe are around 400 000 cars by 2015. This writer says that's way too optimistic given the parlous state of the European economy and the questionable issues of range and cost of EV batteries. And even if things were better, those cars will be using what we could call yesterday's lithium‑ion technology and the valuable commodity to be extracted from those batteries is not lithium, but cobalt and nickel.
It's small wonder then that the only people who really seem to know what's going on in battery (and electronic waste) recycling— Umicore— because of its fingers in the many pies of global advanced battery manufacture— has already built a suitable plant in Belgium to process spent electronic waste, and go for the really high value stuff— Gold!
And before long, we're back to the argument of 'but we'll run out of lithium' No we won't! Even if you're worried about the political stability of Latin America, China or even Australia, there's always seawater: an estimate from Saga University, Japan suggests that, globally, seawater contains approximately 230 billion tons of lithium at 0.1ppm – 0.2ppm. And that's plenty enough for all the smart phones and other consumer rechargeable devices— devices our grandchildren will be using in years to come.
The automotive issue is another question entirely and it seems apparent to this author that there is a preponderance of another kind of recycling going on— recycling other peoples' reports!
There's a plethora of technology developments going on within automotive electrification and there's every chance future hybrid vehicles will base their energy storage on advanced lead‑acid, super capacitors and lithium‑ion batteries or perhaps a combination of any of these. This isn't reflected in the onwards‑and‑upwards electric vehicle reports.
So if there's not much money and considerable risk in trying to recover and recycle lithium, and the free market came up with its own ideas about recycling lead (and electronic waste) without anyone creating legislation, what's the EU playing at? (still ????). A good question. You'd have to ask Ruska Kleveska and her colleagues in Brussels in DG environment.
They're still banging on about a resource efficient Europe— you know the kind —bust banks, massive unemployment and an inability to collect tax in certain member states. The environment brigade are trying to get us to use less virgin material (no matter what the cost). And they've finally come to the conclusion that they need to work out what recycling is all about because what member states have been doing since they put the EU battery directive into state laws is principally collecting batteries—NOT recycling— recovering the raw materials and re-using is another thing entirely. And by 2015— the efficiency of recycling— how much of what's collected actually gets re‑used has to hit a 50% figure.
How does this get measured? Simply by dividing what gets truly recycled by what gets collected. The EU has specified a min of 65% for lead‑acid (we all know its much better than that) and 75% for cadmium. And the Brussels pen pushers want at least 50% for everything else, which, from what we know about lithium‑ion, looks uneconomic and a waste of effort. And the various collection schemes in members states are undertaking that task right now as well as fascinating studies as to how people behave… with their batteries!
Which European state is best at doing this… You could have guessed— yes the Belgians: Bebat, the Belgian collection scheme which has been in operation since 1996 managed to interview 1 000 individuals to find out what people did with their batteries: this author can just imagine the intrusive telephone call just as he was about to relax with a mindless evening of TV. Bebat managed to get the public to confess to how many batteries they had around the house and the number is truly astonishing when you count both used and used. The average Belgian household has more than 107 batteries in the house. Only about half the population sort their batteries for recycling and about 18% don't and they put their household batteries straight in the trash.
Perhaps these are the ones who are truly informed and see the flawed thinking in the European battery directive and see that its about costly collection and not about recycling at all!
Bebat did a considerable amount of drilling down in the data to find out who religiously did sort and return spent batteries and it was the over 55s— presumably with very quiet lives.
Bebat discovered that most Belgians keep their spent batteries in the kitchen and the reason, they claimed that people don't dispose of spent batteries was a 'lack of routine'. The lazy slobs.
There was something truly surreal about this presentation as I listened to it. One couldn't help but draw upon one's own experiences in seeing how household waste was collected in the UK and how recycling was so poorly managed with so called co‑mingling of waste and the inevitable conclusion that so much recycling is politically correct lip service.
Who did things well in Europe? Well guess again. That's right— the Germans. It took me back to my days of working for the BBC external services, as it was called more than 30 years ago. Who got to the studios on time, who's tapes were properly timed, who were properly organised? As in broadcasting so to recycling.
Drs. Imke Schneider and Imke May gave a perfect double act of a presentation of the efficiency of Geimesames Rucknahme Systeme, the leading German battery collecting operation— scarily efficient! Established since 1998, it collects batteries from homes and industry and is the largest scheme in Europe collecting 14 000 tones of batteries in Germany last year— 177grams per inhabitant, from 170 000 collection points— an efficiency collection rate of 44%. They're even taking back the batteries that aren't included in the battery directive — the industrial and automotive, which pretty much take care of themselves. No stone is left unturned. They've also set up a scheme to take back spent E‑bike batteries with 1 500 bicycle dealers. I chortled to myself. Can you see the images in my minds eye?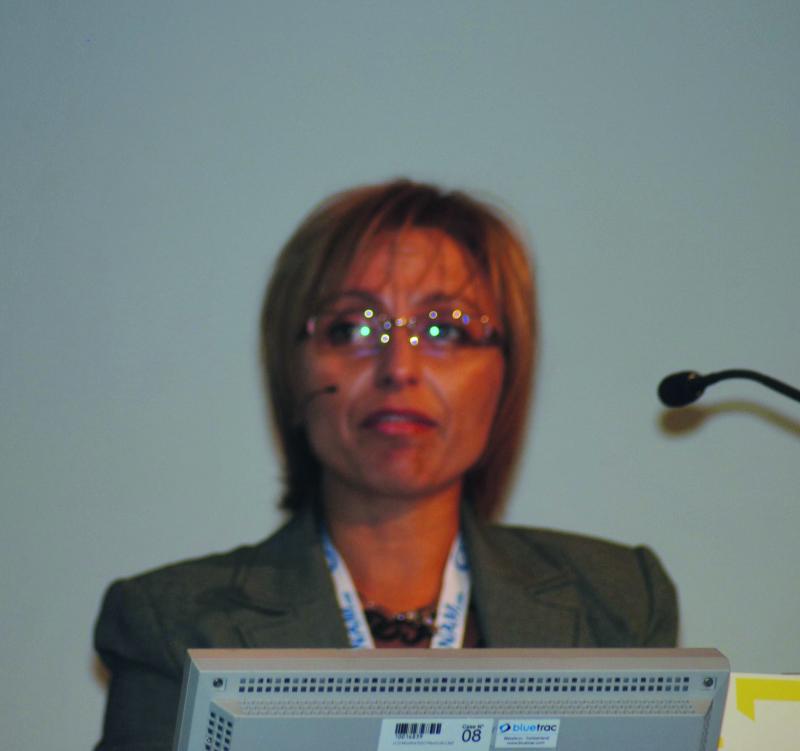 Who were the worst at battery collection? I guessed it would be the UK but there wasn't a presentation from the UK collection schemes. There's little doubt in my mind that GRS should be running all of Europe battery collection scheme but how would it play out inFrance? Again I'm left with a comedic feeling. And a sense that all of this adds to cost and does little in terms of creating new products.
To cap matters, or just to confirm the overall sense of lunacy, a study from the Institute of Sustainable Waste Management and Technology, University of Leoben examined the degree of reusability of scrap lithium‑ion batteries, based on the premise that millions of EVs will be on the road in less than a decade.
But evaluating which cells are still valuable and useable in a spent battery pack is not just time consuming but highly skilled.
Life is too short for this to take place and the economics of employing highly trained technicians to question whether scrap is truly scrap is, to this writer's mind, insane.
And there are others still arguing as to what makes a portable battery (deemed fit for collection in the collection schemes) and what makes an industrial battery, which should be included in take back.
There's now another organisation– the so called European Declaration platform, an initiative of the Dutch, German and Belgian collection organisations, to define everything about battery recycling, because EU directives don't go far enough. Really?
None of this activity has created any new battery chemistries but considerable financial burdens on those who do and those who use them.
I'm signing up my UKIP membership right now.