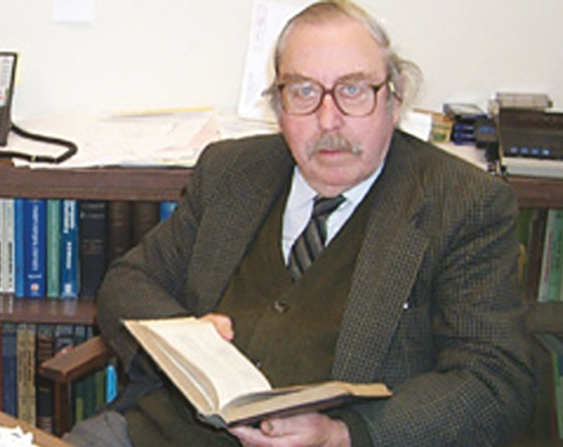 John Miller pays tribute to one scientist who wasn't present at the 15th International Seminar on Double-Layer Capacitors and Hybrid Energy Storage Devices.
The 15th annual seminar on double-layer capacitors and hybrid energy storage devices was held on 5-7 December at its usual Deerfield Beach, Florida venue. As in recent years, over a hundred delegates from around the world attended the meeting.
Different this year, however, was the absence of the seminar's most faithful attendee, who will be dearly missed by all: Professor Brian Conway of the University of Ottawa, who had passed away earlier in 2005. Prof. Conway had attended every one of the previous 14 gatherings, serving in an outstanding way as the person who took and maintained the role of keeping the science at the meetings honest.
Many of the lectures that he gave later became chapters in his seminal book Electrochemical Supercapacitors: Scientific Fundamentals and Technological Applications, published in 1999 as the standard work in the field. As the senior statesman for electrochemical capacitor technology worldwide, scientists and engineers sought his advice and counsel on everything from innovative ideas to proposing mechanisms for ascribing phenomena and developing explanations for them. He was truly the complete master of electrochemical capacitor technology, and his absence is keenly felt.
Appropriately the first presentation at this year's meeting, delivered by Barry MacDougall of the Electrochemical Society and the National Research Council of Canada, was in memory of Prof. Conway. MacDougall had known him for many years, having first been his student at university. His presentation, 'In Memory of Professor Brian E. Conway: A Life Dedicated to Electrochemical Science', eloquently described a man who as a scientist and a human being had become both a mentor and a standard for all those whose lives are in the sciences. In Barry MacDougall's words, Brian Conway "had a unique and all-consuming passion for scientific research, as well as the ability to understand and explain phenomena in the physical sciences… His knowledge, memory and powers of reasoning were legendary in the scientific community."
Those who over the years engaged him in discussion found a powerful mind at work that would not rest until it had got to the bottom of any problem. This usually involved further communication by any means possible, including postcards, and it often resulted in a new publication. His areas of research covered the board, ranging from electrode kinetics, two-dimensional surface processes at electrodes and the development of in situ transient methods for evaluating kinetically-involved adsorbed intermediates in Faradaic processes, to energy storage in all its forms, including batteries, fuel cells and electrochemical capacitors. His tremendous interest both in the field and in his students makes it perfectly reasonable to see the history of electrochemical capacitor theory and practice indelibly marked by his influence.
Reflecting on the 14 of these seminars that Brian Conway attended has, in fact, its own fascinations. The very first took place in December 1991 at the Howard Johnson's Ocean Resort Hotel and Conference Center, just north of the Embassy Suites used this year. There were just 80 attendees (seven of whom were also there at this year's meeting). The 1991 meeting was small, the conference room tiny, and the meeting consequently quite intimate. One recalls – with feelings perhaps of nostalgia – that cell phones had not yet been invented, so that between sessions queues invariably formed at the three payphones in the lobby outside the conference room. That was also long before the days of PowerPoint and computer-generated slides, presentations being made with overhead projectors and view graphs. Those early meetings would start at noon on Monday and carry on non-stop until a four-hour break after lunch on Tuesday to allow people to interact, walk the beach, talk science, tackle common problems, and more.
Because the smaller setting was so intense and intimate in those early meetings it proved impossible not to interact with other participants, although in all honesty the fact that there was only a single bank of elevators may have had something to do with it. The lobby was simply the ideal, unavoidable, place to meet, greet, and initiate discussions with everyone attending the conference. The present facility, on the other hand, has dual elevator access at opposite ends of the building, including access from the parking garage. Free of the constant crush of contact that so invigorated the earlier meetings, this year's attendees learned they needed greater determination in pursuing conviviality.
Happily, however, while the tone of the meetings may have changed, the excitement has not diminished, as attendance has grown and become increasingly international over the years. While the earlier meetings may have been gatherings of believers entranced by the opportunity to share in the emergence of a challenging new field, meetings like the recent one are those of a world-wide community of scientists and researchers whose field has now assumed its proper place in the international scheme of things.
There is no escaping that events over the past 15 years have certainly changed the flavour and direction of electrochemical capacitor technology. The first meeting in 1991 heard 20 papers that touched on many aspects of the technology. The largest device described there was a 1,000F capacitor, a 5.5V, 15kJ module assembled, described and tested by NEC; it was far and away the largest device of its day. Several other devices were described in the papers, some of them several hundred Joules. The largest cell device was a 470F capacitor cell rated at 2.3V, manufactured by Panasonic. In contrast, the device Panasonic manufactures today that fits in the same size package packs more than 2,000F, a more than four-fold increase in energy density over the earlier single-cell devices.
Activity at that first meeting was particularly spurred by Isuzu's description in the spring of 1990 of a new battery that could be charged in 30 seconds. This, not surprisingly, sent Isuzu's stock price skyrocketing and caused the U.S. Department of Energy to publish a broad-area announcement in Commerce Business Daily soliciting proposals for developing a capacitor technology to be used for load levelling in electric vehicles. In those days electric vehicles were widely considered to be precisely the formula for the zero-emission vehicles that the State of California had mandated for the near future, with capacitors a potentially very useful technology in making the implementation of those electric vehicles realistically achievable. The Department of Energy's solicitation made history in a number of ways, particularly in that it led to a contract with Maxwell Technologies and to the entry of that company into the electrochemical capacitor technology arena.
Papers at the meeting over the past 15 years have covered a vast range of topics, from describing the testing and performance of prototype devices to the performance of their derived commercial products in an impressive variety of applications. Many papers have been on materials science, particularly on activated carbon used for double-layer charge storage. Others have described different types of storage materials, including mixed metal oxides and, more recently, some of the intercalation materials and nanostructured fibres now used in more advanced asymmetric electrochemical capacitors. From the beginning, the mind of the
meeting and its participants has been towards increasing the energy density of electrochemical capacitors while still maintaining good power performance – always remembering that EC technology needs to provide essentially unlimited cycle life in its application in order to be competitive with other available technologies.
The years came and went, but the fascination with electric vehicles simply went, never living up to early predictions of sizeable numbers of electric vehicles roaming the highways of the State of California or, for that matter, anywhere else in the U.S. Much of that fascination, however, and the technological development it occasioned paved the way for more important things, most notably the use of electrochemical capacitors for the capture and storage of regenerative braking energy in hybrid vehicles. We now see these implemented in heavy-hybrid city transit buses and under consideration for a broader range of uses in both heavy and light hybrids. Such vehicles definitively put to rest the perceived severe limitations on range of travel that doomed earlier proposed electric vehicles, a conquest made possible by nothing more complex than that the range of hybrids is limited only by the size of their fuel tanks.
In terms of content and focus, the three topics most often and most prominently addressed at these seminars over the past 15 years were performance at cell level, implementation of modules, and the issues – including voltage balance and reliability – that inevitably arise over connecting cells in series strings. Power quality has also been a constant topic of discussion as capacitors were increasingly used for short-term backup, load levelling of distributed generation systems, and similar power quality applications.
Most recently, papers have increasingly addressed an even wider range of issues including safety, thermal management of modules and even of end-of-life disposal. Because of its growing importance, interest in topics related to transportation has also emerged strongly. Applications in portable electronics have also grown as topics of interest. After all, it was during this period of time that the revolution in secondary batteries occurred, beginning with the invention of the lithium-ion battery now ubiquitous in portable electronics.
The same period saw capacitors optimised to provide pulse power in some of those portable electronic applications, primarily as a means to augment the power performance of batteries.
Some important companies got their start in this connection, developing the large-volume manufacturing techniques and marketing/distribution expertise required to bring capacitor products for use in portable electronic pulse-power applications successfully to market.
Before this group's first seminar in 1991 only a handful of manufacturers produced electrochemical capacitors, with sizes of perhaps only tens of farads. These devices were primarily from Japan, and they had been used particularly to support volatile memories, provide power to clock chips and, in some cases, to power actuators.
Generally, however, these were only the very beginnings of growth towards the development of large capacitor products. But over the 15 years many new products have appeared, many of them first described in this seminar series, initially as prototypes, and later in reports on their performance as commercial products. In fact, we are just now beginning to enjoy the harvest of reliability information that long-term study of those products has begun to make available.
To name but a few of the companies that have evolved over these years into leading manufacturers, we must first recognise Maxwell, the San Diego company that is now the premier U.S. producer of large electrochemical capacitor cells. Another producer that originated in the U.S. but has since moved abroad is PowerStor, an outgrowth of the carbon aerogel work performed at Lawrence Livermore Laboratory. Cap-XX, an Australian company, focused on both small and large prototype products in its early days.
That initial interest in small devices has resulted in its now being one of the dominant manufacturers of electrochemical capacitors optimised for pulse power performance. Likewise South Korea's NessCap now has a family of products ranging from small to some of the largest on the market.
Yet another whose products have certainly evolved well beyond their initial offerings is the German Siemens-Matsushita group, originally licensed by Maxwell, that would later become EPCOS. Most recently, Nippon Chemi-Con Corp, a major presence in the electrolytic capacitor industry worldwide, has entered the electrochemical capacitor business. Power Systems Co, a company based on Mr Okamura's developments, now has a product line under large-scale manufacturing.
Finally there are several Russian companies, among them ECOND, ELIT and ESMA, which have described their products at these seminars. Several of their very first product announcements have in fact been made in the U.S. at Deerfield Beach.
In comparison to the evolution of many other similar technologies, the growth and development of electrochemical capacitor technology has followed a fairly normal path. It needs to be noted, however, that 15 years ago it was a technology that had a limited market. In many cases the market, product and technology of necessity all had to develop together, hand in hand. At various stages in its development the technology seemed in fact virtually orphaned. Its large EC devices displayed embarrassingly low energy density compared to available battery products, with the result that they were often dismissed as being of little importance.
Further, electrochemical capacitors had a very unusual frequency response compared to conventional capacitors which, worse, could store many orders of magnitude more energy in the same package size. Neither the battery industry nor the conventional capacitor was willing to claim ownership of them.
And so the electrochemical capacitor, stranded somewhere between the battery industry and the conventional capacitor industry, was forced to develop on its own from the ground up. Everything from manufacturing processes, test standards and test protocols to abuse tests, and a great deal more besides, had to be created from scratch as natural parts of this evolution.
The manufacturers who supported the development of the technology in its early days are also quite interesting. At the very beginning few companies saw any potential, or any growth possibilities, for electrochemical capacitors. The earliest ones were Maccor and Arbin Instruments, which developed the test equipment – now the industry standard – for evaluating capacitor products, including test protocols specifically geared to testing capacitors. Some of the industry's early material suppliers were companies making speciality carbons important for electrodes. Others made the many electrolytes that have been described over the years, and some the processes and equipment for spiral winding so crucial to the manufacturing process of some products. There is thus, today, an extensive industry that supports the electrochemical capacitor industry, particularly in regard to materials.
In summary, a great deal of advancement occurred during the previous 14 seminars in this series. Prof. Conway was present to help identify some of the important problems and, in fact, to provide solutions critical for the manufacture and marketing of reliable electrochemical capacitor products. His legacy will endure.