Leonard Greene argues doing something, even if it is wrong, is better than standing back and doing nothing.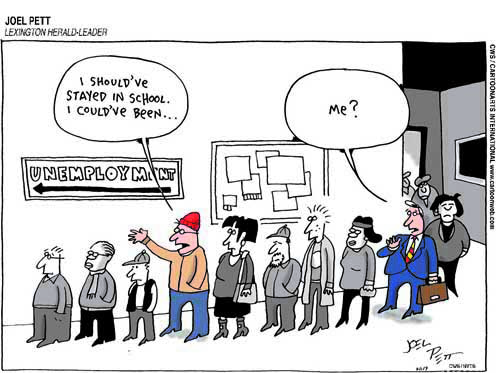 Watching a score of world leaders pile into Pittsburgh last month for a major economic summit, I wondered if any had any inkling of the greatest single question before them: How to even begin to replace the millions of jobs destroyed by the Great Recession, now that the worst of the crisis may have passed?
According to the International Monetary Fund, only one in 20 working-age residents of the advanced economies was without a job in 2007. By next year, when the IMF expects global unemployment to peak, that number will have jumped to one in 10. That the job market is often the last to recover after a recession is an historical given. But this time many economists are predicting a years-long stagnation in job creation and wages in developed countries, including the United States, Britain, Ireland and Spain.
In the last ten months or so, the world has focused almost entirely on the US, where, despite signs that the economy has begun to grow, unemployment stands at ten % and unemployed job seekers outnumber openings six to one. According to the US Labor Department's July data, only 2.4 million full-time permanent jobs were open, while 14.5 million people remain officially unemployed.
Obama's decision to pour US$2.4 billion of stimulus money to make America a global leader in electric and hybrid car development has been the subject of intense speculation among governments around the world, as every country searches for answers. Will the president's billions put the ailing American auto industry back in the green car race when so many others have already left the gate? Will it generate the thousands of actual jobs American manufacturing needs? We'll be watching this over coming months, here at BEST.
For the moment, the list of industry stimulus awardees announced in August is hardly surprising, with the biggest players getting the most millions, and a few start-ups getting something to play with. Broadly speaking, the money will flow into three pots: US$400 million in grants to purchase plug-in hybrid electric vehicles and all-electric vehicles for test fleets across the country; US$500 million for US-based manufacturers who produce key components for electric vehicles; US$1.5 billion to the battery manufacturers themselves, and some millions toward technical and engineering education programmes.
Supposedly the infusion of money will help alleviate a key bottle neck for the production of electric cars, i.e., electric drive trains, batteries and electric components. But one wonders about the wisdom of funding already established leaders in current battery technologies ahead of research and development projects for battery designs of the future. I can think of half a dozen highly promising battery and cell chemistries that received no funding in this round. And then there is the risk that pouring money into short-term projects may make it tougher for upstarts to emerge with more promising technologies in future – thus leaving American industry behind again.
The US stimulus then, big, bold and years in its unfolding, may not ultimately offer the best model for solving our biggest predicament — job creation. For that we might look elsewhere, as the Obama administration itself has done — to Spain, a country already ideally positioned and motivated to fuse the fight against recession and for green jobs when the economy tanked and drove unemployment up to 18.5 %. Through US$30 billion in public support, Spain is already a leader in clean energy, generating about 24.5% of its electricity through renewable sources, compared with about 7% in the United States.
That Spain has chosen to support photovoltaics over another some other clean technology is less important here, than that Spanish are taking a dramatic step to go with what they've got, and pump tankers (think Armada) of money into a potentially green industry. Through a combination of new laws and public and private investment, officials estimate that they can generate a million green jobs over the next decade. The plan would supposedly increase domestic demand for alternative energy by having the government help pay the bill, and by compelling millions of Spanish to go green, whether they like it or not.
In the short term, officials expect the renewable-energy projects and refurbishing of buildings and homes for energy efficiency to redeploy up to 80 % of the million construction workers here who lost their jobs to the recession. Long term, they envision a new army of engineers and technicians not only tending windmills across vast sunny plains but also devising new clean tech alternatives.
But these bold governmental bids to take an ever larger role in creating jobs in the private sector — which not a few in the Pittsburgh crowd saw as their mission —is also fraught with risks. Though the Spanish government estimates that the alternative-energy sector has created about 200,000 new jobs (double the number in 2000), critics contend the initiative has cost taxpayers too much money, and too much grief. Lured by the promise of vast new subsidies, energy companies erected the silvery silicon panels in record numbers, thus causing subsidies to jump from US$321 million in 2007 to US$1.6 billion in 2008. When the government finally scaled back subsidies late last year, the solar bubble burst, causing panel prices to tank, and jobs to evaporate.
Americans, increasingly nervous about the record numbers of billions they're going to shell out over two or three generations to rebuild their job market, would do well to watch the Spanish multibillion-dollar gamble if only because, more than any other nation hit by the crisis, it is among the most desperate of nations for jobs. It if works, it will do much to prove the much debated hypothesis that governments must help create a critical mass in alternative energy to make it sustainable.
That the Obama administration has placed its bet on perceived winners in current technologies — in the case of the stimulus, selected EV battery chemistries — is an understandable move; the US automotive industry desperately needs something to cling to. Maybe simply getting electric cars to market will touch off a cycle of new research, investment and product improvement; maybe it will kick up demand for all-electric vehicles, we'll see a monumental scale-up of the battery industry. Yet one wonders if we are essentially just throwing seed at yet another classic chick-and-egg conundrum: electric cars cannot be sold in any quantity until consumers demand them, but consumers will not buy electric cars until the cars and the infrastructure to support them prove viable alternatives.
Since the global economy is in such dire straits, no government can afford not to try anything it can to achieve competitiveness in whatever strength its got at hand — solar panels or electric drive trains or battery chemistries still on the make. We're all flying blind. The prevailing "go with what you've got" model may prove counterproductive in the end. For now it falls into the category of "you have to do something even if it's wrong." And if it gives somebody a job– that may be good enough.