Reed Exhibition's first rechargeable battery exhibition in Tokyo this month puts every other battery event in the shade for attendance, reports the Editor.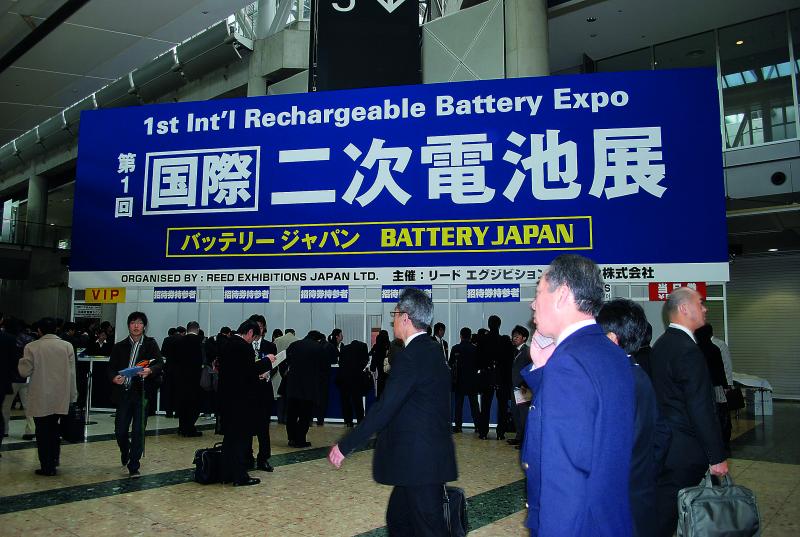 I haven't been to Japan for over a decade. It was expensive then but the British Government was paying. Its even more expensive now. The UK government had the rather stupid notion that if British businesses went out to Japan and saw how things were done there, then we could emulate them back at home. Trains, car manufacture, batteries? You get the idea? Like you're going to show potential competition your secrets of how to do things.
So I took a team of UK battery specialists out on a fact finding tour and we pulled together a report for dissemination in the UK. It made a nice piece of journalism, but it hardly revived the UK battery industry.
Perhaps US Energy secretary Steven Chu did the same thing and achieved a lot more. Today the USA has a fledgling lithium-ion battery industry, the UK has a very influential publication on the battery industry, but our trains are still rubbish and UK manufacture has almost disappeared—though Nissan might make batteries for an electric car here soon.
And Tokyo is where the US fledgling battery lithium-ion business (and BEST magazine) have to be in order to find out what's happening in the world's most advanced battery business.
Ten years ago, Japanese advanced battery makers didn't want to talk to a UK delegation.
Today things seem different. At the Big Sight exhibition centre in Tokyo Bay, show visitors were coming in droves to visit Reed's first rechargeable battery exhibition. It made all other events, even those BEST has visited in China, pall into insignificance by comparison. Reed Exhibitions estimated that over 80,000 visitors came into the event over three days, though it is true to say they could also visit a PV event and a fuel cell exhibition in adjoining halls.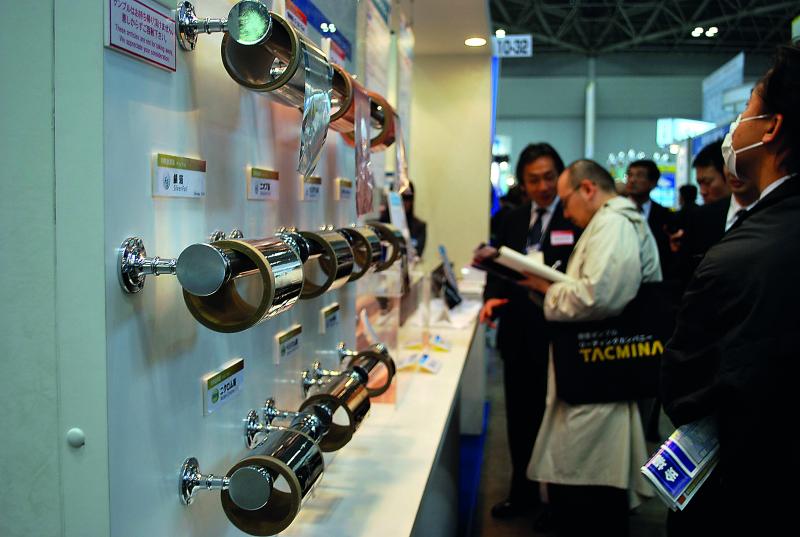 So what had they come to see? Well it helped if you read Japanese script. Virtually all the Japanese firms' signage was impenetrable to Westerners, though we Westerners were few and far between. Its just shows how much Japan has kept a tight grip on this business, even with the strong presence of China in the battery making field.
Ten years ago, it would have been extremely difficult for western companies to even find these firms or do business with them. That has changed. And who were they?
Giants you have heard of and some you will certainly have not. Take Toray Engineering.
This company could build you a pharmaceutical manufacturing plant or one for contact lens manufacture, so building a complete lithium-ion battery manufacturing line is probably no big deal. Established in 1960, this nearly 1,000 strong engineering firm makes a wide range of mixing, coating, slitting, stacking, a full line of cell packaging machines and a testing service.
The industrial giant Hitachi is significant in this area claiming capability for making cylindrical and prismatic lithium-ion batteries for consumer and HEV/EV use at very high rates (250 pieces per minute). The company's brochure emphasises several key points— automation, unattended operation and remote diagnostics. The key to making good lithium-ion batteries is partly embedded in this… low cost labour is a very small part of the equation, so Chinese strengths in that respect are unimportant— though proximity to the customer base (low cost electronics) maybe. Low cost hand-made cells are frankly rubbish— high spec uniform cells are what customers must have.
Other firms however were more focused on individual parts of the lithium-ion battery making process— notably the mixing and dispersion part of the operation whether there is now more focus on even distribution of nano-particle sized materials.
One such firm is Primix, which as long ago as 1997, developed the Filmic mixer, which is able to develop very high shear forces in the electrode slurry mixture. The method ensures the best dispersion of ultrafine particles. There is no damage to the particle structure and virtually no metallic contamination.
Because of the exacting nature of lithium-ion battery manufacture, a whole range of engineering products have been developed to serve this booming industry needs—from on-line instrumentation to the humble pump.
Tacmina, a Japanese precision pump specialist, had on show its smoothflow range— diaphragm metering pumps which are perfectly suited to handling electrode slurry. The nature of the pump's moving parts eliminates the potential of metal contamination (anything to stop those shorts) and more importantly, doesn't damage the nature of the material being handled.
The coating, calendaring and laminating of thin films is core to the lithium-ion battery manufacturing process and some of the biggest stands at the show demonstrated Japanese prowess in this area.
This technology is not confined to battery manufacture but paper and many other materials. In fact you begin to see that it's Japan's prowess in process engineering which probably accounts for its success in lithium-ion battery making. It's all very well to have good electrochemistry but do you have the scalable technologies to make the product? And do you have local customers who can patiently try the product? Japan ticks all the boxes.
The skill in controlling coating, calendaring and laminating is being able to produce machines with uniform and reliable temperatures that do not fluctuate, so that material thickness remains accurate to the micron level. Tokuden has this ability in spades and a strong R&D department to help customers to develop materials on pilot lines.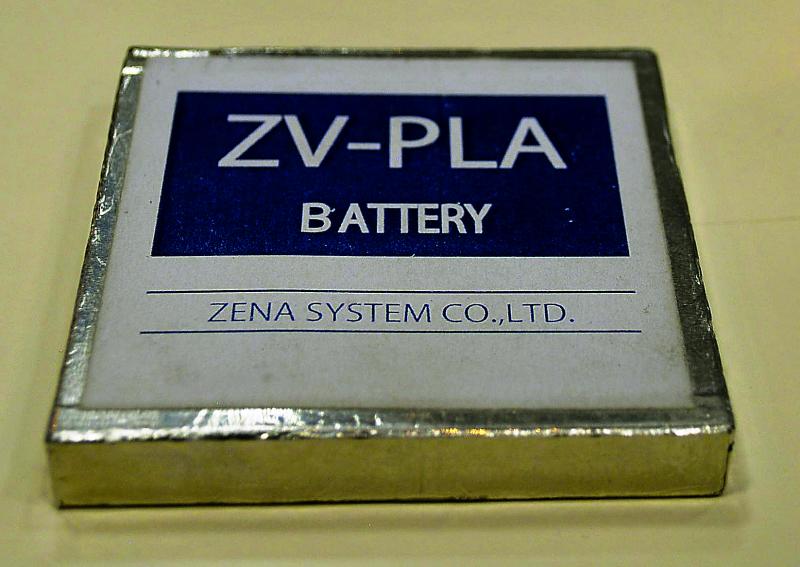 There was almost always an English speaker on all of the exhibition stands but literature? No, that was something else. Most manufacturers were able to offer a brochure with some English description of what they produced, but as to detailed specifications, one needed to be able to read the detailed Japanese script. Hence buying equipment here could be a very drawn out process.
But buying batteries might be easier. For example, if you thought Nickel metal hydride had seen its best years, you'd be very wrong. At least two manufacturers were extending the reach of the technology— namely Honda Denki and Kawasaki. Lithium-ion might be the flavour of the day but these companies are pushing large format Nickel metal hydride for the places where lead-acid has no chance of surviving for long.
Kawasaki don't simply make motorbikes— they also make light rail systems and batteries. Its Nickel metal hydride batteries, known as Giga-cells, are being used as an energy storage system for light rail, working off pantograph. But the company is also eyeing up power stabilisation. Its batteries are available in up to 200 AH modules with a maximum output of 126kW.
Asian battery makers do not stint on producing prodigious amounts of corporate literature. The worst I came across, written in English, came from the extremely well resourced Ying Tong Energy group, who were showing the so-called nano annular lithium-ion battery. I should have been mature enough to have gotten over the company name and thoughts of long forgotten English Comedians Harry Secombe, Peter Sellars and Spike Milligan— but I couldn't.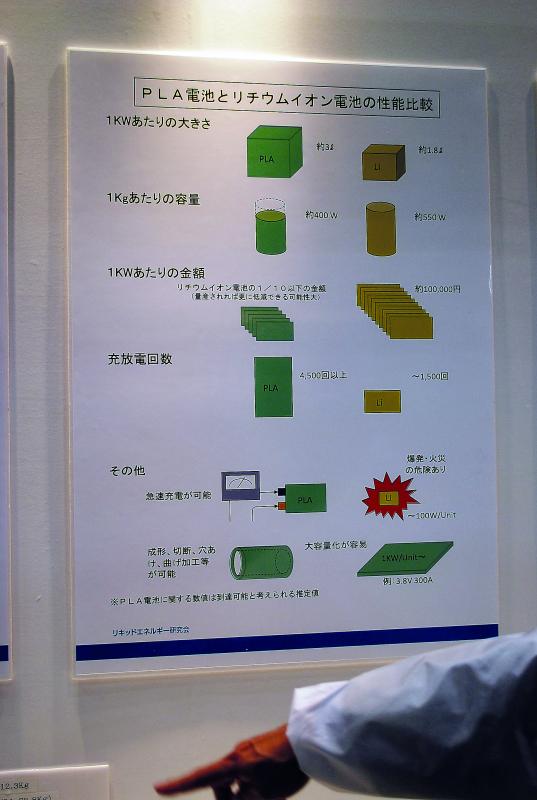 Of course it was impossible to determine what the chemistry was, or the nature of the cell construction. The brochure was however packed with idealistic concepts of how energy might be stored and captured from a power grid of the future. I could almost hear the flat monotone of a young English speaking Chinese girl reading this to an audience, without having the faintest clue of what she is reading. It was a technique demonstrated often at the show. It doesn't matter if its total bollocks, if it looks good and you can read in English, it can be sold.
Others were also here to learn, but perhaps in more conventional ways than the Editor. The Germans have their Fraunhofer institutes and the Fraunhofer battery network had taken a booth. With a significant home based auto industry, Germany needs to ramp up its battery expertise in double quick time. Whether Dr Jens Tubke can plug into Japanese expertise to get the know-how is questionable.
Perhaps the Japanese have realised that they simply have to let the shrouds fall away from a somewhat hidden industry if EVs and HEVs are to take off globally. The demand for cells is going to ramp up many-fold and it will be almost impossible for them all to be sourced in Japan. Making good cells ensures cheap labour is not an ingredient but building battery packs near to where cars are made, is. Therefore manufacture must be distributed. This should bode well for Japanese cell line machinery makers. We'll be back next year and hopefully I'll have learned to read some of the text or the exhibitors will be slightly less xenophobic in their marketing.