In his third article in the series, Lithium‑ion specialist Rick Howard looks at the trials and tribulations of creating lithium cathodes that charge over 4.5 volts.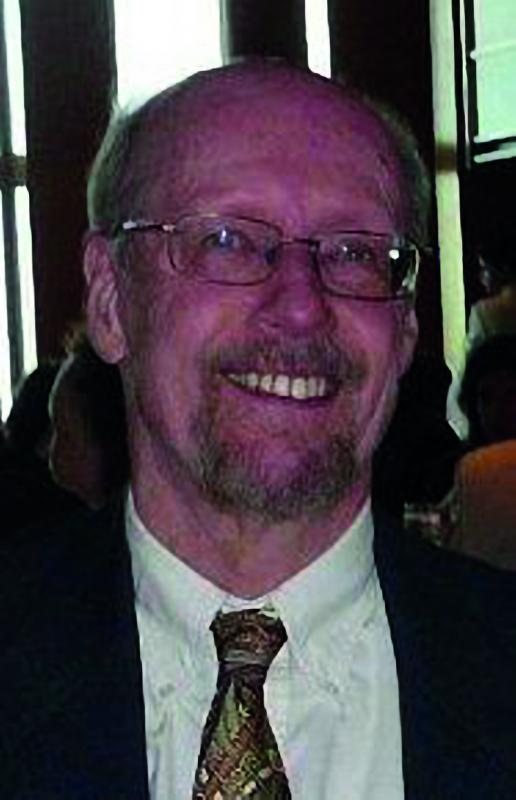 In the Spring 2011 issue of BEST, I described modified Li-ion cathode materials, and how structural stability, longevity, and rapid discharge capability can be affected by doping known intercalants with a few percent of other metals. But is that good enough, especially as the industry is seriously developing cathode compounds that charge above 4.5V? It is insufficient to look only at one component of the Li-ion system, because there are no independent variables in Li-ion chemistry: alter one ingredient, and there will be a ripple effect across all aspects of cell performance. Still, cathodes are where the action is, and that is where changes start.
What's the Problem?
There are three major weaknesses common to most Li-ion cathode materials: surface reactivity (electrochemical breakdown of electrolyte solvents at high voltage), poor Li+ diffusivity into the structure (low capacity and power ratings), and oxygen loss at high voltage (fire/explosion hazard). Less onerous, but still annoying, are metal leaching (accelerates fade) and irreversible structural transformations (phase changes of delithiated oxides, especially on particle surfaces at rapid discharge rates). Let's examine each of these properties in turn, and see what is being done to solve the inherent problems.
Even at 4.2V, the common charge limit for 18650 laptop cells, metal oxide surfaces can create havoc with organic electrolyte species, shredding them into anionic fragments that collect on either electrode, forming solid electrolyte interphases (SEIs). (For a detailed explanation of anode SEIs, read seminal papers by D Aurbach.) During the first few cycles of a cell's working life, called the formation stage, beneficial SEIs develop that prevent direct exposure of the solvent molecules to the electrode surfaces. As SEI layers (slowly) build up on the anode, they become less ionically conductive (higher impedance), reducing rate (power) capability and increasing the possibility for Li dendrite creation (extremely reactive ➔ fire hazard). Cathode SEIs, however, tend to be unstable, thus are not very effective in preventing electrochemical attack.
Now consider that next-generation cathodes will have charge regimes extending to 4.6V (Li nickel-cobalt-manganese composites/solid solutions), 4.8V (LiMn1.5Ni0.5O4), and perhaps even 5.1V (LiNiPO4): what organic solvent or electrolyte supplement can possibly stand up to such an assault? Yes, there are additives that provide some protection against high-voltage environments, but they inevitably come with baggage (for example, lowered conductivity, reduced thermal stability, or high freezing point). Commercial Li-ion electrolytes may contain 15 or more ingredients to enhance cell performance, a tribute to electrolyte researchers but not addressing the fundamental issue of cathode reactivity.
The rate of Li-ion intercalation during discharge is dependent on the crystal structure and the accessibility of Li sites within the lattice. Cubic spinels will accept Li+ from any direction, with channels parallel to all three axes, and it is unsurprising that these compounds are the best for high rate (power) usage. Next are Ni-Co-Mn species with planar orthorhombic structures, but Li+ entry is relegated to the x-y plane, and capacity retention at elevated rates is moderate at best. Finally, there are the olivine intercalants, with one-dimensional channels that limit Li-ion entrance to the y direction. Untreated LiMPO4 compounds virtually shut down at discharge rates greater than 1C. The challenge is to find a way to enhance surface conductivity and crystal diffusivity for Li+.
Cathode materials containing Mn+3 are susceptible to Mn dissolution, which applies specifically to LiMn2O4 (LMO) modified with 'excess' Li and/or a few percent of Al, Ni, Co, or Mg, among others. Although some surface Fe from LiFePO4 is lost via oxidation due to trace water and subsequent dissolution, the issue with Co/Ni intercalants is less worrisome. As expected, leaching is exacerbated at higher temperatures, which greatly shortens cell working life.
The negative impact of cathode metal loss is two-fold: anode poisoning and cathode phase changes. Dissolved multivalent cations are swept to the anode and absorbed by the SEI layer, where they react with solvent remnants and form salts, poorly-conducting obstacles to Li+ transport. For LMO compounds, capacity fade is severe, limiting cell life to ~500 cycles, perhaps only 150-200 cycles in hot environments. Other intercalation materials are more apt to suffer lattice changes at or near the surface when metal is leached away, resulting in phases not amenable to Li+ insertion. Although not considered a 'fatal flaw' with Co-Ni or olivine species, the problem can be noticeable when the cathode is stressed by rapid charging. Fast deintercalation can also extract too much Li from surface layers, resulting in irreversible phase changes, with the same negative conclusion. The question is, how to protect cathode particles from cation depletion, especially at or near the surface?
In an effort to enhance energy and power outputs, cathode material advancement is increasingly focused on nano-sizing, or more commonly at this stage of development, mesoporous crystallites. What's the difference? Nanoparticles are very difficult to prepare chemically – they tend to agglomerate during high-temperature processing and must be broken apart mechanically, but tend to regroup after sizing. Milling leads to a wide particle size distribution, with an appreciable fraction of the particles above the 100nm (0.1µm) nano boundary, which negates at least part of the nano advantage. (Exception: Primet Precision Materials has a developing technology with extraordinary size control.)
An alternative approach is microparticles (1-30µm) comprised of partially agglomerated nanocrystals, extremely porous structures that expose a high percentage of the intercalant to electrolyte and thereby facilitate Li+ transfer. These materials can be prepared chemically, via precipitation or spray drying steps, thus avoiding mechanical sizing. The downsides are lower density (roughly half of 'conventional' cathode materials) and increased surface area. Given that cells have fixed volumes, it does no good to have a material with twice the energy output if you can squeeze only half as much into the cell. Further, high surface area particles require more binder to 'wet' the surface and assure good electrode cohesion, resulting in less active material in the cathode. There are demonstrated opportunities for chemical modifications to address these issues, that don't involve metal substitution in the crystal lattice.
What's the Solution?
As always, the answer is not to treat the symptoms but to prevent the disease. Modifying intercalants by metal substitution has many positive outcomes, but that is a bulk effect: the challenge is to enhance battery chemistry while reducing electrochemical activity on the particle surface. This immediately points to passivating the upper layers of the particle without hindering the Li+ intercalation/extraction processes. At first blush, annealing the cathode material seems logical, but in practice this causes particle agglomeration, which slows Li+ diffusion. Scientists quickly turned to inorganic coatings: first attempts at this cure were put forth about 15 years ago, and there have been many variations on the theme since then. Let's formulate the specifications: what chemical and physical properties are necessary to co-exist with high-voltage intercalants and relatively fragile organic solvents, and also boost energy and power outputs?
The first required attribute is obvious: the coating must tolerate charge voltages as high as 5V. Further, this material must be ionically conductive and facilitate Li+ transfer from the electrolyte to the cathode particle without reacting with the ion. There must be a high-volume process (100s of kg) to quickly, inexpensively, and completely cover the particle surface. Finally, the desired coating will be thin, not adding appreciable mass that would reduce gravimetric energy density.
And the initial answer was also obvious: most metal oxides are fully oxidized and relatively inert, therefore they became the focus of cathode-coating investigations. A further restriction is that the metal should not have a lower oxidation state. Otherwise there is the risk of forming a lithiated species, according to
M+x/2Ox + Li ➔ LiM+(x/2)-1Ox
Not only does this reduce cell capacity by removing Li from the redox cycle, but the reaction product may be less ionically conductive than the original oxide, thus building impedance and impacting rate capability.
Fortunately, most metal oxides are lithium ion-conductive, by a mechanism described as "oxide-skipping." Li cations are attracted to the partial negative charge of the MOx oxide, but the bond is very weak, and high pressure (current) readily pushes Li+ on to the next oxide site. Other MOx specifications include non-toxic, no significant Lewis acidity or basicity (possible reaction with electrolyte), and low cost (always an objective with Production volumes). In general, successful cathode coatings are acid-resistant and ceramic-like (non-crystalline).
Coating and Performance Examples:
Given the constraints, the candidate list of Li-conductive oxides includes MgO, CeO2, Al2O3, SiO2, NiO, TiO2, Sb2O3, ZrO2, and ZnO. The coating process is relatively facile. Briefly, an alkoxide or nitrate/acetate (in alcohol) or M(OH)x (in alcohol/water) is hydrolyzed in a Li metal oxide slurry, mixed well, dried, and annealed at moderate (<5000C) temperature, preferably in a rotary kiln to avoid agglomeration. Of these compounds, Al2O3 is the most common: it is inexpensive and easily meets the electrochemical requirements for cathode material coating. The described procedure results in a uniform, chemically-bound coating (Al+3 easily fits into an M+3 surface lattice site during annealing) that will stand up to the high-shear mixing used to prepare cathode slurries for electrode coating. The other oxides cited, while reasonably effective electrochemically, do not readily form solid solutions with the intercalant, and are not as strongly bonded to the surface.
An example of an effective MnO2 coating is shown in figure 1 (high resolution TEM photo from Y. Zhao et al., Electrochem. Solid-State Lett. 14, A1 (2011)). Untreated Li[Li0.2Ni0.2Mn0.6]O2 (1a) exhibits a smooth surface, while photo 1b reveals a distinctly uneven LixMnyO2 (x is small) veneer. The 10nm continuous shell was produced by thermal treatment of MnCO3 precipitated on Li[Li0.2Ni0.2Mn0.6]O2, and resulted in greatly enhanced capacities at high discharge rates. After 50 RT cycles between 2.0-4.8V, the pristine intercalant delivered 175mAh/g at 1C and 77mAh/g at 2C, while the coated material yielded 211mAh/g and 210mAh/g, respectively. Capacity fade was roughly 15% after 50 cycles, unaffected by the coating.
Fluorides also make good intercalant veneers, for much the same reasons as the oxides, but only three compounds have track records: LaF3, AlF3, and LiF. Coating preparation is little changed from above: NH4F is the usual fluoride source. Both Al and Li fit into the surface structure, while fluoride ions can exchange into O2- lattice sites. LaF3 coatings enhance the rate capability of the L333 family while allowing up to 4.8V charge by suppressing electrolyte reactions. ZrF3 provides some benefit but involves slow and costly hydrothermal treatment, resulting in an oxyfluoride species on the particle surface.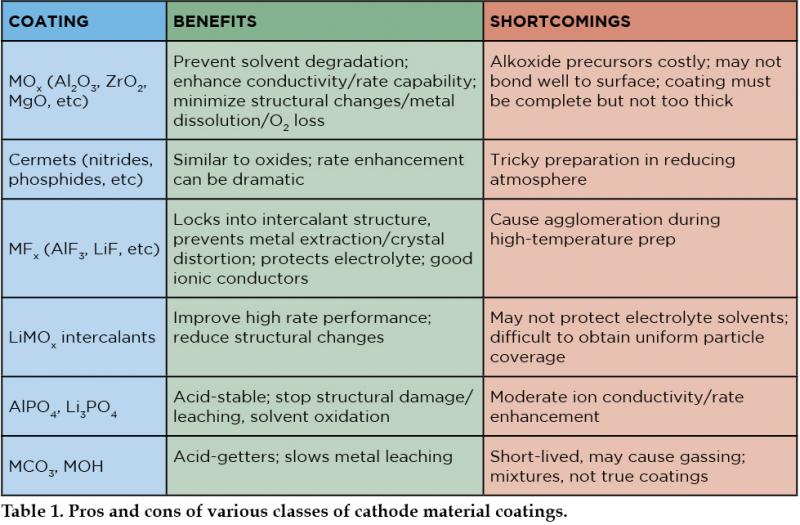 Studies show that surface fluorides and Al2O3 reduce solvent decomposition by lowering the contact point voltage; especially notable is reduced fade during high-temperature cycling. As little as 1.5mol% AlF3 (~3nm coating) pushes the LCO stability limit to 4.5V, with 208mAh/g reversible capacity, while protected Li1.1Ni0.15Co0.1Mn0.55O1.95 achieves >300mAh/g at 550C and 4.6V charge. 1% ZrO2 on related Li-, Mn-rich NCMs slows impedance growth and enhances high rate capacity, while LaF3 extends the voltage range and rate capability of the LiNi1-xCoxMn1-xO2 family. Al2O3 effectively mitigates Mn leaching from LMO spinels, thereby extending cell working life, but elicits capacity penalties of up to 10%.
Another set of useful binary compounds are cermets – ceramic metals – that include carbides, borides, nitrides, phosphides, etc. These species are highly conductive, although annealing does not promote surface adhesion. The alternative, lengthy or intensive ball milling, will disperse the ingredients very well, and may boost electrode conductivity, but does not provide adequate particle coverage. It is possible to synthesize cermets in situ, by coating the slurried particles with, for example, a metal phosphate, and then subjecting the dried powder to thermal treatment under a reducing atmosphere. The best-known (and successful) example related to this approach is the preparation of LiFePO4 (LFP), which develops a veneer of iron phosphide during calcining. Without this circa 5nm layer of conductive material, which also appears along grain boundaries, LFP's cell performance would be severely limited (capacity ~50mAh/g instead of >160 mAh/g), and power output (viable up to 100C) would be inadequate for commercial applications.
More exotic coverage is provided by phosphate salts and intercalation materials of greater stability than the underlying bulk particle. In these instances, the cathode material is slurried with the coating precursors, dried, and calcined >6000C to form the protective barrier. For example, LiCoO2 has been used with moderate success on LMO spinels, protecting against Mn leaching, and LiFePO4 has been cited with NCM compounds, reducing the danger of deoxygenation during charge. A variation on the olivine coating is LiMSiO4, where both serve as solid electrolytes, enhancing rate capability and cycle life at >4.5V charge. AlPO4 is successful on 4.8V LiMn1.5Ni0.5O4 (NMS): a 15nm coating minimizes electrolyte reactions, enhances high temperature stability, and speeds up Li diffusion. Li3PO4 has similar attributes, although a very thin coating (<5nm) is necessary due to lower Li+ conductivity. In general for all the above coatings, capacity fade is reduced, with almost no change in first-cycle efficiency (discharge:charge capacity ratio), which is dependent on anode SIE formation.
Last, consider the 'traditional' coating for cathode intercalants: carbon, or more specifically, carbon black. Nano-sized or fibrous blacks can be forced onto particle surfaces by high energy/high shear mixing: equipment includes ball mills, high-velocity sawtooth blades, and ultra-fast rotor-stator heads. Unfortunately, these methods produce mechanically bonded coatings that don't always provide complete surface coverage. Further, electrophoretic forces can dislodge the carbon and create an electrical disconnect from the cathode particle. The resulting electrode will have a very non-uniform profile relative to state-of-charge; that is, coated particles will charge quickly, while poorly covered particles will retain most of their lithium. Current will flow through the most conductive areas and create overcharge domains, stressing the targeted cathode material and inevitably leading to rapid capacity fade.
An early technique, aimed at counteracting trace acid in the electrolyte, was to ball-mill acid getters (Li2CO3, CaCO3, Al(OH)3, and the like) with the cathode material. Particle coating was incomplete at best, and since high-voltage solvent breakdown produces H+, protection against acid attack was temporary. Further, gassing from CO2 and H2 evolution (the latter from H2O/Li reaction at the anode) created cell integrity issues. Due to these problems and the inability to protect against high-voltage reactivity at the cathode particle surface, this 'solution' to short cell working life is rarely seen today.
Conclusions:
New cathode material formulations are pushing the envelope to higher and higher charge voltages, creating problems with electrolyte degradation and intercalant deoxygenation. These phenomena are manifested by rapid energy loss and the specter of cell fire/explosion, and all the action originates at the cathode particle surface. A variety of metal oxide and fluoride veneers successfully limit electrochemical degradation by reducing the surface potential and stabilizing the cell chemistry. These same coatings also fight impedance growth by restricting SEI formation on both electrodes, and mitigate metal leaching/oxygen loss from the cathode particle surface. Higher impedance is labeled the villain in cell voltage decline (therefore, lower energy), accelerated fade, and loss of high rate (power) capability. There is little penalty to gravimetric energy density from these inert coatings: the molar ratio of cathode species to coating is at least 97:3, and >98mol% is common. In fact, only a few nanometers of continuous cover are sufficient for enhanced performance, and the annealing step keeps surface areas low. Expect to see coatings on all next-generation cathode materials that charge above 4.3V: this improvement will facilitate new heights of energy and power from Li-ion batteries.
About the author:
W. F. "Rik" Howard has 20 years of industrial Li-ion materials experience, and consults from his home office near Philadelphia PA. Email: rikhoward@aol.com or Skype: batmatman.