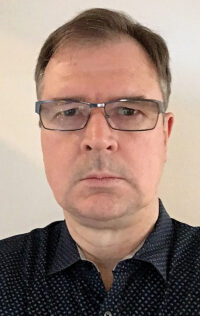 With multiple formats and configurable voltage options, motive lithium-ion batteries that can be retrofitted into existing vehicles and charging infrastructures, without expensive investments in facilities, have become drop-in replacements for lead-acid batteries. Jeff VanZwol, chief marketing officer at Green Cubes Technology explores the market.
Manufacturers of motive lithium-ion batteries claim distribution centre and warehouse operators can achieve immediate capital and operational benefits over flooded lead-acid batteries. In fact, warehouse fleet operators using lithium-ion to power the material handling (MH) equipment can save millions of dollars in just a few years.
For electric MH equipment, different lead-acid battery types are available including thin plate pure lead (TPPL), absorbed glass matt (AGM) and flooded lead-acid (FLA)— which is the most widely used. For optimal cycle and calendar life of the commonly used FLA batteries, most manufacturers recommend that each truck is supported with three batteries. The first is active and powering the truck, typically over an eight-hour shift; the second sits on a charger for 8-10 hours of conventional charging at a C/5 rate; and the third rests for an eight-hour cool-down period.
Lithium-iron phosphate (LFP) chemistry is the predominant lithium chemistry used to power MH equipment. LFP chemistry uses lithium iron phosphate (LiFePO4) as the cathode material, combined with a graphitic carbon electrode with a metallic backing as the anode. LFP chemistry is differentiated from other lithium-ion chemistries on several dimensions, including: exceptionally long cycle life (2000 – 4000 cycles to reach 80% of the original capacity); high power capabilities for both charge and discharge; and lower energy/density than other lithium-ion variants.
The long cycle life means an LFP battery can be installed, and remain, in the equipment until it is retired (i.e. no daily FLA battery swaps). More importantly, a depleted LFP battery can accept a full charge in one hour (1C rate) since the chemistry accommodates high power delivered to and from the battery.
One common characteristic of all lithium-ion batteries is they will efficiently accept power, regardless of the state-of-charge of the battery when connected to the charger. Once disconnected from a charger, a lithium-ion battery can be immediately discharged and used, as there is no need to cool or rest it after charging. Unlike FLA batteries, this enables the concept of 'opportunity charging'.
Opportunity charging means bulk charge does not need to be delivered in one charging session; rather, partial charges can be delivered throughout the shift when the operator has down-time (for example, a break or lunch). Since LFP batteries can accept full or partial charges at a 1C rate, it best accommodates opportunity charging.
Fig 1 highlights the difference between FLA and LFP battery chemistry, and the implications for the fleet operator of MH equipment.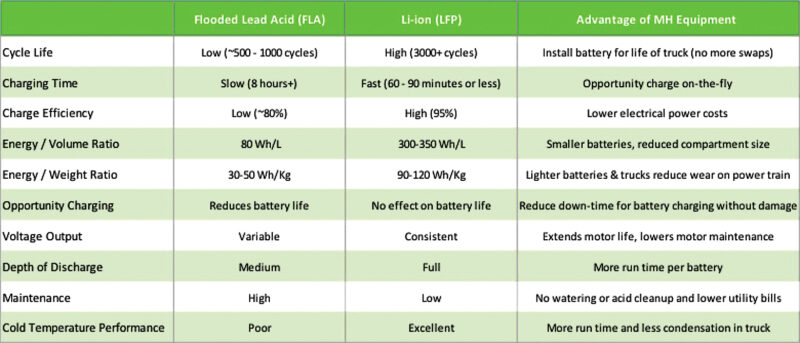 When you look at a side-by-side comparison of these performance characteristics, the two main factors that drive adoption are the high cycle life and ability to accept fast and incremental opportunity charges. Surprisingly, the fact LFP batteries have higher volumetric and gravimetric energy density does not help LFP batteries in this application. In fact, most LFP batteries used in MH equipment need extra weight (in the form of steel plates) added into the battery enclosure, since the batteries are used as counterbalance within the equipment. Most MH equipment on the market today is designed to accommodate lead-acid batteries, and needs their weight for counterbalance.
Beyond opportunity charging, some secondary benefits of adopting lithium-ion batteries to power your fleet include the release of warehouse floor space dedicated to battery charging, the elimination of battery handling and changing equipment, and the reduction of personnel affiliated with the charging process. As well, operators can eliminate the cross-area travel time from their normal work areas to the battery room to change out batteries.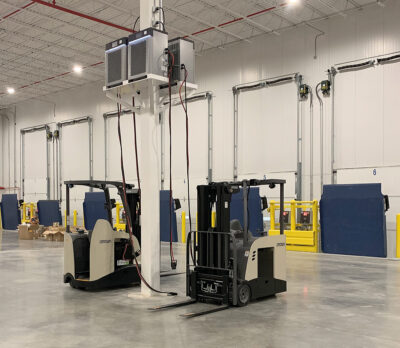 Finally, the potentially hazardous task of swapping batteries (typically weighing more than 1,000 pounds) in and out of trucks is not necessary, thus minimising employee injuries. Opportunity chargers are usually located in a convenient location near the work zone for the truck (Fig 2).
So based on the benefits highlighted above, below are the productivity and capital gains that can be made by swapping from lead-acid to LFP:
Increase in productivity by 30% minimum
Eliminate FLA battery changes with faster charge times (from 0% state-of-charge to fully charged in one hour). Since the single lithium-ion battery can accept a full charge in an hour, there is no need to install/remove batteries for a bulk charging session.
Lower cost of operation by 30%
Eliminate labour and time for FLA battery changes, as well as the burden of battery watering (every battery watered every two weeks). Since a single lithium-ion battery is embedded in the MH equipment, there is no need for labour or equipment to install/remove batteries after each shift.
Lower electrical utility cost for charging by 15%
Lithium battery charging is 95% efficient versus 80% efficiency with lead-acid batteries. A lithium-ion battery retains 95% of the energy delivered from the charger, while a lead-acid battery retains only about 80% of the energy.
Lead-acid battery charge efficiency is around 80-90%, and lead-acid battery discharge efficiency is 50-99%. Combining the charge and discharge efficiency, the typical overall energy efficiency of a lead-acid battery is around 70-80%. The faster the rate of charge, the less efficient the battery, regardless of its chemistry.
LFP batteries provide 92-100% charge efficiency, and provide 92-100% discharge efficiency depending on the rate of discharge. Very low impedence of the LFP chemistry over the life of the battery contributes to this sustainable charge/discharge efficiency.
So the overall energy efficiency (combined charge and discharge) of a lead-acid battery is around 70%, while the LFP battery is in the 95% range.
Improved asset utilisation
You achieve 100% utilisation of your MH fleet with lithium-ion batteries (one battery per truck) versus up to three lead-acid batteries per truck (33% asset utilisation with one battery in the truck and two in storage).
Capital cost avoidance with floor space
Eliminate FLA battery handling rooms, ventilation accommodations, eyewash stations and safety gear. Eliminate battery rooms and re-allocate this area to become a staging area, additional pallet rack, break room, or maintenance shop.
Improved safety conditions for associates
Eliminate FLA battery maintenance and contact with battery electrolyte during maintenance. There is risk of exposure to battery electrolyte during maintenance, which can lead to injury and workplace accident claims.
To better understand and communicate the value of lithium-ion MH batteries, end users can calculate the total cost of ownership for a fleet of MH equipment using propane combustion engine, lead-acid, and lithium-ion power options.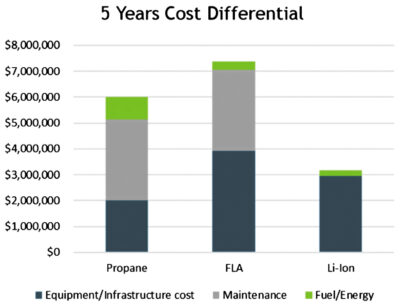 Many of the capital and operational improvements discussed above are factored into this model.
Fig 3 is a financial summary for an 80 truck fleet operating in a warehouse in Florida. The conclusion is that using lithium-ion to power the MH equipment saved the customer $4.2 million over a five-year period.