The Indian government has given the go-ahead to its Battery Energy Storage System (BESS) scheme to accelerate BESS project development. It targets a staggering 4GWh by 2030. Dipak Sen Choudhury reports.
One would have to accept that the India e-mobility story has unfolded well, striking roots deep into the two and three-wheeler segments – and in recent months spilling over to the four wheeler passenger vehicle segment too. In the first five months of the current financial year, e-4W sales have varied between 6,000 and 7,000 units a month. That is approximately 2% of new passenger car sales and certainly very promising.
With the e-mobility project having taken off well, it is time now to put some more energy into the other aspects of the green environment. The much-awaited special incentives package for the country's green energy management has been announced. The government's union cabinet, presided over by prime minister Narendra Modi, has given the go-ahead to the Battery Energy Storage System (BESS) scheme.
The financial scheme announced is designed to foster the accelerated development of BESS projects targeting a staggering 4GWh by 2030–31 of them through competitive bidding. Going for an all-out campaign to promote investments into renewable energy and concurrently strongly advocating the desirability of energy storage, the government is sending a strong message in favour of a green economy.
Substantial financial support
The government of India has offered to provide very substantial financial support of up to 40% of the capital cost under its viability gap funding (VGF) scheme, thereby making a significant statement in the nation's commitment to environmental sustainability.
The primary goal is to drive down the cost of storage systems and make them affordable to distribution companies and consumers. The calculated target for this initiative is achieving a levelised cost of storage (LCoS) ranging between ₹5.50 and 6.60/KWh ($0.065–0.08) as against the prevailing estimate of ₹10.0–11.0/KWh ($0.12–0.13).
These targets not as ambitious as those of the Consortium for Battery Innovation for lead battery ESS key performance indicators, but together with the very low cost renewables availability, they are quite eminently workable.
The scheme has an initial outlay of ₹94 billion, ($1.19 billion) including budgetary support of ₹37.60 billion ($0.45 billion). The VGF will be provided to energy storage projects sanctioned during the initial three-year period (FY 2024–26). Selection of BESS developers for this VGF grant will be through a transparent competitive bidding process. At least 85% of the BESS project capacity under the scheme will be offered to power distribution companies.
There are a few other significant facts about this VGF announcement. It is expected that the government is shortly going to announce a further production-linked incentive (PLI) scheme, inviting global manufacturers to invest in battery storage in India – specifically large-scale renewable energy.
It is further proposed the government would make storage compulsory for any renewable energy project greater than 5MW, thereby assuring the presence of a market to all potential investors.
One of the most important features of the VGF is that it is technology agnostic and there are no qualifying factors for the offered storage technology to be eligible for financial support. The only criterion for storage technology selection is that it has to deliver a LCoS, as stated earlier.
This provides the lead-acid technology an opportunity to make a significant presence in ESS with multiple features like low acquisition cost, excellent scrap credit and established field record in deep cyclic applications.
Very impressive numbers
The numbers for the country, in terms of renewables including storage, look very impressive. Globally, India is currently ranked fourth in overall renewable energy generation. While the current renewable energy generation figures are still relatively modest, around 68GW of solar and 43GW of wind, the stated government target is to take this total figure to 500GW by 2030.
In recent times, individual state governments have also taken major initiatives in announcing renewable energy plans and 500GW may not be too far from where the nation finally reaches by 2030. India's electricity regulator, the Central Electricity Authority, has developed a model which shows a need for 27GW/108GWh of battery storage and 10.15GWh of pumped storage by 2030. These are big numbers and the VGF policy is the purported kick-starter for making them happen.
In this context it is important to note that earlier the government had itself cast a net of protection towards investments into renewable energy and storage through the form of renewable purchase obligations (RPOs) and energy storage obligations (ESOs). These are enacted by the Ministry of Power which notifies wind, hydro and energy storage purchase obligations up to 2030.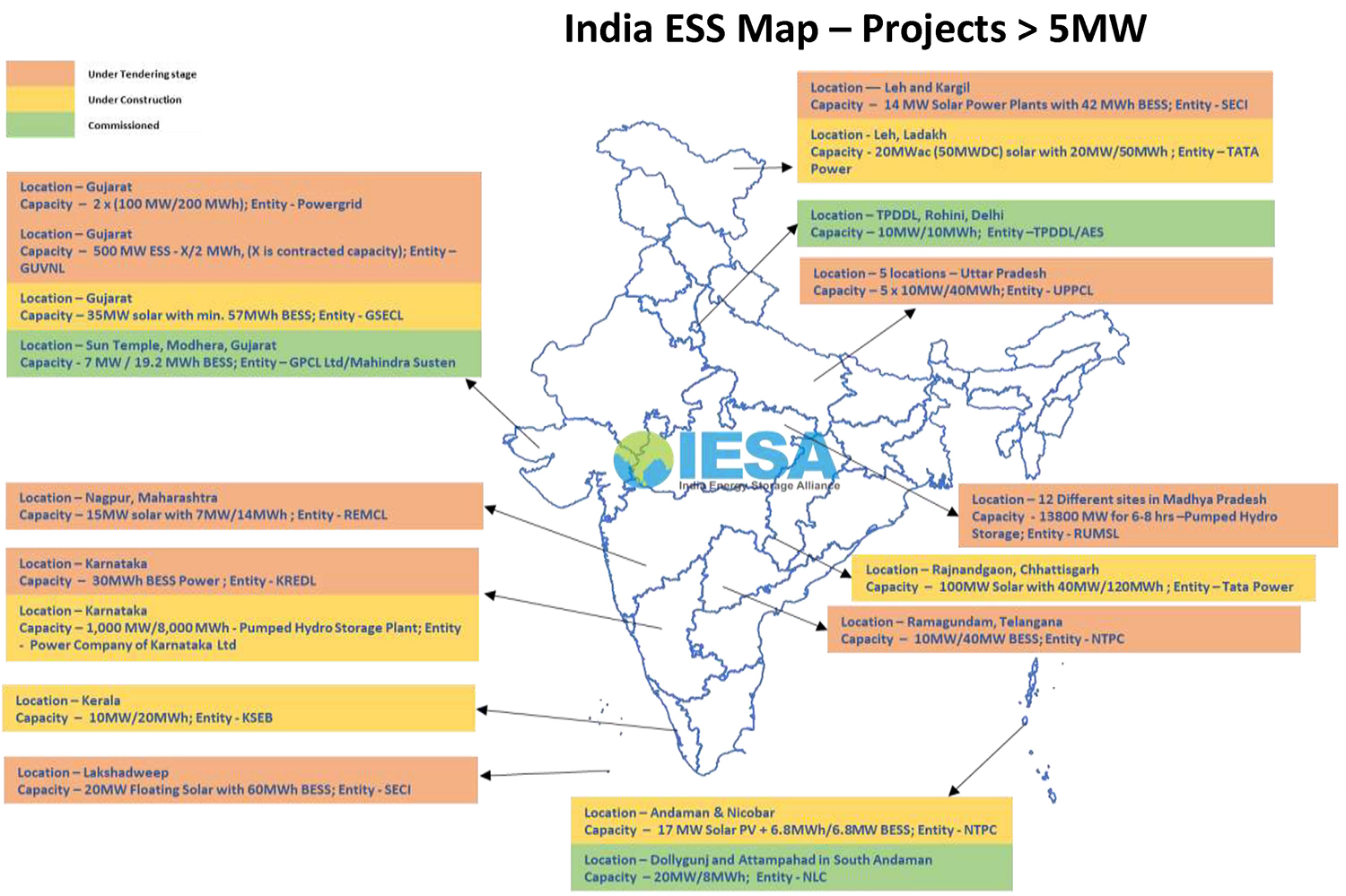 Minimum requirements
All distribution licensees must purchase or produce a minimum specified quantity of their requirements from the renewable energy sources named above. Pumped storage is also considered as a form of large hydroelectricity and is included as such.
Solar is excluded as it is considered that solar renewable energy has already reached a unit cost which can compete with conventional electricity and does not need financial support. A chart has been given with increasing storage percent obligations as the years move towards 2030. It is considered fulfilled only if at least 85% of the total energy stored in the ESS is from renewables only.
It is further stated that the ESO will be periodically reviewed and may be revised upwards with the appearance of more commercially viable storage technologies.
What is actually happening
With all these mechanisms in place, it is time now to look at what is actually happening in the ESS activity in the country at the ground level. While the talk of the big Indian ESS market has been going on for quite some time, the only significant battery storage project implemented, albeit as a sort of 'proof-of-concept', is the 10MW/10MWh Tata Power Delhi Distribution installation using Fluence's Advancion ESS platform. The installation serves peak-load management as well as grid stabilisation and has been successfully operating.
It is only in the last year that some definite movement has started towards wider scale deployment of large ESS, invariably coupled with major renewable energy projects. Once again, it is the union cabinet which has taken the lead and some big-scale activities have been announced.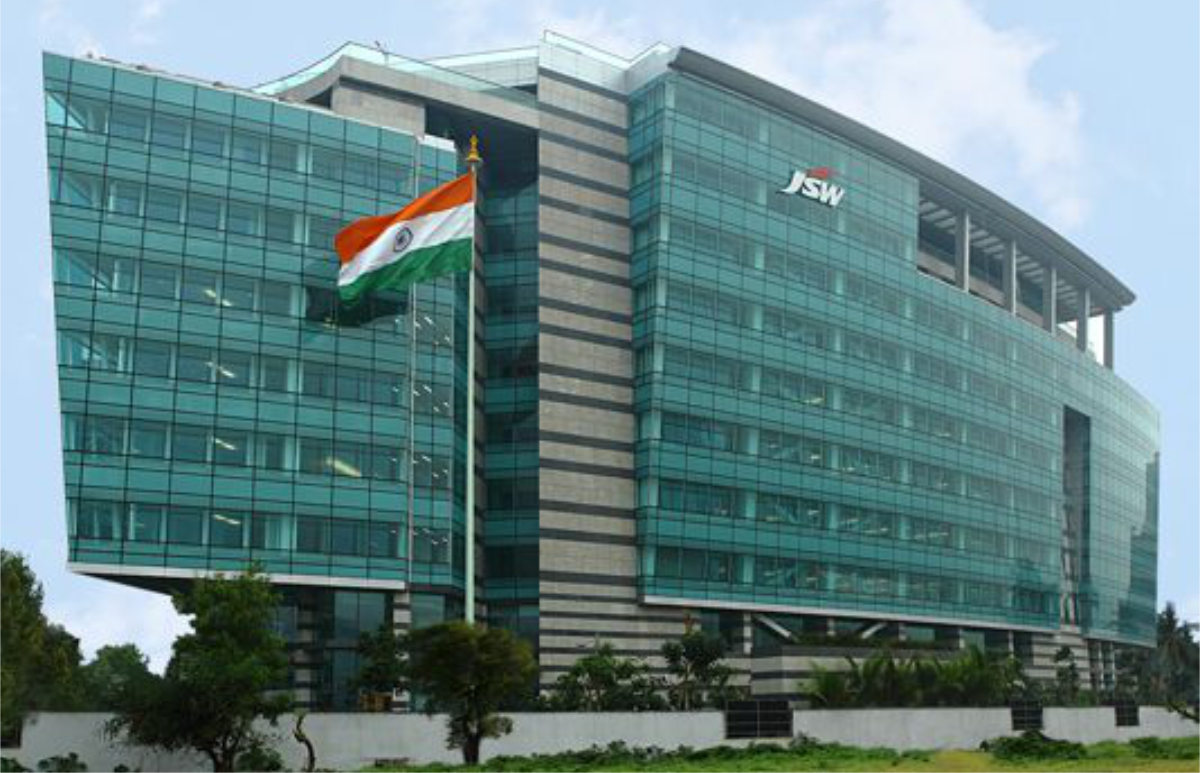 Solar Energy Centre of India (SECI) awarded a private sector Indian energy company, JSW Energy, two storage projects of 500MW/1000MWh each. This was an interesting bidding session as it revealed who in future are the likely players to be in this huge ESS market in the country.
Besides the other government energy giant, National Thermal Power Corporation (NTPC), there were several highly competitive bids from other Indian and international organisations like Sterlite Power Transmission, ReNew Solar Power, Azure Power, Acme Barmer Solar, Hartree Partners Singapore. An interesting aspect of the bids was the fact that offers on tariff varied by more than 100% between the lowest and the highest, indicating how wide were the understandings and solutions of the participating bidders.
NTPC today operates way outside its original thermal power brief. It has long been in hydroelectricity and in recent years very active in renewables too. In fact, a new company known as NTPC Green Energy Limited (NGEL) has been created to focus on NTPC's renewables business. As a natural extension it is now stretching to storage too.
For the last 3–4 years, NTPC has been discussing with many, trying to understand the storage business and only in very recent months, somewhat made up its mind which way to go in this territory. Hitherto, it was totally alien.
While one of its key themes for the future is going over to green hydrogen for storage, it is betting big on pumped hydro storage. On the immediate horizon is its plan to set up 20GW of renewable power in India's eastern coastal districts, with close to 6GW of pumped storage. It is to be utilised for green hydrogen production and is thought to have export potential.
NTPC proposes to utilise bulk storage of renewable energy for its carbon free power supply solutions like round-the-clock power to utilities and industrial customers. Last year they floated a technology-agnostic tender for 3GWh ESS for a six-hour backup with a declared service life of 25 years.
Competitors were pumped storage, compressed air storage, lithium and sodium-sulfur. Pumped storage came out on the top with a bid of $85 per MWh as compared to BESS built mostly with lithium packs imported from China at a cost ranging from $150–200 per MWh. The entire business has been awarded to Greenko Energies, a relatively new Indian company. It is backed by two sovereign funds emanating out of the Middle East, GIC and Abu Dhabi Investment Authority.
Greenko has currently an installed base of 7.3GW across solar, wind and hydro generation spread all over the country and is currently also developing and building over 40GWh of pumped hydro storage in India.
For the last year NTPC has also been closely discussing other storage technologies and there are indications that they are slightly inclined towards flow battery technology. As NTPC is a large public sector organisation, it is important to watch which way they go.
Significant government role
The above gives you an idea of the significant role the government of India has played in promoting energy storage and how some of the large government agencies are taking the policies forward. In the second part of this article, which should appear in the coming winter publication, we shall look at how the Indian private corporate organisations are taking the vision forward. Their approaches are no less impressive and significant for the country's future.