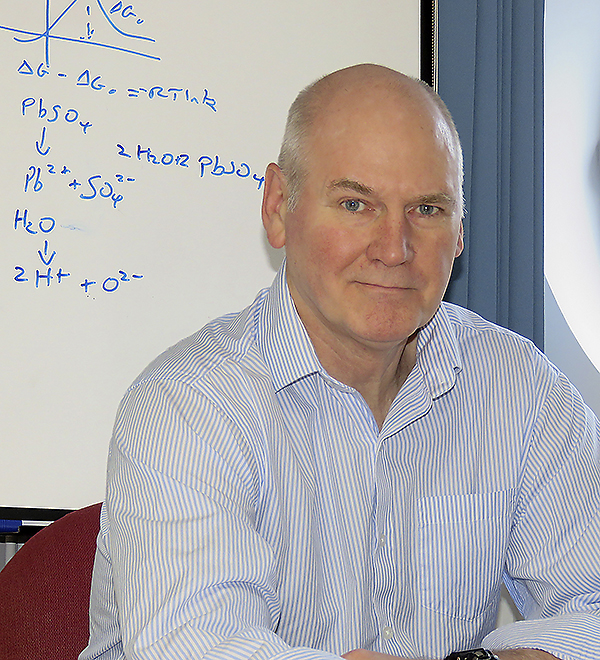 As battery power becomes even more ubiquitous, here at Energy Storage Publishing, we've never known customers to be more confused about choosing and using the right batteries— now we're offering an independent testing service to help end users get the right product for the job. Technical editor Mike McDonagh explains how this will work and how you can join in.
There's an advertisement in the UK for what we call a 'do-it-yourself' product and the slogan behind it has become something of a cliché… used by politicians and the like.The slogan is: "It does exactly what it says on the tin." But does it?
In the world of batteries, there's a so-called catalogue rating, this is generally a table that informs the buyer of how many amps and for how long the battery will deliver.
It is this catalogue rating from the battery manufacturers that is critical in making the purchase decision, whether it be a 48V 500Ah forklift truck battery for a warehouse or a 12V 100Ah solar battery for a domestic consumer, it is the same process. We rely on the accuracy of this information to get the right size battery with the right performance. Just how accurate and relevant is this information? How are the ratings made? Do batteries that are specially selected for laboratory tests under strictly controlled conditions represent what is available on the shelves or warehouse racks? Unfortunately, not always— at least, not in my experience.
This shortfall on what's stated and what's actually delivered has become Energy Storage Publishing's 'cause celebre' in the battery world. We know better can be achieved. NASA is hardly going to send a space mission off to the far reaches of the solar system with batteries that are likely to fail half way through, so why should the very ordinary customer experience this problem?
Because there are more things in the universe of battery applications than are dreamt of in manufacturers' brochures, BEST has decided (on behalf of its readership) to conduct its own battery appraisals from a consumer's point of view.
Compliance with standards, does not tell the whole story; actual field conditions rarely match those of the test procedures of the laboratory. Even something as simple as the condition of batteries on delivery or point of sale can be a source of frustration to the consumer and a black mark against the manufacturer.
I recommend all production and general managers of a battery producer to be on a customer's site when a battery shipment is delivered. It is an eye opener.
And what we test will be published! In BEST and online.
The aim of our approach is to look at batteries from the point of view of the end user. These reports will will be performance tests conducted under laboratory conditions to validate actual against catalogue data.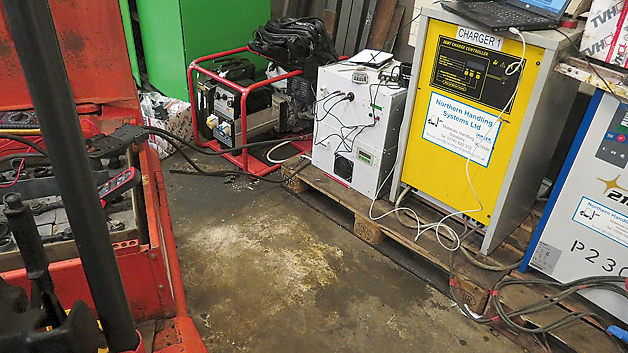 This sets the conditions for the field trials where the batteries will be evaluated against their measured performance Fig 1.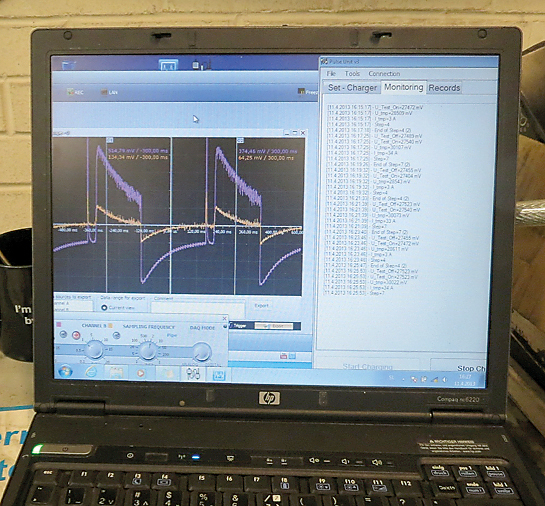 While we're targeting the battery market, it doesn't stop there. Chargers will also come under the microscope. These are the indivisible partners of the battery and are often neglected in their role of setting battery performance and life Fig 2.
What about all these other accessories such as recombination plugs, automatic watering devices, battery rejuvenators?
Are they of any use and do they actually work? Indeed, who has used them and are they happy with the outcome?
So if you work with us, how do you benefit?
The end user will get an expert appraisal from an independent source.

A battery seller or agent looking to ensure they are selling a viable product. You might be a relatively unknown company maybe based in China who has made a good product, but has little reputation. Is it really a good battery or charger? Our appraisals will show that.
On the other hand, you may be a distributor or agent probably inundated with special offers from unknown manufacturers. How do you know which brands are safe to stock and sell?
And of course the battery or charger manufacturer who will get invaluable feedback on their product quality and design.
All of these organisations will gain by receiving an informed opinion based on actual testing rather than supplier or end user 'assurances'.
BEST Magazine will be happy to receive batteries for testing from companies who wish to have this informed opinion as part of their purchasing policy.
It may also be possible to use it as part of a marketing strategy, i.e. 'As tested by BEST or as featured in BEST Test'.
It has to be stressed that this isn't an accreditation service, although all equipment will be calibrated to national standards. The tests will not be carried out in accordance with international testing standards and therefore will not be a statement on whether the batteries and chargers meet claimed performance or safety standards.
We will simply be looking at the important characteristics from a customer or end-user perspective and will establish the performance expectations for the field trials. The tests go beyond laboratory and compliance with international standards. The field trials will be conducted in actual installations, industrial, public and domestic.
So what will our testing consist of?
The appraisals will fall into four categories for both batteries and chargers:
Test protocols for batteries
Establish basic performance criteria of capacity, CCA, voltage, impedance, DC IR, charge acceptance, volts drop on load, charge/discharge energy efficiency, BMS characteristics and limitations.

Delivery: Packaging, external condition, cleanliness (any acid, dirt, grease etc.), any damage, state-of-charge, instructions, safety, maintenance and disposal/recycling instructions.

Design: Terminal size, shape and position, SoC indicators, vents and caps, ease of maintenance, manual handling, weight and dimensions.

Field trials: Ease of installation and monitoring when installed in their applications. Typical aspects monitored will be state-of-charge, amount of maintenance, completion of duty cycle, energy balance and efficiency, operating temperature, the duty cycle, customer feedback.
Test protocols for chargers
Laboratory: Determine charger characteristics, type of charger, pulse, CV, CACV etc, maximum volts and amps, time to fully charge the battery and the energy efficiency.

Delivery: Packaging, external condition, cleanliness, damage, operating instructions.

Design: Clamps, length of charging lead and plug cord, display information, charge finished indicator, safety protection, method of self-protection, ease of use.

Field trials: SoC of battery, heating issues, max charge rate, efficiency, charging time and customer feedback.
Who carries out the tests?
Equipment and people carrying out the trials and appraisals.
Batteries and Energy Storage Technology magazine in collaboration with UK Powertech and a well-known test equipment manufacturer, are investing in battery and charger test equipment and laboratory facilities. This will enable basic capacity, CCA and charge acceptance testing for most monobloc and single cell types. Lead-acid and lithium-ion chemistries will be tested but other storage systems will also be considered where feasible.
The testers: Mike McDonagh from BEST magazine and Mark Rigby of UK Powertech. For those of you who don't know me [Mike], I have over 40 years in the battery industry from lab technician to technical and managing director of lead-acid battery manufacturing companies. I've worked in several battery chemistries including lead-acid, high-temperature lithium iron sulphide with the UK Ministry of Defence, I've also spent a couple of years in the design and manufacture of a lithium-ion car starter battery.
My experience in lead-acid includes award winning rail battery designs and winning an EU Seal of Excellence for a Carbon Trust funded rapid, energy saving traction charger.
Mark Rigby has been a supplier to the battery industry for almost 40 years and gained experience in most applications of battery use including lead-acid battery formation. His supply experience now covers most battery accessories including watering devices, terminal covers, busbar, switchgear, railway and overhead line connectors as well as battery connectors and leads. Mark owns and runs the profitable connector manufacturing company UK Powertech established 18 years ago. This lifetime experience has enabled Mark to gain unique insight into and knowledge of battery user requirements.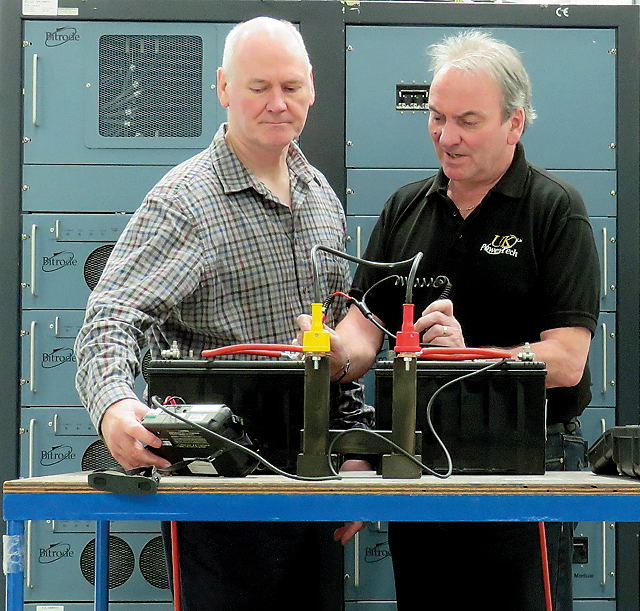 As a team, there is perhaps more of the formaldehyde than the formidable in our make‑up. However, the knowledge is considerable, and the appraisals will be reliable and focused on what matters to the consumer Fig 3.
The ball has started rolling. We have begun trials with 12V leisure batteries. At this stage we have been obtaining, checking and calibrating test equipment, receiving batteries and identifying end users. The first report will kick off in the summer edition as part of a series of tests for both lead-acid and lithium-ion leisure batteries. It will include lab test results and initial field trials for a lead-acid leisure battery. If there are any results for the lithium-ion battery they will also be reported. The first field trials have been identified as solar power, caravan leisure and an electric canal barge.
This testing is meant to provide information about batteries or chargers from the end-user perspective. We will obtain batteries and chargers which in our opinion are representative of the product ranges which are normally used in the applications for which they are designed. However, considering the number of brands and manufacturers, particularly in China, distributors or agents will have an interest in checking out some brands or brand before they commit to purchases. BEST would welcome the participation of companies who may want a practical appraisal of types or brands in an application. Likewise, it may be that battery or charger manufacturers would want their product rated and tested in these conditions, along with a test report as part of a marketing campaign.
We have just started so you can actually get in on the ground by contacting us at mike@energystoragepublishing.com. We will accommodate as many companies as possible on a first come first served basis. Whatever the reason to participate, put your batteries to the BEST battery test and give you and your customers the information they really need. We can't say better than that.