Rick Howard on Ionic liquids— the salvation of electrolytes for lithium‑ion batteries?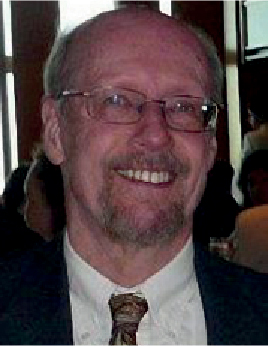 One trillion! 1012! That's the estimated number of ionic liquids (ILs) possible from the pairing of bulky, polarizable organic cations and smaller, mostly inorganic, cations. Although ILs have been known for over a century, only in the last 10-15 years have researchers intensely pursued the incredible potential of these species. Applications abound in energy storage, chemical synthesis, machinery, and medicine: electrolytes with wide solvation capability, catalysts, lubricants, and pharmaceutical in vitro transport, to name a few.
IL intellectual property almost always tracks applications, not composition of matter, due to the myriad of compounds. Prominent academic research groups in the field include Queen's University Ionic Liquid Laboratory (QUILL), Monash University, the University of Münster, and the University of Alabama, among others.
Given the target audience for BEST, this article focuses on the future of IL electrolytes in energy storage, especially in Li-ion batteries, and speculates on next-generation systems.
What defines ionic liquids, also known as room temperature molten salts? As the longer label implies, these compounds are salts with melting points <100ºC, comprising a large organic cation with diffuse charge density and a smaller anion, from halide to (relatively large) imide. ILs exhibit remarkable thermal and chemical stabilities, and the vast majority comprise only monovalent ions.
Like inorganic salts, ILs have no vapour pressure, hence are non-flammable below their decomposition temperature, and their liquidus range can be -95 to +500ºC. ILs of particular interest to the battery industry are electrochemically robust from 0 to 5.7V (versus Li0), and they are excellent solvents for Li-ion electrolyte salts. ILs tend to be poor electron transfer agents but good ionic and thermal conductors.
A brief list of advantageous properties beyond those in the previous paragraph offers a glimpse of the wide applications for ILs. Selectively modifying substituents, usually on the cation, allows solvolysis of many organic, biochemical, and inorganic species, including gases, and numerous other properties are tailorable in the same manner.
Hydrophilic species immiscible with common solvents are ideal for biphasic reactions, while hydrophobic ILs (high F content) work well in processes with elevated reactant concentrations and product (including metals) extraction. These species are widely touted as 'Green Solvents', that is, they are easily purified after use and thus highly recyclable, which mitigates their cost. ILs comprise poorly coordinating ions, beneficial in catalysing reactions and yielding enhanced product selectivity.
Exhibiting high viscosity compared to organic solvents, IL solutions are thixotropic, and greatly purified compounds with large anions will frequently form supercooled fluids. Interested readers can peruse a historical review by J. Wilkes in Green Chemistry 4, 73-80 (2002), and a broader, more modern perspective in en.wikipedia.org/wiki/Ionic_liquids.
Electrochemical IL applications are primarily within energy storage: batteries, supercapacitors, fuel cells, photovoltaics, and heat sinks. Voltage requirements place most IL cations in two major classes: N-containing heterocycles (imidazole- and pyridine-based, among others) and R4X+ species (R = alkyl or similar, X = N or P), where substituents are usually electron-withdrawing. The imidazolium family generally reacts with lithium, even sequestered in graphite, making members unsuitable for most Li-ion cells but acceptable with higher voltage anodes, such as Li4Ti5O12 and many metal oxides, and in supercaps. Asymmetric R4X+ quat salts are generally unreactive toward Li and have a broad stability range, some exceeding 5.5V, and are under concentrated investigation as electrolytes for next-generation high energy cathodes charged at 4.5-5.0V. The other energy storage types operate with low voltage, and thus invite a broader range of IL cations.
IL anions in electrochemical applications are fluoride‑rich for stability in reducing environments. Most common are MFx– moieties (BF4–, PF6–, AsF6– etc), imides [(FSO3)2N– (FSI), (CF3SO2)2N– (TFSI), etc], and substituted carboxylates. Incorporating the same anion for the IL and Li salts enhances electrochemical stability, allowing FSI/TFSI species to function well above 4.5V without decomposition. (These Li salts in conventional alkyl carbonate solutions have roughly a 4V limit.)

Smaller anions cause the melting point to rise, sometimes as high as room temperature, but even reactive species like PF6– are remarkably resistant to hydrolysis. Note that both imides and phosphates are easily modified with (for example) alkyl groups, to enhance solvolysis capability, reduce reactivity, or extend the working voltage range.
If ionic liquids have such impressive properties in electrochemical storage devices, what has prevented them from replacing organic carbonates or acrylonitrile as preferred solvents? The short answer is cost: IL cation precursors are expensive, much more so than 'standard' solvents, and preparation must be exacting (£$€¥). No less important is the need for very high purity: residual starting materials electrochemically decompose during cell operation and accelerate performance degradation. Toxicity, mainly defined by the cation, is always a concern, although definitive studies are scarce. More specifically, long-chain cation substituents tend to inhibit biological cell functions and enzyme activities, and the lengthy stability of ILs in the environment is worrisome. These liquid salts have greater viscosities than solvent-based electrolytes, thus slowing Li+ transport and restricting rate/power capabilities. Finally, although ILs are very difficult to ignite, once set ablaze, they will burn for an extended period.
The negative attributes of ionic liquids have greatly slowed their introduction into supercaps, solar panels, and heat reservoirs, where existing systems have rigorous price versus performance competition. Robust voltage and thermal stabilities (safety, performance) are strong positives for Li-ion batteries, however, and IL electrolyte development in this field is intense. Therefore, the remainder of this narrative will focus on the discoveries and potential of ILs in Li-ion chemistries, with attribution to the leading practitioners in the domain.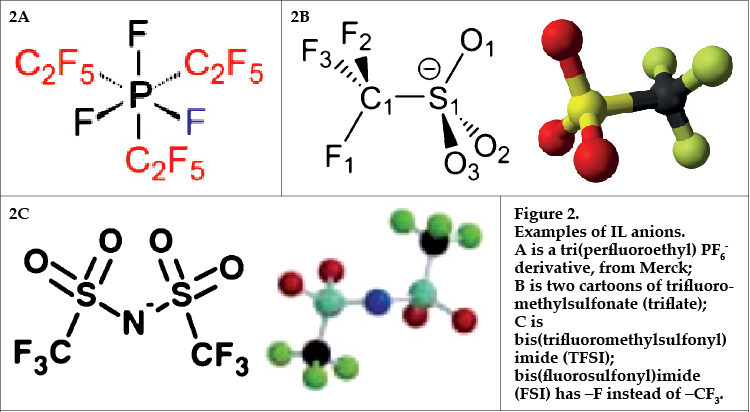 In the 1990s, V. Koch and L. Dominey and (separately) M. Armand synthesised a variety of ILs with unsaturated N-containing heterocyclic cations, such as imidazolium and pyridinium, coupled with FSI/TFSI and other fluorinated anions. (Cation examples are depicted in figure 1, anions in figure 3.) One objective was replacing costly LiPF6 with Li imides; the heterocycles are common industrial chemicals and thus not prohibitively expensive. Electrochemical measurements of conductivity and Li+ transport numbers were encouraging, but test cells with Li or graphite anodes were plagued by rapid self-discharge: the strong reduction potential of Li0 was too much for the cations. Some success with low voltage stability was achieved by long-chain alkyl group substitution on the heterocyclic ring, but this increased IL viscosity and hindered Li+ passage through the electrolyte.
The number of possible cations just from example 1A is formidable: consider that each R group can be any of halide, saturated or unsaturated alkyl (including rings), and substituted organics, such as alcohols, ethers, carboxylates, and most commonly fluorides. Multiply that by the moieties that might bond to the =N, and the quantity of imidazolium ILs easily exceeds 1 000 000. As described above, cations can be tailored to accentuate desirable properties: greater F substitution strengthens hydrophobicity, ether linkages enhance ionic conductivity, and lengthy alkyl groups protect against reduction, among others.
More recently, D. MacFarlane examined ILs with quaternary ammonium cations (Figure 3) and found a much wider voltage window than the aforementioned unsaturated heterocycles. Greater asymmetry around the N produced better electrochemical performance, provided the longest alkyl chain was C4 or shorter. For example, dimethylethyl-n-butyl-ammonium TFSI exhibited enhanced Li+ conductivity/lower viscosity, higher voltage stability (>5V), and a robust liquidus range (<-50 – >+300ºC), compared to other R4N+TFSI– ILs. Unfortunately, the rate capability of even optimised quat-salt ILs was substantially worse than conventional electrolyte solutions. Note that more symmetric R4X+ TFSI– salts with small R groups may solidify near or at room temperature (PYR13 TFSI melts at 10ºC), while including a C6 or longer chain to magnify asymmetry markedly increases viscosity and decreases oxidative resistance. Large cations are contra-indicated for Li-ion applica-tions, as they diminish Li+ transference numbers and block Li insertion sites, thereby hampering rate capability.
Phosphonium analogs of the quaternary amine ILs have equivalent or broader electrochemical and thermal stability ranges, but their even-greater viscosity further restricts Li‑ion transport, making them unsuitable for all but the slowest discharge applications.
Figures 3B and 3C (overleaf) are particular versions of quat cations (R = methyl and propyl or butyl) investigated (as FSI/TFSI salts) by S. Passerini, B. Scrosati, and others, especially as polymer solvents in Li-ion/gel polymer cells; A. Angell has published extensively on gel electrolytes with ILs. A recent approach specifies gels from highly cross-linked co-polymers and LiTFSI/PYR13TFSI, with the addition of ~10% nano-Al2O3; the ceramic powder greatly enhances Li+ transport through the electrolyte. Solutions with 3B/3C ILs and the corresponding Li salt are unreactive versus Li, have a stable voltage window up to 5.5V, and enjoy a viable cell temperature range from <-20 – >+70ºC. As mentioned previously, ionic conductivity is enhanced by incorporating an ether moiety rather than a C3–C4 alkyl. General electrochemical properties are improved when TFSI and FSI salts of 3B are mixed, but high-rate performance still falls short of organic carbonate-based electrolytes.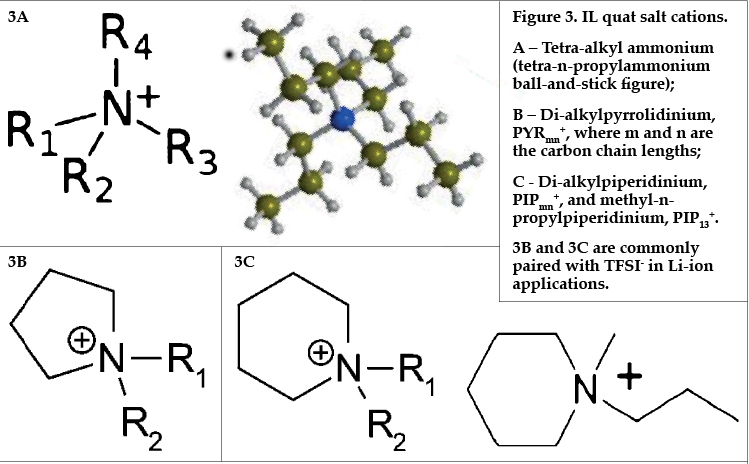 An early flaw in quat IL electrolytes was the rapid fade encountered during battery cycling, attributed to the lack of a stable SEI. This hurdle was overcome by incorporating an unsaturated organic moiety in the solution. For example, vinylene carbonate (VC), a well-known SEI former in solvent-based electrolytes, operates similarly (but less effectively) as an additive (<10%) in IL systems. IL cells with no VC suffered from poor rate capability and rapid fade at room temperature: both issues were resolved with small portions of VC at 50ºC operation. Ethylene sulfite, also common in contemporary electrolytes, behaves similarly in IL compositions, while ethylene carbonate is less effective as an SEI former.
A more elegant solution involves an unsaturated substituent on the pyrrolidinium ring, such as an allyl rather than a propyl or butyl group. (Moieties containing C=C or C=C polymerise during the charge step.) Anodic film deposition continues during cycling when R = alkyl, resulting in increased cell polarisation, but the allyl presence leads to a uniform (and passivating) SEI during the first charge, and fade is sharply reduced. Di-allyl dimethyl ammonium TFSI/LiTFSI is an extreme example, displaying a 5.9V stability window and allowing only 1% capacity loss after 20 charge/discharge cycles.
Electrolyte conductivity has a direct impact on rate capability, which (in part) has precluded ILs from commercial use in power cells. Creative researchers are making inroads into this problem, generally by the use of organic co-solvents. Examples include the addition of small amounts of diglyme or ~20% diethyl carbonate, enhancing both rate capability and low temperature performance with no detriment to cell safety. Conductivity maxima of carbonate-based electrolytes usually occur with 25-35% TFSI IL content, which is also the lower limit for non-flammability of the mixes (although 10% PYR14PF6 additive is reportedly an effective flame retardant). Tetra-alkyl phosphonium ILs benefit similarly from solvent additives, but not enough to compete with quat salts. As mentioned earlier, ether groups, such as methoxyethyl or methoxymethyl substituents on 3B/3C, boost ionic conductivity by preventing cation aggregation around the anion, resulting in Li+ transport numbers as high as 0.39. Optimum concentrations for LiTFSI in figure 3 ILs are 0.5-0.65M; higher concentrations bring lower conductivities. In general, LiFSI/IL mixes have higher conductivity than with LiTFSI, and preferred solutions are ~0.4M.
LiBF4 and LiPF6 are more reactive than LiFSI and LiTFSI, and therefore the anions are less common in ILs, but all have extended voltage ranges in ILs with like anions. This synergistic effect is even stronger when compared to LiTFSI in carbonate solvents: TFSI– in that environment is reduced to insoluble Li compounds that passivate Li, noble metal, and graphite anodes at low potential. Adding LiFSI or LiTFSI to the corresponding figure 3 salts lowers melting points and allows cycling at -20ºC, but the solutions are somewhat less thermally stable than the neat IL. Although high-purity electrolyte voltage windows exceed 5V, FSI/TFSI precursors cause parasitic reactions at the cathode, and FSI ILs with trace amounts of water exhibit a strong exotherm at 120ºC, hence the stringent non-contamination requirements.
Selected FSI/TFSI salt mixes have additional positive attributes. For example, LiFSI-PYR14FSI electrolyte is highly compatible with Li anodes even at elevated temperatures, and the thermal stability of the 2B IL family reaches 305-321ºC, varying with the alkyl group. Lengthening the longest chain on PYR TFSI salts enhances separator wetting, while the sodium salt of carboxymethylcellulose (CMC) binder dissolves easily in PYR14FSI. Quat ILs are also compatible with polyacrylic acid, emerging as the binder of choice for Si anodes, while Si-Ni-C composite anodes favor FSI salts (TFSI species require an added SEI former). LiFSI/R4NFSI electrolytes exhibit very low interfacial and charge transfer resistances with Si-containing anodes, and some mixes prevent vapor-deposited Si film fragmentation, resulting in stable anode storage capacities exceeding 3000mAh/g. Very recent studies indicate R4NFSI species are compatible with next-generation nano-MOx anodes, extracting greater capacity with improved first-cycle efficiency versus solvent-based electrolytes.
Other ionic liquids are showing signs of life in Li-ion applications. Mixed imidazolium (Im) species with nano-Al2O3 filler have better ionic mobility and greater oxidative resistance than single‑IL electrolytes without the conductive aid. Likewise, some ImFSI salts with F-containing co-solvents are stable up to 4.5V, and low resistance at the electrode-electrolyte interface boosts rate capability above that of conventional electrolytes. The TFSI salt of triethylsulfonium+ has shown stability above 4.5V and conductivity >1mS/cm at room temperature. Another FSI/TFSI family, with guanidine [C(NR2)3+] cations, has good thermal and voltage stability when the R groups are asymmetrically halogenated, properties further enhanced by the addition of nano-SiO2. The common thread in these systems is the use of Li imide salts, less reactive (although hygroscopic) and more economical than today's standard, LiPF6.
What makes ionic liquids so fascinating and frustrating in the same breath is that minor changes in a 500+ molecular weight anion can radically alter the IL chemical properties. Examples include substituting fluoride or hydroxide for a proton or replacing an ethyl group with C-O-C ether. For Li-ion applications, fluoride-containing ILs provide wider voltage windows and may be hydrophobic, and ethers enhance Li+ transport, attributes of little value in, for example, medical treatments. But the hurdles for industry acceptance are significant: cost, conductivity, and contamination (purity) are major issues. Can we predict a rosy future for ionic liquids in batteries (and to a lesser extent, capacitors), or will the technology be limited to a few secondary applications?
Looking at the current status of ILs for Li-ion, we are faced with a common conundrum: prices will stay high until economy-of-scale production volumes are reached, but demand will remain low until prices recede, unless there is a major technological breakthrough. Leaders in the industry, such as BASF and Merck, have a deep and growing IL portfolio, and recognise the necessity of high purity products, driving their process development. Not to be pessimistic about widespread application, but IL-based electrolytes are relatively viscous and thus hinder Li+ transport, leading to poor rate capability for IL-containing cells. Better ionic conductivity is sufficient reason for considering IL gel electrolytes loaded with nano-ceramics, rather than using separators. Another way to enhance conductivity is the (challenging) reduction of electrolyte volume and closer proximity of the electrodes: this may well negate the inherent safety factors of ILs. Finally, there is the possibility of using IL electrolytes with emerging anode technologies (Si and nanomaterials such as MOx and cermets) in high-energy cells.
So let's be pragmatic: the immediate role for ILs in Li-ion is high-temperature environments, relatively lengthy cell discharge, and high-energy, high-voltage output, playing to the strengths of the electrolyte. Examples include grid backup in tropic zones and sensing/safety devices in (hot) mines or deep wells. Niche markets, yes, but there are many millionaires that made their wealth in niche markets. And with a trillion possibilities, there is no lack of opportunity for success.