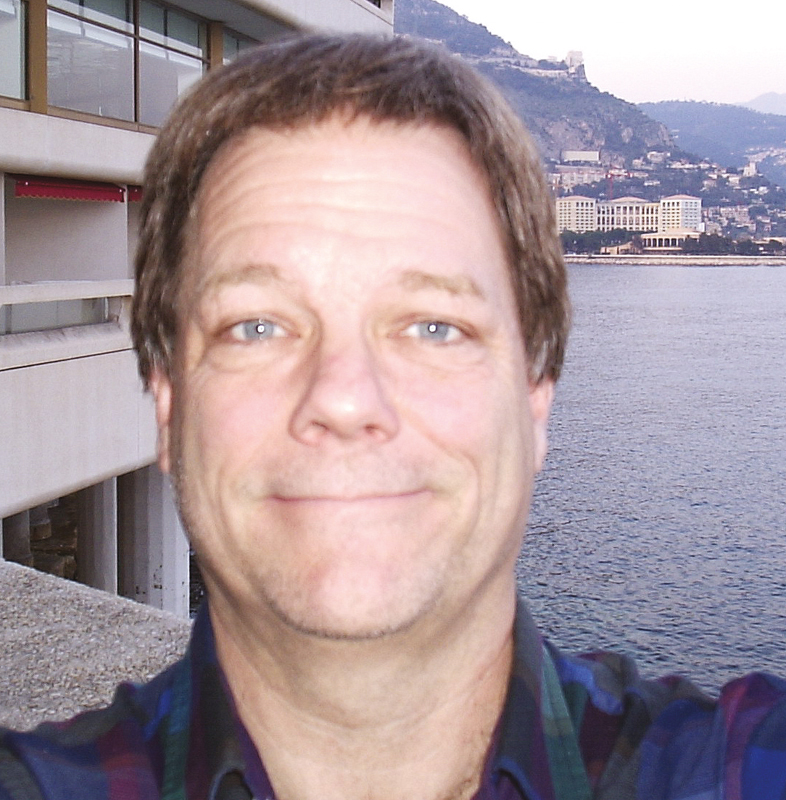 EV enthusiast Mark Hanson wore the BEST hat at this year's Electric Drive Transportation meeting in Vancouver. But with all the environmental focus at the Montreal climate change meeting, was there much here for the taking? Possibly – if the auto industry embraces the plug-in hybrid.
There were three concurrent technology seminar tracks at this year's EDTA conference. This report focuses mainly on the electric drives and battery improvements since last year.
There has been some improvement in Li-ion battery technology, with Electrovaya obtaining new NASA and Microsoft contracts – which, they believe, should help drive down battery prices.
When I asked about buying some for my own EV I was told that they cannot be sold without a special integrated battery management system (this is not like just grabbing a flooded lead-acid battery and buying someone else's charger). The Ni-MH batteries from Saft appeared to be more viable in the near term for general use, but they still need a battery management system, although this is not quite as critical as with the Li-ion.
Neighbourhood electric vehicles shown were the GEM and Dynasty IT, with their still-problematic 25 mph limitation. Both the DaimlerChrysler GEM and Dynasty's IT were 72V designs with six 12V sealed DEKA batteries giving 300 80% DOD (depth of discharge) cycles performance. Typical golf cart flooded batteries give twice that at 600 cycles, but customers prefer sealed batteries, both companies said, adding that flooded batteries are available as an option if desired.
Plug-in hybrids were much hyped at the conference in a day-long track, but the main auto industry players (Toyota, DaimlerChrysler, Ford and
General Motors) were non-committal – although DaimlerChrysler is testing a plug-in 'Sprinter' van with Li-ion and Ni-MH to determine which battery technology is better.
The plug-ins should be the best of both worlds, as true hybrids can be driven on electric power for about 30 miles after plugging in at night and then on gasoline for longer trips, albeit costing an additional US$3,000 over present hybrids (for the larger battery). The marketing 'plug', so to speak, is to charge at less than US$1 per gallon equivalent and get 100 miles per gallon. That is, of course, with electric assist from the wall outlet the night before, but it sounds good to the ear.
The conference conveyed an underlying sense of urgency to do something more than the industry has done previously, with existing technology ripe for the picking as with plug-in hybrids, especially with the Kyoto Protocol on everyone's mind (with U.S. foot-dragging) and the UN climate change conference in Montreal occurring concurrently. This, coupled with the recent rise in oil costs, has created positive pressure for corporations to step up to the plate and produce green technologies. The conference encompassed energy security, pollution improvements and commercialisation of new technologies to address these requirements. And the rhetoric was predictable, from the opening plenary onwards.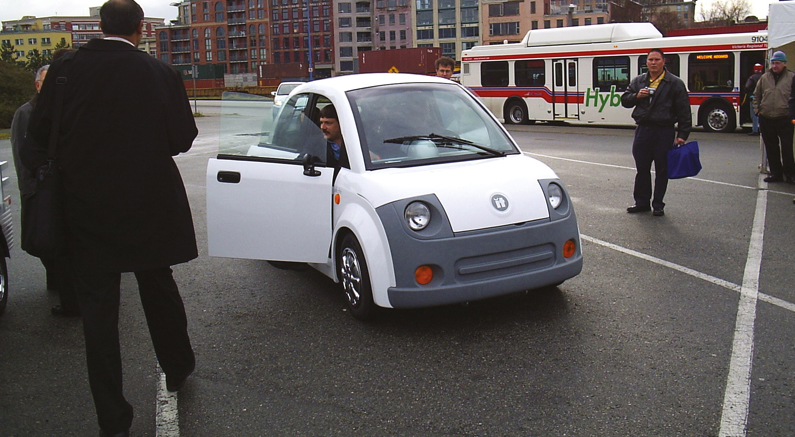 EDTA president Brian Wynne picked up on the obvious – the glaring US dependence on foreign oil and how vulnerable the West is to disruption of the oil supply, as revealed by recent hurricanes. Because oil demand will double in 20 years and cannot be sustained, we need to do something now, he said.
Fuel Cells Canada president John Tak noted that unrestrained growth is not feasible, because every hour there are 10,000 more people on the planet. Alternative fuel is now called 'preferred fuel', he noted. Greenhouse gases must be reduced – Japan plans to eliminate its CO2 emissions by 2100.
Fuel cells are a stepping stone to zero carbon fuels, Tak claimed, and forklifts and transit buses are their first target. Fuel cells provide the average power and batteries provide the peaks. Currently Canada has 750 hybrid buses on order, demonstrating the existence of a market for more efficient vehicles. Canada is hosting the 2010 Winter Olympics and the country is readying itself with 20 hybrid buses for transportation from Vancouver to the Whistler ski areas. "This will not be a demonstration project but real use," he said.
But hydrogen is not the only technology on the table. Peter Toom, the energy director for the 2010 Winter Olympics, spoke about additional sustainable energy uses and vehicles to be put in place before the Olympics. Power from wind, small hydro and geothermal heating are all needed to meet the needs of the present without compromising the future, he said. He supports ground-source heat pumps and alternative-fuel clean vehicles with Govern-ment tax incentives. Vehicles to meet these needs for the Vancouver-Whistler corridor include those using bio-fuels, CNG and ethanol as well as diesel-hybrids and battery electrics.
Cynthia Verugo-Peralta of South Coast (California) Air Quality noted that 40% of Western oil consumption is used for transportation. In Los Angeles and Southern California diesel fuel is the worst NOX offender, generating 75% of the total output from vehicles. Diesel is the most cancer-producing pollution generator in the Long Beach area. These issues need to be addressed, she said, noting that new technology in transportation can help reduce such negative health effects. She said it was "amazing" that the US Government is not addressing these
problems or taking them seriously. The Clean Air Act of 1988 has begun to reduce pollution, but we need a 20% mix of non-polluting vehicles by 2020 and 30% by 2030, Verugo-Peralta estimated. The Sprinter Van PHEVs (plug-in hybrid electric vehicles) from Chrysler and the AC Propulsion converted Jetta look promising, she said.
Seattle EAA president Steve Lough questioned whether the ZEV mandate was still being looked at. Verugo-Peralta noted that the ZEV mandate will be under review over the next year and a half, and said that PHEVs will be considered to meet these needs.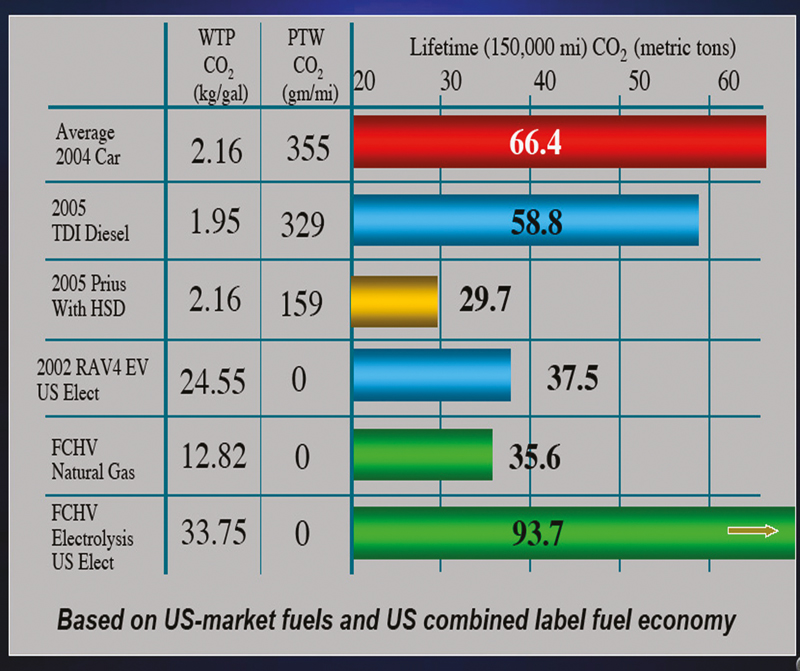 Manitoba Hydro's Ed Innes noted that 90% of Canada's electricity supply comes from renewables, mostly hydro. Off-peak energy could power all vehicles if they were battery electrics, he said. However, the electrolysis process for making hydrogen is inefficient and would cost double the process of making hydrogen with off-peak power, he pointed out. And there were plenty in the audience who were familiar with the well-to-wheel inefficiency of hydrogen (battery electrics 75%; fuel cell vehicles 25%).
You would expect someone from the Power Industry to push the plug-in hybrid concept, and we were not disappointed. Ed Kjaer of Southern California Edison was both moderator and speaker. With California Edison serving 4.2 million customers and producing 21,000 MW with 20% renewables in the mix, it was a sales opportunity. What has the potential to change everything? "The answer is the grid, since that is where I come from," he said. The battery EV technology has found its way into present hybrids. Due to the events of 9/11, the Iraq war and the war on terror, this is a generational issue and will not go away, Kjaer noted.
"We must focus on current solutions, not on 20 years down the road. Plugging in is growing all across the transportation sectors," he said, "and that's good for the grid and good for the country." Battery electrics plugging in on off-peak hours will help smooth out demand and additional power plants will not need to be built to meet the need. This is not related to pollution transfer, he said, because only two or three
percent of electric generation is petroleum-based. Implementing power to truckers, with air conditioning and electricity for sleeper cabs, will reduce one gallon per hour diesel usage for overnight sleeping, he added.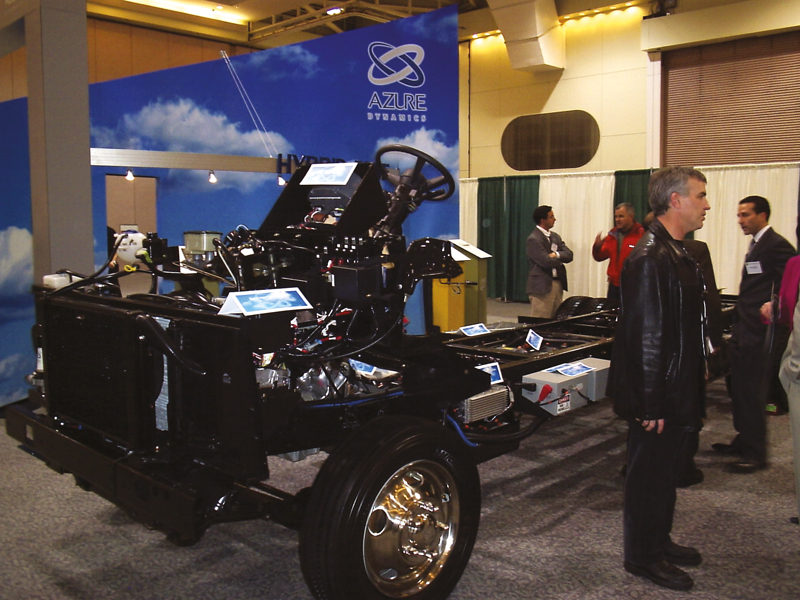 Kjaer mentioned that 16 ships daily out of Los Angeles ports produce pollution equivalent to one million cars, which could be alleviated with port-side power and air conditioning lines. He said that fuel cells are not ready for 'prime time' and we should focus more on PHEV-type viable technology that could meet the needs of four million people in that area. We are putting more performance into hybrids, trading off fuel economy, so we are heading in the wrong direction toward SUV hybrids. They are not as thrifty as the EPA has advertised. "We are shifting tremendous wealth overseas by purchasing all this foreign oil." Kjaer said he is seeing a fundamental shift in the marketplace: the general population is seeing fuel economy as being 'patriotic'. They are seeing the connection between politics and oil, he said as he put up a slide of President Bush and a Saudi sheik.
There is a better way, said Kjaer: plug-in hybrids. PHEVs lend themselves to the future of transportation and the grid. Home refuelling is desired by the average consumer. We can have performance with fuel economy but, with mild hybrids, fuel economy suffers. Virtually no manufacturer now says we will be ready for fuel cell vehicles before 2020 (a couple of years ago it was 2010). The gasoline mild hybrids are a start, but not a destination – some do not reduce petroleum reduction like the 'SUV hybrids' because they are not driving down the road on electric power like a PHEV would. The Prius and Insight are two exceptions, but the present trend toward 'bigger is better' cannot be sustained. Energy security cannot be maintained so PHEVs are critical to meeting this need.
With wind supplies at night and less usage at night, PHEVs would help load balance the grid, are available for transportation, and should be used. The grid is 52% coal-based in the US, but the power plants are cleaner than tailpipe emissions thanks to coal gasification scrubbers meeting EPA requirements. Increased transportation supplied by the grid will be supplied by means other than coal. It is a fallacy, Kjaer said, to suggest that with PHEVs pollution is merely moved from the tailpipes to the smoke stacks. There are many good reasons to connect our transportation to the grid, including energy security, excess capacity, less pollution and sustainable power grid supplies. "We would not need to add any more power plants if everyone owned a PHEV."
Jon Leonard of the TIAX consultancy was of the opinion that PHEVs would eliminate 1.46 million tons of pollutants per year.
Ken Kurani of the University of California at Davis noted that, with the recent petrol price surge, many SUV owners bought hybrids out of anger at having to pay the higher prices. People bought SUVs thinking they were going to tow a boat or go water skiing, but never did. In his marketing study he noted that women bought them because their mothers had minivans and they wanted something different.
Bob Graham of the Electric Power Research Institute (EPRI) spoke about the Plug-In Hybrid Vehicle Initiative. In the energy bill just passed, PHEVs were recognised as a need to fulfil. Energy security, CO2 reduction, economic development and air pollution are the main reasons for going to PHEVs. Millions of people drive less than 30 miles a day, said Graham, showing a graph of compiled data. As an example, he said, we could use a Federal Express PHEV to reduce operating costs. EPRI is also working on the DaimlerChrysler Sprinter PHEV van and a 40ft bus project in Brazil. EPRI is measuring the improvements in life quality, and the cost of PHEVs. Half the batteries are Li-ion and half are Ni-MH to compare which
system are the best. Every day as part of the test the Sprinter van is discharged to 80% DOD. Lithium-ion batteries would make battery EVs a large market for manufacturers, he said, and EPRI wants to work with anyone who wants to work on PHEVs.
With all electric vehicle developments, however, everything rests with and in the batteries. EPRI's Dr Marcus Alexander spoke about Ni-MH and Li-ion batteries, which he believes have the greatest potential for PHEVs. According to Alexander, batteries are improving and growing in power – but have less stored energy for the increases in cost. Calendar life is 15 years for both Ni-MH and Li-ion, he said. Present costs are US$750 per kWh – mainly due to nickel prices for NiMH. Li-ion is similarly priced. PHEV performance to 40 miles would be a good target to work to, but cost is the main issue for commercialisation.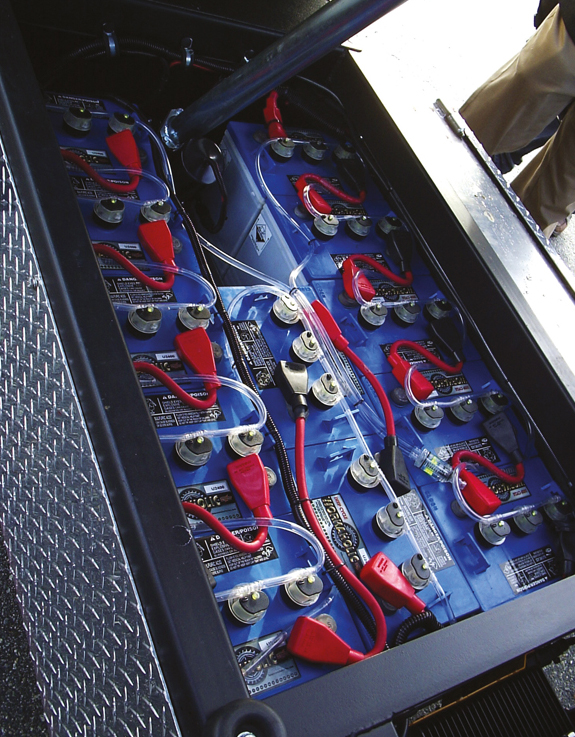 Dean Taylor of Southern California Edison discussed the life cycle cost analysis of plug-in, hybrid, power assist hybrid and conventional vehicles. With motor-controller costs coming down, he said, EVs can meet or exceed cost parity with conventional vehicles to help the technology move forward. With petrol prices at US$2.25 compared with 5-10 cents per kWh for electric power, there's a two-to-one cost saving over gas per mile travelled for an average vehicle, he said. NREL and DOE (Department of Energy) data was used for the cost comparison analysis. The typical extra cost of a PHEV over a standard hybrid is US$2,000.
The break-even point for a PHEV over an HEV is ten years at US$2.25 per gallon, but when petrol hits US$4 per gallon payback occurs in a couple of years. Battery cycle life is about 150,000 miles for both Ni-MH and Li-ion. This is a dramatic battery breakthrough – going from 500 cycles in the mid 90s to 3,000 cycles in 2005. Because consumer behaviour tends not to be logical – for example, there's no payback for a leather seats option – consumers are willing to pay US$1,400 more for a PHEV, as graphs from DOE data showed. Only 1% of the people surveyed wanted to go to the gas station and 63% strongly preferred charging at home. Charging at home and avoiding the gas station was definitely preferred by a majority of people, according to a study. Reports are available on www.epri.com
Mike Saft of Saft America discussed Li-ion batteries for PHEV applications. Plug-in requirements are greater than eight-year life and more than 1,000 cycles. 'Affordability' is put at US$300 per kWh, which can be realised with high volumes. SAFT's Li-ion system has an energy density of 150kW per kg and it has a 3,000 deep cycle 80% DOD discharge life. Its life has been tested to 15 years. Energy efficiency of 90% is realised and self discharge is 5% per month (by comparison lead is 90% and Ni-Cd is 80% efficient.) Li-ion batteries are not as toxic as they used to be, and can be recycled to the factory as well as Ni-MH batteries with nickel. A Li-ion battery has twice the capacity of NiMH, he noted. Presently 98% of lead auto batteries are recycled; thanks to the value of Li-ion and Ni-MH batteries they are 100% recycled. There will also be secondary uses in NEVs as well.
As ever, it's the little guys and enthusiasts who seem to be pushing the benefits of plug-in – but whether they will be heard in Washington or Detroit is anyone's guess. UC Davis's Andy Frank built his first PHEV in 1971. Since then, he said, many have talked about the future of automotive technology and engineering with regard to sustainability. Every car and bus can be converted to a PHEV with no change in lifestyle and with reduced energy costs. The average person uses his or her car for three hours a day; it could be plugged into a renewable source the rest of the day. One tenth to a third of the fuel cost is realised when compared to the gasoline equivalent – the same as buying petrol at 25 cents to US$1 per gallon. "The guy on the street only cares about cost, so that is the best marketing argument," he said.
It is more convenient to plug in at home than to visit a petrol station 35 times a year. A 10kW solar system is good for 30 miles of driving for each hour of sun. "This is the same as creating a gallon of fuel an hour," he said, "with a payback period of eight years." An EV will go three to four times further than a similar hydrogen-generation fuel cell car, which is only 50% efficient.
Wind turbines can also be used. Batteries can be charged at night from the wind generator at a 1.5kW charge rate, with no infrastructure required. PHEVs are most effective where large renewable solar/wind resources are available. We are integrating transportation with a stationary energy producer for a most efficient system, said Frank. "We know the PHEV is real, so let's go do it, automotive industry!"
I left Vancouver wondering which would come first – a commercial PHEV Prius, or petrol at US$5.00 a gallon. Only time will tell.