There are not many brands in the lead-acid battery industry as renowned and respected as Wirtz Manufacturing. The company, which began in a US depression-era garage, is today a multi-national corporation. With his brothers by his side, John W Wirtz II runs the family business. He spoke to Paul Crompton about the importance of following his own vision for the company while never forgetting its past.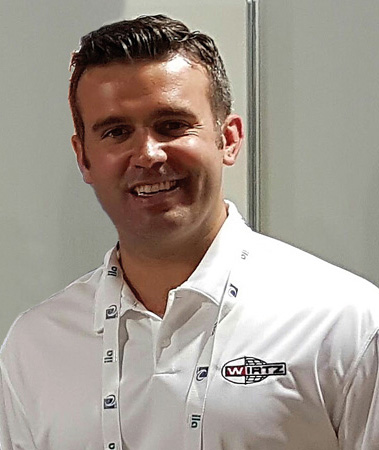 "A team driven toward a common goal is an incredibly motivating thing," says John W. Wirtz II, the latest scion of the Wirtz Manufacturing brand to hold the reigns of the multi-generational US company.
The Wirtz family, and brand, have become integral parts of the lead battery industry over many decades. Anyone who has been to a battery conference in the past decade will instantly recognise John— as well as his brothers Jason and Rob, and father John— holding court at a booth or striding around the exhibition halls.
Sixteen months ago Wirtz II, the fourth generation and one of three brothers to work at the Michigan-based company, became the latest in the family-owned company to hold the title of president, charged with ensuring the reputation of the equipment manufacturer for the lead-acid battery industry continues to flourish and grow.
The family tree
From a small garage in the 1930s, the Port Huron-based firm has expanded its reach to include grid and plate manufacturing, oxide conveying and mixing, battery assembly and corrosive resistant conveyors, finishing line machines, and battery recycling technology. The firm consults, designs, builds, installs, commissions, trains and services individual pieces of equipment through to "Greenfield" factory projects.
Today, Wirtz has manufacturing and technical hubs in the US, China and India, but the Wirtz story begins with more humble origins. John's great-grandfather— also called John Wirtz— was born in Russia and came through Ellis Island as a four-year-old boy. The family settled in Deckerville, Michigan. As a young man he worked various jobs including roles at the Dodge Motor Car plant and Mueller Brass Company in the state. His last job before the Great Depression was making moulds for the battery industry. The Great Depression of 1929 left him out of work with two choices: go on relief or start his own business.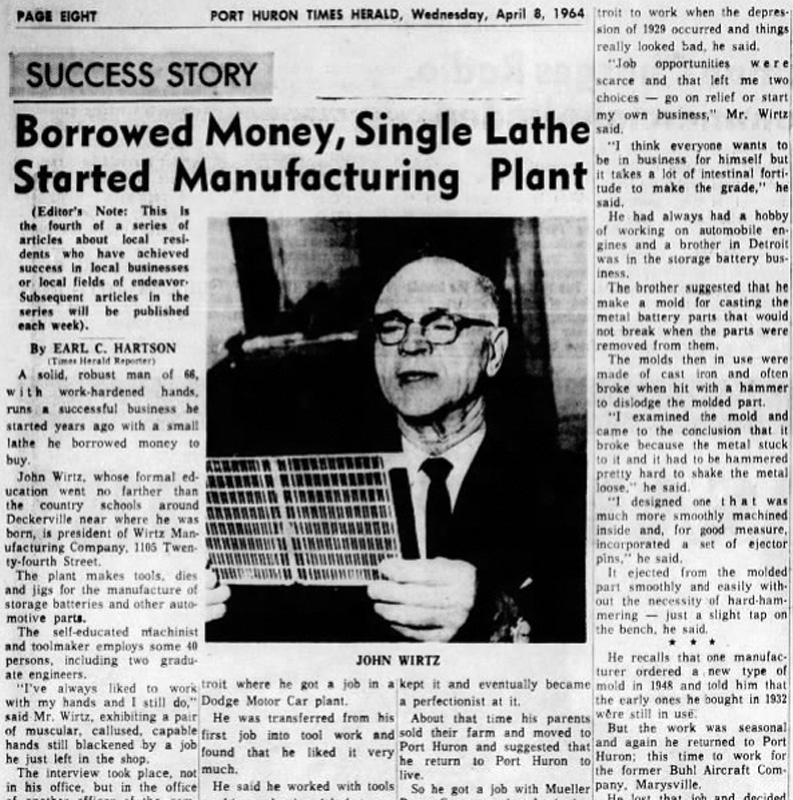 "I think everyone wants to be in business for himself but it takes a lot of intestinal fortitude to make the grade," John is quoted as saying in the 8 April, 1964, edition of the Port Huron Times Herald.
This 'fortitude' meant the first of the two choices was never an option; he began making moulds for casting lead battery grids in his garage. He quickly improved the moulds by incorporating higher quality machining of the cavities and adding ejector pins.
He would later go on to patent a casting machine for battery plates that operated automatically, rather than having to be opened and closed by hand. The company continues his proud tradition of designing cutting edge equipment in the field of battery manufacturing.
To date, Wirtz Manufacturing has 50 patents, with another 18 in process. Some of those patents include critical areas to gravity casting, continuous casting, steel belt pasting, and more recently reform and texturising of punched grids, which is the key to producing a high quality punched grid.
However, it wouldn't be until Wirtz II's grandfather, John William Wirtz— a U.S. Navy veteran who served during World War II from 1943 to 1946— that the lead-acid battery division as we know it today would take shape.
There are many striking parallels between John W Wirtz II and his grandfather, and not just in name. They both read business at university, albeit 56 years apart: John at Michigan State University (where he majored in Supply Chain Management in Business, and graduated with a 3.68 average in 2005) and his grandfather at the University of Michigan.
However, running the family business was not Wirtz II's motivation for choosing his degree. "Although I was always very interested in what we did, I never wanted to just assume that was what I would do. When I selected my major, I selected a major that would give me opportunities outside of our business if I chose to go a different path," he says.
The philosophy and work ethic of Wirtz II's great-grandfather has always flowed through the very heart of the company, and today it is manifest in the fact that being the heir to the family-owned business doesn't mean a role at the firm is rubber-stamped.
"My father made sure we all knew we did not have a birth-right to the business, if we wanted a chance to run it, we needed to earn it through hard work and education," Wirtz II says.
In practice that meant the brothers have worked in every department of the company including the manufacturing process, from machining components to welding frames and building machines.
And, just as his grandfather had started life at the family-business as a machine operator before going on to run the company, Wirtz II would complete a 14-year 'apprenticeship' in various managerial roles before accepting the role of president from his father, John Ogden Wirtz.
Wirtz II's professional life at the company began after college as a material manager. In his rise to the top he held the positions of manufacturing manager, and vice-president – equipment division where he led the global coordination of manufacturing operations related to Wirtz and equipment brands in the company's technology portfolio: Leko (acquired in 1989), Oxmaster (acquired in 1992), Conbro (acquired in 2000), and BatteryRecycling Systems (acquired in 2002).
"I think one of the things that really drove me to work and stay in the business was the opportunity to work with my brothers as a team," says Wirtz II. "We have always been very close, and have always worked very well together as a team.
"Both Rob and Jason have similar business backgrounds from Michigan State University, with Rob having some additional background in engineering and chemistry.
"All of our backgrounds and different talents really work well together to allow us to have different perspectives as well. We also have another younger brother, Dane Wirtz, who is currently attending Michigan State University, and may be looking to join the business as well. It's exciting to think there could be four of us working together in the near future."
In his blood
Although never guaranteed, a life working in the company was assured at an early age as Wirtz II and his brothers were taken into the working environment by their dad on the weekends where they would ride through the office on their rollerblades and bikes 'always having a lot of fun'.
Amidst the play, Wirtz II became curious about what was going on in the factory when visiting his dad in those very early days.
Pre-empting his son's potential, his dad would ask engineering questions of his sons from a young age to see how he thought through different situations.
"The questions got tougher as we got older and developed into business questions as well," he says. " I realise now how important that was to develop a specific way of thinking and problem solving."
Being the fourth generation member of a family business also affords the opportunity to understand the empirical lessons of business and how to run a global organisation from those who learnt them first hand. However, one of the most valuable lessons that really stuck with Wirtz II was a personal one. His dad always stressed that working hard, as in never being outworked in anything you do, was key to success.
"I was very lucky, in that from a young age, I had parents who drove in values associated with hard work, and what it takes to be the best at what you do, and to never quit," he says.
"I was equally fortunate to have been close to my grandfather for my childhood and for him to mentor me during my first 12 years out of college. I couldn't have been more fortunate to have had the opportunity to learn from both my father and my grandfather on how they ran the business, and to be able to absorb experiences from them."
Wirtz II says he continues to rely on those lessons each day in his approach to everything, both at work, and life in general. He also still runs things by his father to get his insight. "So those lessons are still coming, which is great," he says.
Leading a 4th generation business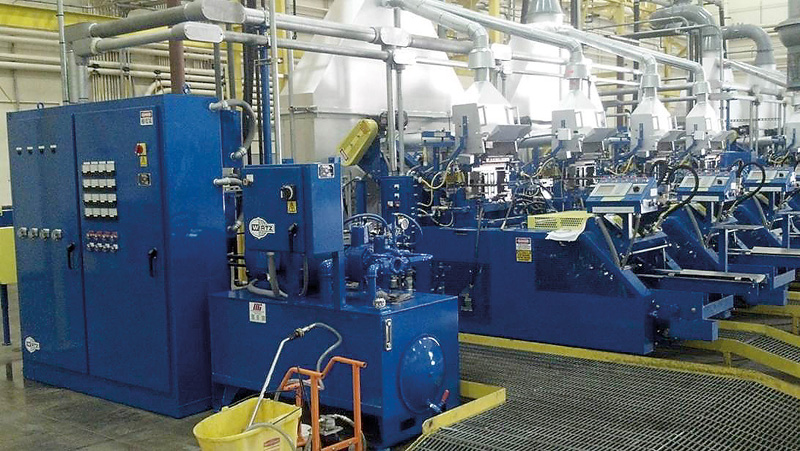 With a heritage that goes back to 1932, you could be forgiven for thinking that the pressures of expectation weighs heavily on Wirtz II's shoulders; but he has turned those pressures into an asset.
While his greatest personal advantage may lie in his background— learning from his father and grandfather for the past 38 years— his management advantage lies in the fact that he is fortunate enough to work with his brothers.
"We are a fourth generation company, that doesn't happen often," he says. "The pressure is simple, we need to make the right moves to keep it going.
"There are three of us with the same upbringing and drive in the business, and we have always worked as a team in everything we have ever done, and that is no different in our business.
"Both my grandfather and father always discussed the importance of a team, and specifically the team we have had over the years at Wirtz.
"Understanding and continuing that as a company culture is critical, and I think an advantage I have as well in understanding what has helped make us successful. A team driven toward a common goal is an incredibly motivating thing.
"We really focus on getting people in, developing them, and making sure we do the right things to keep them. Our team-approach applies to everyone, and our relationship is a two-way street in that our goal is to ensure our people can count on the company, and the company can count on them.
"I think that shows when you look at the average tenure here, and how many people have worked here their whole lives. It also shows in our extensive product and process knowledge in our industry.
However, becoming the boss and running a fourth-generation company is not easy. The most challenging part, Wirtz II says, was developing his way of doing things and implementing changes into the business.
"I had to be brutally honest with myself every day in order to make sure I learned from successes and mistakes to improve and mature to where I needed to be to do what I am doing today."
An important factor in being able to do that lays in the fact he is fortunate to work with his brothers every day, to continue to have a lot of fun— just like those kids whizzing around the plant on bikes and roller blades— and remain ambitious enough to continue to drive their company toward continued success.
Driving growth
The 38-year-old's desire to "never be outworked" continues with investments into new technologies such as nickel-zinc developer ZAF Energy Systems in 2019.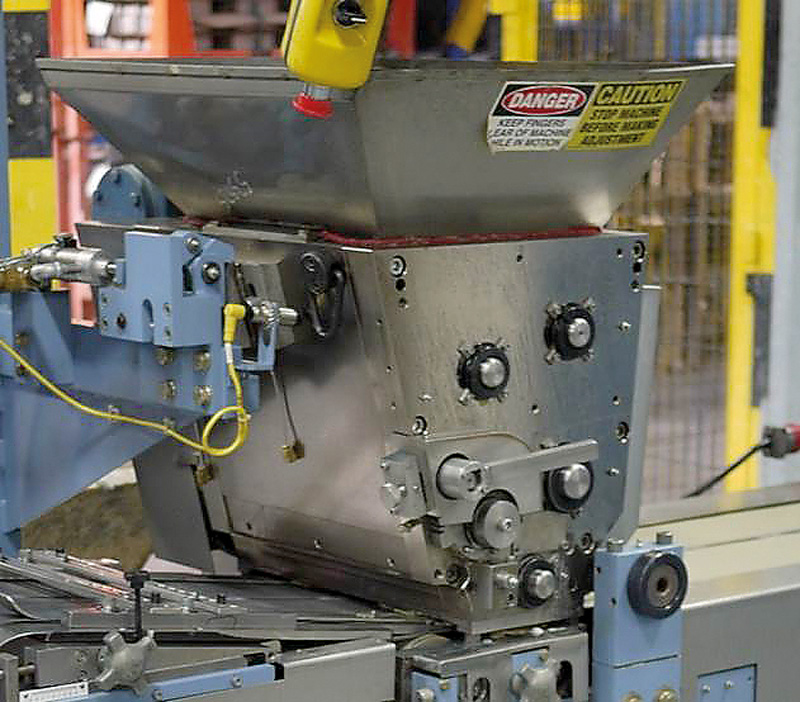 However, his desire to drive forward the company's proud tradition in the lead-acid battery sector continues with Wirtz Manufacturing's membership in the Greenseal Alliance— which brings together industry-wide experts to transition lead battery manufacturers to bipolar battery production— as well as the Consortium for Battery Innovation.
Bipolar technology is an area of the lead battery industry the company has been involved with for many years. In early 2017, Advanced Battery Concepts (ABC) began working with Wirtz to develop production-scale paste and assembly lines for its battery technology. ABC's proprietary PrecisionAM™ pasting technology applies active materials to a bipolar electrode. Since 2017, Wirtz has become actively involved in a number of additional companies working to move the industry forward, including Gridtential and their Silicon Joule bi-polar technology, and ArcActive as a couple more examples.
It's this desire to continue moving the company's legacy forward that excites Wirtz II, especially the opportunity to continue to grow the business and continue their impact in the energy storage market.
"If lead-acid wants to continue to be a leader in the energy storage market, we need to embrace improvements to battery designs, and work to improve current processes to better compete.
"I believe it is critical for us to be committed to this change. GreenSeal Alliance is an example of a major advancement in the performance of lead-acid batteries, as are both Gridtential Silicon Joule technology and ArcActive technology. "We are excited about these technology advancements and the opportunity to work with them to help make sure there is manufacturing technology available for commercialisation."
As you would expect, especially when talking about energy storage systems, the topic of lithium-ion is never far away.
Wirtz II considers lithium-ion an established competitor in the market, and believes the technology will continue to see "pretty rapid growth" in certain sectors of the energy storage markets.
"That being said, if you really look at product performance, safety, material availability and manufacturability, and recycling and sustainability, there is no other product in the world that checks those boxes as well as lead-acid batteries," he says.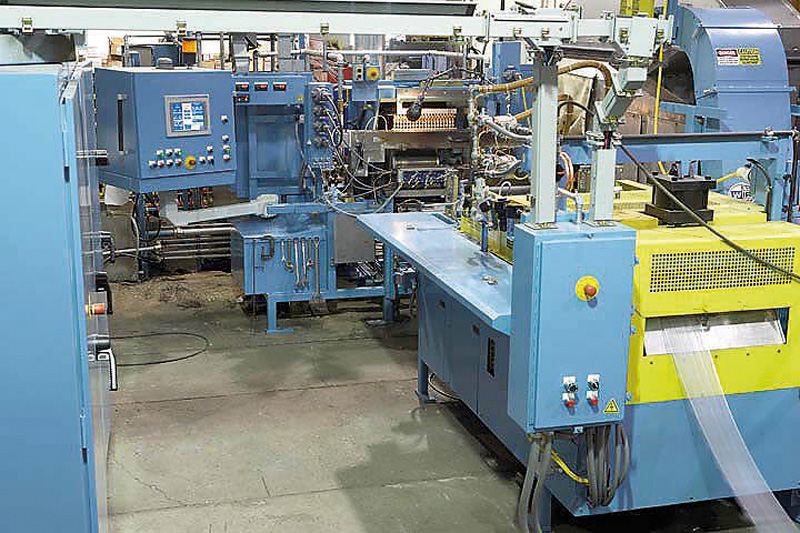 An area where Wirtz made its name is in the area of lead-acid continuous plate-making technology including Concast, pasting, and its patented punch technology. In more than 88 years of the company's history, it has developed the global benchmarks for both gravity and continuous-grid casting and punching technology, and the industry's most productive and tightest tolerance plate-making equipment.
The company holds many patents that allow its customers to make the most consistent and most accurate battery plates in the world.
"We are working to continue our tradition of innovation and product development to ensure Wirtz technology continues to lead the market into the future," says Wirtz II.
However, when pressed, he declines to discuss specifics at this point, adding "I am very excited at what we have coming up".
When asked to predict the next big advancements in the lead battery industry, and how Wirtz is positioning itself to stay one step ahead of the industry, Wirtz II's guard appears for the first time.
What he will say is that the industry is seeing the next major advancements right now in battery design improvements and innovations. "There has been more development in this area over the past few years, than in the first 10 years of my time at the company. It's very exciting," he says.
However, Wirtz II says it is not products but the culture the company has fostered that he's most excited about. "That has continued to evolve to tackle the challenges we face in today's market. We are moving fast, we are developing a lot. You will have to wait and see what we launch next."
New markets
An area of the industry previously unexplored by Wirtz until recently was recycling, despite lead-acid batteries being the most recycled product in the US, and should be a model for sustainable products. "No other product, and certainly no other energy storage product, even comes close," says Wirtz II.
To this end, last September the company launched its 'Ready to Run' (RTR) technology, headed by Wirtz II's younger brother Robert.
The 'plug-and-play' system is housed in a 40ft-shipping container and is able to separate the battery into metallic lead, lead oxide, separators and polypropylene.
The skid-mounted system is able to process 1-24 metric tonnes per day, and can be up and running within 24 hours of delivery.
Wirtz II says: "In developed markets, lead-acid recycling is a remarkable success story. In undeveloped markets, there is still a lot manual and 'informal' recycling that contributes to a negative image for polluting.
"We want to help improve that, and introduced RTR to make sure there is an option to allow for safe, environmentally-friendly and sustainable recycling methods across the global landscape. The success story of recycling and sustainability is a major competitive advantage against competing technologies."
Avoiding the clichés
One of the easiest, and most fatal, things a company can do is become complacent (think of Blockbuster or Polaroid for examples). But the philosophy of hard work runs through the Wirtz family's DNA. It is why the company continues to move forward, embracing changes in the lead battery industry and finding solutions to its problems.
At the head of that company is a man who is building a business in his own vision, but on the foundations created by his grandfather and father; a company that, with his brothers by his side, means Wirtz II is always looking to the company's future, without forgetting its past.