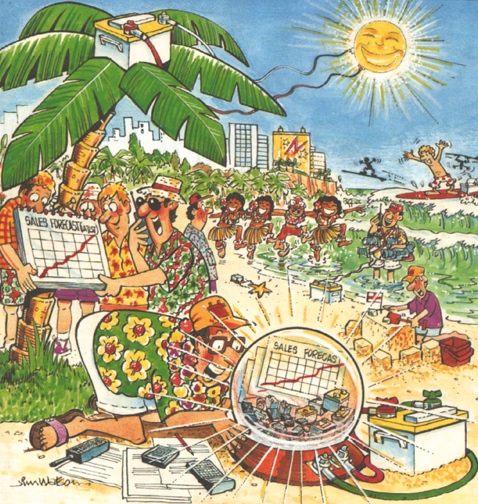 With Powermart down to three hours and a very thin technical programme, BCI's annual convention is now just an awfully expensive networking opportunity. But who do you network with who you don't know already? Can it be made better? The Editor ponders aloud in this 'open letter' to the BCI board. The best idea for improvement could win an all singing video iPod… so read on.
Eleven years ago, when I knew very little about the working of the North American lead-acid battery industry, I endured what seemed like an eternity to fly from London to Maui to meet the great and the good.
I took solace from an inspirational speaker, one Captain Kelly, who had spent years in a Hanoi prison cell; learned about the ALABC, and about premature capacity loss; visited the 'Arizona' war memorial; and flew home. It was expensive, but a huge publishing house was paying for the trip. But I had to meet you all, didn't I?
Coming to Myrtle Beach this later, what's changed? Some of you have retired, but keep coming back. Day one of the meeting and I'm listening to a stand-up comedian, who's found a very attractive niche in 'corporate comedy', followed immediately by David Weinberg. What a dreadful piece of scheduling! One guy was there to make you laugh and David's job to make you cry, which he did. There's all kinds of sh*t coming, and his job is to head it off at the pass.
Comedian Greg Schem's modus operandi is straightforward enough: it's easy to make fun of some of our frankly tedious literature, our weird acronyms and a few of our people, and that's what he does. And it's great to laugh at ourselves – I was laughing too – but is this what we've come to? What do we do for an encore – since there are so very few ladies in this industry, I thought – why not 'corporate strippers' or, (if you're offended by this, I'm sorry) a bizarre sex show with certain 'devices' running on various battery chemistries… that would sort the men from the boys.
But seriously, you have to question the value of coming together for even two days in this current format. With a plethora of good technical battery meetings all year round now, which some of you attend and which BEST always reports, it's now time to scrap not just the President's dinner but the whole technical programme itself. Leave in what's essential – the forecasts, the scary stuff from David Weinberg and perhaps something new – a State of the Industry address, picking up on the highlights of what's really going on for the benefits of the uninitiated. And if you're looking for that speaker… Eurobat has got it's convention down to half a day, surely Americans can do better.
And then we simply must improve the networking opportunities. BCI's golf tournament is the classic. Keep it ! I don't play, but I can fit in lessons along with the Mandarin classes and the anger management sessions.
• Powermart: Nobody likes going to all the trouble of transporting and erecting a stand for a session of just three hours. (This year we didn't bring ours, because the TSA thinks it's a missile launcher.)
• Speed dating: Seriously, why not formalise short, sharp 15-minute dialogues between the key battery buyers and the main industry suppliers? Everyone who's selling gets to see everyone who's buying, and if you want to meet again Mo Desmaris will let the relevant parties know.
• First timers: There is a place for education in the programme – every year there are newcomers, so why not run a 'batteries for dummies' half-day seminar?
As everyone is now beginning to admit, the battery business (in the U.S. at least) is moving towards being one of distribution rather than manufacture. Bob Cullen, of Hollingsworth and Vose, made the point that the U.S. is moving from manufacture to service. That has many consequences – and if you want to learn what they are, then come to the U.K. and I'll give you a guided tour. You won't like the reality.
There are only half a dozen major lead-acid battery producers left in the U.S. and this has profound implications for us all. It means BCI has the opportunity to absorb and represent all the other chemistries and be relevant to all the world's manufacturers. I believe the organisation can only survive by being a bigger, broader church. Or it may die.
Business is analogous to the forces behind nature – evolution and adaptation to change. It is not ordained that BCI must survive forever. The battery climate is changing fast, and we must move to greener pastures or face the inevitable.
If you, the readers, agree with what I am suggesting, then please fill in the form below and
e-mail or fax your response. If you wish to remain anonymous, that's OK. But if you could let us have your company affiliation, that would be useful. We'll give the most imaginative suggestions full coverage (and an all singing and dancing video iPod).