Key representatives of the Advanced Lead Acid Battery Consortium (ALABC) met with battery specialists from the US Advanced Battery Consortium (USABC) in Detroit last month to bring them up to speed with latest results on ALABC's development programme to keep lead acid technology abreast of the demands of future automobile electrical systems (hybrids).
The meeting could be the first step towards a collaboration that may result in some hybrid vehicles becoming available at a lower purchase price than would be possible today.
Much effort has gone into the development of nickel metal hydride and lithium ion batteries and it is likely that the nickel battery, at least, has an important role to play in high voltage hybrids into the future. There has been much less Government support for the development of the VRLA system in such applications but, through the efforts of the ALABC and its funding members, dramatic progress during recent months has shown that this system, too, is set to make a solid contribution in future automobile designs.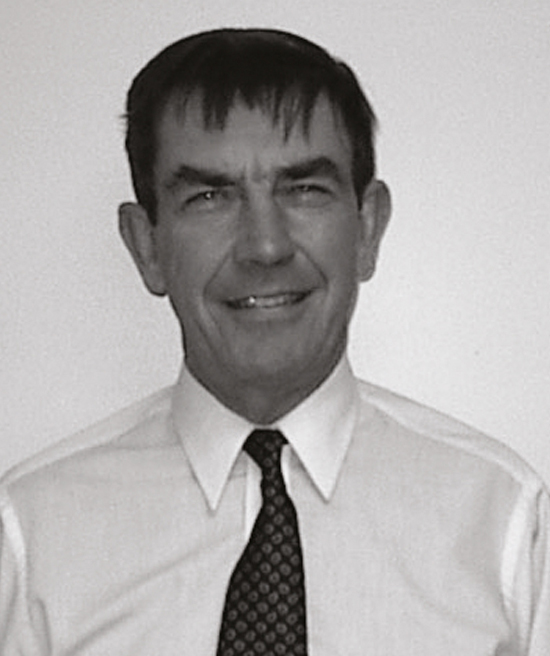 Dr. Pat Moseley, who chaired the ALABC delegation, said: "I think that the meeting was extremely useful to both groups. Constructive discussion between USABC and ALABC was overdue. I believe that we developed an understanding of each other's aims and objectives and, probably, learned a lot from each other. The USABC were particularly interested in the marked improvement that we have achieved by using an optimized combination of carbon materials in the negative plate, since that can assist the operation of VRLA in high-rate partial-state-of-charge operation with rather little addition to the cost of manufacture. For our part we were gratified to see how important this advance will be because regenerative braking will be a sine qua non in all the configurations currently under consideration, and the improved negative plate mix allows VRLA to cope with this duty.
The USABC team included Ted Miller of Ford Motor Company, Bruce Blakemore also with Ford, Harshad Tataria and Subhas Chalasani of General Motors, while Eckhard Karden of Ford Research & Advanced Engineering, Aachen, Europe joined the conference by telephone.
Moseley continued: "We were asked some very challenging questions – especially on the absence of a couple of key North American players from the ALABC membership.
The sensitivity of funding wasn't raised although USABC may be willing to examine and test batteries produced during ALABC's upcoming demonstration phase.
This meeting is a major step forward and I hope that, through continuing cooperation, we may be able to help each other reach our respective goals. We now have something to build on".
Getting lead into shape for the race ahead
Rob Putnam of ILZRO explains how lead-acid technology should give a price advantage to hybrid automobile vendors.
While it looked to many like the battery might take a central role in automobile technology following California's 1990 zero-emission-vehicle (ZEV) mandate, the initial limitations of early electric vehicle (EV) concepts proved unable to match the cost-effectiveness, reliability and convenience of the internal combustion engine (ICE) and therefore failed to earn popular acceptance within the automotive engineering community.
Nonetheless, the investment into electric propulsion and new battery designs was not in vain as the auto industry has now created a hybrid technology, coupling the ICE of a conventional gasoline-powered vehicle with the battery and electric motor of an EV. The net result is an entirely new type of power-train which offers the potential for low emissions and high fuel economy, while maintaining the power, extended range and convenient fueling capability of conventional vehicles.
The automotive industry and buying public have approached hybrids with varying levels of enthusiasm. The Japanese automakers were the first to bring their concept hybrids into production. In 1997, Toyota introduced the Prius in Japan, with sales in the US and Europe following in 2001, at which time Honda also launched its Insight hybrid. Strong early sales have shown hybrids to be more than a passing trend, and they will no doubt become more common and more available – witnessed by the recent introduction of hybrids by Ford (Escape), GM (Silverado) and an expanding line-up from Toyota (Highlander, Lexus rx400h) and Honda (Civic).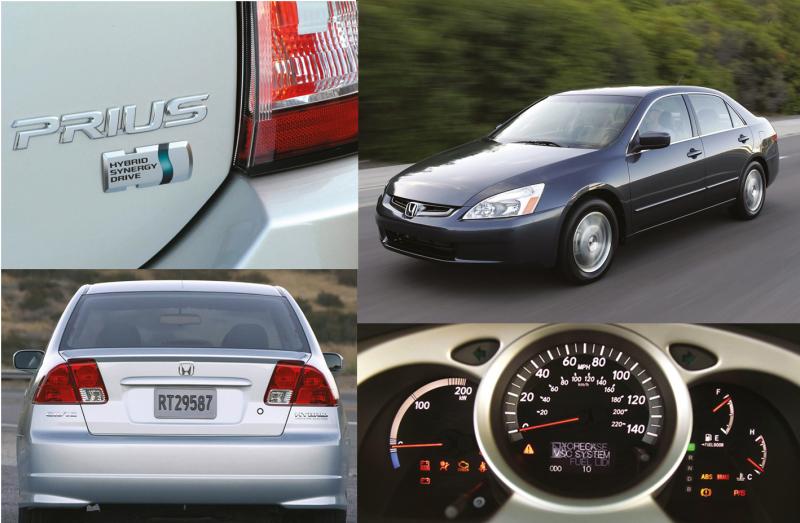 But hybrid technology comes at a price, and there may not yet be a compelling economic reason to buy one. Toyota's Prius sells for about $5,000 more than the similar-sized Toyota Corolla, and Honda's Accord Hybrid sells at a US$5,500 premium to the comparably optioned Accord EX. That price gap will be tough to make up even if gas prices remain above $2 per gallon in the US.
The Prius and the Accord Hybrid are alternatives to the Corolla and the standard Accord, both of which already get relatively good gas mileage. This makes it difficult to recover the price premium. Ford's Escape, on the other hand, has a slightly smaller premium, but still costs $2,500-$3,000 more than its non-hybrid sibling.
The current price disparity will likely keep the majority of customers away once the initial wave of early adopters has purchased a hybrid. So in order to compete with standard mass-marketed vehicles automakers will have to offer more hybrid choices and reduce prices. Closing the price gap is a huge opportunity for the lead-acid industry because a significant proportion of the higher price of the hybrid is almost certainly tied up in its costly nickel metal hybrid battery, which is only likely to get more expensive, not less as hybrid sales grow. The nickel price hike has been greater in proportion to that of lead as commodity metal prices have grown in the last couple of years.
The Role of VRLA in Hybrids
When the first full hybrids were introduced, conventional SLI or industrial valve-regulated lead-acid (VRLA) batteries in production were incapable of operating in the full hybrid duty-cycle and so Honda and Toyota opted for using more costly nickel-metal-hydride (NiMh) batteries. While a seemingly insignificant move at the time – it was the first case of an alternative battery chemistry to lead-acid being introduced in a mass-marketed vehicle in nearly a century.
The lead-acid battery industry – through the Advanced Lead Acid Battery Consortium (ALABC) – has been working diligently since then to improve VRLA's capabilities in hybrid-mode operation. In 2002, ALABC successfully demonstrated with a Honda Insight that a uniquely designed VRLA battery could successfully operate in full hybrid mode. The challenge is now to undergo life-testing to see if the batteries can achieve reliability and mileage requirements.
Equally important to hybrid applications is recent ALABC work on carbon additions to the negative plate which is facilitating the battery's ability to accept energy from regenerative braking – which may hold the key to unlocking a bigger market for mild hybrids such as GM's Silverado. Mild hybrids employing VRLA are likely the automaker's best hope for generating further fuel economy gains at the lowest cost.
ALABC is continuing its research with a workplan in 2005-2006 which focuses on both mild and full hybrids. There is no greater prospect for reducing the cost of full hybrids than the successful demonstration of the capability and reliability of VRLA in this application, although this will undoubtedly be the lead industry's greatest challenge. But the portents are good. Materials cost of the new lead-acid batteries could well be less – they are likely to use less lead but what they do use will be utilised more efficiently. Some of the latest developments in lead-acid battery production engineering are showing the road map ahead to companies with vision and imagination.
Despite some mixed signals, it's very unlikely the auto industry will abandon hybrids since they address their greatest challenges: getting the maximum distance out of the fuel used while leaving behind the minimum level of emissions. And hybrid technology is the only bridge standing to a future world of a hydrogen economy.
'Set America Free' has high hopes of hybrids
A group of national security experts and representatives of prominent Washington think tanks and public policy organizations including the Institute for the Analysis of Global Security (IAGS,) Foundation for Defense of Democracies (FDD,) Center for Security Policy, Hudson Institute, National Defense Council Foundation (NDCF), and the American Council on Renewable Energy (ACORE) has released an open letter to Americans and an accompanying blueprint for energy security called "Set America Free," calling for immediate action toward reduction of America's demand for oil. The document spells out practical steps which can be undertaken over the next four years and beyond to dramatically improve America's energy security, including a rapid switch to hybrid vehicles. Members of the group called upon America's leaders to adopt the plan, with a view to rapidly expanding fuel choice in the U.S. transportation sector beyond petroleum while exploiting currently available technologies and infrastructures. If the plan is carried out in full, U.S. oil imports would drop by as much as 50 %.
While until recently the alternative fuel message had been the territory of environmentalists this changed on September 11, when it became evident that many of America's security and economic problems stem from its dependence on oil imported from unstable parts of the world. In fact, the U.S. is facing today a "perfect storm" of strategic, energy, economic and environmental conditions that demand a dramatic reduction in the quantities of imported oil. Dealing with the problem will no doubt be a daunting task facing the President over the next four years and beyond.
Anne Korin, director of policy and strategic planning at IAGS, explained that the Set America Free project analyzed the costs and benefits, time frame for commercialization, feasibility, and economic impact of each path to energy security. "We worked with energy, technology, and policy experts with a wide variety of expertise to develop a plan that could significantly reduce our dependence on oil within a reasonable time frame and at reasonable cost. Since two-thirds of our oil is consumed in the transportation sector displacing oil in this sector was our focus. Only 2% of electricity in the U.S. is generated from oil so shifting power generation away from oil does not solve our problem. Additionally, we realize that full market transformation of the transportation sector is a very long process – 15 to 20 years. That is exactly why we must start this process without delay."
"Set America Free" upholds a number of principles: Due to the urgency of the issue, the coalition believes that there is no time to wait for the commercialization of technologies that are still at the research and development phase. The group believes the U.S. should implement technologies that are ready for deployment and simply need a push to enter the mass market. Bill Holmberg of ACORE, a member of the coalition, remarked that it makes more sense to use electricity to power plug-in hybrid vehicles (PHEV), a technology that exists today, than to use it to produce hydrogen to fuel vehicles in a technology that it still far in the future.