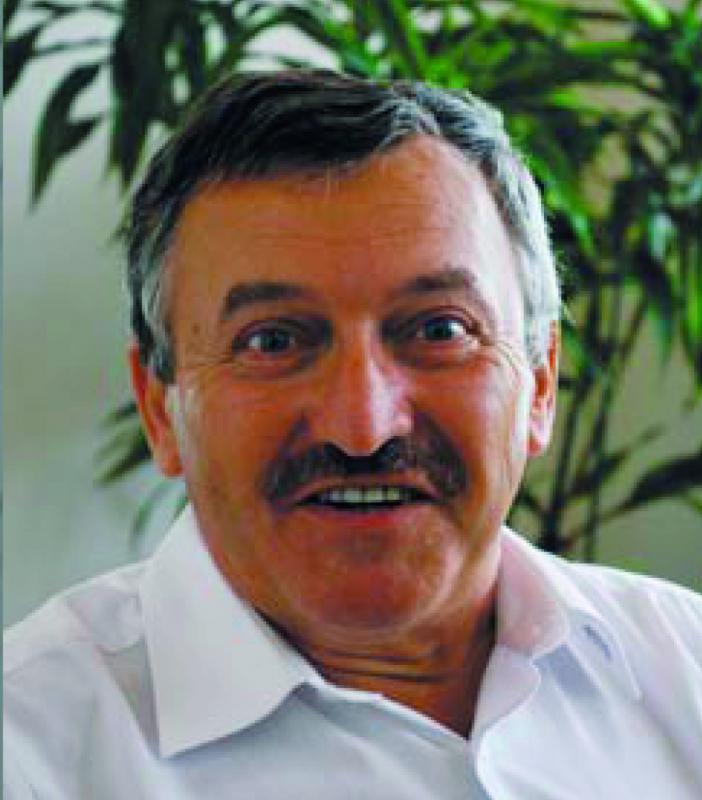 Editor Gerry Woolf talks with Anton Schwetz as he prepares to celebrate the opening of BM's new technical
From his new third floor office, Anton Schwetz has quiet a view across the rolling Austrian countryside. He can see the village of Ebersdorf, where BM is based, his house, the houses of his close family and the homes of a good majority of his 140+ workforce.
BM Battery Machines is by far the largest employer around here —it's a community of less than 1200. There is a lot riding on his vision of what kind of machines the battery industry will need now and in the future. It is a vision which has to work, because failure here would not be an option— BM is, in its own way, the centre of everything, the economic power house of the community and Schwetz knows he is not just making his own fortune— it keeps the community, in which he wishes to reside, prosperous.
With the opening of the company's new technical development centre— an investment of €3.7m, Schwetz is taking a bullish risk that the considerable success the company has had in recent years— its turnover has risen rapidly, from €6m in 2006 to €25m this year— will continue.
Bright, sleek open plan offices, together with a state-of-the-art heating system, which uses wood chips from local suppliers, creates a working environment which is a pleasure to come to work in. And Schwetz
has also taken the trouble to create a works canteen
— subsidized by the company of course, where workers can not only have a fine meal but also on special occasions drink the local (and excellent) beer.
Schwetz's vision of what his own business should be like only began to be fully realised just over a decade ago , when he was able to purchase the 75% stake in BM, the battery machine company which he created with Sovema, which came about when Elbak had finally come up for sale.
Paying money for something you've built up is a hard act to do, but Schwetz has nothing but praise for his Italian competitor. " They had the money, I had the ideas." Schwetz has worked in the battery machine making business for over 32 years, spending a great deal of that time with Elbak.
To say that company had a chequered history would be something of an understatement. "It had more than a dozen changes of ownership," says Schwetz… "endless consultants telling us we were doing things wrong."
He had done nothing wrong, so eventually, he left. BM Battery Machines came into being in 1996 with the help, as we've already stated, of Sovema. This was a particularly turbulent time in the battery making industry, with Exide transforming the European lead acid battery making industry out of all recognition.
BM's strength, in the early days , has been in automated enveloping and stacking equipment and it has made machines to deal with the smallest of plates, for motor cycle batteries to the largest of plates for industrial cells. And in both VRLA and flooded forms. The product range caters for all sizes of manufacturers from the BMV 10, which creates 140 separator envelopes per minute to the BMV 25, which produced over 190 envelopes per minute.
With a range of machines suitable for the largest industrial cells also and catering for European as well as US manufacturing techniques, it didn't take very long for BM Battery Machines to have an impact on its closest rivals. BM's range was a natural fit to the well known UK-based TBS range of Cast-on machines and for a while, the two companies co-operated. But when TBS acquired Tekmax in 2004, the co operation came to an end.
If TBS had acquired enveloping technology, then why shouldn't BM manufacture Cast-on technology? In a short while, BM began offering a range of Cast-on
machines, rivalling everything but the largest machines from TBS. And it hasn't stopped there. An expanded in-house design department began to turn out the designs of intercell welding machines, post welders, heat sealing machines and all the other equipment one comes to expect from a company that is in the "big league."
Manufacturing on such a broad front requires a host of innovations from inventory control of parts (BM stocks more than 70,000 components from several thousand suppliers) to having access to reliable sub-contractors. Today BM fabricates more than 70% of its machine parts in house.
Having rivalled what BM's competitors can do Schwetz has turned his attention to doing something new and different and to enter a market, in the battery making field, where there is currently only one player. That market is the positive tubular plate market of traction batteries and Hadi now has a rival. BM has sold its first double spine tubular plate caster to a well known Korean battery maker earlier this year. And once again, if you can make the tubular casting machines, why not create the filling systems? Traction may be at a low point at the moment says Schwetz but that is exactly the time to enter the market.
"Why not" seems to be one of the motivating forces that drives the company engineering, if you have the power to fabricate and automate, you can build machines for a variety of markets. BM has built crate handling machines for a Swiss based supermarket chain.
"We did not make a lot of money on this but we learned a lot," says Schwetz. In some areas BM may be a little ahead of its time. Two years ago, BM developed a process control system which was completely open to allow manufacturers to obtain a complete picture of the manufacture process and allow the data to be transmitted over a TCP/IP network. In theory, the production manager could "drill down" through the system to see the performance of any part of the production line, from a wireless hand held device such as a Blackberry. This could be especially useful if the lead acid battery industry ever feels the need to identify particular batches for product recall, as is virtually mandatory for some industries, like food, pharmaceuticals and parts of the Automotive industry.
So far there has been limited interest. And what of the near future? Like his Western competitors, Schwetz has been keen to make a move into China.
"We simply have to, but the question was with whom? As it happens BM was able to make contact with a fellow Austrian businessman with a Chinese partner. The result is that BM will be offering a spare parts service for its equipment out of Shanghai and the first machines will be assembled in China in the Spring of 2010.
Beyond the lead acid market, BM is taking tentative steps to examine the development of machines to assemble lithium ion battery modules as the market for electric and hybrid vehicles begins to emerge.
Schwetz is famous for being absolutely frank and saying what he thinks: "I have no idea what we will be making in ten years from now but we will still be here making machines, even if I am not." With a first class management team consisting of his daughter Doris heading human resources, Richard Jonach, fronting sales and Thomas Rotbart in engineering, Schwetz can ease off the accelerator pedal now on a company which has gone from nothing to world class in just a few years.