The Editor reports from the Third European Advanced Automotive Battery Conference to find that the boot is very much on the other foot as to what now constitutes 'advanced' and more importantly, profitable.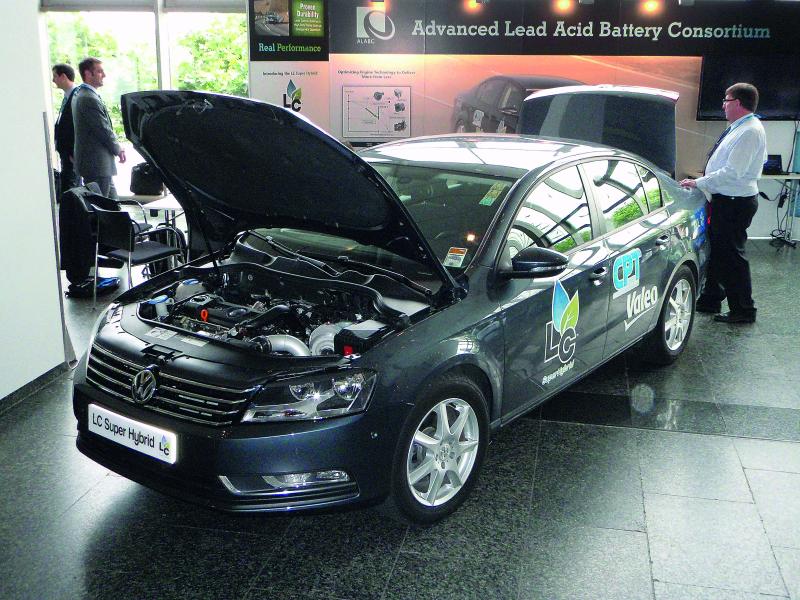 There was a faint whiff of unreality in the air this year in Mainz, venue for Total Battery Consulting's AABC Europe. As your Scribe sat in the sunshine in one of the fine open air cafés the town has to offer on the Sunday, prior to the meeting, Greeks were voting, so we were told, to stay in the Eurozone; the Spanish were facing financial Armageddon on the bond markets and the Italians weren't too far behind. All around, hard working Germans were being told that they might have to underwrite all of this, according to the International press the Scribe was reading. If the Germans didn't like that idea, they weren't saying much about it— all except Angela Merkel, that is.
It is no wonder then, that not too many Europeans are buying expensive hybrid cars and even more expensive and (a very poor value proposition) pure electric cars. What they are buying, if they can get the finance to buy anything at all, is a microhybrid car (because the good old European Union has more or less forced car makers to make pretty much everything gasoline powered in Europe microhybrid, by default.
So there's no customer education needed, no charging infrastructure and loads of business for my friends in the lead-acid battery industry, who are doing extremely well making oversized AGM lead‑acid batteries for the more expensive European models, while others are making extended flooded batteries for the cars most people in Europe can afford, except the Spanish and the Greeks, who, if you read the newspapers, can barely afford the bus fare.
Perhaps this meeting should have been called the Advanced Automotive Lead‑Acid Battery Conference, co‑located with the "Little Supercapacitor Who Could" meeting with a fair bit of "Redundant Lithium‑Ion— what are we going to do now" thrown in. But lead-acid isn't 'advanced'. It's old, it's made in dirty factories and it's got a history of being troublesome. The thing is though, it's cheap!
Perhaps by now you're getting some of the flavour of the meeting your Scribe attended.
When it comes to getting market share for fuel efficient vehicles, it's not simply gasoline the makers are up against— it's diesel. And when it comes to being the energy storage solution of choice for the burgeoning microhybrid market—it's a scramble to try and dislodge the incumbent— lead-acid— by lithium-ion and supercapacitors. In fact when you hear a guy from a well known lithium-ion maker that's well, how shall we say, 'in difficulties' pitching for market share in the 'bog standard' SLI market, you know how bad things have got.
It's hardly what lithium-ion battery investors expected a few years ago, egged on by bankers, market gurus and people who were about as knowledgeable as the Scribe's pet labrador.
It's curious then that organiser Dr Menachem Anderman doesn't run a lead-acid battery stream in his comprehensive show, but then maybe this year, he did?
Because, the only vehicle on display was none other that the highly modified Volkswagen 1.4 Passat, which, with lead-acid batteries for starting and recuperation, and an electric turbo-charged engine, gave a 25% maximum CO2 reduction at not a lot of cost to the maker. And according to Allan Cooper of the European arm of the Advanced Lead-Acid Battery Consortium it's a lot of fun to drive too (see leading picture). It got quite a lot of interest from the show's delegates— cars are intrinsically more interesting than cells or battery packs.
Maybe this is another part of the issue, as well, because what constitutes the boundary of a useful meeting in this marketplace? What's pretty evident is that we are now talking about increasingly electrified vehicles, like the one described, to achieve better emissions targets and fuel economy, and electrochemical energy storage devices are only part of the solution. It's a combination of technologies that are driving today's and tomorrow's vehicles.
Batteries have occupied their own little niche in the automotive component sector because they don't behave like all the other components automotive engineers deal with. But the big disconnect of fully appreciating the battery chemistry (if you've never studied chemistry beyond high school) can probably be overcome by investing in battery modelling software— another little 'add‑on' to this five day event.
If you're not one of the six hundred delegates who attended this meeting, then this report is a must read. Even if you attended, it is still a must read because 'our take' on the event is very relevant. That is: the wheels are coming off the proposition that there's a rapidly growing market for so‑called 'strong' hybrid electric cars, except in Japan, where hybrids purchases now make up no less than 40% of new car sales. But in the rest of the world, hybrid sales are less than 1.6% of all new sales. That's leaving an awful lot of lithium‑ion players chasing a few fish in a very small pool.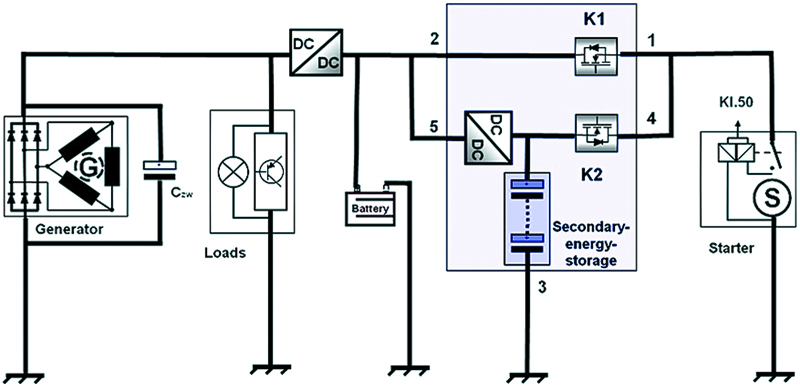 In the short term the so‑called 'advanced battery market' for automotive is still very much in the hands of lead-acid technology, though there's some good evidence that the Supercap marketeers are making some headway. Last year Michael Liedke of Maxwell technologies put the case for Supercap use in stop‑start in the Peugeot Citroen range and the technology has won accolades from the European motoring press and this year the company produced its 5 millionth device.
This year others made the case for the technology with convincing results. Anthony Kongatts, Chief Executive of Cap-X was one such example.
The reason for using the device? BEST has carried the argument now on plenty of occasions. When it comes to repeated stop‑start cycles, lead-acid batteries have an Achilles heel— dynamic charge acceptance. They just can't put back the energy expended in cumulative cranking cycles. The battery voltage drops off and the all‑important battery management system kicks in to ensure that the engine keeps running, so there's no stop‑start and thus no improved fuel economy.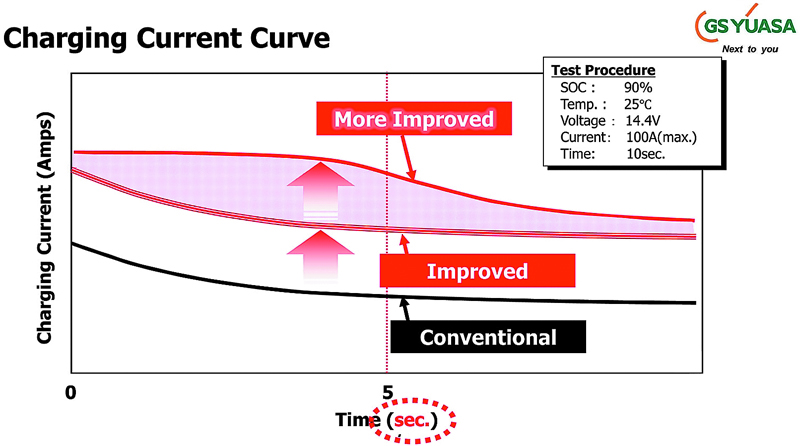 The CAP‑X solution is very simple— a supercapacitor module directly in parallel across a simple 12w volt SLI battery. Kongatts told the meeting that the device would cost US$60 to add and would guarantee cold weather starting down to -40ºC.
But rather than just quote rough numbers, Cap-X testing laboratory made comparision tests of its device using the New European Drive Cycle (NEDC) at 23ºC, the Japanese Battery charge acceptance test at 23ºC and a modified New European Dirive cycle test at –18ºC.
The results speak for themselves, see Table 1.
It's a bit of no brainer really, so why isn't the automotive industry running with the idea? Cost, cost, cost, of course, plus the fact that other than Maxwell, there aren't any big players in the market, though that's not strictly true anymore, with Nippon Chemicon making devices in large volumes and there are any number of followers, like Cap-X, Ioxus and Elitech and more.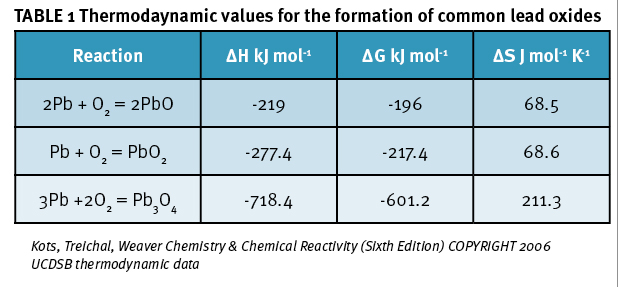 The problem is the Supercap presenters are confined to the little one day sub-meeting, which I've called the "Little Supercap Who Could", which runs in parallel to the sub meeting on lithium-ion. Numbers wise, more people go to listen to the lithium-ion talks and your Scribe thinks that in their ranks are the automotive customers. This year, your Scribe feels he's had a bellyful of lithium already.
To give Dr Anderman his due, he did put put together an excellent panel of speakers for the discussion on energy storage for microhybrids, chaired, not for the first time, by Eckhard Karden of Ford Aachen.
Karden is said to be quite an expert on lead, so he clearly understands the shortcomings of lead-acid, but the panel was remarkably pro lead-acid and we're not talking about the economy car makers— Audi likes lead-acid also, according to Marke Thele of Audi AG. It's easy to see why— no current limitations, you can operate them over a wide temperature range without safety issues — yep, lead‑acid is the battery you can abuse without consequences. But the limitations…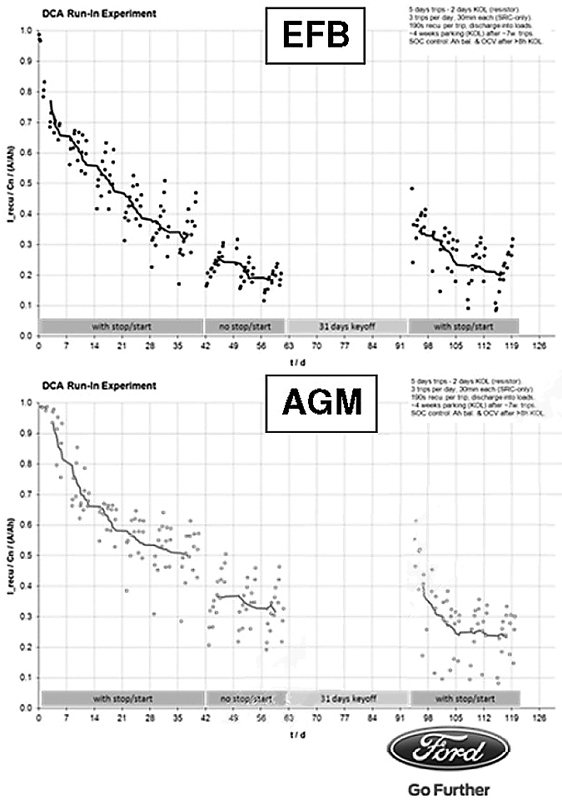 While in Europe there's a tendency to use the pricey AGM, much of it from JCI, in Japan GS Yuasa favours the cheaper extended flooded technology.
Masaaki Hosakwa outlined the improvements his company had put into the lead-acid design. The obvious one was the addition of carbon to the negative plate, which most lead-acid makers are now adopting, and strengthening the lead-acid grid design. But Yuasa claim other changes to improved charge acceptance which were less than adequately explained in their presentation. And there are any number of additives.
Despite the less than adequate explanations of how the improvements work, there are any number of small microhybrids running around on Japanese roads. How many give adequate stop‑start performance is anyone's guess. What the failure rate and scrap rate is would be telling.
Your Scribe thinks the Supercap industry is going to have to employ an ex‑News Corporation investigative reporter to hunt through auto dealership lead-acid scrap bins, to find out if there is any truth to the rumours we've heard— that stop‑start batteries are causing big warranty issues. We can only summise but we cannot make the story stand up.
What was even more amusing about this session is if the auto industry is still struggling to deal with how it is going to make the best use of supercaps, lead‑acid and lithium‑ion, confuse them still further with another chemistry—Nickel‑Zinc which is exactly what the audience got from Powergenix. Not that BEST magazine is casting any aspersions on Jeff Phillips presentation. The chemistry has good high temperature performance, great charge acceptance, can do stop‑start…But… but it's a bit of a latecomer and the Auto industry's mindset is hard to change when it's already set on a course.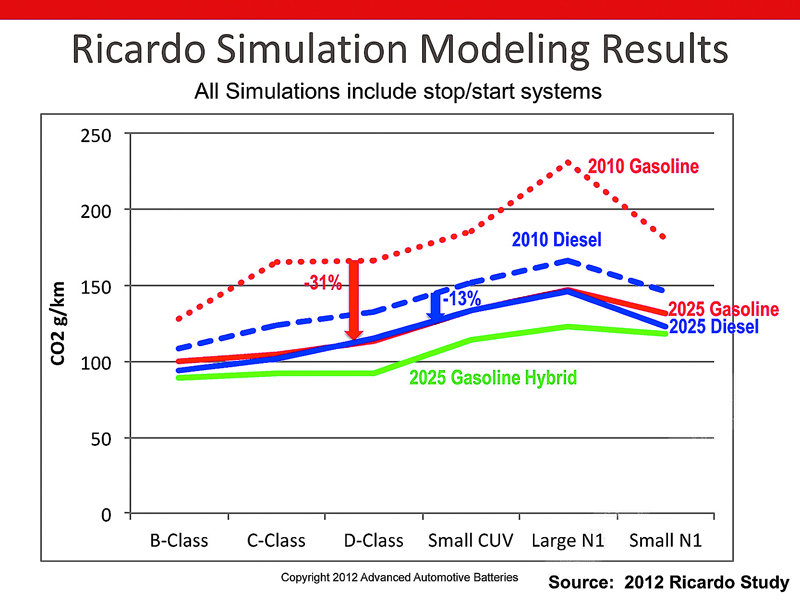 Probably the real decision makers in this fraught technology struggle are the designers and manufacturers of the start‑stop systems themselves: Markus Gilch of Continental ISG made the case for a battery agnostic 'Powernet' for microhybrids but the technical elegance of DLC solutions cannot be denied.
The reasons are forward looking: The power demands on all automotive designs are going up and the old arguments discussed more than a decade ago— raising the DC bus, not to 42V, but now 48V, are back on the agenda. It's not just heated seats and bigger sound systems anymore.
The future automotive specs of stop‑start are even more ambitious— the idea of switching off the internal combustion engine even more frequently— so called sailing— to improve CO2 emissions could take the number of stop‑starts to more than 600 000 over a lifetime. There's no way this can be done with a lead-acid battery alone.
Not surprisingly Gilch put forward a number of designs, including simple Powernet stabilisation (as used by PSA) to more sophisticated MOSFET switching which protects the overall powernet from big voltage drops (which might reset the sound system) and more.
Continental designs get even more sophisticated for the so‑called coasting or sailing applications where Gilch argues the case for having either an AGM or a lithium‑ion battery alongside a supercapacitor.
The most sophisticated schematics Gilch put forward don't look low cost— it combines two DC buses— one at 12 V for the so called hotel loads and a 48 V lithium-ion battery and supercapacitor to improve recuperation or regen.
But it's not simply a question of different chemistries— in order to meet engine housing requirements, the two systems are going to have to be combined in one battery block. Necesssity is the mother of strange bedfellows.
So the debate has moved on a good deal further than the simple arguments of cycle life and price. It's now much more about combining electrochemical technologies to give an optimum performance— but it's hard to see how that can come at a price the automakers can afford.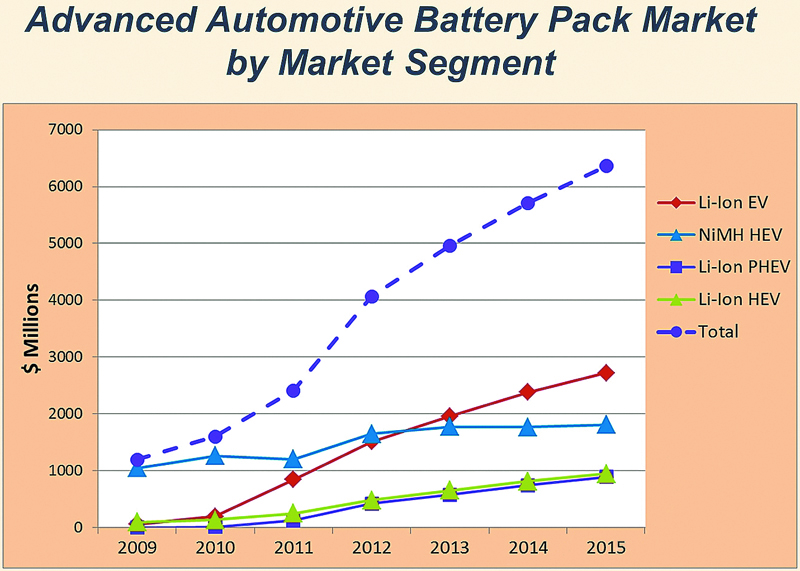 And as we hinted at earlier, the battle in Europe, perhaps no longer the most important auto market, is not about gasoline engines versus various kinds of hybrids. The real challenge is diesel. As John German, Programme Director with the International Council on Clean Transportation, told the meeting, the European diesel advantages are huge— the fuel is taxed less than gasoline, the fuel efficiency is better than gasoline and the cars are cheaper than hybrid electrics. And its going to take another 10-15 years before there is some convergence on CO2 performance. The future favours the hybrid, that is certain but it's the short term that will increasingly worry the lithium‑ion battery makers and with one major lithium player running out of cash fast, things could be looking very worrying by this Fall.
It's not just Menachem Anderman who is the prophet of doom at his own meeting. Now he invites a choir. Leading chorister is Christopher Pilot of the tech market research company Avicienne.
The negative charts tells all— less than 0.9 million HEVs sold globally last year and the greatest number sold in Japan. Pilot is however most proud of his company's HEV forecast compared to other well known 'forecasters' — a predicted 3.7m HEVs to be sold by 2020. But why should the others know better? Mainly they've been made by bankers, which rhymes with another derogatory term.
Who trusts banks these days? Take into account the total lithium‑ion battery investment over the last few years—a mere US$12 billion in tax payer and private funds a total production capacity of in excess of 50 GW, then take into account the expected total automotive battery requirement of a mere 35MW and that's using Pilot's conservative hybrid sales figures and you've got an awful lot of blood letting ahead— perhaps 30% over-capacity.
The prophet of automotive lithium‑ion road carnage, Dr A himself, surpassed others in getting the arguments over, in a way which should have weakened the most well trained sphincters. EVs? Forget it. 150 km range means 30 kWh battery. Never mind the size— the cost is close to €15 000. And if you want more range it's a bigger battery of course but the cost has to fall so you're really asking for way too much— vastly improved energy density and diminishing costs… an Anderman in Wonderland solution?
And the good doctor is still pretty dubious about getting lithium‑ion costs down— we're still realistically up close to the US$1 000/kWh at current volumes— but it's his one‑liners that make me smile. "If you get prices down to half that number do you really have safety, reliability and long life? And are you making any money?" There are still a few twists and turns in this race but as your Scribe said in the Winter editorial, the issues now aren't so much about battery chemistry— it's so much more about production engineering; cell selection; validation and testing, testing, testing— and then making a profit. AVL and BMW showed how to do it. It's far from easy.
Making cars that sell is about getting the product out of the door in a format that works well pretty much anywhere, even in the hands of complete fools. With hybrids and the few electrics being sold, that's all the more important argument.