An abysmal European car market is forcing Menahem Anderman to take his advanced automotive battery circus to Japan in 2014— one of the surprise announcements at this year's Strasbourg event. Ruth Williams reports.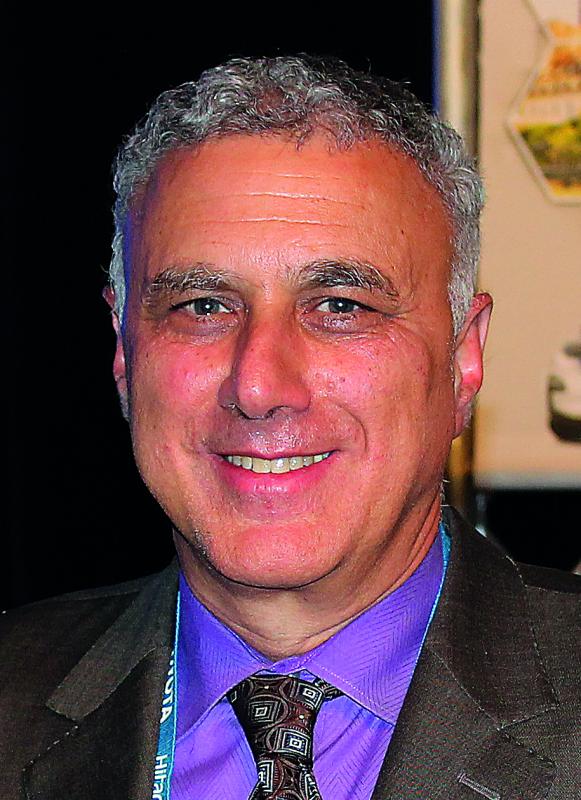 Record unemployment, EU states mired in debt, riots in European capital cities, is it any wonder that attendance figures were down at this year's European AABC compared to the US show— 500, with 650 at the February (Pasadena) event?
With a continent going nowhere fast, AABC will alternate its European event with one in Asia in coming years. The US event will remain unchanged. The car market in Europe is, like the economy, flat, and Asia is growing. Anderman's vast insight and years of experience make him better qualified than most to see the bigger picture and if he sees it is time to give Europe a break, automotive companies and battery suppliers should worry.
But as for this year, held in one of the top 20 venues in Strasbourg— the Palais de Congrès— the mood was remarkably positive from delegates and exhibitors alike. There's still enthusiasm from the car makers to demonstrate their advanced technologies but sales figures are yet to reflect their positivity.
The stumbling block remains that the price of an electrified car at any level is greater than most people are willing to pay. Whether it's advanced lead-acid or lithium‑ion under the hood, the price has yet to come down to a reasonable point and the difference, according to many speakers, must be made up by government incentives. Sadly in Europe the coffers are dry, so governments have little to offer either carmakers or customers.
With little in the here and now, it is forecasts that make AABC worthy of attendance.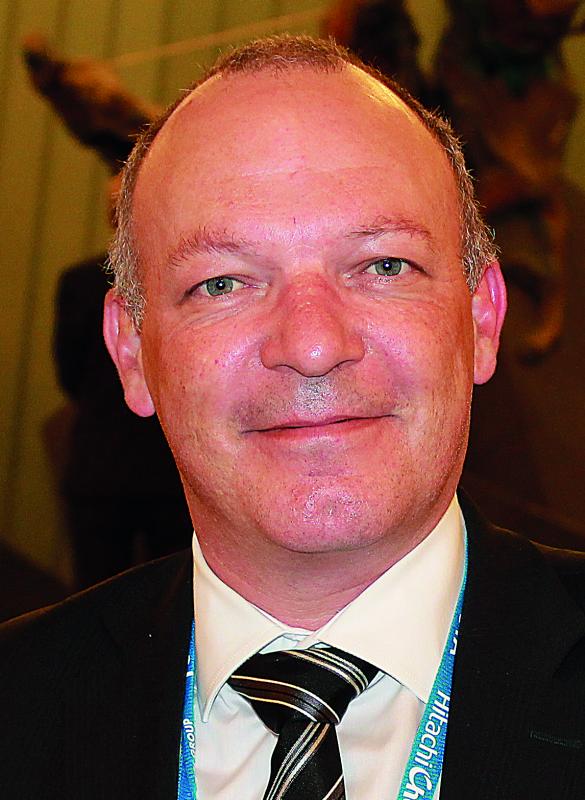 The Advanced Automotive Battery Technology, Application and Market (AABTAM) session was opened by the now ubiquitous Christophe Pillot, Director of Avicenne Energy, a company that claims to be 'realistic' with its forecasts for the hybrid electric vehicle market. It foresees that worldwide there will be one million lithium-ion powered electric vehicles by 2020— hardly encouraging for battery makers but that amount will equal the total lithium-ion market that exists today, so sure to make an impact.
Pillot showed there will be growth in all areas of battery production, with lithium-ion overtaking other chemistries with a 12% rise expected in the lithium‑ion battery market— mainly for portable electronics, not cars. By 2025 he estimates the market could be worth US$10 billion but admitted how difficult forecasting proves to be.
The market for automotive batteries is growing by 5% each year, with a lead-acid dominance at present, but Pillot says this will begin to trend towards lithium‑ion. Its, as yet, unbeatable energy density keeps interest high in developing it for vehicles but until the price drops, it is hard to see when it will ever be the ideal option.
Things are looking up for micro hybrids however, with Pillot estimating 50% of cars sold in 2020 will be a micro hybrid, due to the cost being ten times less than a full hybrid. Anderman predicts the lower voltage hybrid market will reach four million by 2020; in 2012 there were just over 1 500 000, so no wonder this is the market everyone is getting excited about. The technology and market is ready and people are accepting of the technology.
The spearhead for this rise in hybridised cars in Europe is meeting CO2 emission reduction requirements as set by the EU. The target is to reduce emissions to less than 90 grams per kilometre by 2020. China, Japan and the US have similar targets. Micro and mild hybrids alone will not be sufficient to reach the targets, which is why car makers have pure EVs as well in their product mix, even though the number of these on the roads remains insignificant.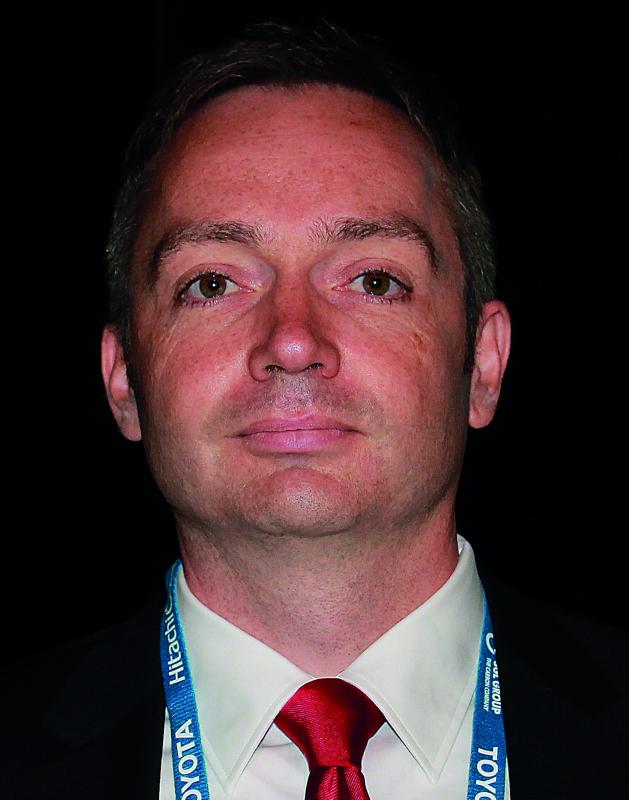 Arnold Lamm of Daimler AG spoke about the need for plug-in hybrid electric vehicles (PHEV) to reach the target of reducing CO2 by 95% by 2050 in Europe and how Daimler is working on making this a reality.
Without these CO2 reduction requirements, it's doubtful the low carbon technology would have progressed so fast but with prices remaining high, the vehicles won't get onto the roads. The answer to any question raised about costs was met with a typical response that component prices will lower as the technology matures and governments must pick up the slack otherwise.
The familiar cost target arguments come up every time; despite big improvements in energy density and life, lithium‑ion is too pricy for the average car user— regardless of how effective it is. Up to 70% of the price of a finished battery is in the cost of the raw components— Lamm said the target cost is to reduce to €300 per Kwh by 2020, he thinks this goal is possible in the coming decade. Based on the fall in prices as demand has grown since 2000, it is not an unreasonable assumption.
Christophe Fehrenbacher of A123 Systems argued the importance of including the cost of replacement batteries with the cost of battery ownership— a lead-acid system will need to be replaced several times over the lifetime of a car but lithium-ion would not. However these costs are spread and already acceptable to car owners
For the incentives to purchase, there is a heavy onus on governments to create the market by dedicating resources for incentives and tax breaks.
Some governments across Europe are bridging the cost gap by offering buyer incentives. Roland Matthé of Opel showed how the incentives result in higher sales. In 2012 EV sales only accounted for 4.6% of the total passenger car sales in Europe. France has the greatest uptake of EVs, with 5 888 being sold in 2012, representing 0.31% of its total car sales market of 1.92 million. The largest car‑buying nation— Germany— has just a 0.11% EV market share, which compared to the Netherlands or Norway is surprising. Norway and the Netherlands purchase fewer total cars, they purchase more electrified cars because incentives offered are massive.
Sales of EVs in Norway were equal to 2.78% of the car market in 2012 with 4 116 sold. The Norwegian government offers purchase incentives of more than €10 000 per vehicle, it has dedicated €1 billion towards this. In the Netherlands an incentive of €14 000 is offered, the scheme clearly works because EV sales equal 0.75% of total sales.
Although the German government is committed to lowering carbon emissions, it offers drivers no such incentives, which is reflected in lower EV sales.
It won't have been the first time that Dr Anderman raised the issue of nickel metal-hydride domination: because it is used by Toyota, but he feels, following its peak, this will begin to flatten out. For now, at least, it remains a low-risk, lower cost option for hybrid energy storage but with only two producers there is a risk of reliable supply.
Samsung SDI is due to ramp up production of its lithium-ion cell offering for plug-in hybrids from next year. Kiho Kim from Samsung said the company is increasing capacity in a number of ways: increasing the electrode area, decreasing separator thickness and by adding a ceramic layer to the electrode. This enables greater capacity without raising cell voltage.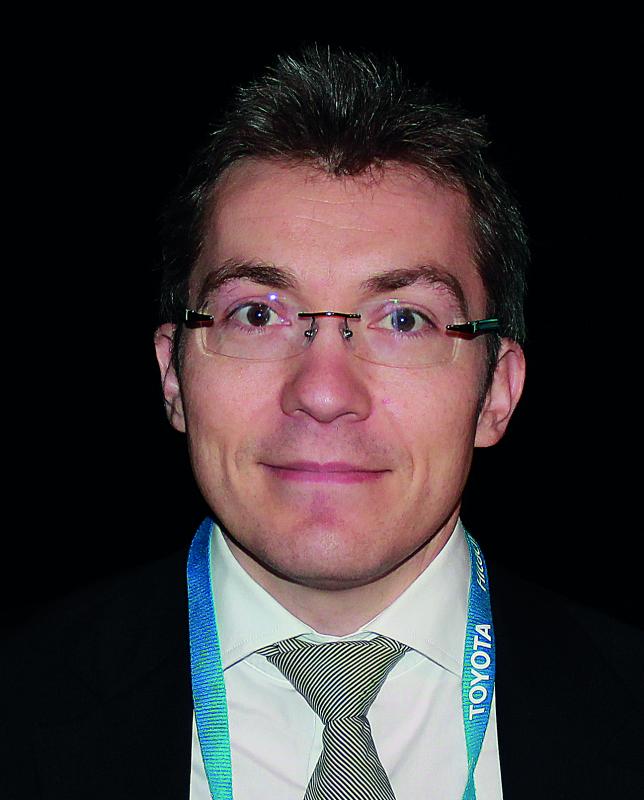 Lawrence Alger of Denso International, a tier one automotive supplier, discussed the company's premium system for hybrids that improves fuel economy using a combination of both lead-acid and lithium-ion batteries. Adding high charge acceptance and high cycle life of lithium-ion to low-cost lead-acid means the vehicle is able to use a different battery for different operating modes.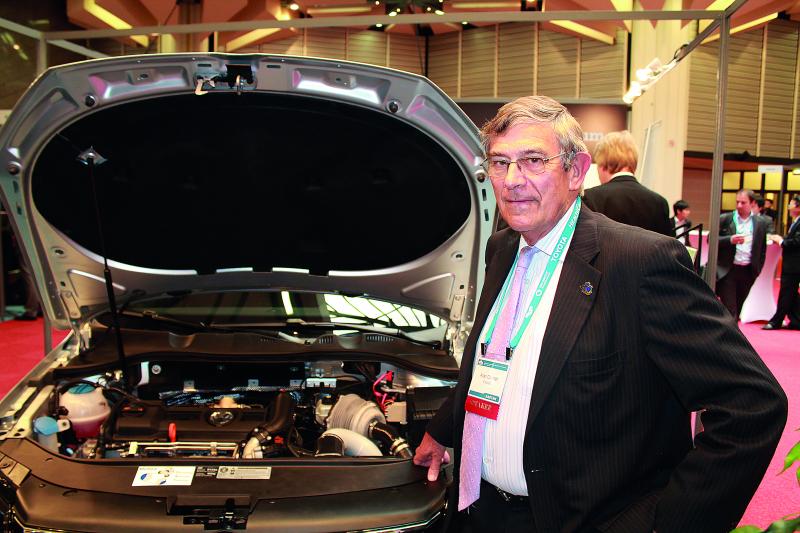 As ever, the European event is something of a valedictory one for the oldest chemistry on offer. The Advanced Lead Acid Battery Consortium's (ALABC) Allan Cooper presented the 12V low carbon hybrid VW Passat that has been showcased and test driven since 2008 and now, after 120 000 miles, has retired. The consortium, along with Controlled Power Technologies, has now built and is testing a 48V model. Classed as a micro-mild hybrid, it was designed in response to the European automotive industry's move towards higher voltage improved efficiency hybridised vehicles, while still using affordable technology. It allows significant reductions in CO2 without reaching the 60V under the hood safety limit.
And for the basic stop start system, Luca Brisotto from Exide Technologies discussed the advances being made for enhanced flooded battery (EFB) technology using carbon additives to the lead plates. Exide found negative active material additives give better charge acceptance than traditional VRLA while offering longer battery life and improved performance as well as improved cycle life without compromising on energy or power.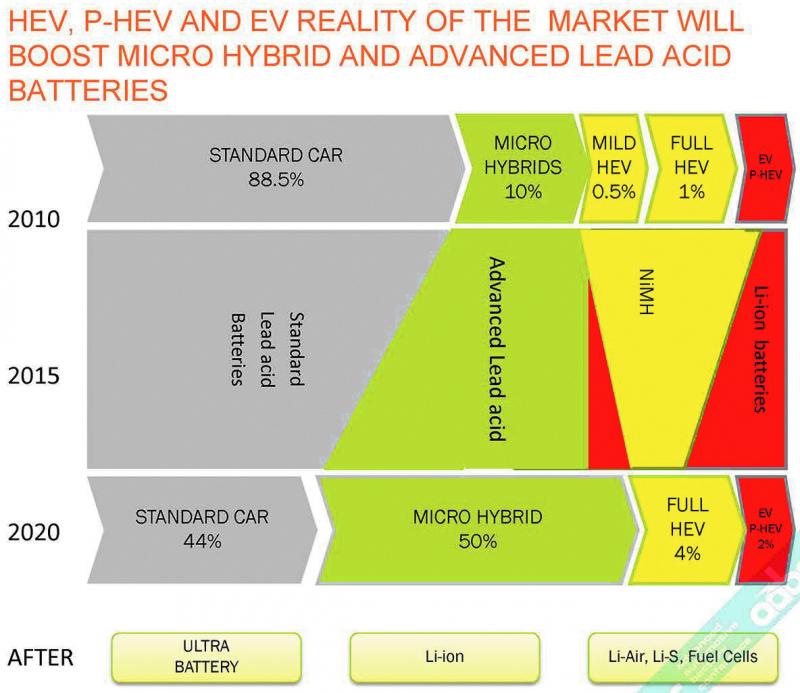 While the battery story shows little change, there is endless innovation in try-before-you‑buy— real-life test scenarios— with potential vehicle customers. One scheme is a car sharing initiative in Paris called Autolib run by Bolloré Group. Autolib has 1 850 all electric cars featuring a lithium metal polymer battery. The cars can be rented for 30 minute slots with customers paying for the time the cars are away from the charger. Since the scheme began in December 2011, more than 90 000 people have driven the cars and 29 000 who have become regular users. That's 90 000 people becoming accustomed to the idea of using electric cars in cities, driving them and seeing the reliability without forking out for the privilege.
There are between 7 000 and 8 000 individual rentals each day with the average car travelling just 50km a day yet the battery range is 250km. This means a smaller cheaper battery would be appropriate but the first-fit battery was developed with regular journeys rather than car sharing in mind. The figures for the cost effectiveness of the project will be released by Bolloré Group later this year.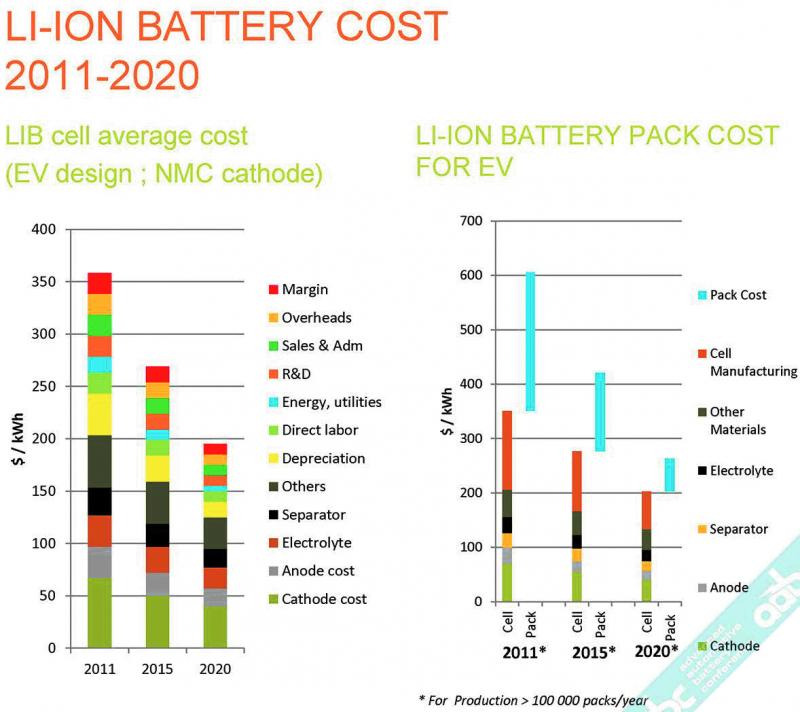 In the host city of Strasbourg, Toyota has been running a plug-in hybrid electric vehicle validation test. The company sees these plug-in hybrids as the best way to overcome range anxiety and have been demonstrating in cities around the globe, with 70 cars involved in the Strasbourg test. The results, unsurprisingly, were that the more convenient a charging place is, the more it was used. Home and workplace chargers were most utilised, those placed outside shopping centres where people were likely to spend a length of time were also popular. Keita Hashimoto, Assistant Manager of Hybrid Engineering for Toyota, practically made a case for the redundancy of public charging for EVs, which will surely be welcomed by city planners struggling to find parking space to allocate for the purpose.
These schemes work to get the cars on the street and customers used to the technology, but do not win the battery cost battle or the fact that recycling facilities for lithium-ion batteries are not available.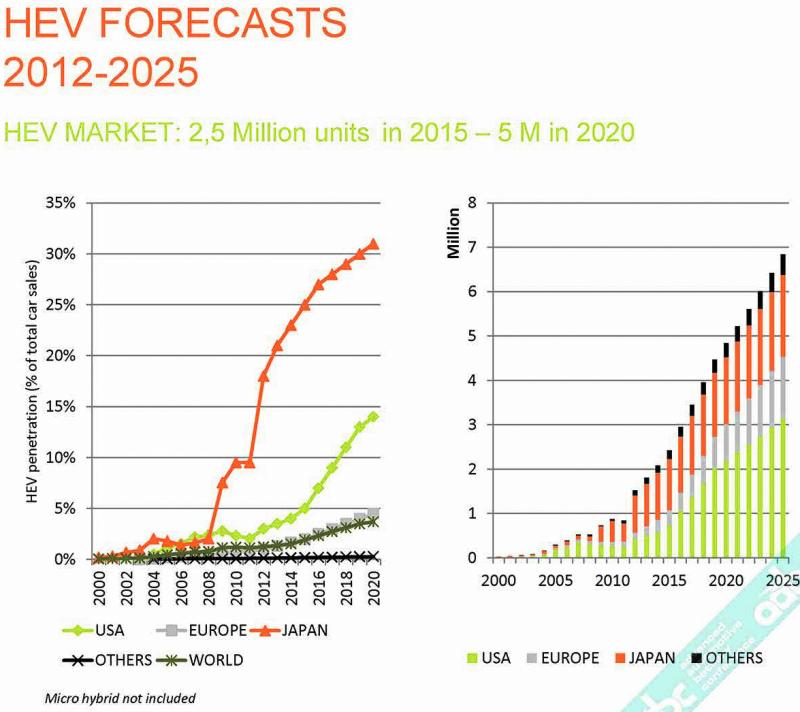 This point was ably made by Allan Cooper who presented the ALABC's 48V low carbon hybrid system as a cost effective lead‑acid battery system that is fully recyclable. While second‑life extends the usefulness of the battery, it is only delaying the problem. A lithium-ion battery that has been in an EV for three years can then be used in a variety of electrical storage systems but one day its end of life will be reached.
Cooper pointed out how the similar appearance of lithium-ion and lead-acid automotive batteries will cause mistakes to be made at recycling plants and could present a major safety issue.
With no sign to an end of austerity economics, there's little reason to believe European car markets will be any more buoyant in two years from now when Dr Anderman's battery big‑top returns to the heart of Europe. And will lithium-ion costs targets be any closer? It will be hard for the lead‑acid community to look anything other than super smug.
AABC Asia will take place in Kyoto, 19 – 23 May 2014. It will feature the Large Lithium-ion Battery Technology and Application and the Advanced Automotive Battery Technology Application and Market symposia.