BEST's technical editor, Dr Mike McDonagh, starts a new series examining the processes involved in manufacturing lead-acid batteries. With a wealth of knowledge and experience to draw on, this series will build into a repository of information that anybody in the industry will find of value, whether for themselves or as a guide to those new to the LAB manufacturing processes.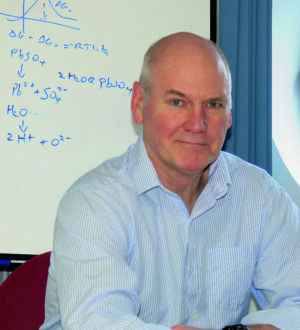 In this series of articles, I will be examining each of the processes involved in manufacturing lead-acid batteries in all forms, including flooded and VRLA versions of SLI, traction and industrial designs. This will also encompass flat and tubular plate types. Personal experience and industry best practices will be tapped to provide the best up-to-date information to assist manufacturers in maximising their throughput and quality, whilst minimising product variation, scrap rates and energy use. Where appropriate, equipment and material suppliers will be invited to explain how to get the best out of their equipment and provide information on the latest developments to improve the lead-acid battery industry's performance and profitability.
Oxide production mechanisms
The first stage is the process of leady oxide production. However, before we get into specific equipment and production details it is worth taking a look at the physical and chemical mechanisms that have to be taken into account when converting the inert material that is lead into its chemically active sub-oxides.
Lead oxides have been used in lead-acid batteries as starting materials for plates since the early part of the last century. Lead monoxide (PbO) and red lead (Pb3O4) were used extensively, mostly as a mixture. The most common forms of lead oxide used for lead-acid battery manufacture are leady oxide, in which lead is partially converted to PbO containing20-30% of Pb (free lead), litharge PbO2, and red lead, or minium, Pb3O4.
Most LAB producers manufacture their own grey lead oxide but purchase other forms, like red lead or litharge, as additions to their active material formulations. These other forms of lead oxide are generally added to the positive AM mix to improve filling density in dry-filled tubular plates and/or as a device to improve cycle-life in both dry positive mixes and pasted positive AM formulations.
It would be expected that after more than a century of producing grey lead, mostly by the two principal methods of the Shimadzu (ball mill) and the Barton pot (reactor), there would be little that we have to learn about these well-established processes. However, despite the length of time involved and the volume of high-level R&D that has passed under the bridge of learning, we still have a lot to learn. Particularly how processing conditions for oxide affect the consequential processes of paste mixing, pasting and plate curing.
I think that it is fair to say that our understanding of this material is probably more grey than black and white. This goes beyond referring to the colour of lead suboxide. It applies to our overall understanding of how the materials behave during these processes and it also applies to the effect of process parameters on the performance of the final product.
Production problems
The basic problem is that there are so many variables within each subprocess of the manufacturing operation, the consequences of small alterations or variability in operating conditions are difficult to predict. Because our processes have largely developed as a result of responses to problems encountered when changes have been made, we have ended up with production methods and designs based on experience rather than design.
The good news, however, is that within the last couple of decades, targeted R&D by laboratories and equipment manufacturers has improved our understanding of, and hence the reliability of, the chemical and physical processes used to manufacture our lead-acid active material.
Despite all that attention, this is an area of lead-acid battery manufacturing where a lot more can go wrong than can go right. If you have ever been next to a 30-tonne grey oxide silo glowing red as its contents obligingly convert remaining free lead into lead oxide— so you won't have the bother— you will know that we are not yet truly in control of these processes.
Additionally, mysterious viral ailments— such as poor shelf life, sudden loss of cold cranking in SLI, low initial capacity in traction batteries and PCL effects and low hydrogen overvoltage in AGM— can result from just small production fluctuations during processing.
Acceptable variation
It does not help, however, that within the process, there are acceptable variations with quite wide margins. One obvious example is the accepted amount of free lead remaining in the finished product, normally between 22% and 32% by weight. Whilst this is a massive variability, the subsequent pasting and curing processes rely heavily on this free-lead content to provide a significant architecture for the reactions that determine the quality and the properties of the finished battery. On top of that, there are other, more subtle crystallographic consequences arising from variations in process conditions that can have significant ramifications for the battery's performance.
We know that lead has the capability of forming stable oxides over a range of stoichiometric ratios and different allotropic forms. These different forms can affect the performance of batteries, either beneficially or adversely, depending upon the application. Although both ball mill and Barton pot methods produce predominantly lead monoxide and unreacted free-lead in similar proportions, the physical and chemical attributes are sufficiently different to create significant variations in battery performance. Even within the same manufacturing method.
So, these chemical and physical characteristics can be varied by altering the process parameters. It is therefore critical to ensure that the effects of operating conditions during manufacture are understood and controlled within realistic limits. At this stage, it is worth taking a brief look at the methods that these two different processes used to obtain the leadyoxide used by practically all lead-acid battery manufacturers.
The Barton pot process
In the Barton pot process, molten lead is poured from a melting pot into a reactor vessel. A rotating paddle agitates the lead to maximise exposure to the air. This action probably forms droplets caused by splashing, which is the result of the paddles stirring the molten lead surface. The droplets formed in this way create particle shapes that are roughly spherical due to surface tension forces within the molten lead droplets. The agitated, molten lead then reacts with the oxygen in the air to form lead oxide dust which is extracted via a cyclone through filter units that capture oxide particles and transfer the material to storage silos.
The ball mill process
The starting point for the ball mill is the same as the Barton method, i.e. melting of refined lead ingots in a pot. The difference is that the molten lead is fed continuously into a rotary caster which produces small cylinders of lead around 15-20 cm in diameter and height. These nuggets are stored in a silo then fed into a rotating drum with an air stream. As the lead nuggets are tumbled, the surfaces are oxidised. This is an exothermic process that mostly provides the heat to drive the oxidation reaction. The oxide layer, which is more brittle than the lead substrate, is abraded through friction and flakes off the nuggets. The oxidation of the nuggets is the result of attrition friction and the heat generated by the exothermic reaction, 2Pb + O2 = 2PbO, and the airflow. Operating conditions are normally within the temperature range of 120-145°C and constant airflow.
Operating temperature
The first consideration will be the operating temperature of the process. This, as always, requires the use of thermodynamics to predict what happens under isothermal conditions (whenever that condition is reached). The Barton pot and ball mill methods of production tend to produce forms of lead oxide specific to that process, due to their different operating conditions.
Fig 1 shows the free energy of formation for the three principal oxide forms, PbO, PbO2 and Pb3O4. This has been calculated from thermodynamic data in Table 1, for lead oxidation.
It is evident that the lowest formation energy is that of PbO, which is formed in both of the popular methods. By increasing temperature and/or airflow, PbO2 and Pb3O4 can also be produced in limited amounts by the Barton pot method, but not by ball milling. In fact, ball mill oxide can be used as feedstock for the Barton pot reactor to produce litharge and red lead.

Particle size and shape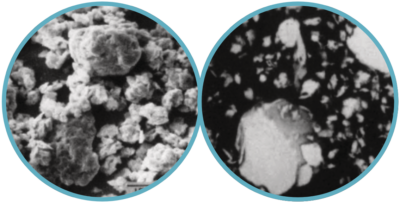 However, there are companies that include a second stage of either calcining Barton pot oxide to produce higher oxides of minium and litharge or, more commonly, a second grinding process from Barton pot through a ball mill or other attrition process. This reduces particle size and increases the reactivity of the leady oxide due to a greater surface area.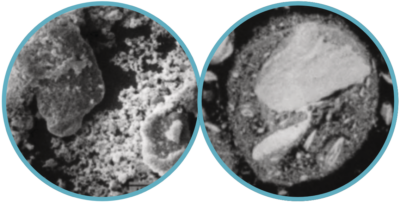 The principle of oxide production for either of these methods relies on the surface oxidation of lead particles. These particles are molten droplets in the case of a Barton pot (Fig 2), and solid flakes in the case of a ball mill (Fig 3).
In either case, the oxidation reaction proceeds from the surface inwards and is largely driven by oxygen vacancies and electrons that reach the Pb/PbO interface (according to Anderson and Tare – J.Phys. Chem. 68, 1964 594). These methods produce the majority of lead oxide that is used in LAB active material for both positive and negative plates. This is the tetravalent monoxide PbO.
Overall leady oxide reaction: 3Pb + O2 = PbO + Pb
At Pb/PbO interface: Pb = PbO2+ + 2e–
At PbO/air interface: PbO2+ + 2e– + O2 = PbO + O
This comes in two important allotropic forms: α PbO (tetragonal crystal) and β (Orthorhombic crystal). The two crystallographic structures are shown in Fig 4. These two forms have slightly different physical and chemical properties. These differences, although not massive, have quite a disproportionately sizeable effect on a lead-acid battery's performance characteristics.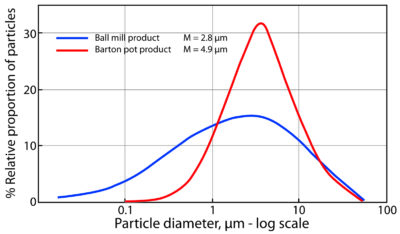 One important aspect is the difference in particle size and shape of the oxides produced by these two methods. Fig 5 is a particle size distribution diagram that shows the ball mill product has a lower average effective diameter. This gives a greater surface area with higher acid and water absorption. This is important, particularly for paste mixing and curing, where the lead oxide (LO) to acid ratio in the paste and the water content in the pasted plate during curing all greatly affect the chemistry of the finished cured plate.
For example, one very significant factor to be considered, and one that has very practical consequences, is the water absorption values of the two oxide forms. Barton pot has a lower value, and it is difficult to get a usable paste with moisture contents above 8%. Subsequent flash-drying and storage before the curing process can cause the moisture levels to drop significantly below 7% in the wet plates. This can have serious consequences for the curing process, particularly where natural curing is practised.
Affects of allotropic structure
At this point, it is worth looking at how the allotropic structures of α and β PbO can affect battery processing and performance.
The first two processes affected are paste mixing and plate curing. The first stage of paste mixing is to mix the oxide with water, then add acid in a controlled flow. The overall reactions are probably as follows:
4PbO + H2SO4 = PbSO4.3PbOH2O (tribasic lead sulphate) <70°C
PbSO4.3PbOH2O + PbO = PbSO4.4PbO + H2O (tetrabasic lead sulphate) >70°C
The chemical nature of the lead sulphate in the paste is important since it affects the plate formation process, its electrochemical performance and its durability under discharge/charge cycling. Tribasic is preferred for engine-starting battery plates as it is readily converted to PbO2 during formation and confers high initial performance.
Tetrabasic is considerably more difficult to form, particularly in sulphuric acid solutions of concentrations greater than 15%, but it contributes to the formation of a strong and stable morphology in the crystal structure of the plate. This gives improved cycle-life and deep-discharge capability suitable for traction and deep-cycle stationary applications, including AGM. In battery types where tetrabasic is preferred, it is more common to produce this during the curing process than during paste mixing.
Leady oxide made by the Barton process contains up to 10% orthorhombic (β) PbO. It has lower stability than tetragonal (α) modification and is partially converted to the tetragonal phase during mixing. The finished paste, at the point of completion of pasting, will contain the following compounds:
α PbO, βPbO, PbSO4.4PbO, Pb(OH)2, PbSO4.3Pb H2O, H2O
The content of the orthorhombic form of PbO would be insignificant in the case of paste made with ball mill oxide.
The amount of β PbO is known to have a small influence on the crystal structure of the sulphates formed during the curing process. It is also possible that it may increase the amount of tetrabasic lead sulphate formed during pasting. It could promote the formation of tetrabasic sulphate below 70°C.
Performance in the next stage
However, the overriding influence on the basic sulphate structures formed during paste mixing has been shown to be temperature and the oxide/acid/water ratios used in paste mixing. The ratio of tetra- to tri-basic sulphates in the paste influences the production of α to β forms of PbO2 in the positive plate. Varying this ratio can give preferential properties for particular battery applications based on whether the battery is destined for traction or SLI use.
The choice of oxide production method could then be based on the application, in order to maximise the battery's performance. However, cost factors and other practical considerations will usually be the dominant factors determining the choice of oxide manufacturing method.
The previously mentioned forms of lead oxide known as red lead (Pb3O4) and litharge (PbO) are common additions to the leady oxide product in positive plate active materials. Whilst these are almost never manufactured by lead-acid battery producers, it is worth mentioning their role in ensuring that LAB positive plates have optimum performance. Red lead and litharge are usually blended as separate oxides, mostly in the dry state with leady oxide, predominantly for positive plate production.
In the case of industrial tubular plate construction, red lead is blended in various amounts from 15-50% by weight, sometimes with the addition of around 10-15% litharge. This has two benefits: it reduces the formation times and gives higher initial capacities and also promotes better filling densities with fewer problems such as voids and density strata effects. This is also found to be true for wet filling systems, although, in these cases, a choice can be made between rapid drying and curing. In the latter case, care must be taken to ensure that the oxide blends promote the right sulphate structure for cyclic duty. The benefits are the same for flat plate applications, ensuring lower formation energy and giving better initial capacities and longer cycle life.
Plate differences— α and β
Of the forms of lead discussed, it is the leady oxide Pb/PbO that undergoes the most modification before ending up in the final product. The majority of lead-acid batteries consist of a negative and positive plate containing leady oxide. Of these, all have negative plates that have undergone paste mixing and curing. There is a difference between flat-plate positives, which are treated similarly to the negative, and tubular traction positives, which are either dry powder or slurry filled. Table 2 gives some indication of the different manufacturing properties of the two leady oxides produced by each method.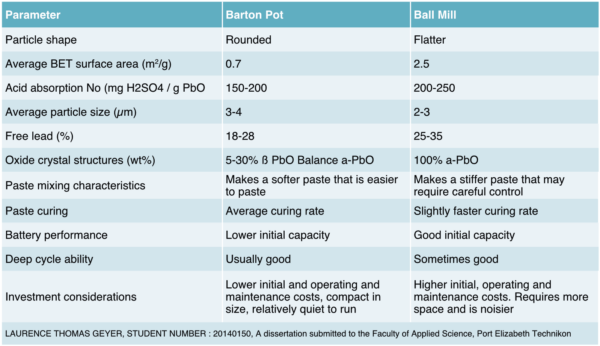 As a general rule, SLI batteries perform better with the α modification of PbO. Traction batteries have enhanced life when higher proportions of β PbO are present in the oxide. The reasons for this will be more fully examined in the next articles dealing with the production methods for leady oxide.
Tailoring the characteristics
This article has been the introduction to the two popular methods of ball mill and Barton pot oxide production, adopted by almost all battery manufacturers across the globe. These two processes will be examined in more detail, with industry suppliers' input, in order to look at current best practices and give suggestions on how to ensure that processes give maximum efficiency with minimum variation in quality or productivity. It will show how, by controlling the processing conditions, the properties of the oxide material can be influenced. These properties can be modified in such a way that the battery performance characteristics can be tailored to the battery application.