Gus Whyte of Hoppecke explains why traditional energy storage continues to remain strong in industrial traction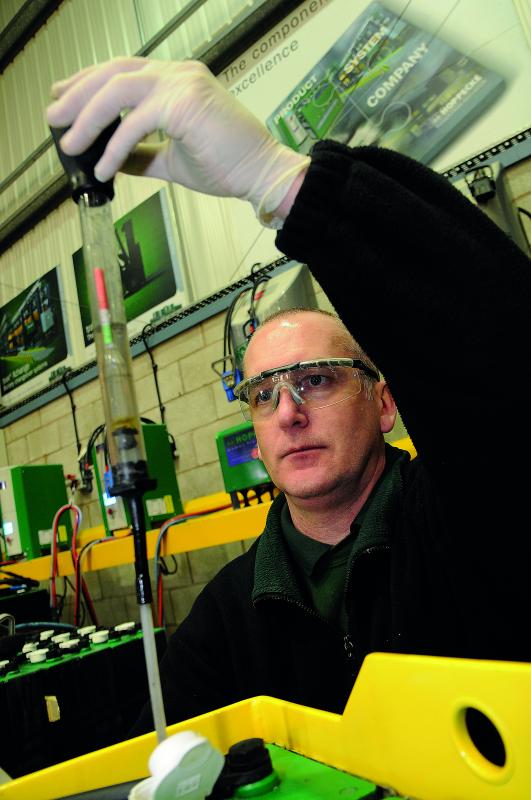 Railways and underground transport systems, electric buses, automated guided vehicle systems, fork lift trucks and logistics systems – these are all sectors and applications that have their own unique and very demanding special power requirements.
But while the challenges may differ dramatically in each industry sector, common to them all are the following – the need to make sure power is delivered when and where it's needed, provide the maximum possible amount of equipment 'uptime', keep carbon output to an absolute minimum, and deliver peace of mind through improved reliability.
As one of the world's leading energy services suppliers – and the largest manufacturer in European ownership of industrial battery systems – Hoppecke Industrial Batteries has found itself at the head of the queue when companies look for energy solutions.
This is because the company offers customers throughout the world customised solutions for efficient and reliable power supply in virtually every industrial application. A leading exponent of environmental care for more than 80 years, the company provides solutions for such sectors as motive power, reserve power for IT/telecoms, power stations, solar energy and UPS (uninterruptible power supply), as well as special power for rail and underground.
On top of all this, at all times Hoppecke is committed to minimising the environmental impact that its products leave behind. The company is a European leader in recycling of industrial batteries and operates its own recycling foundry for lead-acid batteries. Tucked away in an idyllic forest location in Germany, the facility is one of Europe's few smelting plants said to be 'lead hungry'. While batteries may have earned a bad reputation in terms of their environmental impact, Hoppecke has created a beautiful environment which incorporates the very latest re-cycling facilities for lead-acid batteries.
The metal foundry is the only one in Europe to have been successfully certified to three separate standards: DIN EN ISO 9001 (methods and process), DIN EN ISO 14001 (environment audit) and special waste disposal regulations covering all associated waste codes for storage, treatment and recycling.
According to the Department of Trade and Industry there are currently no facilities in the UK for recycling nickel cadmium (NiCd) batteries. So Hoppecke takes batteries over to its recycling facility where they are processed. The materials are then re-cycled and used to make grid plates for new batteries. At all stages of the process the batteries are stored securely to make sure they don't present a risk to the environment and any harmful waste from the recycling process is disposed of responsibly and in line with the most stringent European standards and legislation.
Also with the environment in mind, the firm guarantees to all its customers that it will take back any used NiCd batteries, whatever the technology, the manufacturer or the age of the batteries.
"We're really passionate about recycling," says Hoppecke Industrial Batteries' UK Sales & Operations Director David Millett. "Our commitment to the environment is firmly part of Hoppecke's ethos. Discovering new, greener technologies is at the heart of our research and development. We feel that we're leading the way, showing that industry can work together, hand-in-hand with the environment."
Hoppecke also invests heavily in innovation and has one of the largest R&D departments in the industry, with an estimated 5 per cent of turnover being ploughed into R&D to bring new battery technologies to market.
The main reason for the continued success is that the company doesn't just supply, install and maintain top quality products that reduce lifetime costs, extend battery life and improve productivity and shift life. It also services all batteries that it supplies – knowing that if managed properly this can add value to the contract and reduce costs significantly, working closely with its customers to manage the sensitive issue of compliance.
Formed in Germany in 1927, Hoppecke set up a UK arm in Newcastle-under-Lyme, Staffordshire in the early 1980s. The UK operation carries out final battery assembly, designs, supplies and project manages battery changing and charging systems.
The company believes that it understands the idiosyncrasies of each market. This enables the company to meet the specific requirements of individual customers and businesses, and does this through four main areas of focus – innovation, quality, service and responsibility.
In terms of innovation, Hoppecke recognises that energy requirements are changing all the time so it is always looking to develop today the innovative solutions for the energy supplies of tomorrow. Working closely with its customers, the company creates energy solutions that combine flexibility with high standards of failure-safety, even at peak times. This combination of quality and reliability is a key reason why Hoppecke has become one of the world's leaders in integrating battery systems for rail vehicles.
Another huge factor when delivering solutions to demanding markets is to provide security for customers by keeping life-cycle costs to a minimum and, because it offers a speedy service that customers can rely on, the company ensures energy is available when needed. The company assumes responsibility for its employees and natural resources. Aiming constantly for high environmental awareness, and also making sure that the technology the batteries and charging systems run on is cleaner and kinder to the planet than others and that all manufacturing takes place in environmentally aware factories.
Used around the world, Hoppecke's specialist power systems are designed to cope with particularly extreme challenges, including environments where intensive levels of heat, cold and jolting are commonplace. Some of the most difficult power supply challenges can be met with the aid of FNC (fibre structure nickel-technology), metal-hydride-technology or high current lead components. It was way back in 1983 that Hoppecke first presented an FNC fibre-nickel-cadmium battery to the world which is still unique today.
Essentially, FNC offers very low internal resistance, high energy density, high levels of resistance to cycling, minimal susceptibility to vibration and shock, greater long-term stability and considerably longer life expectancy than other energy sources. The rated voltage of an FNC cell is typically 1.2V. While it can be operated reliably in a temperature range of -20°C to +50°C, when a special electrolyte is added temperatures of -50°C to +60°C are possible.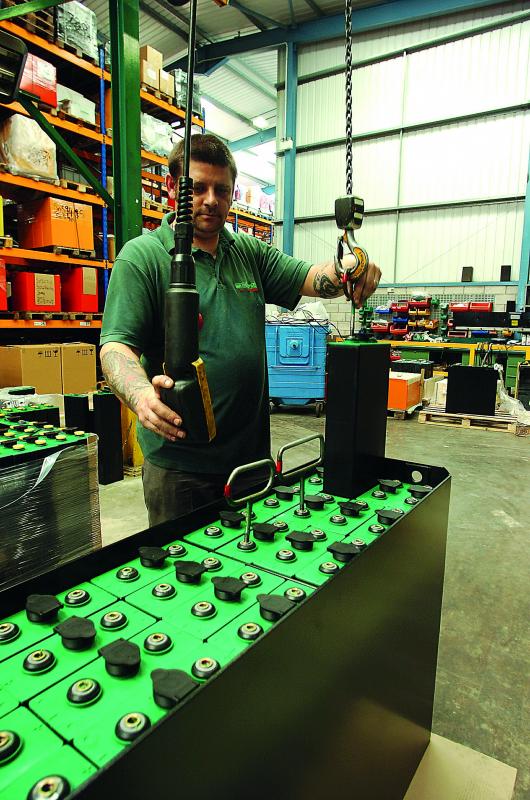 To date, Hoppecke has supplied over 4 million FNC cells across the globe, many of them used in AGV (automated guided vehicle) systems. To a very large extent the success of AGV's was based on the incomparable advantages offered by FNC technology, benefits that are especially advantageous for long-life applications because there is no sudden failure through internal corrosion. Other advantages include up to 25 years' life expectancy, offering over 3000 charge/discharge cycles, and no total failure of the battery in the event of deep discharge.
As well as FNC cells, Hoppecke builds and supplies racks, cabinets, crates or trays and boxes. The company also makes its renowned HF (high frequency) battery chargers and supplies customers with such electrical components as fuses, switches and diodes.
In rail, the company has shipped more than 1 million FNC cells around the world since 1983. The batteries are ideal for the rail sector because they need much less maintenance than NiCad cells, which recombine only a little, if at all. Maintenance intervals can be up to two years, depending on the charging voltage setting, ambient temperature and cycle frequency.
The company has more than 80 years' experience in manufacturing first-class energy storage systems and offers companies a single source for planning, installation, operation, service and training. Typical applications of Hoppecke standby batteries include IT/telecom, power plants, safety lighting, signalling systems, engine start and solar.
The company's customised "turnkey" solutions for modern power systems include battery racks and battery cabinets matching the design of the UPS equipment, as well as battery fuses and protective devices, container racks, monitoring systems and other components. All modules are matched to one another exactly and interconnected to provide a complete system.
Of course, service is absolutely vital to ensure energy is always available when it is needed. Regular maintenance, testing and inspection is offered for all technologies and applications of industrial batteries, chargers, monitoring and management systems. The inspection is designed to help users save money, improve their productivity and protect their business. Included among the services provided by the firms is topping up batteries at predetermined intervals, and cleaning batteries on average twice a year (normal usage). The idea is to eliminate problems with loss of capacity through leakage currents caused by dirty cell tops.
Hoppecke offers a 24 hours a day, seven days a week battery and charger maintenance service that maximises battery availability while at the same time removing equipment downtime and making sure that battery costs are kept to the lowest possible level.
Also, every battery package bought from Hoppecke comes with a five year warranty (which can be extended to meet customers' specific needs) and is backed by the company's engineers. In many industries, such as food retail, a clean environment is essential and the maintenance programme not only ensures battery cleanliness but also eliminates the possibility of battery spill or corrosion through incorrect filling.
However, Hoppecke doesn't just supply and service batteries. The company also provides advice on the use of energy systems, carrying out a full analysis of an organisation's existing equipment.
Through this detailed audit, the company's technicians will help a business to think about the various ways it could cut costs. For companies running battery-operated fork lift trucks this could include using HF (high frequency) smart chargers with Trak-Air® (air circulation batteries). The overall cost of battery management is examined to make sure that batteries are charged, changed and operated ensuring maximum efficiency while slashing energy costs. Technicians would also analyse and justify where Trak-Monitor call forward systems could be used to reduce the quantity of spare batteries and chargers required, offering users further savings in initial investment costs.
As part of the support package, all customers are also offered a battery and charger compliance test to ensure that equipment is being correctly maintained, that the warranty isn't affected, and that both the battery and charger comply with PUWER 98 regulations and European Standards.
The compliance test involves checking that all components are safe and secure, carrying out an operational test and measuring values, cleaning from inside the chargers all dirt and dust, fitting a filter to reduce dust contamination, fitting a visual plate with test date and renewal date, and providing a guarantee warranty for another year.
The reason Hoppecke introduced this service was because the vast majority of warehousing and logistics companies are still unaware that their businesses are at risk if their equipment does not comply with the regulations. Also, most logistics company heads don't know that they are personally responsible for anything that happens in the warehouse, such as a fire or other serious event, if their business does not stick to the rules laid down by PUWER. The cost of ignoring compliance legislation can result in heavy fines and even custodial sentences. In short, if warehousing operations get it wrong in terms of compliance they are likely to be in serious trouble.
With this in mind, compliance tests ensures warehouse managers create a safe working environment for employees and at the same time gives companies peace of mind that their operations are compliant and legal.
Says David Millett: "We're not in the business of frightening people but we do want warehousing and logistic companies to be aware of how vulnerable they can be if they don't comply with the regulations. They could be dicing with the future of their companies while the solution to the problem is readily available and is not expensive. We believe it is our duty to make our customers as aware as possible about the six simple steps they need to take to make sure their fork lift truck, batteries and chargers are fit for purpose. Anything else is too risky to contemplate."
One company that has benefited from the Hoppecke philosophy to battery management is the UK's 99p Stores group which has slashed its carbon footprint and has already seen savings of thousands of pounds over the last year at its new central distribution centre in Northampton. Previously, fork lift truck batteries were being charged inefficiently during eight hour shifts, leading to excessive downtime and damage to the batteries.
After installing the Hoppecke solution, operations director Hussein Lalani said:- the company expects to save around £250,000 in electricity costs alone in the first five years and more savings are being achieved through reduced wear and tear on trucks achieving less downtime. "What impressed us most was the fact that Hoppecke does not just sell batteries and chargers," Hussein said, "they offered us a complete service that has enabled us to gain maximum benefit from their products."
Another recent customer is Arla Foods, supplier of dairy products to the UK's leading retailers, which wanted to maximise efficiency in its new distribution centre. A key concern for the company was how to manage battery charging for its reach and lift trucks since they had to be in use literally 24 hours a day. The Hoppecke solution was based around 95 trak® air batteries, 48 high frequency chargers, a 35-position changing unit for low level order picking and powered pallet trucks and a 12-position powered side extraction system for the reach trucks. Arla Foods also signed up to a 'Power for Life' service contract which ensures batteries are kept topped, clean and that any chances of battery spill or corrosion are eliminated.
Much of Hoppecke's role in the world of batteries is 'educating' companies in how they can save substantial amounts of money by cutting charging times, extending battery life and seeing batteries as assets. (In this way, Hoppecke sees itself as a provider of asset management solutions).
All too often, companies believe that they should keep charging up a battery to achieve optimum truck performance. However, the practice of 'opportunity charges' provide uncontrolled charging reducing the working life of a traction battery and can ultimately cost the company tens of thousands of pounds.
Good battery management helps to save the environment. With the Trak-Air® system, for example, water consumption is reduced by up to 70 per cent and the batteries have a much longer life (cutting down on replacement and disposal). Also, high frequency chargers can cut charging times by around 2.5 hours thanks to a built-in micro-processor. Battery temperature levels are reduced by around 10°C and because Hoppecke only supplies regulated chargers there is less likelihood of under- or over-charging a battery.
As a result, when compared with standard battery charging systems, the Trak-Air® system can save 1259.5 tonnes of CO2 (2774.6 instead of 4034.1) and, in terms of cost savings, the Hoppecke system saves on average £312,538 (£430,173 against £742,711).
Gus Whyte, Sales Director – National Accounts and Systems at Hoppecke, says: "Companies need to know that poor choice, care and management of batteries can cost them many thousands of pounds every year while also increasing their carbon output. We have helped several of our customers through our battery and charger maintenance service. This not only gives them peace of mind and maximises battery availability but also makes sure that their battery costs are kept as low as they can possibly be."
T: 01782 667305
W: www.Hoppecke.co.uk
E: davidmillett@Hoppecke.co.uk