Silver zinc has been the traditional chemistry of choice for torpedo batteries but as a team Yardeney explained at last September's International power sources meeting, lithium ion is becoming increasingly attractive.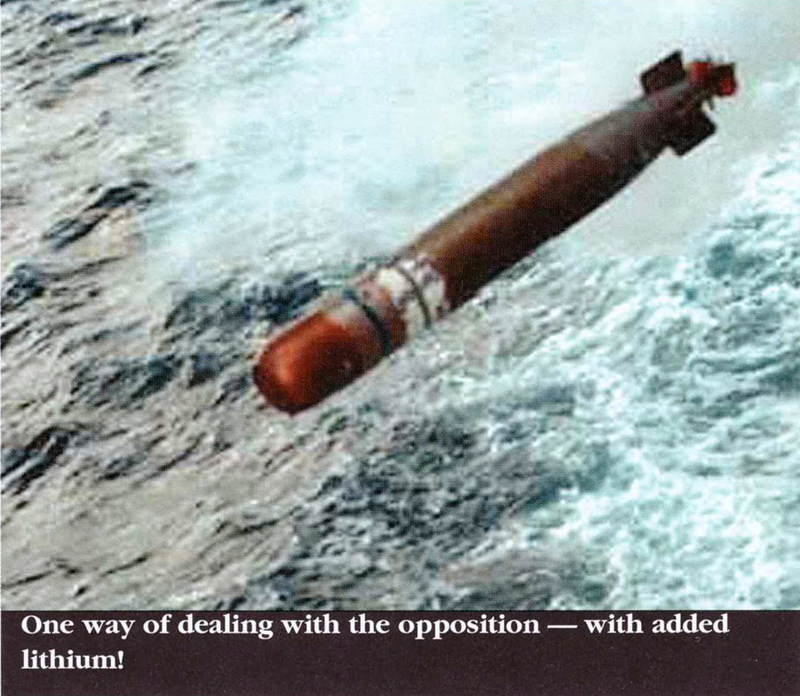 Torpedoes and underwater weapons systems have relied heavily on silver/zinc technology batteries to provide their power requirements. However, with the limited cycle and wet life, and high maintenance costs of Ag/Zn cells, many applications are seeking viable alternatives. Lithium-ion batteries offer the high energy and power densities required of many of these applications, with significantly greater cycle and shelf life, and much less maintenance and logistical costs. Three battery systems are currently in development at Lithion, a corporate sister of Yardney Technical Products, each with unique design and performance requirements.
A medium energy, medium power battery has been designed to support an Unmanned Underwater Vehicle. Thee battery is designed to deliver 10 kWh at a nominal 324 V. The discharge rates are moderate with the highest power demands of 10 kW for only short durations, up to 2 minutes. Designed to replace an existing Ag-Zn battery currently used for the application, the configuration chosen is a series/parallel array of high-volume production 8Ah cells. Battery modules of 90 of these cells in series have been assembled to provide the required voltage. Four of these modules are connected in parallel to meet the capacity requirement.
Maintainance of the State-of-Charge balance of these cells is critical to the overall battery performance, as the cell to cell voltage divergence would limit the capabilities and life of the battery. Cell monitoring and balancing electronics have been designed for this battery to monitor cell voltages and pack temperature and provide cell balancing during charge, through resistive bypass circuitry. In addition, monitor/equalizer cards, which can monitor and balance up to four cells have been developed. These cards are interconnected via an optically isolated Micro-LAN to each other and to a Master Control Board (MCB) that resides in the supplied battery charger. These cards are modular and up to 44 cards can be connected to a single MCB. Each card contains a One-wiretm addressable device that allows for simple communications to all cards, and complete telemetry on the voltage and location of any individual cell. To support the power requirements of an all electric torpedo, a high-power version lithium-ion battery has also been developed. This battery provides up to 250A continuous at a nominal 300V. One hundred, specially designed high-power 25 Ah lithium-ion cells are connected in series to meet these requirements. With an estimated battery weight of 115 kg, this battery provides a specific power of over 650 W/kg. To reduce development time, a standard prismatic cell design was utilized for this application – however, the battery design still required packaging these cells to fit within the cylindrical volume of the torpedo. The high rate chemistry selected was the result of several development programmes focusing on rate capability.
Again cell monitoring and balancing electronics are provided to minimize state-of-charge divergence between the cells. The same modular Monitor/Equalizer boards are used for this application with only slight modifications. To provide telemetry and safety warnings during discharge, the master control board for this application has been located within the vehicle.
Communications back to the charger system still provide for full charge control and cell balancing, and a user interface is provided to display status and battery condition. During discharge, the MCB collects the high and low cell voltages and high pack temperature data from the Monitor/Equalizer cards and provides that information to the on-board computers. Safety signals are provided to indicate when one cell is dropping below a predefined threshold, or when the battery temperature exceeds acceptable limits.
Again, the addressable nature of the electronics provides not only the actual voltage and temperature values, but also the location of the cells reporting them. This aids in troubleshooting and optimization of the battery design and performance.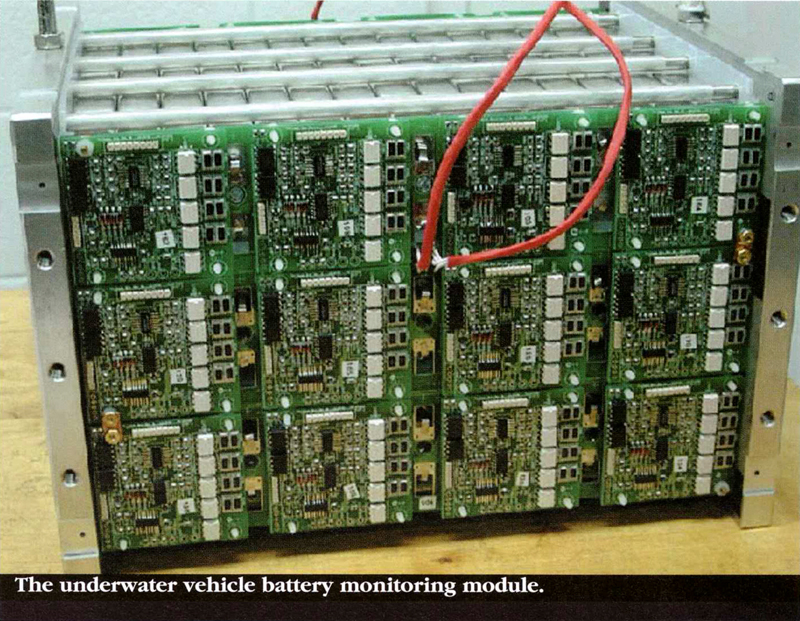 The Advanced SEAL Delivery System (ASDS) is a mini-sub type vehicle with high energy requirements. To minimize the weight of the system, battery-level energy densities of >165Wh/kg are required. Very large batteries, totaling over 1.2 MWh, power the system used for insertion and extraction of Navy SEALs.
Large lithium-ion cells typically offer 170 to 200 Wh/kg, and are thus ideal for this application. In this case, the flexible form factor of true parallel plate prismatic lithium-ion cells provides an advantage in utilizing as much of the available volume.
In fact, proposed cell designs had to be scrapped as they completely filled the available volume, but put the battery overweight. High-energy chemistry designs are being developed to optimize the performance for this low rate application.
Much of the lessons learned in developing very high power chemistries for aircraft and other applications are being applied in reverse to optimize the capacity of the system. Larger particle sizes for the active materials, and heavier electrode weight loadings are being investigated.
Lithium-ion technology has proven its capabilities and adaptability to make it attractive for a wider range of uses. In the cases highlighted here, three different battery designs with different performance requirements have been developed for three different underwater vehicles.
The range from very high power (>650 kW/kg) to very high energy (>165 Wh/kg) demonstrates the flexibility of the technology. Cycle life, maintenance and logistics costs can be minimized by utilising lithium-ion batteries in place of some traditional chemistries. And the manufacturing costs of high-energy batteries can be reduced through utilisation of high-volume production capabilities. Lithium-ion technology is proving its utility in a broad range of applications, and offers a unique power supply solution to many of them.