A year after its official launch, French battery manufacturer Saft's Evolion lithium-ion system, developed specifically for telecom applications, is beginning to gain market traction. Tim Probert visits Saft's Paris HQ to find out more.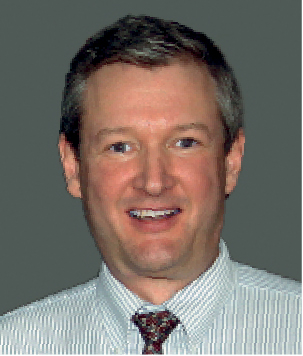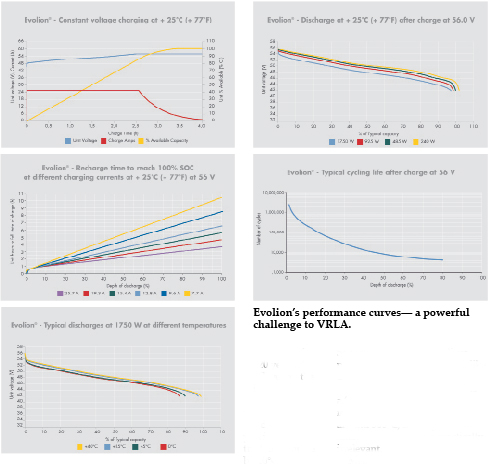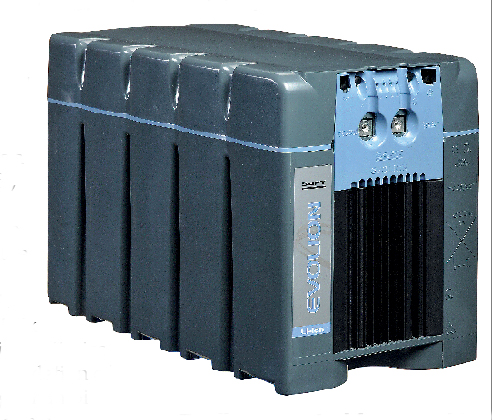 The growth of the telecoms industry in the developing world has created a demand for a reliable power source in locations where grid penetration is poor or non-existent.
Lithium-ion has long been touted as a replacement for lead-acid batteries for critical power applications in remote locations. The extra cost of lithium-ion systems, however, has restricted the growth of the market despite their generally superior technical capabilities. In the main, cheap and cheerful valve regulated lead-acid (VRLA) batteries still rule the roost.
However, particularly for installations in remote locations at high ambient temperatures, lithium-ion batteries increasingly make both technical and, crucially, economic sense. One of the main benefits of using lithium-ion is its relative long life compared to VRLA batteries, especially in elevated temperatures.
Every degree above 25 °C halves a VRLA battery's life, so a with five-year battery system at an ambient temperature of between 30 °C and 32 °C, a VRLA cell will barely last six months. Lithium-ion batteries will have some degradation of performance at higher ambient temperatures, but it is not as great as experienced with VRLA batteries.
Last year, encouraged by the potential demand for applications in remote, high ambient temperature locations, French battery manufacturer Saft launched Evolion, a lithium-ion battery system designed specifically for the telecoms market. Evolion is a 48V lithium‑ion cell, with a rated capacity of 74 Ah and typical energy of 3.8 kW at 25 °C.
Evolion targeted for on-grid and off-grid sites
Evolion is being targeted for both on-grid and off-grid telecoms outside installations. At telecom sites, such as Base Transceiver Stations (BTS), Wireline Outside Plant (WOP), Optical Node Units (ONU) require a battery system for backup in the event of an interruption to their commercial power supply. The main power source is normally a generator set, solar PV (photovoltaic) system or wind turbine, or some combination of the three.
The role of a lithium-ion battery in this type of hybrid installation is to enable efficient energy storage that ensures reliability and availability of power, while also saving fuel and reducing carbon emissions by minimizing the generator run time. As well as longer cell lifetime, the other big advantage of lithium-ion versus lead-acid and even nickel cadmium is its high cycling capability, particularly useful for backup power in unreliable grid locations, says Francois Linck of Saft's stationary batteries division.
"These batteries will not be cycling once every three months but three times a day," he says. "A module developed for floating backup is not going to perform very well under these conditions."
In late February, Saft announced it would be teaming up with Italian genset manufacturer Ausonia to produce what it is branding a Hybrid Integrated Module (HIM) to provide power for off-grid telecom BTS applications. The HIM concept integrates a variable speed diesel DC generator with the Evolion battery to offer a significantly more energy efficient alternative to an AC generator in constant operation.
The HIM is fitted with four to six, 48V lithium-ion Evolion modules connected in parallel according to the site load. The genset power is 9 kW and the peak power is 16 kW. Saft claims the Evolion module has a cycle life of 4,200 cycles and charge efficiency of 95%, while offering tolerance to a wide range of temperatures from -40°C to +75°C and integrates
The HIM is designed for fast handling and deployment and comprises three independent packs (generator, battery, fuel tank). Each pack weighs just 500 kg and is sized for easy transportation. The packs are easily hot-swappable on site and provide a decent level of flexibility and scalability to adapt to the changing needs of the site.
Linck says this design eliminates AC/DC rectifiers and battery packs inside the BTS, while the capability of Evolion batteries to operate in very high ambient temperatures mitigates the need for air conditioning systems. The system also includes Saft's BMM (Battery Management Module) safety and communication system.
How it works
The generator simultaneously charges the battery and powers the site load. When the battery has been fully charged the generator shuts down and the battery takes over as the primary source of power. By reducing the genset runtime down to a typical four hours per day, this approach is set to offer considerable savings in fuel consumption – typically 74% compared with a standard genset, claims Saft. The French says the system also reduces carbon emissions while increasing refuelling and service intervals.
"The aim is to reduce wear and tear," says Linck. "When you have a, say, 5 kVA generator and a 1 kVA load you just kill it. Hybridising it by putting a battery in between reduces the high cost of maintenance. The idea is to minimise genset runtime and an optimum runtime once it has been turned on rather than switching it on and off every 15 minutes.
"The battery can also be combined with solar PV and wind power, discharging at night or in times of low wind speeds and of course recharging in sunlight hours or windy periods. If it is dark or not windy then you would run the genset, of course."
In January, Saft delivered the Evolion batteries to Ausonia for the first set of 10 HIM installations, further volume shipments will follow during the rest of 2012. Initially, Ausonia is rolling out the hybrid concept in its home market of Italy, and in 2012 it plans to transfer its entire Italian fleet of off-grid BTS installations over to HIM, according to programme director Francesco Di Noto.
"Currently we manage over 80% of the Italian off-grid market with all four of Italy's telecom operators and we will swap all this fleet over to HIM. We are also preparing to replicate our Italian business model on the global market, where we see many opportunities for hybrid installations.
"Our plan at mid-term is to deploy more than 2000 HIM systems per year". Ausonia is also targeting the HIM systems at the rest of Europe, Africa, South Asia, India, South America and Russia where grid reliability is an issue for telecom operators, or where grid connections are unavailable.
On-grid applications
In addition to off-grid hybrid power systems like HIM, Linck says Evolion offers interesting possibilities for the creation of compact backup systems for a wide variety of telecom installations including outdoor on‑grid sites and DPCO (Distributed Power for Central Office). The compact Evolion design offers a particular advantage in locations where space is at a premium, as it requires only half the space needed by a conventional VRLA battery.
Another important advantage of Li-ion technology for remote installations is that the zero maintenance design eliminates the need for routine site visits, and Saft can remotely monitor the health of the system.
You get what you pay for
Of course, the main drawback of the Evolion lithium-ion battery system is the cost. Linck says the initial cost of an Evolion system would be four to five times more expensive than a traditional lead-acid battery system of comparable capacity.
Linck is keen to point out, however, that Evolion's lithium‑ion technology yields an 80% depth of discharge at more than 4000 cycles, while lead-acid can only achieve up to 1000-1500 cycles. "In backup application the Evolion cells can last at room temperature for up 20 years. At 40°C we say the calendar life is more than 10 years.
"Every time you increase the temperature by 10°C the performance of lead-acid batteries is reduced by half. Also, the weight of lead-acid batteries is greater than lithium-ion by a factor of ten."
At present, the Evolion modules are made at Saft's manufacturing hub in Bordeaux. Later this year, however, the modules will also be made in Saft's new manufacturing facility in Jacksonville, Florida, which has been built to service Saft's energy storage systems business and telecoms products. Linck expects this move will help drive down costs and help Evolion to become ever more competitive with VRLA systems.
As well as lead-acid batteries, Saft is also in competition with Italian manufacturer FIAMM's SoNick system, a 48V sodium nickel chloride battery, which like Evolion, is specifically designed for telecom applications. This is a 'warm' battery system with an internal operating temperature of around 300°C, making extreme ambient temperatures practically irrelevant.
Meanwhile, GE is going big with its Durathon sodium nickel chloride product. The US conglomerate says replacing lead-acid batteries with Durathon batteries in a telecoms tower application can reduce reliance on a diesel generator from 16 to 7 hours per day. This can result in an overall cost savings of approximately 15% over a five-year period, claims GE.
Linck is confident that lithium-ion has the edge over sodium nickel chloride and nickel cadmium in terms of cycling, if not performance degradation at extreme temperatures, and points to a great deal of interest in Evolion in India and the Middle East. The future for lithium-ion batteries in telecoms applications appears bright.