Dogged by a series of mishaps, the 23rd International Power Sources meeting took place in Amsterdam— but it was a close run thing to deliver good battery science to a demanding audience.
This was the one event that your 'scribe' sees from the inside looking out, so to speak. Sure, I comment on everybody else's events, but this is the one I get involved with .
This, the 23nd Power Sources Meeting almost didn't happen. Three years ago and yours truly managed to persuade "committee" (the word is best said with a Yorkshire accent) to leave my sleazy seaside home town of Brighton, with its third-rate hotels, beggars and drug addicts, not to mention poor parking facilities, for pastures new—Manchester. But the move still failed to boost attendance to the levels everyone would like to have seen.
With battery manufacture disappearing from UK shores at an exponential rate, the brave among the team opted for the European Union mainland—the Netherlands and Amsterdam.
Sadly the champion for this location, David Rice, then working with Hawker and who had been such a great personal contact for me in the industry, as well a tireless worker on the behalf of the IPSS, died suddenly, in February 2003.
And worse was to come. The war in Iraq, the SARS outbreak—no-one was prepared to travel. Then the organising committee learned that the key individual whose job it was to secure papers and speakers for the meeting was falling down on the job—literally, with a strong smell of ethanol in the background, He had to go, but at short notice, who would replace him?
It was time to bring the old editor out of retirement—one Austin Attewell. Fortunately he had been kept on float charge these past three years and could still cycle as well as solicit papers and edit them.
But this year, IPSS was trying new things—web-based editing and a CD ROM. Chris Ford, another IPSS stalwart, put his shoulder to the wheel on this one. Holding the whole thing together and fighting the Dutch VAT office single-handedly, was IPSS's Secretary, Bob Bailey. And me? I could only watch from the side-lines as more meetings sprang up like weeds to clutter the September calendar and was far too busy driving BEST single-handedly in the first nine months of its existence.
September finally came—and delegates that might have gone to three meetings split and went to eight. But the fare on offer in Amsterdam was of a high order although the truly distinguished parts were rare.
Of those I listened to, I picked up on a handful which were really relevant to the battery industry.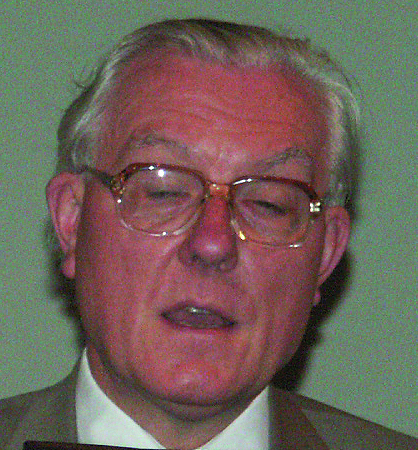 For the perfect tour de force of what's happening in lithium, you would have needed to have looked no further than Dr Andrew Richie, probably one of the jewels in the crown at Qinetiq of whom they don't fully appreciate the value (but who really ever appreciates chemists?).
In under 30 minutes, Richie put most of the lithium scene in focus, in terms of what's current and what's coming, if anything at all (but more of that later).
With around 800 million cells per year being produced with 450 million being cylindrical cells, 250 million being prismatic and 100 million polymer, Richie hit the nail on the head by saying that the main focus now is reducing cost and of course improving safety (it's not about increasing energy density any more).
So what's new then? On anodes, not much. Interestingly, Richie mentioned that lithium titanium oxides have been reported to offer longer cycle life, albeit at the expense of a much lower voltage and cells using this technology are now in production. So carbon-based anodes are going to be around for quite some while.
Electrolytes—why do a literature search? It was all here. Well, we've all seen polymer-gelled-electrolyte batteries in our mobile phones at around 500 mAh. While pure polymer batteries are becoming available, because their operating temperature still remains around 80 – 100°C, they are limited to applications such as electric vehicles or emergency back-up power supplies for telecommunications installations.
One factor which increases the cost of lithium ion batteries is the cost of the electrolyte salt, lithium hexafluorophosphate, LiPF6. This salt has the advantage of high conductivity and compatibility with the usual cathode materials, lithium cobalt/nickel oxides. However, it is expensive to make in the high purity needed and it is also prone to hydrolysis, forming the highly toxic hydrofluoric acid, HF.
Richie highlighted a new electrolyte salt—lithium bis-oxalatoborate . Easily made from readily available, cheap starting materials and with adequate conductivity, it is not prone to hydrolysis releasing acidic impurities, as is LiPF6, so it is stable to lithium manganese oxide, manganese spinel, LiMn2O4.
Laboratory studies indicate better high temperature (50 – 70°C) and cycling performance than LiPF6, presumably due to its greater stability to hydrolysis. Richie said that related boron and phosphorus compounds have also been reported for this application including alkyl and aryls, fluorinated aryls, chelatoborates and oxalatoborates.
Performance is one thing but low cost synthesis is an essential factor for commercial success.
In cathodes there's a lot happening. Economics dominate. The original cathode material for lithium ion batteries, lithium cobalt oxide, LiCoO2, is now being replaced by a mixed lithium cobalt/nickel oxide with the approximate composition LiCo0.2Ni0.8O2. Small amounts of other metals, such as aluminium, are needed to stabilise it—nickel is cheaper than cobalt and a higher capacity (180 mAh, cf. 137 mAh) is achieved because only a small percentage of the lithium reacts in the pure lithium cobalt oxide, while 2/3 of the lithium can react in the mixed lithium nickel cobalt oxide.
One material which has attracted considerable interest recently is lithium iron phosphate—LiFePO4, as it has a moderate capacity (around 130 mAh/g or about 80% of theoretical) with a steady voltage (around 3.4 V). When carbon was intimately mixed with the cathode material, capacities close to 100% theoretical at rates up to 5C were achieved.
The main advantage however is that it does not use expensive and somewhat toxic metals (nickel or cobalt) but instead uses the cheap and non-toxic metal, iron. Lithium iron and other transition metal phosphates, LiFePO4, LiCoPO4, LiV2(PO4)3 and LiVPO4F are now being investigated.
Richie touched on battery construction and design improvements, but we'll pick that up with another expert from SAFT.
On safety, the key technique has been the voltage control of lithium-ion cells—not to exceed 4.6V. Richie mentioned one design technique which has been reported to improve safety—the use of a carbon – carbon composite anode with sufficient capacity to absorb lithium generated on overcharging . This avoids lithium metal being deposited on the anode during charging, with possible adverse safety effects.
Other ideas include adding fire retardant additives to the cells. Organic phosphates are known fire retardant additives and cells using these have been tested. A polymer cell using a polyacrylonitrile gel has been reported to be stable up to 172°C even when the cell was fully charged.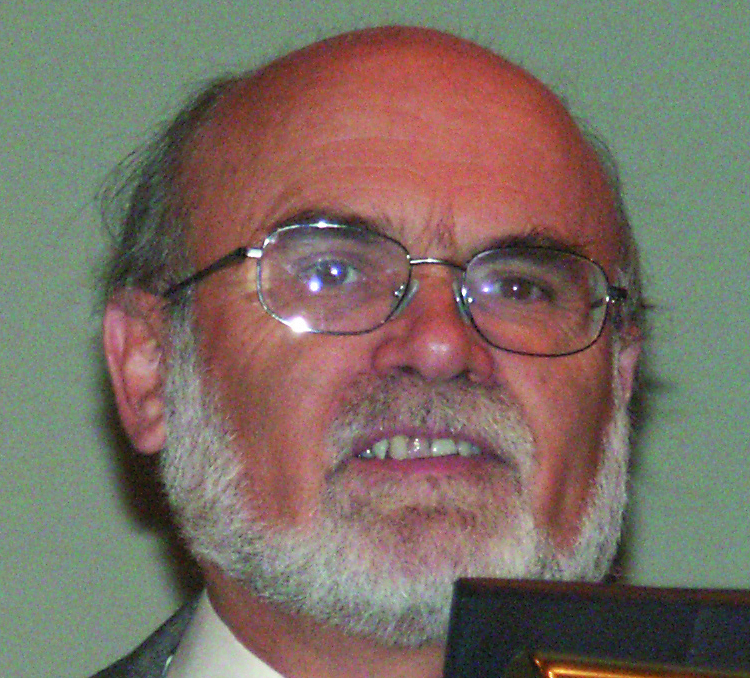 Michel Broussely of SAFT(above right) took the view that the chances of finding a practical new battery system with a significant higher energy density in the next 10 years are extremely small, hence our Meeting Report headline! There is simply no such concept being presently actively studied at research level, as was the case for many years for rechargeable lithium. Li-ion has however been in constant evolution since its beginning and will continue to evolve. But how?
A key factor in the performance of batteries is the ratio between active components (positive and negative materials) and non-active materials ( the electrolyte and separator). Broussely said a high power design will need larger electrode surfaces, more separator, electrolyte and a bigger current collector.
Any improvement in the electrode designs, allowing better electrode kinetics, may result in a reduction of non-active components, for constant power. The simplest way for improvement is the electrolyte volume reduction, i.e. increase electrode porosity.
Brouselly said anything up to a 25% increase in performance might be obtained through improvements in electrode porosity and that could be expected in the next five years, but a limit of 200Wh/kg seems most likely .Brouselly believes the fuel cell is unquestionably the high power, power source of the future. And he was far from alone. John Irvine, the keynote Bourner lecturer from the University of St Andrews, gave the meeting the Doomsday scenario and beyond. The bad year is 2015—just eleven years away. Oil production will have peaked and if we've not got the hydrogen economy underway, it's bad news. It's the usual story—the drivers being the environment, security of energy supply, etc.
When we hear these arguments. we know BEST is pointing in the right direction. "This new energy economy will be largely based on renewable generation from wind, wave, hydroelectric, tidal, biomass and photovoltaic systems. This form of generation will be necessarily distributed in its nature. The electricity supply network will move from a central system distributing electricity out towards the periphery to a distributed system generating electricity, ideally close to the point of use, but to quite a significant degree remote from both centre and point of use." We'll buy that!
And further, says Irvine; "A key character of many of these new renewable energy sources is intermittence of supply." Photovoltaic devices can only generate when the sun shines, which necessitates at least a diurnal cycle of supply. Wind and wave are wholly depended upon climatic conditions with very large variations in output over very short periods of time. Tidal is more reliable, but again has a twice-diurnal cycle. In every case this means that in the absence of storage, these systems need to be designed with considerable over capacity, with a peak capacity perhaps 5-10 times that which might be required as an average output.
With this background, energy storage becomes hugely important. Balancing of load by storing energy, from high power generation periods, to be later utilised as back up in low generation periods, will be of considerable economic importance.
Similar considerations apply to other new clean technologies, such as power generation from fuel cell, and such technology is again likely to result in a highly distributed network. This is driven both in terms of security for local supply, and by the fact that there is no great advantage in having very large generation systems for fuel cells due to the excellent scalability of this technology.
With fuel cell technology, it is quite likely that power will be locally generated on a typically one-five megawatt scale with each locality or conurbation having its own independent generation capacity, albeit with a grid connection. Such technology will be much less dependent upon energy storage than renewable as output can be controlled to match demand, although fuel supply is of course an important constraint.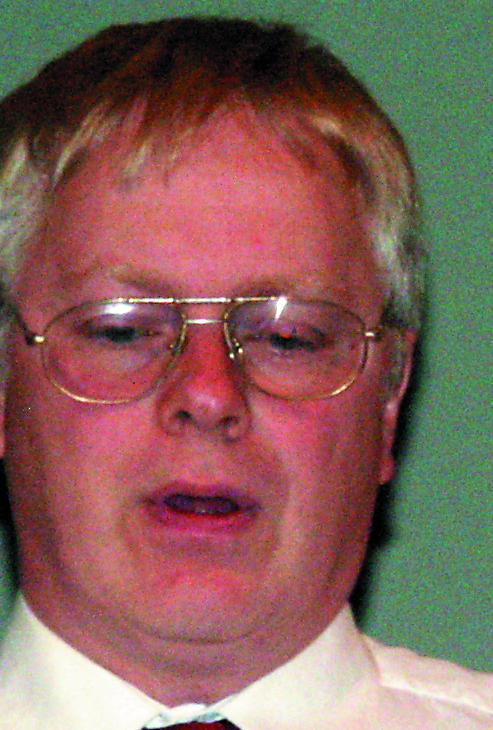 What about transport? "Well," says Irvine, "transport is responsible for 30% of fossil fuel utilisation and we can't directly utilise renewable energy sources for transport directly unless you want to add sails to your automobiles. So it's back to storage—hydrogen. But in a few paragraphs, the simplistic merchants of the hydrogen economy are rubbished.
The likelihood that the hydrogen will be produced electrochemically from renewable resources, distributed perhaps in compressed form and utilised on-board with a fuel cell just ain't going to happen.
First of all the cheapest and most direct early source for hydrogen production seems certain to be the reforming of hydrocarbons with significant CO2 emissions. Barring sequestration, such emissions would be no less and quite possibly more than could be achieved if the fossil fuel was used directly, especially in a fuel cell. Secondly, the compression and storage of hydrogen is fairly energy intensive with losses of perhaps 10% in compressing hydrogen or 30% in liquefying hydrogen.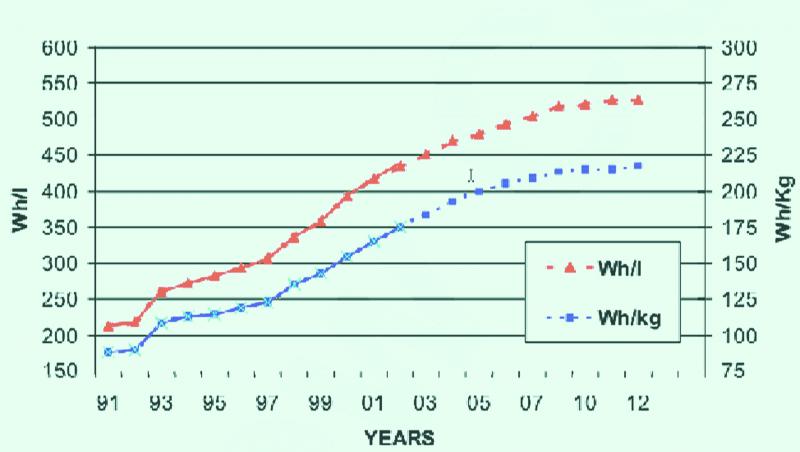 Considerable research has been embarked on to find alternative solid state means of storing hydrogen. Unfortunately the storage density of hydrogen is still very low, typically in the order of a few per cent mass density of hydrogen. If hydrogen is generated renewably, there are significant losses in hydrogen production. For example the efficiency of generation of hydrogen by electrolysis is at the very most 80% energy efficient using the best currently available processes. In a sentence: "Although hydrogen is a very clean fuel in itself, its physical properties do not render it particularly amenable to utilisation—so at once you can see why those who continue to work on direct methanol systems keep going.
Future gazing is great fun. What messages for those in the present?
Ian Bitterlin of Emerson Network Power must have set more than a few brains ticking away when he presented a paper which seriously questioned the amount of battery autonomy being specified into UPS systems. Just how long can you expect to be without power?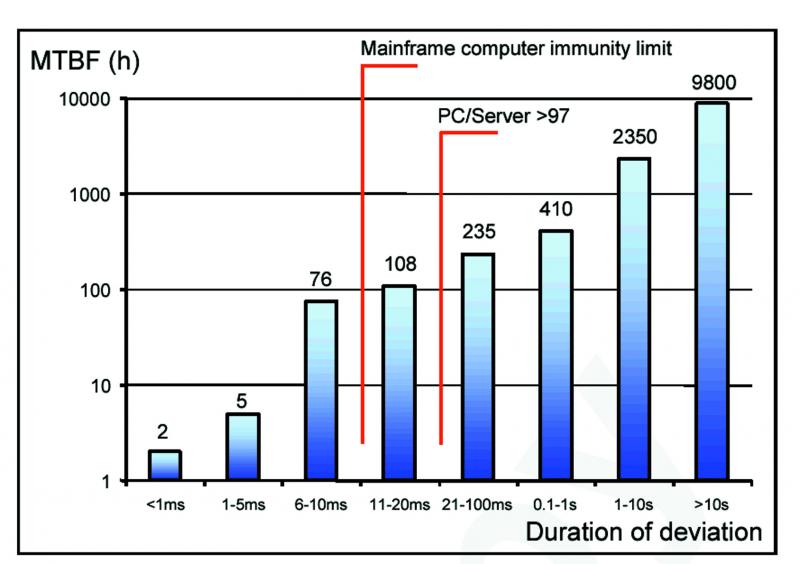 To get some idea of the scale of the task, Bitterlin presented some 1998 historical data on "dark-bus", that is, actual failure of the voltage rather than transient voltage depressions, at the 11kV distribution point for average UK urban and rural sites.
Such data as this is, unfortunately, no longer published since the UK power industry privatisation and the change in role of the Electricity Council.
Up to date data of this kind can be found in the UK from some of the regional distribution companies, although they are not obliged to report on black-outs lasting less than one minute or major voltage depressions at all.
For example, Yorkshire Electricity reported, in May 1997, that their average customer was without power for a total of just under one hour (an improvement of 2 minutes on prior years) and that their urban customers risked a one hour power cut every 2.9 years. But UPS systems are little more than power conditioning systems, said Bitterlin—providing clean power and, in large organisations, a short electrical bridge until the emergency generator picks up the load. The UPS is essentially there to facilitate the clean shut down of IT equipment) . If you have a reliable generator it should pick up the full load in seconds. So it begs the big question. If you only need a few seconds autonomy, why specify a 20 minute battery? Wow ! I'm sure that lots of lead acid battery makers will happily pay Mr Bitterlin not to ask that question too loudly!