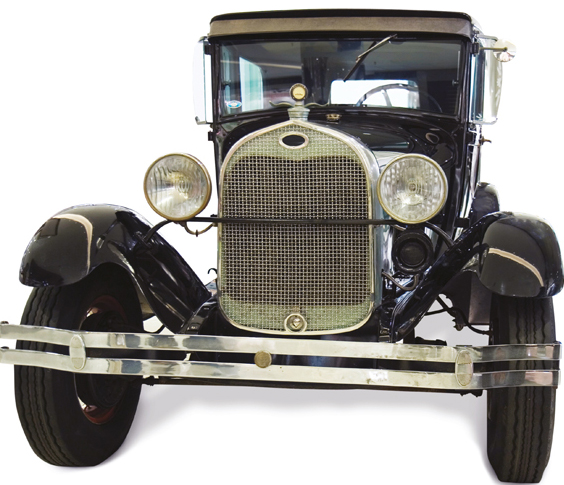 Leonard Greene, an environmental writer based in America's Midwest, bemoans the fact that, traditionally, it's the small firms that innovate while the corporate giants plough on with tired ideas.
Watching the Big Three American automakers thrash about in nets seemingly of their own making these days conjures an image of a mastodon, one of those seven-ton elephant-like monarchs of Ice Age forests, being brought down by a bunch of diminutive spear-waving Neanderthals. The great beasts died out 11,000 years ago – not, however, from over-hunting; what finished off the mastodons was what scientists now conclude was endemic tuberculosis that made them susceptible to the vulnerabilities inherent in their sheer mass. It's good to be big, except when it isn't.
Certainly industry pundits and energy buffs have delighted in thumping the very companies they once lauded for putting the world on wheels for a multitude of perceived sins – among them fighting for tax breaks and loopholes "so they could sell the same old stuff cheaper instead of engineering progressive ideas and making cars people want to buy", as one blogger recently harrumphed.
Granted the Big Guys, roused by the rush of Toyota's backdraft, are catching up. All three are producing hybrid vehicles, and GM has announced impressive plans to produce a wide range of electric models beyond the Chevy Volt, its savvy new EV capable of running on electricity, gas, E85 and biodiesel.
Heartening news; but still, maybe consumers who can trawl the alternative energy web scene for news of the technical innovations not happening in Detroit are entitled to wonder: why it is that the real automotive innovations seem to be coming not from sleek corporate offices and well-appointed plants, but from countless gutsy entrepreneurial efforts going on in basements, garages, university labs, tin sheds, sweaty back rooms, even high-school classrooms, around the globe?
Because that's where they've always come from. Nicolaus Otto, Gottlieb Daimler, Karl Benz, Rudolph Diesel, John Lambert, the Duryea brothers, Henry Ford, all worked largely alone – often sustaining a day job – wherever they could, in shops and sheds, even hotel rooms, as they found them. (Daimler and Maybach toiled so quietly in a country cottage that neighbours, suspecting a counterfeit operation, called in the police. They found only engines.)
There were scores of other innovators (one source counted 300 inventors working on automobiles at the turn of the 20th century) throughout Europe, the UK and North America. In other words, most of the early automotive technology started in the same places it's starting now – in back rooms; and in the same way – by the seats of many enterprising pants.
Electric cars, back in the news again as several small companies announce plans for new models, are nothing new (the first prototype was invented by Scotsman Robert Anderson in the 1830s) but until now they've either been too expensive to produce or too small and slow for practical use. Though no upstart innovator has survived in recent decades, the fact that the major automakers have remained largely committed to the internal combustion engine for so long has created opportunities for smaller companies with fresh ideas.
There are plenty of them out there, too, and increasingly practical and affordable. Tesla, which has to date focused on its $100,000 Roadster, has announced plans for the mid-sized $50,000 White Star sedan, set to go into production in 2010. ZAP hopes to bring its super-powered Zap-X, an EV that can achieve a top speed of 150 mph and a range of 350 miles, to the US market in 2010 priced at $60,000. Phoenix, in a deal with South Korea's Ssangyong, plans to ship the Actyon pickup to Canada – where it will install batteries and electronics, within two years. And Miles Automotive Group has just announced it will introduce an affordable XS 500 boasting a range of 120 miles at 60 mph by late 2008. In batteries too, it's the little guys who are innovating – Firefly, Atraverda and Effpower to name but three.
But sooner or later the Little Guys will, like their predecessors, have to become Big Guys to meet the demands of a mass market. When they do, they'll have to face down some of the same factors that have shackled the Big Three for years. Though we love to criticise them as lumbering laggards, the truth is that as corporations, the big American makers, legally bound to satisfy stock and bond holders, must do what they can to generate profits in the short term. By their very nature, then, corporations are frighteningly subject to a kind of insidious viral infection, forced to do its bidding no matter what the outcome so long as certain predetermined requirements (i.e. profit margins) are satisfied.
Lean, light and unburdened, the new innovators can take advantage of the mastodons' systemic weakness. But what has crippled the old giants – the silent pathology of the profit axiom deep in the marrow of the bone – could likewise endanger the mavericks once they get big enough to mass produce, and succeed.
After years of disinterest, the public has finally begun to demand efficient, practical vehicles that do not use petroleum. The big companies, for complicated reasons not least of which is the need to produce profits, have not exploited it as they might. Small innovators can take the lead, as they always have. Let's hope the unwritten rules of capitalism and competition will not force them to succumb to short-term economic imperatives. They can make it happen – but they have to make it happen right.