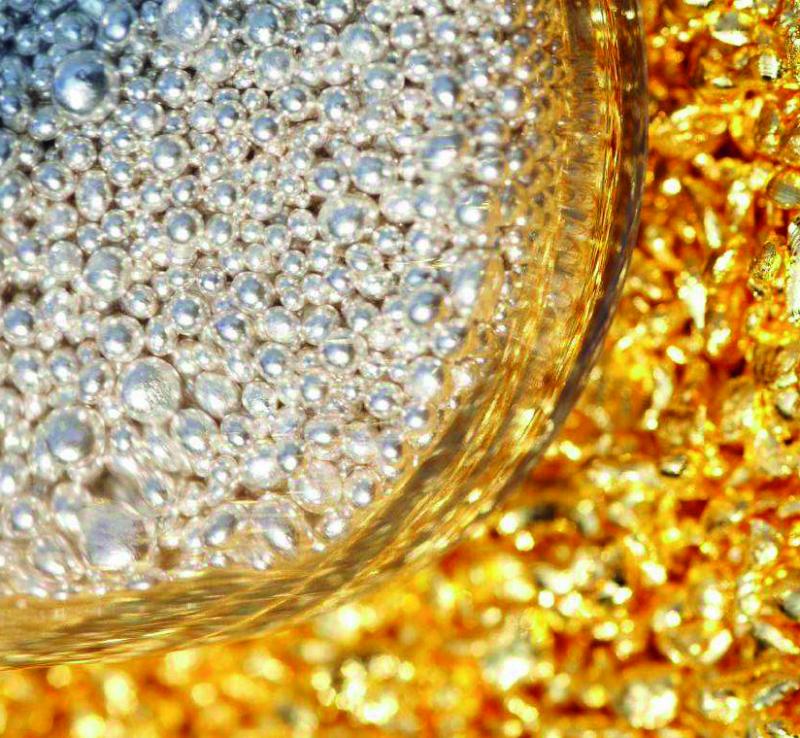 While Brussels pontificates on how batteries should be recycled, the real Belgian masters of recycling— Umicore, get on with the work of extracting value from scrap. The Editor visited the company's smelting and recycling facilities in Hoboken, Belgium.
It's an old company with a long history in getting wealth out of the ground. But today Umicore's mining operations tend to be urban— from the vast wealth of scrap that comes from electronic waste, old mobile phones and of course, batteries.
While it's good to talk "product stewardship" and environmental protection, the plain facts are that recovering metals from scrap is much more efficient than taking it out of the ground and reduces the amount of energy used by about 90%. Each year Umicore processes around 350,000 tonnes of more than 200 different types of raw materials containing lead, copper, nickel & precious metals. And it's highly profitable. Because within the scrap, Umicore, or to give the company its full name, Umicore Precious Metal Refining can recover up to 100 tonnes per year of Gold and 2,400 tones per year of silver, 25 tonnes of year of Palladium, the same amount of Platinum and 5 tonnes of Rhodium.
Look up the current market prices of these metals alone and it doesn't take long to see why Umicore has such a positive glow about recycling and battery recycling in particular. The operation in Belgium is vast— over a couple of hundred acres and the only way you can get an overview of it all, in a day, is on four wheels. And even then, it takes a lot of explanation see what's really going on.
The key issues are having a stream of raw materials coming in from scrap collectors, having a reliable assay service to determine the content of that scrap and getting agreed prices back to dealers and having the technology to efficiently process the scrap received.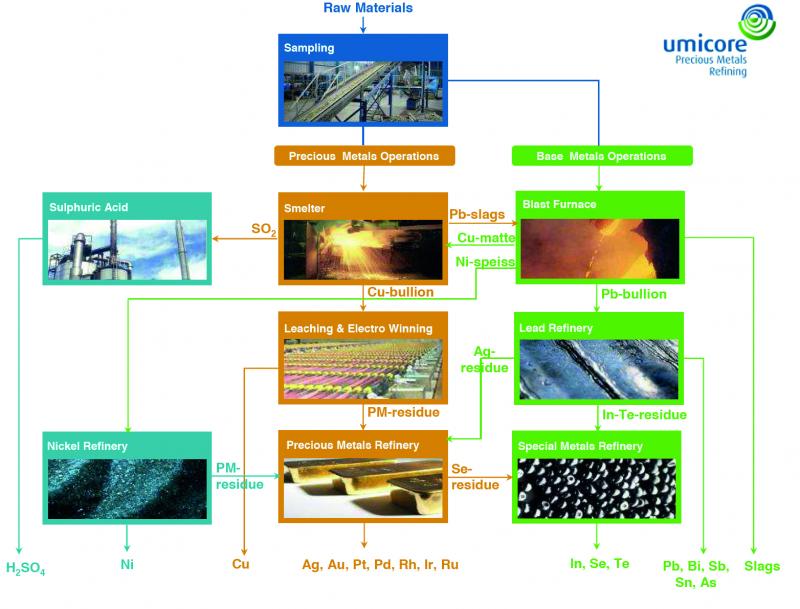 Umicore classifies its raw material into seven categories: autocatalysts, electronic scrap, which inteself is divided into two lines depending on whether it has been shredded or unshredded. Then there is free-flow material, metallic material, wet material, lumpy material and liquid spent.
Assaying this material is no small task— more than 55 000 samples are carried out a year and the assay service employs 100 staff.
The refining process splits two ways and once sampled, scrap either heads for base metal operations or refined metal operations.
The base metal side of the operations has capacity of up to 1 000 tonnes a day and produces 250 tonnes a day of lead with a capacity of 100 000 tonnes a year of lead at 99.99% purity. But it's some of the side streams from this refining process where significant profits can be obtained: UPMR can extract Selenium — often present in copper ore & is recovered from tankhouse slimes. It is used in the glass & pigment industry, in reprography applications, in infrared optics & solar cell technologies. The company has a production capacity of 600 tonnes per year.
Tellurium is mainly generated in a by-product of the copper industry. It improves the machinability of steel, is used in rubber vulcanisation & catalysts, as well as in thermo-electric and thin-film photovoltaic applications. UPMR has an annual production capacity of 150 tonnes.
Indium is not found in the native state, but is associated with lead & zinc in many ores. 80% of the indium consumption is dedicated to the production of Indium-Tin-Oxide, which is a transparent conductive oxide used in flat screen displays. Applications of indium also include low melting point alloys, control rods for nuclear reactors & hermetic seals for cryogenic applications and thin‑film photovoltaic applications. UPMR has a production capacity of 50 tonnes per year.
The company is building an industrial scale recycling facility for end-of-life rechargeable batteries in Hoboken, Belgium. The investment will enable it to deal with the expected growth in the availability of end-of-life Lithium-ion, Lithium-Polymer and Nickel Metal Hydride rechargeable batteries. The use of such batteries is set to grow substantially with the growth EV and hybrid vehicles
Umicore currently operates a small scale facility which treats spent batteries that come primarily from portable electronic equipment such as mobile phones and laptop computers. The new facility will have an initial annual capacity of 7 000 tonnes. This is the equivalent of some 150 000 HEV batteries or 250 million mobile phone batteries.
The plant, which involves an investment of €25 million, is expected to start operating in the first half of next year.
The new industrial operation will use Umicore's proprietary and patented Ultra High Temperature Smelting technology. This breakthrough recycling process has high metal yields and will drastically cut CO2 emissions compared to the primary production of cobalt and nickel. Furthermore, this process is significantly more energy efficient than any other existing battery recycling process and also guarantees that no hazardous dioxins or other volatile organic compounds are released into the environment. It complies with the strictest regulations in terms of the required recycling yields.
Currently, the process allows for the recycling of cobalt, nickel, copper and other metals and is fully in line with Umicore's strategy of closing the materials loop. The scale-up of this new ultra high temperature smelting technology will also enable Umicore to test its suitability for recycling new streams of materials. For example, Umicore is working on developing a capability to recycle lithium for re-use in lithium-ion batteries.