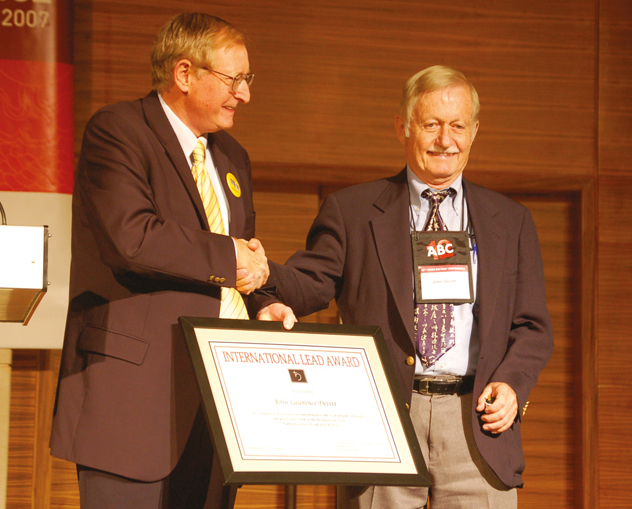 VRLA technology is more than 40 years old, its father is more than 80. In this special article for BEST, John Devitt explains how the infant sealed battery system was conceived – and what lessons new battery developers could take on board as they make their jouney.
In April 1965 I submitted a nine-page memo to George Jenkins, VP Research of the Gates Rubber Company. It was titled 'Lead-acid Sealed Cells', and outlined why that could be a good thing to work on – and also what an R & D programme in pursuit of such a product line might consist of.
This memo didn't just come out of the woodwork. For most of the preceding 15 years I had managed two battery factories in succession; both of them supplied a number of different silver-zinc batteries to the U.S. Department of Defense. All were destined to be used in either missiles or torpedoes. One of the factories was the principal source of batteries for the main electrical power of the Minuteman, Polaris and Poseidon ICBM missiles. I also directed the development of these products.
As a matter of technical interest, they all were shipped dry and unactivated. When someone in missile command 'pushed the red button', a propellant charge was ignited at one end of the electrolyte tank and the battery cells were filled with alkaline liquid. Kilowatts were available in a few seconds, and off the missile went! Exciting times.
Gates is the largest manufacturer of rubber belts and hoses in the world. In 1965 it was privately held by the Gates family; Charlie Gates was CEO, and he ran the company his way. That included an unusual willingness to experiment with new types of products, and even completely diverse enterprises. The local grapevine one day yielded the news that Gates was interested in going into the battery business. I had for some time wished to become involved with non-military batteries± even lead batteries, then by far the largest portion of the overall battery business, including dry cells and the rest. I joined the firm three months before I wrote that April memo.
A very unusual environment greeted me at Gates. Charlie could decide a new idea was a good one in the morning and by afternoon someone's work was going in a new direction. And it turned out that Jenkins, my new VP, was very skilled in finding new R & D areas to whet Charlie's appetite. Jenkins was also an expert at summarising for Gates (both were engineers) the technical intrigues involved with a possible new enterprise. Perhaps best of all, only Jenkins stood between me and Mr Gates. In retrospect, the whole thing was too good to be true. No more bureaucrats. No more waiting for an unpredictable Board meeting.
One object of my pre-Gates civilian battery investigations was sealed nickel-cadmium cells, which I had heard described at the autumn 1960 meeting of the Electrochemical Society. The oxygen cycle employed in these was clearly one of the major breakthroughs in battery science of the last century. In these cells advantage is taken of the fact that, in electrode reactions, no electrolyte is consumed. The liquid needs to be present only in sufficient amount to transport ions from one electrode to the other. So if there is a wettable, fibrous separator between the electrodes, it can be merely damp, or 'starved' of liquid.
During overcharge, if the negative cadmium plate is of substantially larger coulombic capacity than the positive, there will be oxygen evolution within the cell before hydrogen gassing begins. As we all know by now, oxygen diffuses through the separator pores to the cadmium surfaces, reacts to form water, and this situation can literally continue indefinitely without either hydrogen or oxygen escaping from the cell. Practical Ni-Cd cells are made using thin, spirally-wound plates in the cylindrical units and are capable of high-rate discharges and charges.
Another object of my earlier, preliminary work was to find, if available, more-or-less-maintenance-free lead-acid batteries. The only ones worth study were those made by Sonnenschein in Germany and, at that time, imported by Globe Union (later Johnson Controls). These were called 'gel cells' because of the silicaceous addition to the acid which turned it into a stiff jelly and kept it from running out of the battery when it was in a spillable position. Unlike the Ni-Cd cells, this battery did not use oxygen recombination. It was basically designed and made as a flooded battery with non-spillable acid electrolyte.
The batteries I purchased, then, were shipped with full charging instructions which cautioned against using voltages above the gassing potential. In addition, the gas exit of the battery contained a rubber 'umbrella' valve, used simply as a check valve, allowing gas exit but not entry. On tested it held no measurable internal pressure; so there is no question that it was not an early VRLA battery. Particularly when new, its negative plates were buried in acid gel. This material also tended to slow down the electrode kinetics to such a degree that true high-rate performance was not available.
With this background it was not difficult to suppose that an extremely attractive objective might be the development of a small lead-acid cell with as many of the characteristics of the sealed Ni-Cd cell as could be achieved. This, in brief was the scenario presented in the April memo. Our new, future product would be high rate, as sealed as possible, non-spillable of course, and quite inexpensive because of the much lower materials cost.
But there were several significant problems that would need to be solved on the way to commercial success. No-one had ever made and sold good cells with spirally-wound lead plates. We would need to either minimise gas formation or recombine it within the cell, and no-one had done this with lead-acid. Then there was the problem of sulphation during discharged storage, plus the comparatively rapid self-discharge of ordinary lead-acid batteries – going 'flat' in a matter of months unless maintained by occasional charging or floating.
Since this is not primarily a technical story I will jump ahead to our solutions to these issues (by 1970). Our plates were thin, based on longitudinally-expanded lead sheet, and wound up with the separators before they cured or dried – a timing problem in manufacturing, but doable. (The very first experimental cell was made this way.) Sulphation problems were never addressed, and little business was actually lost as a result. A powerful clue was found very early in a classic paper by Rose and Zachlin of Willard Battery in 1935(!). The reference for this is found in the Transactions of the Electrochemical Society, volume 68. This battery was used in navigational buoys – the ones with red or green lights. The self-discharge rate was about 15% loss of charge per year, owing to the use of highly pure lead grids and high purity in the other components. This greatly influenced our choice of grid materials. And it incidentally assisted in at least lessening the sulphation problem.
About two years passed after that April memo, during which Gates' management thought about the idea of lead batteries – which would have been a major departure from the traditional rubber manufacturing business. But in early 1967 we received a strong go-ahead, and this began the four-year period of intense work mentioned earlier. That 24-month delay gave us priceless time in which many contacts with sources of materials and information could be used to permit plans to be made.
A particularly key visit was made to Everett Ritchie at Eagle Picher Corp in Joplin, Missouri. EP was both a source of various oxides and a wealth of information, as Everett had been working on an ILZRO contract which resulted in probably the most complete data on paste formulations, curing and so on published anywhere. The recommendations from this source resulted in both positive and negative recipes, which found their way into our finished products. So when the starting gun was finally fired in 1967 we were ready to go, and go fast.
I believe the story of the development is well covered in the JPS 1997 paper, but there are many things that can be added to that story. After serious experimenting began in late spring the first 'Gates D-cell' was shown to a meeting of the Board of Management on 10 November. It was housed in a polystyrene pill container, with the usual polyethylene cap. The plates were as described earlier. The separator was a phenolic-treated flexible paper obtained from Knowlton Brothers Co. They sold this material to makers of automotive filters, and I had visited the factory in Watertown, New York during a furious snowstorm in late 1966.
The gas vent was a hole in the lid covered by electrical tape, which somehow became wetted with acid and tended to come loose. The terminals were simply lead wires protruding through holes in the lid and 'sealed' with hot-melt glue. A light burned during the meeting. Ironically, this cell performed at least as well as those made during most of the following year! Don't ever discount the influence of luck.
As related in the JPS piece, I pasted one plate while Marvin Walker pasted the other; then we wound it up and stuffed it in the pill container. Formation was done very slowly. There was no curing or drying to speak of, but the performance of the cell was quite exemplary. The work continued apace to first sales from the large pilot plant in late 1970. These were in the nature of field tests, for us. Real quantities began production in mid 1971.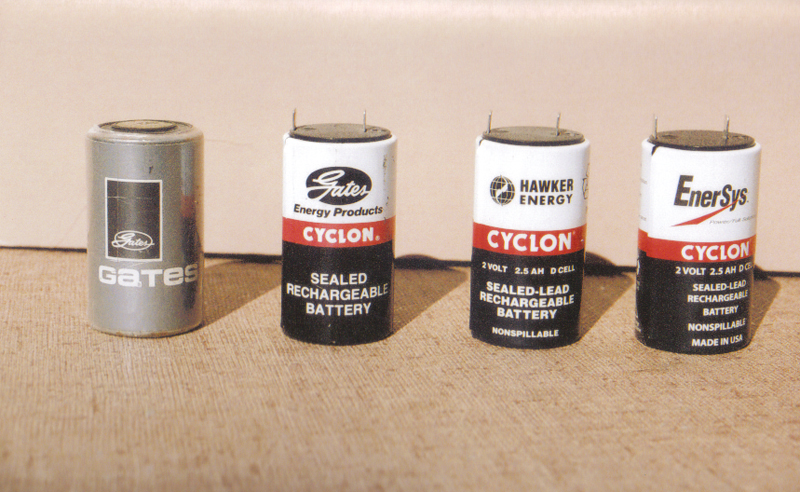 There were many product development plans and methods brought into this work from the missile battery days, and many which developed during the work at Gates. A list of ideas which produced success follows below:
In drawing up the proposal for a new battery development project, pick a product objective that comes from a detailed knowledge of the projected market for it. Think 'future business plan' from the outset.
Start early to analyse present competitive products, if any. Also project what competition will probably be facing you at the time the development is complete. Continue analysis of the competition throughout the R&D period.
Hire great people for the project. A key step will be an unhurried interview of the promising ones. They must display enthusiasm for your objective in the first interview, based on a reasonably good understanding of the proposed project.
Prioritise the sequence of the development tasks with extreme care, identifying junctures where there might even be a need for some fundamental research. The biggest obstacles to success must be identified as soon as possible and eliminated early, either by solving technical problems or by changing the identity of the obstacle. An example of the latter was our decision not to belabour the discharged state sulphation issue, because many prospective customers would not be affected by this.
Continually review the priority list in order that needed changes can be made quickly.
Overlap major work phases as mercilessly as possible, provided that this can be done economically. Be on the alert for a cumbersome backtrack, with its accompanying delays and expense. Over-lapping is clearly an art form, but it can pay enormous dividends.
Battery product R & D invariably requires that manufacturing process planning be done concurrently with the development and design of the product itself. If possible these two functions should occur in the same room, with at least some people shared between these tasks.
Very, very preferably, the project boss should be very solid technically in the same field as that being pursued. A fine track record in a similar project is a big plus, obviously. Also there should be only one boss, with the needed autonomy. The record of some past battery R&D projects during recent years past clearly shows the damage to progress, and even ultimate success itself, that is inflicted by 'upper management' which does not understand technical realities.
Progress reports to management must be made regularly and, if possible, should reflect any available optimism about recent results and projections for the future. Nevertheless this must be done with full disclosure and without exaggeration. Bad news must be accompanied, at the same time, with plans for correction.
Most projects of this type should employ at least one actual scientist in order that work down blind alleys not occur. This base can be covered by the use of a really effective consultant.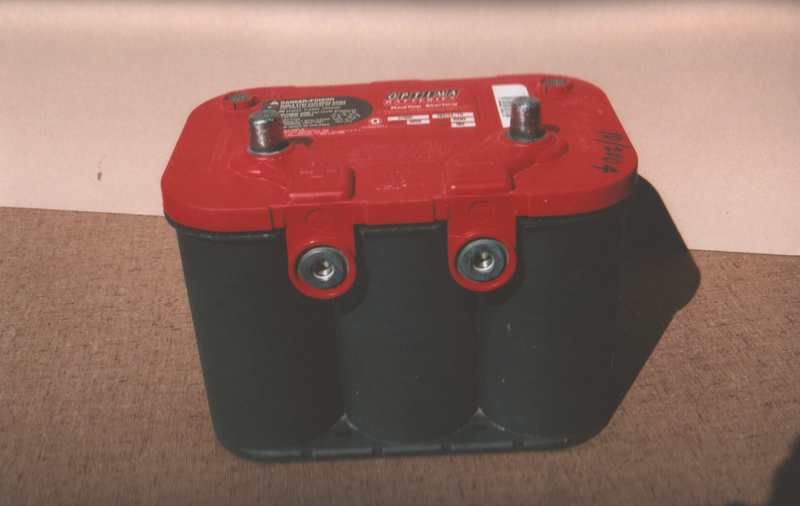 Continual attempts were made to carry out these ideas for good project management during the Gates VRLA development. In most cases I believe we succeeded, as the record shows. Some of the items above were particularly valuable, and were treated in the following ways.
Personnel: Hiring great people at Gates began with a really fine Personnel Department. Forty years ago the Government and the lawyers did not yet dominate everything. A battery of very useful tests was employed with job seekers, and a key one was a timed intelligence test which had a steeply increasing level of difficulty. It was constructed to emphasise reasoning but also included involved arithmetic problems and other tricks.
After I had told Personnel my requirements I was sent, for the most part, very good prospects, and the best ones were interviewed at length. I involved them immediately in questions dealing with whether the person 'made and/or fixed things', had ever enjoyed studying scientific subjects of any kind, travelled, played a musical instrument, played sports or hiked, and so on. If things were going well I then trotted out the basic summary equation for the lead-acid battery reaction, the double sulphate one. Had they ever seen anything like it? What do those symbols mean? What is happening? And so on until we began to get really involved with discharging and charging details. I soon found out if the candidate was familiar with chemical manipulations based on a good understanding of them.
Some chemical background was an obvious plus but I was more interested in how an answer was arrived at than in its accuracy. Some interviews lasted well over an hour. It must be mentioned that the team which developed the battery consisted, for the period beginning with the first experiments and ending with sales to customers, of only four people with a relevant technical degree – the rest having wholly diverse backgrounds. These latter folk were classified as technicians. Not one had ever worked in an activity similar to the one they were about to enter, and no-one ever quit the project while I was there.
Overlapping: By the time of our first intense experimental period, which began in 1967, I had rounded up sources of expanded lead sheet, oxides and expanders, and some experimental phenolic-treated cellulose paper which was soft and flexible. A quick start resulted and the first Gates D-cell was demonstrated to the Board of Management only about four months after starting work, as was mentioned earlier.
This relatively fast beginning set the stage for several important overlaps. Before the first year of experiments had passed the first trip to our prospective market base had occurred, and the results of this initial market research were very positive. Closely following this was the decision to begin design and construction of a 960-cell testing array. Each cell or group of cells could be discharged, rested or discharged under current or voltage cut-off control, as examples.
Data collection was under software control. Use of this system began in 1969, long before the advent of the PC and the equipment we take for granted today. The computer was a Digital Equipment PDP-8 and the final printouts of tables and graphs of our results were done on the IBM 360 system at Gates corporate data processing. Consultants wrote the software, finally finishing it to our satisfaction – it might have been the largest system of its type anywhere at the time. It was clearly worth all the effort, as it provided not only the ability to stand ready for whatever experimental test we needed on a cell or battery, but later on gave us the capability to present a customer or sales prospect with large displays of data to verify our claims for our products.
Probably our strongest overlap occurred with the decision to begin the pilot plant long before the final D-cell and X-cell designs were complete – but by then we knew that our first product would contain plates of known design and processing. By then we had also designed the polypropylene containers and the novel pop-rivet terminal design and sealing technique in use today. The rubber-cap Bunsen valve was also in place.
The microfibre glass separator, winding machine, filling and forming schedule, and a number of other details were still ahead of us; but, for example, we knew the winder might be a difficult problem and we wanted to start work on it then, not later when it might become the bottleneck item. (It still almost did, and underwent some substantial redesigns along the way.) Filling the cells with acid was identified as a potential trouble spot, as was the formation of a completely assembled cell which wants to go into the oxygen cycle before completing its formation. This latter issue remains tricky today. The pilot plant, even before it was essentially complete, was invaluable as a means to provide large numbers of cells for our own testing purposes. The overlaps were working!
Some further comments on our consistently fortunate personnel situation are appropriate. The first one will involve the co-patentee on the basic Gates cell patent, U.S. 3862 861: our resident electrochemical scientist and practical design engineer, Dr Don McClelland. At the time I first met him he was delivering a paper at the autumn 1965 meeting of the Electrochemical Society in Buffalo, New York. The subject was silver-zinc batteries. He fit the bill exactly, and when I learned that his wife's parents lived near the battery project it was a simple matter to entice them from their residence in California. At the beginning he investigated some electrochemical details of other battery types we were considering, but for the final three years of the total of seven we invested in lead-acid cells, he directed the work on the D- and X-cells while I became involved with business plans and other details for the future.
Another personnel comment must be made. A recent President of the Electrochemical Society was Dr Kathryn Bullock. She began her career as a battery electrochemist when she became my combination secretary and laboratory assistant at Gates. She had a degree as an English major, with a minor in chemistry, and was very intelligent; again, she 'fit the bill'. After a fairly short time she followed her husband to Northwestern University and enrolled as a Doctoral Candidate in Electrochemistry, a career move occasioned by her rapidly growing fascination with the work at Gates. The rest, as they say, is history. She has made many important contributions to lead-acid battery and other literature and has served as Research Director at Johnson Controls and at Bell Laboratories, among other things. She returned to Gates and worked with McClelland again after her university period. Among other things they collaborated on some key VRLA researches and journal articles.
The AGM type of VRLA battery has become dominant, and it is even being discussed seriously today as a replacement for conventional automotive batteries, going well beyond the 'niche' market that is currently being met by the Johnson Controls Optima battery (originated at Gates) and the Exide Orbital batteries, as well as some more-conventional batteries using flat plates.
The record shows that the original small Gates cells were the first commercial use of expanded and punched lead sheet grids, the rubber cap pressure-relief valve, spirally-wound lead-acid electrodes, pasted plates having their active material under controlled compression, and of course the use of microfibre glass separators to permit direct oxygen transfer and recombination with the negative plate. Most of these features appear to be capable of considerable persistence beyond their usage now.
We did little, intentionally, to mitigate the problem of discharged-state sulphation, or cumulative sulphate growth, during partial-state-of-charge operation – although these difficulties may be less prominent in the starved cell environment. Fortunately there are indications at present that even these issues may be effectively mitigated in the future.
A particularly complete and accurate survey of the history of lead-acid recombination batteries is that presented by Dr Bob Nelson in 1990 (Journal of Power Sources, volume 31, page 3). It contains 70 references. His paper begins with Edison's hot wire catalyst of 1912 (it either assisted in converting the headspace gases into water, or ignited an explosion). The overall time line is intriguing. French and German work which began around 1935 resulted finally in the sealed nickel-cadmium cells produced in large quantities by 1960. (Much time was expended at the beginning dealing with catalysts and auxiliary electrodes for reactions with oxygen, before advantage was taken of the direct diffusion of the gas to the negative plate.) The Gates cells were available, in quantity, by late 1970. There has been no substantial change in VRLA design since that time.