ZincFive has more than 100 patents for nickel-zinc batteries that are used in applications as diverse as: uninterruptible power solutions for data centres, intelligent transportation, grid-scale storage solutions and motive applications.
The company designs and manufactures UPS solutions at its headquarters in Oregon, US. It also has two locations in China, providing battery design, development, testing and high-volume battery manufacturing operations.
The company has been serving the speciality UPS markets for almost a decade, with solutions ranging from kilowatts to megawatts. The company has batteries in multiple form factors including cylindrical and prismatic.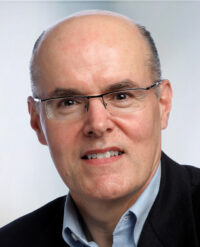 Steve Jennings, senior vice-president of sales and marketing at ZincFive, says its nickel-zinc (NiZn) chemistry is a power performance leader because the technology offers multiple benefits to users over other chemistries, including: power densities, safety, reliability and sustainability. Let's look at some of those in more detail.
ZincFive's batteries are tested at the cell level to UL 9540A, a test method for evaluating thermal runaway fire propagation­— and have not exhibited thermal runaway in any of the tests, says Jennings.
"The cell level is the most fundamental level of the UL 9540A test method and other battery chemistries may require a battery management system (BMS) and other safety precautions to enable a test resulting in no thermal runaway," says Jennings. "Working with a fundamentally safe battery chemistry reduces battery system costs and enables lower costs of construction, installation and operating expense due to reduced safety precautions."
ZincFive's technology can boast a lifespan greater than 15 years and, due to weak or depleted cells remaining conductive, the battery continues operating, increasing battery reliability over other chemistries whose failed cells become a high impedance or open circuit, thereby halting battery operation.
The company claims its technology can deliver 'many hundreds, to hundreds of thousands of cycles' across the spectrum of parameters that determine the cycle life of batteries including, but not limited to: depth of discharge, C-rate and temperature.
Another hugely important factor in the modern battery industry is sustainability. We all know the stories of lead and the materials supply chain for lithium-ion, but how does nickel-zinc fare?
Last year, a report by market intelligence and analytics firm, Boundless Impact Research and Analytics, found ZincFive's greenhouse gas (GHG) emissions was estimated to be 58kgCO2e per kWh stored energy (when using a 100-year global warming potential (GWP). Using a 20-year GWP the figure is 73kgCO2e per kWh). In comparison, a lithium-ion NMC cell is around 73kgCO2e per kWh stored energy (100-year GWP), according to a report by UK-based consultants Circular Energy Storage.
In the case of ZincFive, 30% of this GHG footprint derives from zinc oxide and nickel hydroxide— the main materials in its batteries.
The Boundless report also indicated ZincFive's carbon payback time (CPT) was between 0.16 and 0.21 years. Although a battery's CPT depends on the energy source.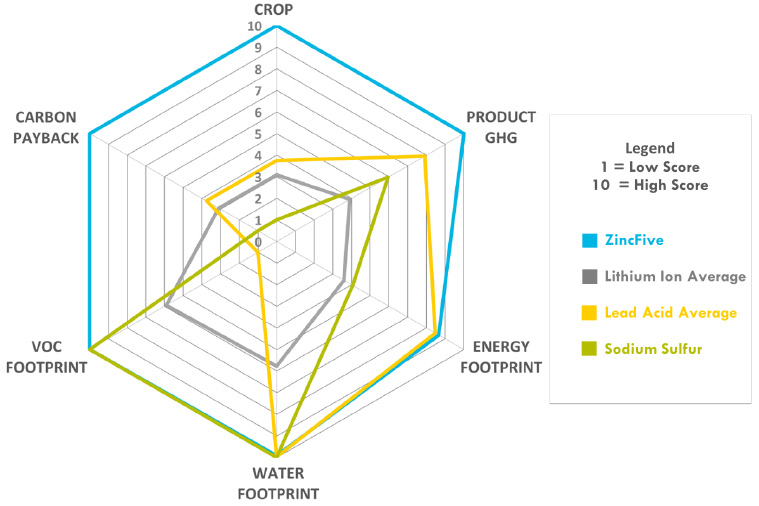 Routes to success
There are several routes to using zinc in a battery, such as: zinc-air, zinc flow, zinc-ion. ZincFive chose the electrochemical route of NiZn because it wanted to better serve the broad and very large set of markets and applications that would benefit from a high power density battery versus a high energy density battery, says Jennings.
"In many cases, these markets have been forced to use oversized, energy-dense battery storage solutions to get the power-dense performance they need. NiZn chemistry also enables us to provide this high power performance safely, reliably and sustainably. A combination that is unmatched in the industry."
ZincFive also claims its technology solves the traditional problem of dendrite growth and the contamination of the anode with high resistance compounds associated with the choice of electrolyte.
Jennings says his firm solved dendritic growth more than 15 years ago via the development of novel electrolyte formulations, advanced separator technology, and various material integration approaches. The company uses a KOH-based electrolyte with proprietary additives.
"Our batteries are field-proven in thousands of installations in harsh outdoor environments, resulting in tens of millions of operating hours with no dendrite issues," says Jennings.