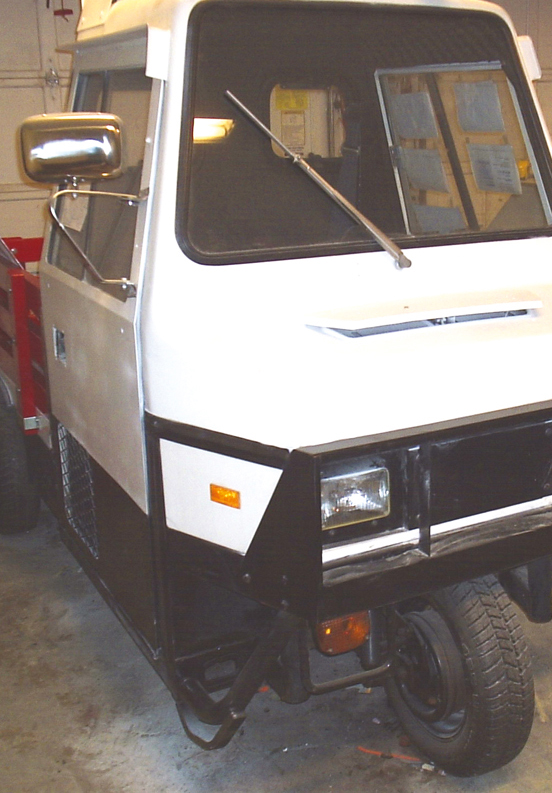 EV enthusiast Mark Hanson explains how he carried out another EV conversion.
I've owned EVs for about 20 years, starting with a cheese wedge (Sebring Vanguard Commuta Car) from the late 70s, an Electro-Metro, an Electric Tracker (E-Jeep), a NEV Bombardier and now a three-wheel Cushman (aka meter maid). My Tracker got the worst fuel economy at 566Wh per mile measured at the plug (4,000lbs, twenty 6V golf cart batteries), with the cheese wedge and Bombardier the best at 250Wh per mile at <2,000lbs.
So the fuel economy of an EV is directly proportional to weight, just as in a petrol-engined car, but above 2,000lbs the cost per mile (amortising batteries and electricity per mile) becomes more than petrol at US$2-3 per gallon. So the best (most cost-effective) recipe for electric is a <2,000lb two-seater (usually) vehicle.
With my electric rates on a co-op (a company that buys the power from the city and sells to rural customers) more than doubling from 5.8c to 13c per kWh, I decided to sell the Tracker and get something half the weight that would justify the statement that electric cars are cheaper to operate than petrol-powered cars.
I have to say this frequently, even with the higher electric rates, when people speak to me when my vehicles are on display at Earth day and renewable energy expo events and parades. Also, since I drive my vehicle to and from work daily (about 60 miles total – 27miles each way plus errands at lunchtime), I need to keep it reasonably priced.
I started out by following Michael Brown's book 'Convert It' and over the years developed my own speed control, charger (patent no. 6,218,812, www.uspto.gov) and battery scanner with the EVCOM (Electric Vehicle Computer) CR no. 699,785. Since 90% of EV failures are battery related, a battery scanner is a must. It monitors the batteries while driving, displaying all the voltages simultaneously and blinks a specific cell when it falls by more than 10% with respect to the others while under load. Therefore a warning is given so the battery can be changed at home, rather than dying on the road somewhere.
You wouldn't know which cell was the offender without a battery scanner. The charger I developed while working at GE-EV uses the standard IEI charge curve with a dv/dt=0 taper as recommended by Trojan and has a high-frequency phase-shift full-bridge topology at 1,500W.
I've used mostly the Ferro-resonant variety types though since they are very reliable with only one part, are cheaper and can be controlled similarly with my microprocessor of choice (MC68HC908QY4 with a www.pemicro.com programmer).
I initially switched from the heavy jeep to the half weight Bombardier when my rates increased. But, like many things made by Bombardier, it looked nice but technically was not so hot. The batteries were made accessible by adding inspection hatches and reinforcing the frame. I replaced the charger, which didn't charge high enough, rebuilt the wire harness to solve some problems and added my battery scanner. The front end was modified with an anti-sway bar, and nine 8V batteries (to replace the six 12V thin-plate batteries) were mounted low and centrally.
The vehicle was unstable in steering and braking, similar to the cheese wedge, so I sold it on eBay and bought a Cushman (used by the New York Police Department) for $2,300. It looked like something out of Monty Python, so I fell in love with it. I've always wanted to convert a Cushman since aged ten when I saw one downtown; I'm now 50, so I thought I'd give one a try since they looked out of the ordinary. I took off the rear trunk since it was difficult to access the low/centred batteries five inches off the road. I put fire-engine red boards on the back to give it a mini pick-up look.
I made and fitted my standard scanner and charger. I bought a GE EV100 SCR controller for US$100 and then a SepEx control (using a different field coil for regen), but neither worked properly so I went back to building my own control for this direct-drive vehicle. Unlike my Electro-Metro and E-Jeep, which were capable of 65mph on the highway, this was similar to the smaller direct-drive vehicles that achieve around 45mph as a city car.
These vehicles were made with three wheels so they could be classified as motorcycles, and get around the expensive federal crash testing requirements because of the low-volume manufacturing in Georgia where the Cushman was made. Cushman was absorbed by Textron in 2001 and production ceased.
That void has been filled by Westward Industries' 'GO-4′, also a three-wheel vehicle, but this is harder to convert to electric due to the auto transmission rear end (which is actually a Hyundai front end). The Cushman came out as a ZEV model in 1999, at EVS-14 in Orlando. Not too many were made, due to the higher conversion cost, but they handled better than their petrol counterparts since the batteries were low and centred – which also helped with the three-wheelers' propensity to flip. You definitely don't want to do a braking turn in a three-wheeler.
The vehicle has skid bars that throw out a shower of sparks just before flipping to get your attention (as well as that of other motorists). That feature generally discourages rumbustious driving.
The main maintenance feature on the Cushman is the front wheel, which takes the brunt of the handling and usually needs bushing replacements on the swing arms which are a devil to press out. I got a 2001 model and it had some salt corrosion that had to be sanded and rust-proofed. The vehicle was repainted with a white top, black bottom and red rear, pick-up style.
The battery cover is a piano-hinge inspection hatch made of lightweight aluminium. I'm always trying to shave weight on my EV since the batteries usually make it overweight. At 72V, twelve 6V Trojans at 64lbs each make 768lbs. I removed the 300lb engine and transmission and the 120lb trunk box. The suspension was beefed up with JC Whitney helper springs around the rear shocks. According to John Q. Riley's three-wheel website, the weight needs to be about 70% on the rear two wheels and inside the centre of gravity triangular envelope to be stable (not flip over too much).
The front-wheel motorcycle forks will not tolerate more than 688lbs; the rear pickup solid axle will handle up to about 1,300lbs though.
It's important to pick a Cushman that's made between 1997 and 2001 and has the 2″ x 10″ truck-type brakes and beefier suspension that make it 'ZEV ready'. Before 1997 the Cushmans were 'golf-cart like' according to the manufacturer and not suitable for electric conversion.
If you're interested in converting a Cushman, the New York Auto Auction sells eight to 12 of these every two weeks (check on the Internet) since New York had the most Cushmans; the NYPD liked them because of the crowded New York streets. The cops preferred these as 'meter maids' although I never saw 'Lovely Rita' driving one.