A back to basics on electrolytes and how they are being developed to solve the shortcomings of existing materials, by Ralph Wise of Novolyte Technologies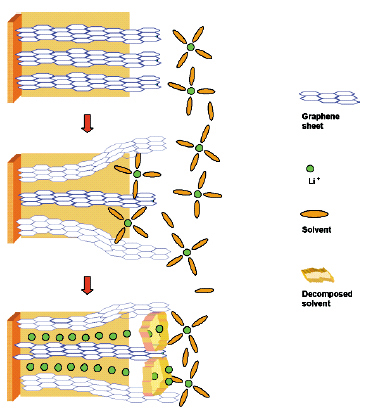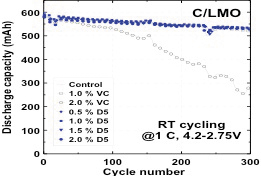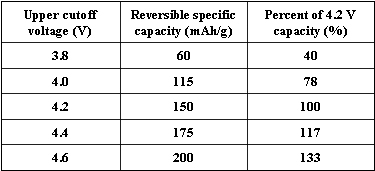 Electrolytes are the life blood of electrochemical cells and an area of intense research interest in advanced lithium‑ion battery research for a wide range of applications, spanning small consumer electronics to xEVs and large energy storage systems of 1 MWh or greater. Without the optimal electrolyte formulation tuned to its specific chemistry or operating environment, a lithium‑ion cell would not work well and would not be fit for its intended application.
Small and seemingly inconsequential changes to an electrolyte formulation can result in remarkable improvements in cell cycling and performance behaviour over a wide range of temperature, discharge conditions and operating voltages. Novolyte's scientists have a wide variety of experience developing and delivering the optimal electrolyte formulation for the right materials, over a wide variety of application and operating conditions, cost effectively.
As new lithium‑ion material technologies are introduced and adopted for anodes, cathodes, separators and current collectors to achieve higher energy and power densities, increased operating temperature ranges, longer cycle life and improved safety performance, changes in electrolyte technology and formulation development seek to optimise the performance of existing and new materials.
This article provides a brief background on electrolytes, their use in lithium‑ion cells and then discusses how advanced lithium‑ion electrolyte formulation technology is being developed to improve the performance of existing and emerging new materials.
A Back to Basics on Electrolytes:
Electrolytes are ionic conductors, the most common of which are liquid solutions composed of a solvent or blend of solvents and a solute (an ionic salt) that allow for the motion of dissociated ions under the influence of an electric potential. Electrolytes may be a solid (NaCl), a liquid (H2SO4) or a gas (NH3).
An optimum electrolyte has a high ionic conductivity across a wide range of operating temperatures (in the range of 1 to 10 mS/cm from -30°C to +60°C) is compatible with all cell materials, has a low viscosity and low surface tension for ease of separator wetting and sorption onto and into the crevasses of porous electrodes. Typical conductivities of liquid electrolyte at room temperature (20°C) are in the range of 10mS/cm increasing by approximately 30 to 40% at 40°C and decreasing by a slightly smaller amount at 0°C.
Electrolytes for lithium‑ion cells are composed of organic carbonates or other similar aprotic solvents with very high oxidation potentials. Examples of cyclic carbonates include ethylene carbonate and propylene carbonate. Linear carbonates such as dimethyl or diethyl carbonate are added to reduce viscosity and improve cycle performance. Methyl butyrate, ethyl butyrate and ethyl acetate have been shown to improve low temperature charge and discharge performance of polymer cells using gel polymer electrolytes. (1)
Lithium salts such as LiPF6, LiBF4, LiCF3SO3, and LiN(CF3SO2)2 or their combination are used. LiPF6 is the most common salt as it dissociates well in solution, has high ionic conductivity and good ion mobility. The concentration of the salt may be adjusted up or down for specific applications and operating requirements. Its primary drawback is its low thermal stability and propensity to evolve HF under high moisture and elevated temperature conditions, which then can attack active materials inside the cell, reducing performance. Development of new lithiated salts focus on creating and testing new compound structures and related complexes of oxalate or phosphate derivatives to improve thermal stability.
Formation of the SEI:
A critical event in the life of a lithium‑ion cell and a future predictor of its performance is the proper formation of a resilient, flexible layer called the solid electrolyte interphase or SEI on the surface of the anode.
Solvents of lithium‑ion electrolytes decompose on the very first charge, forming the SEI on the anode, typically a natural or synthetic graphitic material. The SEI prevents further solvent decomposition and ex-foliation of the anode on subsequent cycling, critical for long term cycle performance. For example, ethylene carbonate (EC) will decompose at approximate 0.7V vs. lithium, forming a dense and stable interface. Figure 1 shows a three step process of SEI formation. A solvated lithium‑ion approaches the anode surface, intercalates into the ordered graphene sheet where the solvent then decomposes to form a stable intercalation layer.
SEI Modifiers:
Additives may be introduced into electrolyte formulations to interact and modify the structure of the SEI in unique ways. These structural modifications allow for highly stable and mechanically resilient SEI layers, improving the cell's cycle life, calendar life and operating performance at higher temperatures. One such well known industry example is vinylene carbonate or VC.
Figure 2 illustrates the effect of VC on the long term cycle performance for standard lithium manganese oxide/carbon chemistry in a 600mAh prismatic cell. Note that 1% concentration of VC is required for optimum cycle life in this system. The performance characteristics of Novolyte's new proprietary additive, designed as a substitute for VC and at a lower required concentration than VC, called D5, is also illustrated. The benefits of substitution of D5 include the same performance with lower additive concentration.
Cell designers and engineers seeking to diversify their cell technology have been rapidly adopting D5 for their formulations. D5 has been exhaustively tested at 60°C cycling, under signature curve rate performance, and high temperature storage (85°C for 4 hours and 60°C for 7 days) illustrating the same or in some cases, better performance than VC with regard to retained capacity and cycle life after storage.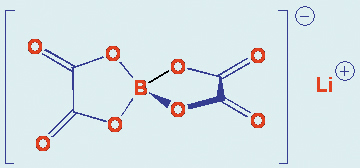 Another common additive that improves SEI formation is LiBOB or lithium (bis)oxolato borate, see figure 3, which enhances thermal stability and SEI formation and can stabilize graphite anodes in propylene carbonate (PC) electrolyte solutions. Its lower solubility and lower ionic conductivity in linear carbonates limits its use as a solitary salt or substitute for LiPF6, but LiBOB has shown to have beneficial effects when used as an additive.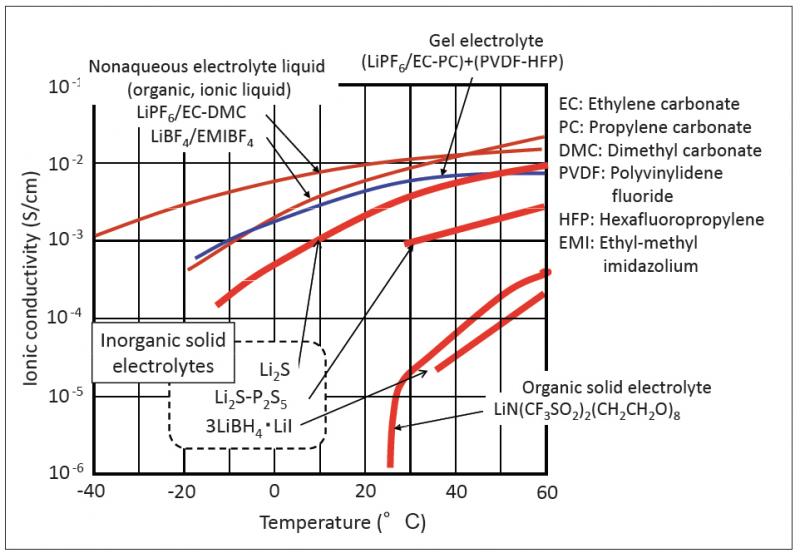 Substantial advances are being made in the development of new electrolyte technology at Novolyte in order for cell manufacturers to reach higher energy and power densities while maintaining safety.
New electrolyte technologies include the development and application of liquid, gel polymer, solid organic and solid inorganic phases. Innovative technologies are being introduced for advanced lithium metal chemistries that allow the transport of Li ions while limiting the mobility of species that interfere with cycling. Figure 4 provides ionic conductivities and illustrates the relative performance of a variety of lithium‑ion electrolyte technologies in commercialisation or in development over common application use temperatures. (2)
Advanced Electrolyte Development for New Materials:
Advanced lithium‑ion batteries require new electrolyte formulations and components to realise the benefits and interact properly with new cathode, anode and separator materials in development and commercialisation. Advanced electrolyte research and development focuses on improving the entire performance of the cell as a system with respect to specific energy and power, energy and power density, cycle and calendar life, temperature range, retained capacity after temperature storage and cost.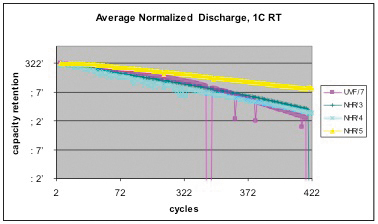 Theoretical calculations of the reduction energies of certain materials can be used to identify specific classes of additives that improve the stability and resilience of the solid electrolyte interphase (SEI) to extend cycle and calendar life. Other types of additives decrease the oxidation of electrolyte solvents for high voltage operation. Solvent selection can drive a wider temperature performance window in a variety of cell chemistries. A balance of solvent and additive selection is critical to maintain the overall performance of the cell as a system.
In addition to creating electrolytes for new materials, electrolyte formulation development at Novolyte Technologies also addresses shortcomings of existing materials. Some materials have intrinsic properties which require amelioration in order to operate adequately in commercial applications.
For example, lithium iron phosphate is a popular cathode material for lithium‑ion batteries in high power, long cycle life applications, yet the material suffers from low conductivity of the bulk, resulting in low charge and discharge capacities at temperatures below -20°C.
One approach is to lower the overall viscosity of the electrolyte through blending with an optimal level of a low viscous co-solvent, allowing for a more rapid motion of Li+ ions at lower temperatures. Since the cell behaves as a system, the drawback to such an approach is that the low viscous solvent will also have a low vapor pressure, thus reducing other performance measures such as cycle life or pouch cell dimensional stability at high temperature cycling and storage, so other proprietary performance enhancements to the electrolyte are implemented.

Table 1 illustrates a three fold increase in the C/2 and a 20 fold increase in the C/5 discharge capacity as a percent of room temperature capacity discharge optimised for a commercially available lithium iron phosphate material in a 10 Ah pouch laminate cell. Figure 5 illustrates that cycle performance is not sacrificed for low temperature performance.
Another example is the use of existing cathode materials (NMC) and emerging new materials, such as "layered" lithiated manganese oxides in higher voltage cycling environments, which requires a complete re-engineering of the electrolyte formulation. Surface surveys of the cathode also reveal the presence of a cathode SEI which can be modified with additive and proper solvent selection. The nature of the structure and composition of cathode SEIs are a current field of study as the industry pursues materials that will operate at higher voltages above 4.2 V. Table 2 illustrates the anticipated capacity benefits of cycling at higher voltages. (3)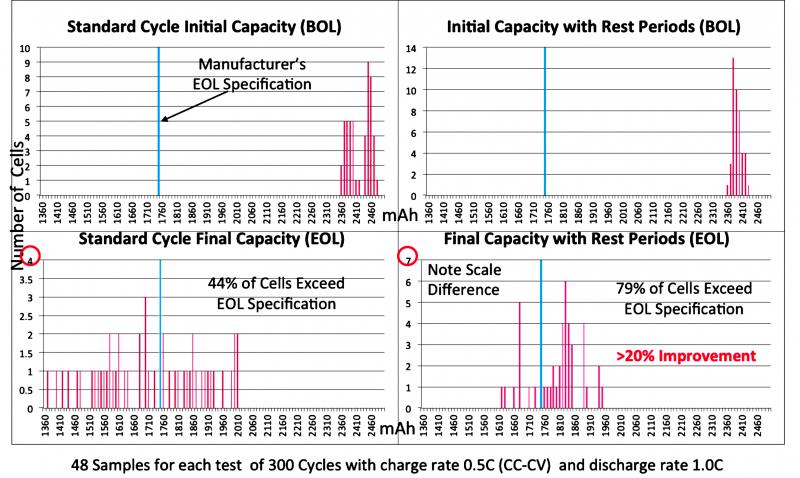 Common electrolyte solvents of EC, DMC and EMC can oxidise on the cathode at cycling potentials past 4.2V resulting in decreased capacity and reduced laminate pouch cell dimensional stability. Additives that have strong electron withdrawing and accepting groups have been found to stabilise the cathode/electrolyte interface. Figure 6 illustrates the performance of such an additive cycling at 4.4V. Note the improvement in capacity and long term cycling with the new additive D1. It should be noted that the cell in this experiment was not specifically designed for high voltage cycling, yet the effect of a higher cell capacity and stable cycling at 4.4V is clearly demonstrated. Efforts now focus on identifying additive combinations that allow cycling at elevated temperatures.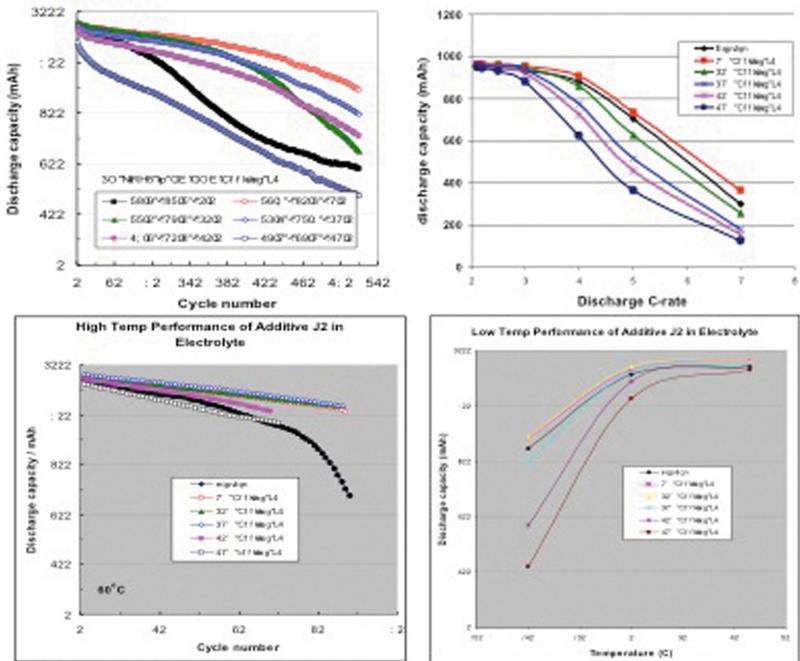 Novolyte Technologies has also developed and implemented additive technology that addresses safety that actually increases the performance characteristics of lithium‑ion cells. The objective of this work is to create less flammable or nonflammable electrolyte formulations that reduce or possibly eliminate flammability.
Test electrolyte formulations are evaluated outside of the cell environment using flash point and self extinguishing time (SET.) Electrolytes that contain the additive J2 repeatedly do not result in sustained combustion or the evolution of a flame when tested.
Results shown above illustrate J2 testing in 950mAh LiCoO2/ natural graphite prismatic cells. Figure 7 illustrates room temperature cycle performance, Figure 8 illustrates rate behavior, Figure 9 illustrates high temperature cycling and Figure 10 illustrates low temperature performance. Subsequent testing in lithium iron phosphate, lithium manganese phosphate and lithium manganese oxide cells demonstrate equivalent results.
Conclusion:
The goal of cutting edge electrolyte formulation research at Novolyte Technologies is to help users improve the performance of existing materials and implement new materials in the never ending race to increase cell performance. A thorough knowledge of the properties and interactions of existing and new materials for lithium‑ion batteries, cell manufacturing methods and their electrochemical behavior are critical to optimising performance enhancing electrolytes. Through applying new formulations technology and an exhaustive systems approach, users can benefit from the commercialisation of new discoveries in active materials. We welcome the opportunity to partner with your development team to explore, apply and commercialise new formulations technology for consumer, military, notebook computer, xEV and energy storage applications.
Novolyte Technologies gratefully acknowledges financial support from the Ohio Third Frontier program OTPAEP 10-057 in the development of the D5 SEI additive.
References and Resources
1). M.C. Smart, B.V. Ratnakumar, A. Behar, L.D. Whitcanack, J.-S. Yu, M. Alamgir. Gel Polymer Electrolyte Lithium-ion Cells with Improved Low Temperature Performance. Journal of Power Sources 165 (2007) 535–543.
2). Taken from "Science and Technology Trends, Trends on R&D for High Power and Large Capacity Li-ion Batteries" Kawamoto, Hiroshi Quarterly Review #36, July 2010.
3). A. J. Smith, J. C. Burns, S. Trussler, and J. R. Dahn, J. Electrochem. Soc., 157, A196 (2010).